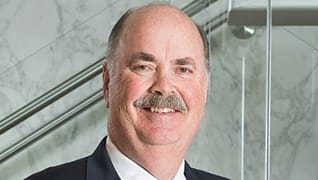 Photo by: Paul Wedlake
The Human Element
Even plaintiff's lawyers salute Mike O'Donnell's decency
Published in 2020 Colorado Super Lawyers magazine
By Jessica Glynn on March 16, 2020
When the verdict was read, Mike O'Donnell did not celebrate. 
Over the course of nine weeks in 2016, he had defended Michelin in a high-stakes trial in Florida. The plaintiffs, alleging that defective tires caused a highway rollover crash that left two teenagers with catastrophic brain injuries, were asking the jury for between $80 million and $1.2 billion in damages. The courtroom was packed with supporters of the family when the jury read its decision: a defense verdict.
O'Donnell wished the plaintiffs and their lawyers well and quickly got his team into the elevator to let his adversaries have the courtroom. "The majority of people were disappointed," he says. "It's very emotional when you're basically telling these kids and their parents they're on their own. I'm competitive, so yeah, I'm going to do whatever I can to win for my client, but I don't celebrate other people's misfortune. It was tough. We were sued; we had to defend ourselves. We were right; the jury found we were right, but at the end of the day we're all human beings."
Standing 6 feet, 6 inches tall, the founder and chairman of Wheeler Trigg O'Donnell would be a looming courtroom presence even without his reputation as one of the best trial lawyers in the U.S.—defending corporations like General Electric, Michelin and Advanced Bionics. His record has earned him respect, but it's his ability to empathize with everyone, particularly the plaintiffs and lawyers on the other side, that has made him a well-loved figure.
"He's a very uncommon combination of both great skill and decency," says Jim Lyons a business litigator at Lewis Roca Rothgerber Christie. "Mike has a big heart. He is a gentleman in every sense of the word. He practices law as it was meant to be practiced, at the highest level of professionalism and civility. He is fiercely competitive, but there is a warmth and gentility to Mike that I think juries recognize, judges recognize, adversaries recognize. This town is full of really great and fine lawyers, but not many Mike O'Donnells."
Lyons admits he may be biased—he and O'Donnell are first cousins—but plaintiff's lawyers speak highly of O'Donnell, too. The Colorado Trial Lawyers Association has selected him for its professionalism award, and a sizeable part of his practice has become quietly defending lawyers—including plaintiffs' attorneys he's previously opposed—in malpractice cases. And he's in line to be the future president of the American College of Trial Lawyers.
Plaintiff's attorney Michael Burg of Burg Simpson Eldredge Hersh & Jardine, who has gone head-to-head against O'Donnell in plenty of multimillion-dollar cases, jokes that plaintiffs' lawyers see O'Donnell as the "Prince of Darkness"—a reference to the formidable defense lawyer in the Paul Newman movie The Verdict—but there's respect there. 
"Many lawyers on both sides when they come into a courtroom may either intentionally or unintentionally make representations that are not necessarily true, or half-truths, and in some of the most hotly contested cases, I've seen defense lawyers go after me personally," Burg says. "Michael doesn't practice that way. There are never any personal attacks, never any misrepresentations. Not only is he a strong advocate for his clients, but he brings some compassion with him in understanding these are legitimate cases. There are some lawyers who see every plaintiff's case as a fraud and fake. Michael doesn't view the world that way.
"He is one of the great trial lawyers in America."
O'Donnell grew up the oldest of four kids in an Irish family in Deerfield, Illinois. His dad was an architect and his mom a teacher. He was named after his Uncle Mike—Lyons' dad and his mom's beloved big brother who stepped up to be her father figure when her father died young. Uncle Mike was a trial lawyer on the plaintiffs' side and, eventually, a judge. 
"Seeing what my uncle did, I liked the fact that there was a winner and a loser in litigation," O'Donnell says. "I really never considered anything other than being a trial lawyer from grade school on."
O'Donnell attended Notre Dame University on a partial tennis scholarship, and then to the University of Denver Sturm College of Law, where Lyons taught. When he had the chance to defer his acceptance to DU to play tennis professionally in Europe, Lyons told him to go see the world; law school could wait. His grandmother and aunt were furious and quickly intervened; O'Donnell arrived at law school right on time, his sights set on litigation.
"It's really hard to choose a particular type of trial law," he says. "You have mentors. You see what they do. You raise your hand when something is attractive to you as a young lawyer and take those opportunities."
One early mentor for O'Donnell was the iconic Bill Steele of White & Steele, where O'Donnell spent the first 12 years of his career and was second chair to Steele on a range of commercial and tort cases. 
A memorable early trial showcased the skill with which he approaches expert testimony. O'Donnell was defending two midwives in a birth injury suit in Fort Collins. His key expert, the head of Yale University's midwifery program, had taught one of his clients and decided not to charge for her services at trial. 
"One of the things you always ask an expert is 'How much are you making?' If you're making $700 or $800 an hour, the suggestion to the jury is maybe you're not telling the truth for financial reasons. When the answer is zero and you paid for your own plane ticket from the East Coast, that's important."
The plaintiff's lawyer hadn't deposed the defense witnesses in advance, and O'Donnell purposefully avoided the topics of payment and credentials so that they'd come up during cross. 
"What are you charging for your time?" he recalls the opposing counsel asking the key expert.
"Nothing."
"Nothing? You mean to tell me you expect the jury to believe you're not charging anything to come out here?
"No, I think it would be wrong."
"Why would it be wrong?"
"Because I feel so strongly that my former student behaved in a textbook way in trying to save this child, and the only reason the child didn't die was because of what she did."
"I see you don't have your certified nurse midwife license."
"That's correct."
"Tell the jury why you haven't ever gotten your license."
"Well, it wouldn't be fair."
"It wouldn't be fair?"
"Yes, I wrote the test."
The jurors laughed. As a defense lawyer, O'Donnell is used to presenting his client's case to jurors who already have their arms folded toward him. This was a clear unfolding.  
"A lot of lawyers probably would have gotten that out on direct," he says. "But human nature being what it is, and the fact that he didn't depose because he's arrogant, and because he's arrogant he's going to ask questions he doesn't know the answer to—and you should rarely ask questions you don't know the answer to on cross examination—she handled herself beautifully and, because we had prepped for it, the jury loved her. And despite a really sad case with a young child who is going to live in close to vegetative state, the jury said no."
For all his empathy, O'Donnell has little tolerance for arrogance. "There's nothing more enjoyable for a trial lawyer than an arrogant expert who says he or she is the best at what they're doing, and to prove that they have made a mistake in analyzing the case, because the fall is so much further and louder," he says.
In 1993, O'Donnell joined Parcel, Mauro, Hultin & Spaanstra at the behest of Malcolm "Mal" Wheeler and Jack Trigg. Then, in 1998, they set out to create their own litigation boutique. Since O'Donnell was the youngest, and the other partners were not interested in management, that role fell to him.
"That turned out to be an incredibly wise decision, for the same reasons he's such a good lawyer," Wheeler says. "He has terrific judgement and is attuned to what people's feelings and needs are. He's just very thoughtful and he's smart, so he has all the qualities that you would want in an organization. That was true when we were small with 19 lawyers; [it still is now that] we're over 100 lawyers."
The strategy behind that growth is something O'Donnell is particularly proud of. "What's unusual is we took brand-name lawyers that were main partners in other firms, including other places in the country, and moved them and their families to Denver," he says. "Every two years, we brought in a new lawyer with seven figures of business and integrated them. Once we felt they were integrated, we went and got another one."
One of those laterals was John "Fitz" Fitzpatrick, who was the biggest medical malpractice trial lawyer in Virginia before O'Donnell recruited him. Fitzpatrick wasn't interested at first. He'd love to work with O'Donnell, but not in Denver. "No offense," Fitzpatrick said. "I'm an East Coast boy. Denver's a cow town." 
But O'Donnell kept at him for a couple years and won him over. As Fitzpatrick expanded his own national practice at WTO, he began recruiting other top lawyers, too. The culture of meritocracy and mutual respect is all O'Donnell's doing, Fitzpatrick says. "I will never be able to thank him enough for getting me to come out here," he says. "He is completely dedicated to this firm. He wants it to be a family. He leads by example, so he's one of the hardest workers."
Most of O'Donnell's work today consists of pattern litigation in which clients have multiple cases pending against them. 
He's involved in opioid and vaping litigation, though he can't reveal his clients. Wheeler says O'Donnell is "incredibly good at mass settlements."
Robert Ryan, managing attorney at GE Electric Insurance in Boston, says O'Donnell is his lead settlement lawyer both nationally and internationally and has "met with a lot of success in what could have been problematic litigation" involving GE Healthcare's use of gadolinium in imaging.
"He's one of the best lawyers, if not the best, I've ever worked with," Ryan says. "He doesn't just have trial tunnel vision. Someone who I love as a courtroom lawyer doesn't always have the skill set one needs at a settlement negotiation. What makes Mike unique is he's not only one of the top trial lawyers in the country, but he has an ability to understand why clients like settlement versus rolling the dice at trial."
M. Linda Chiasson, director of legal services for Skyjack, a Canadian manufacturer of aerial platforms, says O'Donnell is her first choice on anything in the way of litigation. "He knows more than I'll ever learn, and all of that experience informs the way he comes into a negotiation or how he approaches a trial."
She recalls a recent case in which O'Donnell's attempt at early mediation seemed unsuccessful, but he assured her the conversation would prove useful. "Sure enough, it helped us develop a good relationship with the plaintiff's counsel," she says. "We were able to point out flaws in the case and reach early resolution for a fraction of the cost of trial."
Those relationship-building skills are partly why O'Donnell is frequently contacted by major law firms sued for legal malpractice, Wheeler says: "Lawyers, as you might guess, are difficult clients, [and Mike is] attuned to how being accused of having committed malpractice is upsetting. It's that intensely personal touch that makes him very special."
O'Donnell would say what sets him apart are the people around him. He puts his family at the top of that list: Brett, a lawyer and his wife of 40 years; his son Conor and daughter-in-law Jenna; his daughter Devon, son-in-law Brand, and their child; son Danny, an entrepreneur in analytics and cryptocurrency; and his dad, who inspired him to create the firm's foundation, which has raised over $2 million for local charities. Of course, he uses the word "family" when he talks about WTO, too. "I don't think I'm the best lawyer on our floor, much less in the state," he says. "But I think my reputation and my results have been enhanced because of the quality of the people I get to work with every day." 
When Carolyn Fairless, now a co-managing partner at WTO, was a young associate at the firm 20 years ago, O'Donnell had her work on some legal malpractice cases that changed the trajectory of her career. He saw that she loved those cases, asked what she wanted her career to look like, and eventually put the idea of firm management on her radar. 
"He took some fairly rough raw material and gave me an incredible opportunity," she says. "He believed in me. He taught me so many things about how to practice law and how to do it with the utmost integrity. He would always tell me if you can see the edge of the envelope, you're too close. You have to do things the right way. You can be an amazing trial lawyer and not even get close to crossing the line."
Fairless still gets teary when she tells this story: Back when she was a young associate, a close family member was mugged and recovering in a hospital out of state. She asked O'Donnell if she could take some time off, and he said yes. Back at her desk, she was trying to find a flight, but the tickets were outrageously expensive because it was last-minute. "He walks into my office with a voucher for a plane ticket and says, 'Go take care of your family and do what you need to do.'
"That sums up, in a very small nutshell, the kind of person he is," she says. "The human element is what sets Mike apart."
Search attorney feature articles