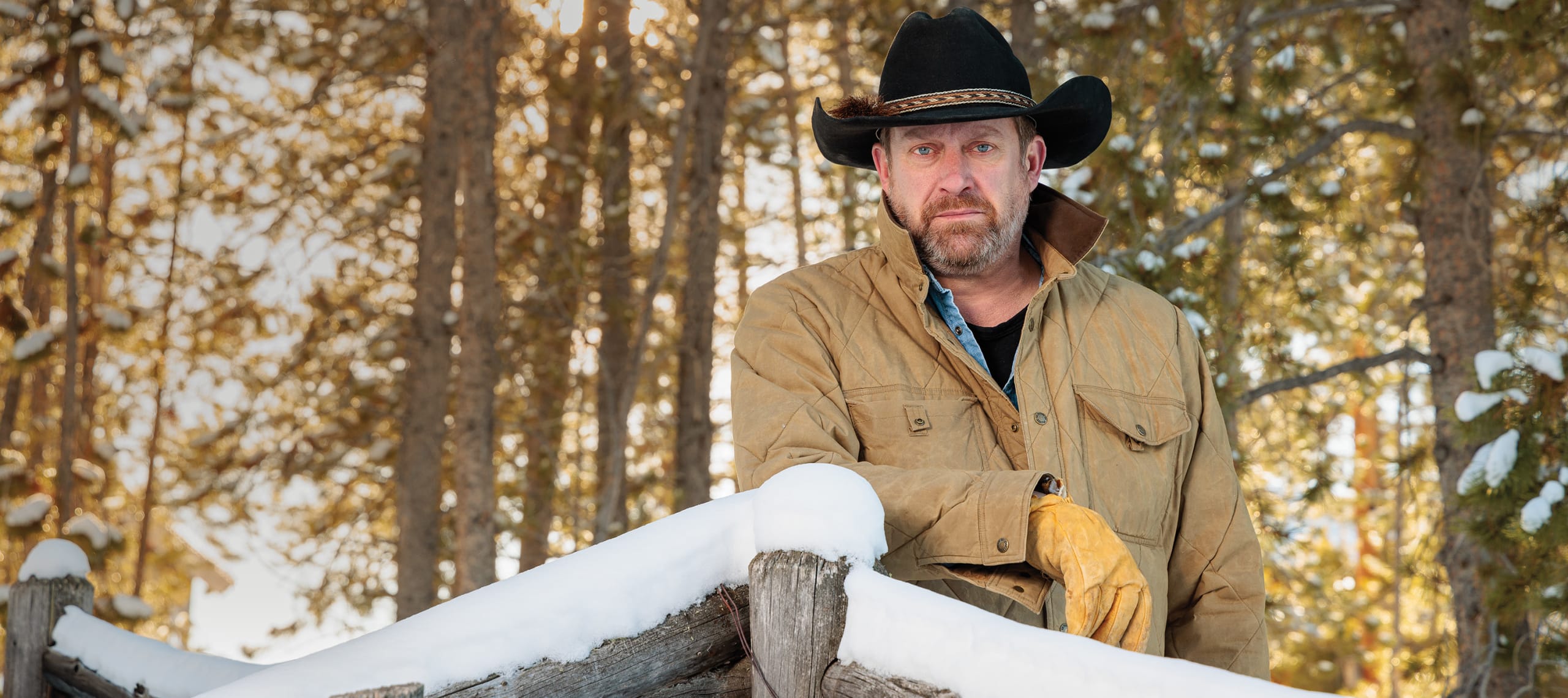 The Multifaceted Dr. Funk
Renaissance man Markus Funk on Kosovo, the Casino trials, and the battle against human trafficking
Published in 2023 Colorado Super Lawyers magazine
By Jessica Glynn on March 1, 2023
When Dr. T. Markus Funk stood in a packed courtroom in downtown Chicago in 2007 to deliver a five-hour closing argument in the biggest mob murder prosecution in U.S. history, he knew the long line of onlookers wasn't there to see him. They wanted to catch a glimpse of Frank Calabrese Sr. and the other mobsters made famous by Martin Scorsese in Casino, who were being prosecuted for the same brutal homicides the movie depicted.
"It's a weird thing, but people fawn over these guys," he says.
The three-month trial, which featured more than 130 witnesses, was the most exciting of Funk's prosecutorial career. He was the youngest and most junior member of the trial team, a fact he was acutely aware of as he began closing arguments. "Hundreds of agents have been working on this for decades before I even knew what the case was," he says. "We had FBI agents testify to undercover recordings they made 30, 40 years ago, so I was always afraid of screwing something up."
Even with five hours for closing, that only gave him about 10 minutes for each murder. He kept apologizing to jurors for the length of his argument, asking them to stick with him because every one of the victims deserved their full attention.
"At one point, I look over and as I'm talking about one of the homicides Calabrese committed, he's chuckling."
Funk knew commenting on a defendant's demeanor was tricky, but he made a split-second decision to interrupt his prepared remarks. "Look at that man, he's laughing," Funk said to the jury, then turned to Calabrese: "I'm talking about a murder you committed, and you think it's funny."
When Funk turned his back to Calabrese, the jurors' eyes were still on the mobster, reading his lips as he leaned forward and muttered, "You're a fucking dead man."
Funk nods toward the framed Chicago Sun-Times front page on his wall, the words "you're a dead man" taking up half the page next to a smiling photo of Calabrese and a smaller, more stoic headshot of blonde, blue-eyed Funk. When his neighbors saw the news, they asked if he would move so they wouldn't have to fear for their children.
"It wasn't a huge deal," he says, even after mentioning that a haiku with the last line "dying equals Funk" was found among Calabrese's things after his death in 2012. "Kosovo, I always felt, was a lot more dangerous."
---
Sitting in his Perkins Coie office overlooking the mountains and Denver skyline, Funk pokes fun at his "wall of self-regard" as he scans for mementos from his two years as section chief for the Department of Justice in post-war Kosovo, just one item on an eclectic résumé that includes Oxford Ph.D. and lecturer, Chicago prosecutor, and white collar criminal defense attorney in Denver, where he moved in 2010 to follow his FBI agent wife's career. He's since built a supply chain compliance practice—drawing on his academic and government experience with human trafficking and forced labor—that attracts clients from around the world.
"He recognized the issue of corporations needing to protect supply chains from human trafficking when there was no law firm in the country specializing in that," says U.S. District Court Judge Virginia Kendall, who has co-authored two books with Funk on the topic. "He convinced Perkins Coie to let him open that practice, and he became the forerunner of that area. … He's always one step ahead of the law because he's had this perspective that sees the changing landscape of the world."
Funk's client list includes Fortune 50 companies, NFL franchises, NBA players, A-list celebrities and major universities. He's led an internal investigation into the sexual assault of hundreds of athletes at Ohio State University, won a trial victory on behalf of the Costa Rican citrus industry and been invited to speak by institutions ranging from World Bank Group to Harvard and Yale to the Vatican.
"You think, wow, how is one person able to do all this," says Andrew S. Boutros of Dechert, who first worked with Funk as a prosecutor and has also written two books with him. (Funk has authored nine total.) "He was able to build this international and national practice, and his clients are multinational companies with headquarters throughout the world. The fact he has been able to do so out of Denver makes his success all the more impressive.
"And he's a good, normal guy who was beloved by the federal agents while he was an AUSA. He's very unassuming and down-to-earth and relates to a lot of different people. He's the kind of guy who, if he met a truck driver, would strike up a conversation and by the time they're finished, they'd exchange phone numbers and be buddies."
Both Kendall and Boutros describe Funk as a renaissance man whose hobbies range from fly fishing and horseback riding to beekeeping, making soap, dog biscuits and birdhouses, and brewing beer and wine.
"He's just a curious person, so he's constantly exploring new ideas, new laws, new movements to understand them, and then he incorporates that understanding into whatever he's working on," Kendall says. "He has this unbelievable global perspective that is very rare in U.S. legal analysis."
---
Funk's family brought him to Germany when he was 6 weeks old. As his American father traveled the world as a photographer for National Geographic, Funk lived with his German mother near Frankfurt, attending international school with 85 classmates from 30 countries, and learning English as a second language. He finished high school—and played varsity tennis—back in Illinois, where his father's family's business, The Funk Brothers Seed Company, was famous in agriculture.
At the University of Illinois as an undergrad, Funk enjoyed arguing politics with his friend, writer Dave Eggers, who suggested he write for The Daily Illini. Funk found he liked engaging with ideas in a public way, which led him to law school at Northwestern University while writing for Eggers' satirical magazine Might. The publication's disclaimer read: "The views of the authors are the views of the magazine, with the exception of Markus Funk. His views are all his own."
As his post-law school federal clerkship was wrapping up, Funk's mom, living in Spain, got sick. He applied to Oxford to be closer to her while lecturing and earning his Doctor of Philosophy in law. Within a year and a half, she passed away. Funk returned to the U.S. thinking he'd get some practical experience before becoming an Oxford law professor. He clerked for Judge Morris Arnold of the U.S. Court of Appeals for the Eighth Circuit and then became an assistant U.S. attorney in Chicago.
"I ended up really loving the job, and some of the reasons for going back to Oxford disappeared," he says.
Retired U.S. District Court Judge Wayne Andersen, who had given Funk his first internship back during law school, watched Funk's star rise.
"He has this wide-eyed, almost boyish look, which is part of his charm, but he doesn't blink when there's really important things to be done," Andersen says. "His organized crime prosecutions were against the most feared mobsters in the nation, and that takes a lot of guts.
"He became a hero to the FBI and law enforcement agencies," adds Andersen, who would later officiate Funk's wedding, during which Funk gave his wife a quarter horse. "Then in the middle of his tenure he went to work in Kosovo. He helped to set up their system of courts and wrote a manual for prosecutors in criminal cases that, last I heard, they're still using. He's maybe the most multifaceted person I've ever met."
Funk had put the word out that he would be interested in an assignment abroad and in 2004 became DOJ section chief in post-war Kosovo. Tasked with building the rule of law, he went to visit the courts within a few days of arriving.
Funk assisted in capacity building for war crimes prosecutions and anti-trafficking efforts, plus trained law enforcement on the use of covert surveillance. He also trained prosecutors and helped the legislature re-write laws. "Many supreme court justices had the view their opinions were their personal work product and not public," he says, "which is crazy if you want to have consistency in rule of law and application of legal principles. So one of the big things we did over a lot of opposition was reach an MOU with the chief justice that resulted in the supreme court issuing opinions available to the public."
For his efforts, Funk received the Superior Honor Award, the State Department's highest honor.
After two years, Funk returned to Chicago and the U.S. Attorney's Office. He also applied his experience combating child exploitation and forced labor in Kosovo to his prosecutions back home. One case with then-federal prosecutor Kendall involved a pediatric anesthesiologist who was ordering child pornography made for him in Russia. When his car was searched, a trap compartment with the date-rape drug and syringes was found.
"The case came out of a takedown of a [website] that had literally thousands of people who had been purchasing child pornography with credit cards," Kendall says. "We prioritized those who had in our opinion the biggest risk. He was one, and there was a priest, but there were hundreds left we never had the resources or time to go after."
Their decision to write Child Exploitation and Trafficking was made after an ABA training session in which audience questions revealed how little they knew of the topic. "Even prosecutors didn't understand the concepts of psychological coercion and control that really formed the basis of crimes of human trafficking," Kendall says.
---
It was at a Kendall holiday party that Funk remembers stepping away for mini burgers while his wife Kate was talking to a group of agents. When he came back, she asked him, "What do you think about me applying to the FBI?"
"Our deal was I would move wherever they sent her," Funk says, though he assumed she might be placed in Chicago, given his role at the U.S. Attorney's Office. "I overestimated my importance."
In 2010, they moved to Denver. He'd never envisioned himself at a law firm. In fact, he hated the idea, until he looked at Perkins Coie.
"I really liked the whole Perkins vibe," he says. "They pride themselves on being nice and civil and had always been creative. They let a guy like me come in and gave me a lot of runway."
Not that his idea—to create the country's first supply chain compliance practice—was popular at first. "People thought," he says, "that clients aren't going to appreciate you saying that they might have forced labor in their manufacturing facilities. But now it's something everyone knows is an unfortunate reality."
"These days, everyone wants to be able to say their product is slavery-free, or forced labor-free, but it's a lot harder to make sure that's the way it is. You don't want to mislead the public, so we help companies get policies into place that allow them to make qualified statements, and then if there are allegations of forced labor, we investigate them as we do with all internal investigations, determine if there is forced labor in a particular supply chain, what can we do about it, who knew about it, is there discipline that needs to happen, do we need to report it to authorities."
It's a practice in which he may travel 250,000 miles in a non-pandemic year.
In addition to his supply chain practice, Funk handles a variety of corporate cases. He's currently involved in a federal defamation case in Maryland, a federal civil case in Washington, trans-national internal investigations involving allegations of bribery, and an emissions case with the EPA.
Boutros' first defense collaboration with Funk resulted in a modest private settlement and no charges filed against the corporate client or its senior executive. "It's incredibly rare how often a criminal case can be resolved in a private manner," Boutros says. "Markus was hands down my first thought, and obviously he proved to be the right choice."
Nancy Lipson, executive vice president and general counsel at mining company Newmont, says Funk is gregarious, larger than life, and a practical problem solver.
"These can be complicated issues that not only require knowledge of the Foreign Corrupt Practices Act, but having to understand different cultures," she says. "He's good at boiling it down and preparing the crux of the issue not only for leadership and the board of directors but also for regulators. He knows what they're looking for and what kind of data and analysis is most impactful for them."
Funk is especially proud of the care his teams take with survivors—whether from sexual abuse or forced labor.
"You want to do it on their terms in an environment they're comfortable with," he says. "Experience teaches that giving the witnesses maximum control to tell their story reduces the chance of revictimization."
Patrick T. O'Rourke, executive vice chancellor and COO for the University of Colorado-Boulder, witnessed this approach in the wake of the Aurora theater shooting when the university hired Funk to investigate shooter James Holmes' time as a CU student and the circumstances of his enrollment.
"The thing that really illustrates his caring to me is the fact that he spent the time to sit down with the health care providers who were involved in the case to understand their perspective," says O'Rourke. "Even though it was an investigation to inform what we could do better, without being able to establish that degree of trust, he wouldn't have been able to assess where we have opportunities to improve."
Funk is currently representing CU in ongoing litigation against its insurance providers for denying coverage related to the pandemic. "He is one of those lawyers who doesn't just have a single thing that he does," O'Rourke says. "He is somebody who has a great ability to see the whole field, and he's interesting as a person. He is a scholar. He writes. He teaches at the law school. He gives back to the community. He's somebody who, as a professional, I really admire and respect not just for the skill he brings to the courtroom but the things he does to make our profession better."
Lipson likes the way Funk mentors associates. "He's very generous with the work, not just the grunt work," she says. "I saw him caring about their career progression and promoting several people to partner. The way he develops his team members and engages with law students kind of blows my mind. You don't always see that."
Funk says that's just giving what he's gotten.
"There were a lot of people in my life that have taken time out of their day to help a kid trying to figure things out," he says. "When I graduated from law school, I wasn't number one in the class. If you would have asked who's going to do quite well in law, people would not necessarily have been like, 'Oh yeah, that guy.' The idea of getting from A to B with help from others is important to me because I was a recipient of that. I'm lucky. Without those people, I would be sunk."
Search attorney feature articles