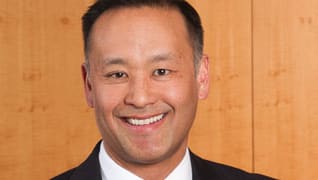 Photo by: Susan Goddard
The Professional
Kenzo Kawanabe fights to live in a more meritocratic society
Published in 2013 Colorado Super Lawyers magazine
By Jessica Glynn on March 15, 2013
"Your honor, this case begins with the Constitution and ends with our children."
With these words on Aug. 1, 2011, Kenzo Kawanabe began the five-week Lobato v. State of Colorado education trial that ended in a historic ruling that called the state's funding for education not only "irrational and inadequate," but "unconstitutional" and "unconscionable."
To get that result, Kawanabe, a partner at Davis Graham & Stubbs in Denver, helped recruit and manage a team of more than 20 pro bono lawyers, from nine of the best law firms in Denver, who took hundreds of depositions preparing to represent 21 school districts. Much more than a side project, this case represented everything the 41-year-old Kawanabe believes the legal profession should be.
"It's a privilege to be a lawyer in our society and our community," Kawanabe says. "And as a result of that privilege, you have an obligation to volunteer to help poor people or kids or disadvantaged groups that would not otherwise have counsel in our system. If lawyers don't give back and help represent disadvantaged groups, our system doesn't work. Our system is supposed to be fair and if you don't have access, it's not a fair system."
Brooke McCarthy, then with Holland & Hart, helped represent the Jefferson County Public School District on a pro bono basis in the Lobato case. "If young lawyers are looking for a role model in the community, someone to aspire to, [Kawanabe] is one of those people," McCarthy says. "The way he puts himself in the public eye for a cause he finds important, his commitment in Lobato and the amount of time he gave, inspired a lot of people."
"He's a real leader when it comes to taking on tough cases," says Paul H. Chan, general counsel for the University of Denver, a client. "You just have to look at Lobato to know that's the truth. His experience is broad."
Kawanabe has also been involved in two major environmental trials over the last three years. He represented the Brown Group in a three-week trial in federal court over environmental contamination claims from his client's former rifle lens manufacturing plant. More recently, he represented Atlantic Richfield, a BP Company, in a $100 million dispute over the cleanup of a mine in the Sierra Nevada.
But environmental cases are only a small portion of Kawanabe's practice. He recently handled various intellectual property cases. He spent two years helping to coordinate over 600 cases in Wyeth's fen-phen defense in Colorado and Alaska. He's obtained a full defense verdict for a New York Stock Exchange company against claims of false advertising, breach of contract and conspiracy after a six-day jury trial. He has experience representing clients in industries ranging from mining and manufacturing to pharmaceuticals and aviation. He tends to defend Goliath but he's also skilled at representing David in high-stakes, bet-the-company cases.
He likes the diversity. "Learning the client's business is interesting to me," he says. "I get to learn about new ideas, new issues and new concepts with each particular case."
Kawanabe grew up in the San Luis Valley. His great-grandparents emigrated from Japan to California, then to Southern Colorado, where they worked as farm labor in the 1920s. His relatives still farm the tough desert land there. Kawanabe went to Alamosa High School, received a full ride to the University of Colorado through a Boettcher Scholarship, then went to Georgetown University Law Center. It was the only time he lived away from Colorado. When he returned, he clerked for Judge Mary Mullarkey, who became chief justice of the Colorado Supreme Court during his clerkship. In 1998, he accepted an offer from Davis Graham & Stubbs. He saw the large Denver firm, which is now nearly 100 years old, as an ideal training ground for legal research, writing and trial skills.
He wasted no time becoming a leader in Denver's charitable community through pro bono and volunteer work. He has twice successfully achieved asylum for African refugees fleeing political persecution. He was the first-ever general counsel for the National Asian Pacific American Bar Association and has long served on the board of the Colorado Lawyers Committee, a consortium of firms that volunteer their attorneys to represent the underrepresented. He chaired that board from 2009 to 2011. It was, he notes, instrumental in helping to recruit firms for the Lobato case. Most recently, he joined the board of Colorado Legal Services to help correct the lack of legal resources available to those in poverty.
Perhaps his most prestigious involvement has nothing to do with the law. For two years, Kawanabe was board chair of The Denver Foundation, the oldest and largest community foundation in Colorado, which manages more than $500 million in assets and donates significant amounts of money to Colorado nonprofits. "You don't just become chairman of The Denver Foundation board of trustees through luck," says Denver County Court Judge Kerry Hada, one of Kawanabe's mentors. "That's a very rigorous process."
Hada also helped recruit Kawanabe for the National Institute for Trial Advocacy, where he teaches the lessons he's learned from folks like Hada. "One of the most important things is your reputation," Kawanabe says. "Not just your reputation of being a strong lawyer but your reputation of being a strong person, somebody that you can trust, not just to clients but other lawyers. If I tell a lawyer I'm going to do something, I'd better do it."
That's important in Denver, where this week's opposing counsel is next week's co-counsel. Chris Ford of Hutchinson Black and Cook in Boulder has both opposed Kawanabe and worked beside him. "He is in that special category of lawyers that you know right off the bat that you can take them at face value," Ford says. "He's going to be straightforward and honest. … He is clearly committed to his clients and has shown dedication to the community and legal profession. He gives lawyers a good name."
Chris Toll, a partner at Holland & Hart, spent a year opposing Kawanabe in a breach of contract case against a Denver life insurance company. "We had a lot of depositions together and a lot of other situations where we were in a highly adversarial context, but we came away from the whole experience being friends," Toll says. "He is probably one of the most professional, courteous and effective attorneys that I've had the pleasure of working with."
Kawanabe represented a small company that claimed Toll's client had put it out of business. "Kenzo did a very good job of uncovering some facts that were bad for our client, and he did an impressive job of weaving them into a narrative that was very persuasive for their side and troublesome for our side," Toll recalls. "He took five emails that our client witnesses had written and essentially used those to turn a breach-of-contract case into a fraud case. We knew that if we went to trial that Kenzo would be able to score a lot of points against our witnesses with his cross-examination." The case settled five days before trial.
The LOBATO case was originally filed against the state of Colorado in 2005 by solo practitioners Kathleen Gebhardt and Alexander Halpern on behalf of school districts, students and their families. It was dismissed at the trial court level. On appeal, the two filing attorneys sought support from community organizations, and Kawanabe wrote an amicus brief for the nonprofit Great Education Colorado. At the appeals court level, the plaintiffs lost again but the Colorado Supreme Court reversed the decision and sent the case back to the trial court. At that point, Gebhardt and Halpern asked Kawanabe to join them as lead counsel.
Having grown up in rural Colorado, the case struck a chord for Kawanabe. At the University of Colorado and Georgetown, he quickly understood that where you grow up often determines your level of resources and education. "I had good teachers in Alamosa who did the best they could with the resources they had, but they certainly did not have the resources of various urban school districts," he says. "If our system in America is a true meritocracy, then you must give every one of our children a fair shot. Often the quality of education is determined by a zip code. We are harming ourselves and our future potential as a society by not fully educating, or at least giving a chance to, every one of our kids." Other firms, including Holland & Hart, Faegre & Benson, Greenberg Traurig, The Harris Law Firm, Perkins Coie, Reilly Pozner, and Snell & Wilmer, agreed, and volunteered their attorneys' time.
Kawanabe enjoyed mentoring associates as they took their first depositions or cross-examined their first trial witness. Terry Miller had been assigned to Kawanabe via Davis Graham's mentorship program when he started in 2008. Being a first-year attorney is a scary and stressful time normally; it was particularly so for Miller because the global financial meltdown and the specter of law firm layoffs coincided with the birth of his first child. But Kawanabe's mentorship helped. Then Miller was brought into a management role in Lobato.
"I'm really grateful for the experience I had on the Lobato case, and I think there's a small army of young associates who feel the same way," Miller says. "Watching him guide all of those people. He was great at getting a lot of different personalities to build consensus and making everybody feel like they had ownership in the whole project. … He made sure everyone had a role in the case, and a meaningful role, and I think that's what kept the enthusiasm going."
Kawanabe was also able to weave together the facts into a coherent narrative. "Teachers and parents get beat up all the time for how poor schools are doing," Miller says. "Everywhere they turn it's teachers' fault, administrators' fault or parents' fault, so the way we were able to present the story made it clear what they were doing, the success they had had and why they can't replicate that success to everybody." In a word: resources.
"There were no games," adds Jonathan Fero, assistant solicitor general, one of four lawyers on the defense side. "We didn't have to worry about personal issues or pettiness. His negotiation skill is off the charts. This was a $4 billion case that could not be settled, and he was able to suggest areas of common ground that were indeed true. At the same time, you know he's skilled and effective, so whenever he offers something that sounds like a good deal, you have to think about it carefully. I mean that as a compliment."
"I was impressed with the way he kept his team together and focused with an eye toward the goal," says Nic Heinke, at the time assistant attorney general representing the state. "The case was really about telling stories, and I thought he did that very well."
The court ultimately agreed. Denver District Judge Sheila Rappaport found that the Colorado public school finance system was unconstitutional. The state appealed. Both sides will soon argue before the Colorado Supreme Court.
"One of our main points was that [the state] makes all of these requirements and doesn't know how much they cost," Kawanabe says. "When our experts actually cost out the system, [funding] is at least a billion dollars short. So if we win, it's not that the trial court will order the state to pay $1 billion or $4 billion; it's that the legislature then will have the obligation to fix a system that is broken."
Considering all of Kawanabe's accomplishments, Judge Hada finds it remarkable that the attorney is only 41. "He's already a superstar and he's going to be more significant in the future," Hada says. "He can do whatever he wants."
Search attorney feature articles