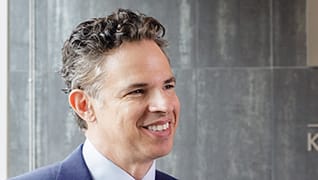 Photo by: Allegra Anderson
Becoming Josh Koskoff
Before he could succeed, the third-generation lawyer had to stop trying to be his father and grandfather 
Published in 2020 Connecticut Super Lawyers magazine
By Matt Amis on October 13, 2020
Josh Koskoff learned early that people contain multitudes. 
Growing up in the shadows of his father, Michael Koskoff, and grandfather, Ted Koskoff—Connecticut legal giants—the lesson hit the hardest when the two lawyers brought their work home with them.
Josh is a guy who, as a kid, often ate breakfast hand-delivered by Frank "Frankie Cigars" Piccolo, a former mobster and the Gambino crime family's Connecticut crew boss—a client of Ted's.
"We called him Uncle Frank," Josh Koskoff says. "He would bring bagels to our house. He was a sweetheart of a guy."
Then there was his babysitter: his father's client and Black Panther member Larry Townsend, later known as Mansour Khalif Abdullah, who served time for his role in a shootout with police. "Larry was and is a wonderful guy," he says. "But he has a lot of issues, especially with anger. But he would babysit for us." 
Koskoff, a medical malpractice and personal injury lawyer, now represents the third generation at Koskoff Koskoff & Bieder; his father's and grandfather's stories are woven into his. 
From grandfather Ted, the son of a Jewish-Russian immigrant and fervent New York Mets fan, Josh inherited a love of the underdog, and an idealistic view of a lawyer's place in society. From his father Michael—a trained Shakespearean actor—he gleaned creativity, optimism and a genuine love of people. Their clients, though flawed, were cared for like family. The cases they took on, though daunting, were successful, thanks to innovation and sparkling storytelling. 
"In my household, there was a lot of talk about the law, but it wasn't the kind of law that you study in law school," Koskoff says. "They didn't talk about Supreme Court cases or jurisdiction or this motion or that motion. They spoke about the clients, and the clients that my grandfather and my father had were very interesting, and the stories were really compelling."
Koskoff currently represents nine families of the victims of the 2012 Sandy Hook Elementary School shooting in a landmark case against Remington Arms Co., the manufacturer of the assault rifle used in the attack. He also represents Sandy Hook families in a suit against conspiracy theory InfoWars shock-jock Alex Jones, who claimed multiple times on his show that the Sandy Hook shooting was a hoax carried out by politically motivated actors.
And as the nation grapples with systemic racism, police brutality and the vestiges of slavery, Koskoff is deep into another groundbreaking lawsuit; this time, against Harvard University over the rights to priceless 1850s daguerreotypes that depict a slave named Renty Taylor and his enslaved daughter, Delia.
In March 2019, Koskoff filed suit on behalf of Norwich resident Tamara Lanier, who says the Congo-born "Papa" Renty is the patriarch of her family. As his great-great-great granddaughter, she claims to be the rightful owner of the haunting images, which Harvard has used to grace the cover of a $40 book and other materials since they were uncovered in a museum storage cabinet in 1976. Family legend, according to Lanier, tells of Renty being a man proud of his African roots, and one who taught other slaves how to read. "It was almost like we made eye contact," Lanier told USA Today of the moment she saw the photos. "It was an immediate feeling of kinship."
The photos are thought to be the earliest known images of American slaves, and were commissioned by Louis Agassiz—a 19th-century Harvard biologist and rival of Charles Darwin—to reinforce Agassiz's belief that white people were superior to African Americans. 
"By some unbelievably slight, small chance, these images had lasted beyond the lives of both the enslaved people and this scientist," Koskoff says. "And had become iconic images of slavery." 
Lanier is a former probation officer who developed a love of history through her family's oral history traditions. At the request of her dying mother, she began researching and documenting their family stories. "Every free moment she was saying, 'Write this down,'" Lanier says. It was her mother that gave her an important clue that tied their genealogy to Renty: At some point during their lineage, their family surname changed, and they were Taylors, not Thompsons. The problem? "You wouldn't find an attorney who would take on this case," Lanier says. "A 170-year-old slave reparations case against Harvard University, of all [places]." 
But it was just the right kind of David v. Goliath story—with enough drama to make the Bard smile—for the Koskoff family.
"My father became, as he often did, obsessed with the story," Koskoff says. "It was a powerful institution against an individual. It was right versus wrong. It was civil rights. It was justice. It even had hidden treasure, basically. It was everything wrapped up in one." 
Along the way, Michael Koskoff was diagnosed with pancreatic cancer. "One thing he really wanted to get done before he left the planet was for us to file this complaint," Koskoff says. "We filed it about a month before he died, and he was right there in the middle of all this media attention. He was magnificent."
Koskoff remembers his dad couldn't fit into any of his suits. "He lost so much weight. So the day before [our filing], my mom took him to Banana Republic and they bought a new suit," he says. "My dad was never a flashy guy."
A few months later, stirred by the murder of George Floyd, many in America began reexamining the role that the country's best-known institutions and founding fathers played in slavery, and the need for reparations. Lanier's case took on a new light. 
"It's surreal," Lanier says. "It tells me this was meant to be, the timing of it. From the time my grandfather Renty was a slave, to watching news stories today of symbols of hate being torn down across the country. 
"This case is a retelling of American history. It challenges us to consider who we are, where we draw the line between hate and heritage. It challenges people to reconsider who we memorialize and who we hold accountable." 
Says Koskoff: "Harvard possesses this iconic image of a Black enslaved man, where you can see the pain in his eyes, and they don't want to lose control of telling his story. But his story doesn't belong to them." 
The winding case presents many legal hurdles. Legal documentation like birth certificates were scarce among enslaved people, so genealogical accuracy is difficult to prove. Intellectual property precedence might side with the photographer over the subject, as The New York Times pointed out, citing the famous "V-J Day in Times Square" image, which is the legal property of the photographer and not the sailor or the nurse captured kissing. 
As Koskoff pushed forward with the case, Harvard filed a motion to dismiss, anointing themselves "the ethical stewards of these images and of history." 
"Here's the most historic and storied institution of higher learning, and they still don't seem to get they're [wrong on this]," Koskoff says. "That's a very sad and sobering reality."
On the morning of Dec. 14, 2012, while ordering some hard-boiled eggs from the coffee shop in his Bridgeport office, Koskoff began seeing flashes on TV about a shooting at a school. News from the scene of Sandy Hook Elementary School slowly trickled in throughout the morning, before the full scope of horror was laid bare: 26 people, including 20 children between 6 and 7 years old, were killed in one of the deadliest mass shootings in U.S. history. 
"I had young kids at the time, and I just remember going home and crying, like I'm sure a lot of parents did," Koskoff says. 
By chance, Koskoff met a family friend of schoolteacher Victoria Soto, one of the victims. Her family eventually reached out to the firm, which in turn helped the family with issues like probate, and managing the onslaught of media requests and charity endeavors. 
More families began reaching out with basic needs—to both his firm and other firms—and some began thinking more broadly about how to prevent something like Sandy Hook from happening again. 
"I think what shocked a lot of these families was that while people started to talk about school safety and security, and politicians were at least talking about solutions, the gun industry doubled down," Koskoff says. 
Gun sales exploded in the wake of Sandy Hook, while manufacturers and advocates pressed for more "good guys with guns" in schools. To the families' horror, Bushmaster, the company that produced the AR-15 assault weapon used in the attack, had been, for years, aggressively marketing its military-grade weapon to civilians through targeted online ads. 
"They were reaching out to people like the shooter, for example, with this aggressive, violent imagery and copy," Koskoff says. One online ad for Bushmaster depicted an image of the AR-15 rifle, along with the tagline, "Consider Your Man Card Reissued." Website visitors to bushmaster.com could complete a "manhood" survey to receive a ceremonial "Man Card." To young men who might suffer with anger or social or mental challenges, Koskoff argues, the ads offered powerful seduction. 
"The clear message is: You use this thing to kill people," Koskoff says. "That's what makes you a man. 
"And for vulnerable, at-risk youth, and young adults, that's a terrible thing to do. [The families] saw that not only was the industry doing nothing to help decrease the risk of something happening, they were actually adding gasoline to a fire."
In December 2014, nine Sandy Hook families filed a lawsuit against Bushmaster, Remington Arms, a firearms distributor and the now-shuttered East Windsor store where the gunman purchased his rifle. The claim sought unspecified damages and an exemption from the 2005 Federal Protection of Lawful Commerce in Arms Act, the law that normally protects firearms manufacturers and dealers from liability when crimes are committed with their products.
In 2016, a Connecticut judge granted the defendants' motion to dismiss the lawsuit, ruling it invalid under federal and Connecticut laws. The families then appealed to the Connecticut Supreme Court, which in March 2019 reversed parts of the trial court's rulings and remanded the case back to Bridgeport Superior Court for additional hearings.
Koskoff and the families pointed to the Connecticut Unfair Trade Practices Act, demonstrating that Remington had advertised their weapons in an "unfair, unethical, or dangerous manner," thus sidestepping the Protection of Lawful Commerce in Arms Act. Critically, the ruling allows the plaintiffs to subpoena internal documents on how gun companies have marketed the AR-15.
Remington asked the U.S. Supreme Court to review the state court ruling, but in November 2019, SCOTUS denied hearing the appeal, allowing the families' suit to proceed.
That was a sort of victory in itself, Koskoff says. "Although they will never maybe admit it, I think the gun industry believed itself to be above the law. And that's a dangerous mentality, especially when you are selling the most dangerous products available to civilians." 
While Koskoff's sense of justice and love of storytelling was bred into him, acquiring actual legal technical chops was another story. 
After graduating from Suffolk University Law School, his first few years of practice were, in his words, "a study in just sheer, sheer ineptitude." 
"I need to make it clear that I was, probably for the first five, six, seven years of my practice, Connecticut's worst lawyer, if not the country's," he says.  
He grew increasingly anxious that he had gone into the wrong field, or that people would think the apple fell far from the familial tree. While working a medical malpractice case, he suggested his client accept a settlement fee to avoid another flop in trial. But the client, a widow who he had gotten to know well, wanted to press on in court. 
"Something happened during that trial where things started to click for me," Koskoff says. "I think I stopped trying to be other people. I stopped trying to be my dad, I stopped trying to be my grandfather, stopped trying to be [firm partner] Richard Bieder or Clarence Darrow or Martin Luther King." 
Koskoff instead focused on listening and responding and being present, he says. He felt genuine love and heartbreak for his client, and "things just got better every day. Once the connections fire, you can't explain how it happens, but everything comes together," he says. "These abstract principles of fairness and logic, and even the motion practice and the things you file and complaints and the judge's instructions, everything starts to make sense. I can't explain because it's an intangible, but it starts with loving your client, acknowledging their flaws and realizing that you're not so hot yourself: that you are a flawed person and telling that story. Once you have that confidence, you can start to play with it."
In the years that followed, Koskoff racked up high-dollar verdicts: $25 million on behalf of an 18-year-old woman who lost a foot thanks to a delayed diagnosis of decreased circulation; $22.5 million for a widow of a man who died of undiagnosed coronary artery disease; $12 million for the death of a man whose untreated dependence on an anxiety medication led to his suicide. The list goes on. 
"He's always shown skill and competence in how he works his cases," says Tom Anderson, a partner at Morrison Mahoney. "We have a good, adversarial relationship. We may disagree, and we do, most of the time. On the other hand, I've always had a very excellent working relationship with him."
Eric J. Stockman of Stockman O'Connor Connors admires Koskoff's cross style. "[It's] unique, often lulling a witness into complacency with mispronounciations and malaprops, only to turn on his excellent command of the medical record when the witness gets sloppy," he says. "He's as good as they come in Connecticut."
"We often equate fighting with anger and antagonism and hostility," Koskoff says. "But what works for me is fighting for something, rather than against something. It can be very fiery to be optimistic."
"My father, who was my hero … I think what I learned from his death was that he deposited a lot of optimism, goodwill, support, love and service to his community and to his clients," Koskoff says. "And when you make that deposit, it comes back." 
Search attorney feature articles