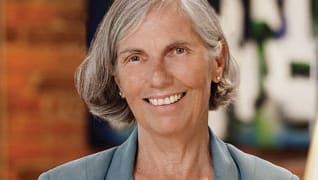 Photo by: Michael Paras
Challenging the System
Kathryn Emmett looks out for the underdog
Published in 2012 Connecticut Super Lawyers magazine
By Michael Y. Park on October 22, 2012
Kim Hunter was one of the most acclaimed actresses in America, but she couldn't get a job. She had won the Oscar for Best Supporting Actress for 1951's A Streetcar Named Desire, playing Stella, whose name Marlon Brando famously calls out. Film offers should have been flooding in. But only a year after the Academy Awards presentation, she found herself persona non grata.
"My mother was not a very political person, not at all," says Connecticut-based attorney Kathryn Emmett, the late actress's daughter. "She was very dedicated to her profession. But she was blacklisted right after winning the Academy Award and was not able to work."
Hunter was a target of McCarthyist Laurence A. Johnson, a Syracuse businessman, who, in 1951, began a crusade to rid the U.S. of communist influence by pressuring television advertisers to stop sponsoring programs with actors he deemed insufficiently patriotic—Hunter included.
A decade later, Hunter testified in a civil suit on behalf of radio broadcaster John Henry Faulk, who in the mid-1950s had tried to end McCarthy's influence in the actor's union and been labeled a communist himself. "To have to go and testify about her whole experience in what was a very public trial at the time was extremely hard for her," Emmett says. "But she did it because she felt the wrong was so enormous, how his career had essentially been destroyed by the blacklisting."
Represented by legendary attorney Louis Nizer, Faulk won the suit—and the largest libel award in history up to that point, $3.5 million.
The case's significance wasn't lost on Emmett, who was in high school at the time of the trial. "The fact that you could represent a person in that situation and attack what I considered to be destructive behavior by someone that hurt both the individual and the community made me very prone to being involved in that kind of work," she says.
So when Emmett graduated with a Harvard degree from Radcliffe College and went to Yale Law School, no one was surprised.
"She was a pain in the butt to a younger, not quite as overachieving, sibling," says brother Sean Emmett. "My view of Kathy back then was as a much-older sister who was right most of the time."
After three years at law school, where she was one of just a handful of women, a disillusioned Emmett took a leave of absence. "Nothing against law school, but my interest was in representing individuals in challenging the system," she says. "The student body when I was there was very interested in being part of the power structure—many people went to Washington, D.C., and big important-type jobs, and that wasn't what I was looking for."
She did legal work for famed civil rights lawyer Katie Roraback in New Haven, then a hotbed of racial and political unrest. It was there that she found what she couldn't in Yale's ivy-draped quads: a role model. "She showed me the kind of law practice I very much wanted to do," Emmett says.
Six months later, a pregnant Emmett returned to Yale, got her J.D. in 1970, and went to work for the firm then known as Koskoff, Koskoff, Rutkin & Bieder (now Koskoff Koskoff & Bieder). She quickly became involved in a case in which, fittingly, she took on the Yale University establishment.
The center of Yale power lay in a private-home-turned-private-club called Mory's, located just off campus. It was where the university board met, where deals where made, and where law firms interviewed for positions. And it didn't admit women as members. As a private organization, Mory's could admit whomever it wanted and deny whomever it didn't.
"Kathy said, 'Yeah? They've got a liquor license, and so the state is involved,'" says Michael Koskoff. "And once the state is involved, they can yank the liquor license. She found this creative way to get women admitted to Mory's. She's an idealist, but she's also grounded in practicality and reality."
The fallout from the loss of its liquor license convinced Mory's to finally extend membership to women—a woman even ended up on the club's board.
Soon after, Emmett was thrust into the forefront of another battle for women's rights when Roraback recruited her to join a team of female attorneys taking on the state's century-old anti-abortion laws.
The team argued Abele v. Markle before a three-judge panel of the U.S. District Court. Their argument centered on the trimester phases and the viability of the fetus as crucial factors in the constitutionality of the laws. The judges subsequently declared the Connecticut laws unconstitutional in April 1972. When the U.S. Supreme Court decided Roe v. Wade in 1973, it borrowed heavily from the district court ruling in knocking down anti-abortion laws across the country.
"She was levelheaded and sophisticated in her approach to legal solutions—and she was very easy to get along with," Bonnie Milstein, another member of the legal team, recalls. "I don't remember her ever raising her voice."
"It was a very challenging case," Emmett says, "in that you had to interpret the meaning of the state's interest and how that fit together with the medical situation that we're dealing with, and the stages of a pregnancy, and the extent to which the state can interfere. How can you put that all together and make a legal theory a court recognizes and can accept?"
Starting in 1982, those kinds of questions were directed at her when she was appointed to the Connecticut Superior Court as a judge.
"Some new judges get uptight when they start doing the major crime cases, but it didn't bother her at all," says Judge William J. Lavery, who sat with Emmett when she first donned judicial robes. "She wasn't afraid. She didn't back down. She could've been on the appellate or supreme court by now, with her talent."
But after six years as a judge, Emmett decided to return to private practice. "I began to feel that I would become a very cranky judge if I continued," she says. "I [missed being] an advocate."
After spending a year as a visiting scholar at Yale, she hung out her shingle in Stamford with two other lawyers, including Jane W. Glander, then a recent law-school graduate who quickly learned what it meant to be partners with Kathryn Emmett.
"One of the first clients I had was a person Kathy knew up on a farm in Redding," Glander says. "When I left, I received a dozen eggs—our payment. I called Kathy, and she said, 'Well, we always said we wanted to be country lawyers.'"
Since opening Emmett & Glander, Emmett's taken on a wide variety of cases—from employment law to medical malpractice—and, as always, keeps her eye out for little guys fighting the system.
"She's a little slip of a woman, 100 pounds if that, but tough as nails," says flight engineer Lindle Barkley, whom Emmett represented in a case against Southern Air Holdings Inc. "She's there for the underdog."
Another of Emmett's underdogs was Beatrice Codianni, a former federal prisoner in Danbury, in a suit against the federal prison system for invasive pat-downs of female inmates by male guards. "When you're in prison and you have somebody who's standing up for you and fighting for you even if you have a criminal record and are the 'scourge of society,' it makes you feel like you're a human being and not a number," says Codianni, who now works to help other former inmates reintegrate into society. "Kathryn just erased all that. It gives you your humanity back."
"She makes you do your job and be a better lawyer," says Assistant U.S. Attorney Alan Soloway, opposing counsel in the Codianni case. "You're certainly not going to get her to capitulate."
Not as long as she can be the kind of attorney her mother could have used when she was labeled un-American.
"What I value most about being a lawyer is being able to use the skills and abilities I have to help people achieve things they need in the system," Emmett says, "to speak on behalf of people who wouldn't otherwise have a voice."
Search attorney feature articles
Helpful links
Other featured articles
Cincinnati litigator Carolyn Taggart takes the sting out of facts that might trip up a jury
How Judy Langevin learned to do good where she can
View more articles featuring lawyers
Find top lawyers with confidence
The Super Lawyers patented selection process is peer influenced and research driven, selecting the top 5% of attorneys to the Super Lawyers lists each year. We know lawyers and make it easy to connect with them.
Find a lawyer near you