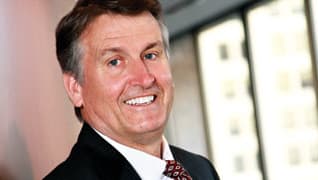 Photo by: Luigi Ciuffetelli
T. Boone Pickens, Mickey Mouse and More
Delaware corporate litigator Greg Williams represents business titans
Published in 2012 Pennsylvania Super Lawyers magazine
By Aimée Groth on May 18, 2012
Greg Williams once nearly lost his job at a fast food joint. He was working at Gino's, a chain that sold burgers and Kentucky Fried Chicken, to pay his way through college at the University of Delaware.
"I was mouthing off," he says, "and the assistant manager says to me, 'The door swung open for you to come in, and it'll swing open for you to leave.' Nobody's indispensable. Any institution or business can get along without you."
That may have been true then. But today, some of the nation's best-known businesses wouldn't be able to get along without him.
Williams is a director at Richards, Layton & Finger, where he's worked for 30 years, and chairs its corporate department. That makes him a regular presence in the Delaware Court of Chancery—and one of the top corporate litigators in the country. He represents corporations whose earnings are closely watched on the New York Stock Exchange: Citigroup Inc., J. Crew Group, Inc., JPMorgan Chase & Co., The Walt Disney Co.
He's also shared the courtroom floor with some of the biggest names in capitalism, including businessman Michael Eisner, billionaire mogul Ronald Burkle and Leonard Riggio, chairman of Barnes & Noble.
It's a career he never imagined during his five-year stint in fast food. "I grew up in a very blue-collar background," says Williams, whose home was 20 minutes south of Wilmington.
His mother was a nurse, and his father was a technician for DuPont, then a dominant corporate presence in the state, where his grandfather also worked. His two brothers went into law enforcement, and Williams became the first in his family to graduate from college.
He just wanted to succeed. "I started as a pre-med major, but after one semester, I met with an adviser who told me, 'With these grades'—I had a 3.4 GPA—'You'll have to go offshore.' So I went and found the pre-law office."
His decision to pursue corporate law was just as fortuitous. 
"In my second year of law school [at the College of William and Mary], I was taking a corporations case-law course, and I noticed that 90 percent of these cases were from Delaware," Williams says. "I went to my professor and asked about it. I didn't understand that most cases came from here—and that I came from a special place in terms of law."
"Delaware is a small state," he adds. "We don't get a lot of publicity here. We don't have a major league sports team; we don't even have a commercial television station. You don't hear much about us."
But in terms of corporate law, he was learning, Delaware ruled.
After working as a public advocate and clerking for Bayard, Brill & Handelman, he accepted an offer from Richards Layton right out of school. He's never looked back.
It was the early 1980s. Boom time for corporate litigation; the era of private equity and the corporate raider. He hit the ground running.
"I was in the right place in the right time," he says. "Looking back now, we know it was a very special and unique time in corporate litigation, the hostile takeover era, which spawned a tremendous amount of litigation. As a young attorney, you got to work on a constant stream of high-profile matters. You were able to learn from truly outstanding lawyers. I worked with and under Charlie Richards and Frank Balotti and Norm Veasey, who went on later to become chief justice of the Delaware Supreme Court. I got to watch how they interacted with their clients."
Williams started out with the firm's general litigation group. One of his first assignments was a Freedom of Information Act case against his old school district. On behalf of Delaware's The News Journal, he was fighting to obtain salary information for district officials.
"I knew some of those administrators," he says. "I had been an anonymous kid and was now representing the newspaper that had been delivered to my home my entire life."
He was still a young associate, not even 30, when he got to see T. Boone Pickens in action. The cases involving Pickens were some of the most monumental in all of corporate litigation history, including Unocal Corp. v. Mason Petroleum Co., which established that the Delaware courts will uphold directors' actions in a hostile takeover attempt "as long as those actions are reasonable," says Williams, who was writing briefs, helping senior directors with depositions and "just doing anything that had to be done."
"Things moved so quickly, it was like you were constantly putting out fires. Many days, you worked on little or no sleep," he says. "At one point, we received a favorable ruling from the court. Charlie Richards sent me back immediately to the office to call Boone Pickens and his team and deliver the news. I called and Boone and his team were ecstatic. We eventually lost on appeal, but it was a hard and well-fought litigation. Watching Charlie and Gil Sparks from Morris Nichols go at it was like watching Ali-Frazier—Charlie and Gil were heavyweights at the top of their games."
Then there was Moran v. Household International, Inc., which established the "poison pill" clause that would prevent hostile takeovers. "You certainly had a sense that you were part of a historical trial," he says. "I was a young associate working with some of the greatest lawyers in the world, George Katz and Michael Schwartz of Wachtell and Charlie. It was exciting times."
He learned early on what it took to present a strong case. "We had highly coordinated teams; we were a well-oiled machine," he says. "You'd pass the ball and knew someone would be there to catch it."
Attorney Eric Roth of Wachtell Lipton worked with Williams on the Household case. "Notwithstanding his relative youth, he had very sound judgment," he says. "We worked together from time-to-time, but the case that really stands out is Valassis Communications, Inc. v. ADVO, Inc.," in which Valassis claimed that it had been defrauded by ADVO in a takeover attempt. Ultimately, the companies settled and merged to create the largest media services provider in the U.S. at that time.
"Greg did an extremely effective cross-examination of Bob Recchia, the chief financial officer of Valassis," Roth says, "which proved that a lot of the things they were complaining about was stuff they already knew.
"Any litigator's stock and trade is the ability to convince a judge and jury," says Roth. "Greg today is one of the leading corporate litigators in Delaware, which makes him one of the leading corporate litigators anywhere. He's on anybody's short list."
Williams' most public trial came in 2005, when he was part of the team that represented the outside directors of The Walt Disney Co. Stockholders had claimed Disney breached its fiduciary duties by allowing controversial president Michael Ovitz to walk away with a golden parachute. "It was one of the longest trials in Chancery Court history, 2½ months," he says. "It was a fascinating experience for me to see some of these people—people like [then-CEO] Michael Eisner and Senator George Mitchell, Tom Murphy, then president of ABC for a long time, and Dave McBride, co-defense counsel."
Williams says he found Ovitz "intense and fascinating. I watched him testify, and I could completely understand why the board hired him, and why he and Eisner could not coexist."
William Chandler, the former Delaware Court of Chancery judge who oversaw the Disney trial, was impressed with Williams. "Lawyers are under a great deal of pressure, especially during that trial, and some didn't make it, but Greg was even-keeled," Chandler says. "He was very good at getting witnesses to tell their stories, everyone from Roy Disney to Sidney Poitier."
Williams took the media frenzy with a grain of salt. "In the first day or two, all the lawyers on the defense side drove over on a shuttle bus and went to Georgetown where the trial was held. When we came off of the bus, there were photographers taking pictures, which we all thought was hilarious because we weren't celebrities."
In 2010, he represented the directors of another big media company, Crown Media Holdings Inc., which is controlled by Hallmark. The company was in financial trouble, and when it tried to reorganize its debt, stockholders sued. 
"Greg gave me a sense of confidence right away," says Peter Lund, then a director of Crown Media. "I never met anyone who was more prepared than he was and demanded that I be prepared. We had 26 committee meetings. That's a lot of minutes to go back and collect."
Williams says working with people like Lund makes him a better attorney. "Here I am, a kid who grew up in Bear, Delaware, and yet I get to interact with such interesting people, like Peter Lund who ran CBS television. Interacting with people who have been so successful has been a great privilege for me. My observation is that the most successful people are nice people. They interact well with others."
Barnes & Noble CEO Leonard Reggio is one of those people. "He created one of the great American companies," says Williams. "You have a sense when you interact with folks like Len that you're watching a part of American commercial history."
Williams defended him against financier Ronald Burkle, whose private equity firm The Yucaipa Cos. had initiated a hostile takeover bid last year, which was ultimately rebuffed. "The thing people forget about Court of Chancery is that not only does it control the direction of American corporate law, but that it's a trial court—with objections and witnesses. We ultimately won because of Chancellor Leo Strine's interpretation of the Household case. I think that it showed the importance of precedent."
Sandra Goldstein of Cravath, Swaine & Moore worked with Williams on the Barnes & Noble case, and says he's "really a go-to guy, the rare combination of an extraordinarily knowledgeable lawyer with great skills and great judgment. I really want to know what he thinks. I want to hear his legal analysis, the practical aspects. Some people are good courtroom lawyers, but not as knowledgeable about the law itself. He really covers all sides of it."
Even with the front-row seat to inner-workings of American businesses, Williams says he'd never trade his law degree for an MBA. "I could not turn my back on this firm. Whatever it is that I've accomplished in life, the thing I'm most proud of is being named director at the firm [in 1988]."
That wouldn't have been possible without the support of his wife, Susanne. "As hard as the practice of law is, if you don't have a supportive spouse, it's almost impossible. During the takeover days when I was working weekend after weekend, my wife was the rock, and none of this success was ever going to happen without her."
The other key to success? "Don't become a passive decision maker," Williams says. "Keep thinking about where you're going."
Search attorney feature articles