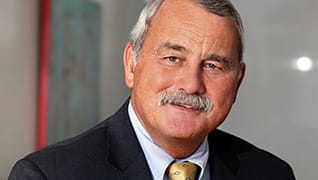 Photo by: Luigi Ciuffetelli
The Gold Standard Playbook
DuPont's recently retired Tom Sager has a pretty simple M.O.—"Do better"
Published in 2014 Super Lawyers Business Edition magazine
By Patrick Pawling on November 21, 2014
It happened during fraternity rush at the University of North Carolina at Chapel Hill in 1970. Tom Sager, a sophomore and rush chairman for Beta Theta Pi, had to vote on a promising pledge who was a Morehead Scholar. The kid was articulate, athletic—the whole package. But others on the rush committee said if the young man was accepted, their parents would surely make them leave the fraternity.
The student was African-American.
"I buckled," Sager admits. "I went along with the flow."
It wasn't a proud moment. But Sager promised himself he would do better.
As general counsel of DuPont, a post from which he retired in August 2014, Sager had the chance to do that. Not only did he help innovate corporate law as the father of the DuPont Legal Model—think alternative fees, convergence, increased reliance on temporary staffing, early case assessment, paralegal utilization, bonuses for speed, creativity and collaboration and a recovery initiative to aggressively protect DuPont's assets—he also became a champion of diversity and inclusion.
He pushed outside counsel to hire more minorities and women, and he pressed just as hard internally. A smart move for a company facing multiple lawsuits and regulatory actions—the more representative its legal teams, the better DuPont's chances with juries and regulators.
But that doesn't explain his determination, commitment and leadership by example, says Joseph K. West, president and CEO of the Minority Corporate Counsel Association, of which Sager is a founder and board member.
"Tom is the gold standard," says West. "There is a reason the MCCA's highest honor is the Thomas L. Sager Award. His name is synonymous with diversity and inclusion."
Reflecting on his career at DuPont, Sager is less buttoned down than usual: suit jacket but no tie, looking a little rumpled and grumbling affably about the traffic, having walked in 11 minutes late. Somber portraits of past GCs and DuPont presidents stare down in a dark-paneled conference room at the famously fancy Hotel du Pont in Wilmington, Del., the city that has served as DuPont's headquarters since its founding in 1802. His office has already been cleared in preparation for his retirement. Typical Sager: Ready early, looking forward and favoring efficiency.
His eyes light when talking about his two sons. One works as a paralegal, the other is a lawyer. And there's a touch of sadness, too. His travel during his time at DuPont—to Geneva, Brussels, Beijing, Sao Paulo, Delhi, Moscow, Mexico City and beyond—helped put out fires and solidified attorney loyalty at a time when headhunting raged, but it was difficult being away.
Born in Winchester, Mass., to a father who was a DuPont sales and HR executive and a mother who was a homemaker, the Sager family, including an older sister, followed as his father was posted back and forth between Rhode Island and Delaware multiple times. Always a good student and a hard worker—he moved furniture for $3.15 an hour in high school and college—Sager earned his JD at Wake Forest. DuPont hired him out of law school in 1976 to work on labor and corporate security issues.
With an uncle who had also worked at DuPont, it felt right.  
"When somebody devotes their career to a company, you take notice, and my dad was quite happy with his career," says Sager. "That reinforced that DuPont was a good place to work and it stuck with me."
In fact, it was one of his dad's poker partners who led Sager to the law. "He was a solo practitioner and he was as Irish as you could be," says Sager. "He took whatever came in the door, had a successful practice, and he would give me books to dive into. He ended up being a great legal mentor. He had one of those upbeat views of life, very down to earth and street-smart and self-confident—but he took the law seriously."
Though Sager enjoyed labor law, he agreed to move to Washington, D.C., to represent the company as a registered lobbyist, back when elected officials weren't surrounded by layered perimeters of staff and security. He met former House Speaker Tip O'Neill, U.S. Sen. Bill Bradley and U.S. Sen. Ted Kennedy. It was fun, until he tried to actually get something done.
"Watching grass grow," he says. "The pace, that's what killed me."
Retreating to Wilmington, he became the company's chief litigation counsel in 1998. In July 2008 he was named the 12th general counsel in a legal department that was 111 years old, joining Alexander Hamilton as one of the lawyers charged with representing the company. He likes to joke that while Hamilton, the company's first attorney, died from a gunshot wound suffered during his duel with Aaron Burr, the good news is they were both using DuPont gunpowder.
Thanks to Sager, corporate attorneys and their departments are no longer considered "no people" who won't let the business side do their jobs. Nor are they cost centers. But back in the early '90s, when Sager, then associate general counsel, began approaching outside counsel with his reform ideas, the reaction was predictable. They figured he was dressing up cost-cutting, and if they waited him out, he would go away.
At the time, Sager was wrestling with an avalanche of claims, including mass torts cases involving asbestos, the fungicide Benlate, Delrin polybutylene plumbing and TMJ jaw implants; M&A was a real cost issue as well.  DuPont was spending north of $100 million over several years defending claims, he says. "So it was very expensive. The businesses were being distracted by all this litigation, and we needed to make a step change."
So in 1992, the DuPont Legal Model was born. "It's seven phases, none of which were preordained; just as the program evolved, certain needs or opportunities arose," Sager says. "It started with convergence, which was three and half years … [of] whittling our firms down."
DuPont was using some 350 outside firms. He slashed that to what's now a mere 38. Those left standing agreed to do it the DuPont way: faster and more efficiently, like businesses instead of old-school law firms.
"When I became chief litigation counsel, I inherited thousands of cases, and the thinking was that there must be a better way," he says. "We needed more than a new vision. We needed a new playbook."
So Sager created one and continued to refine it when he became general counsel. "The whole idea is to bring closure to this litigation," he says. "We recognize and reward law firms for not simply handling cases, but [for] bringing closure."
The accounting firm Arthur Andersen documented savings of $13.5 million over the first three years of the DuPont Legal Model, with $175 million saved during the first 15 years, all resulting from increased use of outside counsel and other experts, faster case resolution, alternative fees and all the other reforms.
DuPont also reduced the number of in-house lawyers and management, from 175 in the U.S. at the peak in the late '70s to 121 in 2014. In certain instances, case cycle time was cut in half to less than 22 months. Yet by using contractors, including many more non-lawyers for discovery and other services, the company can scale up quickly.
"Having conversations with lawyers about bringing closure and focusing on strategies to resolve makes a huge difference in how they expend their energy," Sager says. "They have to understand they are not working themselves out of a job."
All the while, with his promise to do better in mind, he didn't ask for more diversity in his teams; he demanded it, with specific goals. The firms that managed to stay say they are better off for it because they have become more agile and efficient, and have enjoyed referrals and bonuses from DuPont.
These innovations became known as the DuPont Legal Model. To this day, some of the world's largest companies come to Wilmington to study it.
"Tom led the charge and transformed the whole industry," says Paul Smith, chairman of London-based Eversheds, one of DuPont's primary law firms. "At first the question was, 'Why would a law firm sign up and agree to do things in a businesslike way when you could run discovery for years and make lots of money?' What he was proposing was just not the way things were done. Now it's absolutely industry practice. He was 20 years ahead of his time—and is the most genuine person I've ever met in business."
Adds Adam Hoeflich, a partner at Bartlit Beck Herman Palenchar & Scott of Chicago, a preferred DuPont provider, "Tom is the father of the DuPont Legal Model. He helped create incentives for collaboration and efficiency where in the past the incentive was to bring in as much work and as many hours as possible. When he started giving out awards for things like early resolution, suddenly there was a reason for firms to play well in the sandbox."
Hoeflich and his firm defended DuPont in products liability and class actions involving Teflon, the herbicide Imprelis, the medicine Coumadin and other cases.  Declining to provide specifics, Hoeflich says, "We came in on a very large case and Tom made it very clear to other attorneys that we each had special expertise and there would be incentives for collaboration. It's a model that favors results, efficiency and performance, not billable hours."
He was also lead counsel for the Teflon consumer fraud multidistrict litigation, in which plaintiffs in 22 class actions sought billions while alleging that DuPont failed to disclose potential health risks associated with Teflon-nonstick cookware. In 2009, a judge denied class certification and dismissed all matters.
"Tom is a wonderful guy to work with in very high-stakes cases," says Hoeflich.
"There was a lot of pressure and lots of publicity and Tom stood tall right through it all. Every single case was dismissed without settling and there were dozens of plaintiff's cases."
Sager has a reputation as a talented litigator, and he showed off his skills when DuPont went up against Monsanto Co. After a four-week trial in 2012 in which Monsanto alleged DuPont had infringed on a patent covering seeds for growing herbicide-tolerant soybeans, Sager and members of DuPont's board went to dinner to await a verdict. They didn't even get to the main course. The jury came back in 40 minutes, awarding Monsanto $1 billion, the fourth-largest jury award in a patent trial in U.S. history, according to Bloomberg.
Sager told the board the verdict would never stand. It didn't. The companies settled, with DuPont agreeing to license the Monsanto technology, Monsanto agreeing to drop its case and DuPont dropping its antitrust case against Monsanto—for which it had engaged the legendary David Boies, who had already represented DuPont in other cases. "They were afraid of our antitrust trust case, and David had a pretty good story to tell," says Sager.
According to a Securities and Exchange Commission filing, the royalty payments to Monsanto are substantial: $346 million from 2014 to 2015, $456 million from 2016 to 2017, and per-unit payments starting in 2018 totaling at least $950 million.
"That sounds rich, but it's favorable terms and guarantees our access to their technology," says Sager.
At 64, Sager has left the building in Wilmington but is nowhere near retirement. He's joining the Philadelphia and Wilmington offices of Ballard Spahr Stillman & Friedman, a preferred DuPont legal provider, as a partner. He feels he'll have plenty to contribute on the outside. There's some irony, naturally. He spent a career attempting to manage the cost of providers such as Ballard, convincing them to do more with less—and faster. But his new firm thrived in that environment.
"Any time you move away from an environment you have known for many years, it's an odd feeling, but hopefully I can deliver value," he says, speaking, as always, like somebody from the business side. "You never know until you get there."
And about that playbook? He's sure to add to it.
"It's a very open environment, which is appealing," Sager says of the firm. "The chairman said to me more than once, 'We want to hear your views, and we might not always agree with them, but it doesn't do us any good not to begin to engage with you … and see how we can improve our representation with other corporate clients.' I think I still will be able to call balls and strikes, just like at DuPont."
Search attorney feature articles
Helpful links
Other featured articles
Barbara Howard has held the reins at both her state and city Bar associations 
What criminal defense attorney Steve Sadow knows can acquit you
Family lawyer Michèle Bissada quietly handles the biggest cases
View more articles featuring lawyers
Find top lawyers with confidence
The Super Lawyers patented selection process is peer influenced and research driven, selecting the top 5% of attorneys to the Super Lawyers lists each year. We know lawyers and make it easy to connect with them.
Find a lawyer near you