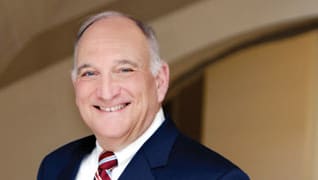 Photo by: Luigi Ciuffetelli
The Takeover King
David McBride has played a part in some of the biggest mergers and acquisitions in U.S. history
Published in 2011 Pennsylvania Super Lawyers magazine
By Aimée Groth on May 19, 2011
In October 2004, Michael Ovitz stood before a Delaware judge and, in a sense, before America. He was defending the $140 million windfall the plaintiffs alleged he received after being fired from The Walt Disney Co. for his embattled 14-month tenure nearly a decade earlier. Shareholders wanted Disney and Ovitz to pay it back.
"There were armies of reporters in the courtroom every day," says David McBride, who was one of four attorneys representing Ovitz. "The most interesting thing to me about the case was not the legal element. It was reading coverage of the trial in various newspapers the next morning—in The [Wall Street] Journal, The [New York] Times and The [Washington] Post. It was amazing how different the articles were from one another."
By August 2005, the papers were saying the same thing: The court found that the Disney directors and Ovitz had not violated their fiduciary duties. "'Michael Ovitz got paid a lot of money for doing nothing,'" says McBride, a partner at Young Conaway Stargatt & Taylor in Wilmington, quoting Ovitz's detractors. "Perception was that he wanted to be fired and take all of his money. The truth is that he fought tooth and nail to keep his job. If he had his choice, he would have stayed at Disney. All Disney gave him was what they were contractually obligated to give him. The case taught me to be careful in judging when you only know some of the facts."
An open mind is part of what makes McBride one of the country's top commercial litigators. He brings most of his cases before the Delaware Court of Chancery, home to the movers and shakers of corporate law in a state where the majority of Fortune 500s are incorporated. "The quality of the judges, their work ethic, their experience—you are practicing before the most sophisticated court," he says. "Corporate law in Delaware is cutting edge."
McBride, now 62, was an early player in the leveraged buyout movement, with a role in Kohlberg Kravis Roberts & Co.'s raiding of RJR Nabisco in the 1980s—the private equity deal that was the basis for The New York Times best-seller Barbarians at the Gate. At the dawn of the recent financial crisis, he represented JPMorgan Chase & Co. when shareholders reacted to the fire sale of Bear Stearns. He's quick to mention that he's always working with a team, but his contemporaries say he's a natural leader.
"He's a field general. Not just an ivory tower general," says Ted Mirvis of Wachtell, Lipton, Rosen & Katz (WLRK) who has known McBride for 25 years. "He's someone who comes up with an argument, drafts the brief and makes the argument—as opposed to sitting back in the headquarters and directing others."
Born in Columbus, Ohio, McBride moved with his parents and two brothers to South Carolina and Maryland. He graduated from the Edmund A. Walsh School of Foreign Service at Georgetown in 1967 with big aspirations. "But then I realized my views on the Vietnam War did not coincide with the views of the government at that time," he says.
Instead, he put in time at a law firm before attending Emory University School of Law. Upon graduating in 1975, he joined Bayard, Brill & Handelman (now Bayard). At first, he'd take anything that came through the door. Domestic dispute cases often landed on his desk. "I didn't like handling them because I always had to make a choice: about whether to spend more time with clients when they couldn't afford to talk to you, or cutting them off," he says.
In 1978, he joined Young Conaway. McBride tried his first takeover case in 1979 with Telvest, Inc. v. Olson. "It was one of the first takeover cases in Delaware where the Court of Chancery ruled in favor of the hostile bidder—in our case, our client," he says. The court struck down a precursor to the "poison pill" strategy—a defensive action taken by a corporation's board to discourage a takeover. In this case, the company's stock was used to impose a super-majority vote requirement on mergers.
McBride worked on the case with future Delaware Supreme Court Justice Jack Jacobs—whom he describes as "an excellent writer. Very demanding. I remember my initial drafts of portions of the briefs we prepared came back to me heavily in red."
The critique sharpened McBride's skills for even bigger battles—such as financier Ron Perelman's historic $2.7 billion takeover of Revlon in 1985. "That case made law that's still in effect," says McBride. "If you're selling a company for cash, you have to sell to the company with the highest offer. At the time, it was a major development in Delaware law."
On the other side of the table was Mirvis, who represented Revlon. "David came up with the most brilliant—and winning—argument that selling a company is no different than when a trustee sells an asset," he says. "If you're selling a corporate asset, it's not correct to think about anything except what most benefits the stockholders. Choose the best price, period. That argument won the day."
Another of Wall Street's defining contests of the era involved two oil behemoths, Texaco and Pennzoil, and a $10.5 billion judgment. At issue was Getty Oil's 1984 merger with Texaco: Pennzoil claimed that both parties had violated its handshake deal with Getty. The case began in Delaware, but after the Court of Chancery denied the injunction, the case made its way down to Texas.
"Things started going wrong in Texas," says McBride, who represented the J. Paul Getty Trust, which favored Texaco's higher bid. "We tried to bring the case back up to Delaware to take control of the litigation." It was a failed attempt, and a Texas court levied the historic civil judgment against Texaco. During the appeals process, financier Carl Icahn brokered a new $3 billion deal.
The 1980s were also marked by KKR's $25 billion leveraged buyout of RJR Nabisco. The company's then-CEO, Ross Johnson, proposed a management buyout to increase the company's value. With the assistance of Shearson Lehman Hutton and Salomon Brothers, he'd take the company private. But it wasn't long before higher bidders emerged. 
McBride advised RJR Nabisco. The bidding war, in October and November 1988, was grueling. "I can remember sitting in a conference room at Skadden Arps for days and overnight working on briefs," McBride says. At the same time, RJR Nabisco shareholders sued to halt the acquisition. "The irony of that case was that, when the plaintiffs brought their lawsuit, they accused the board of breaching fiduciary duty by favoring management, which was making a bid for the company," he says. "Later, the plaintiffs accused the board of being biased against management [in supporting KKR]." 
McBride has also represented media giants when working alongside outside firms: In 1989, he represented Paramount Communications Inc. in its bid for Time Inc. Time ultimately merged with Warner Communications Inc., rebuffing Paramount's offer, which the Delaware Supreme Court affirmed. Four years later, on behalf of QVC Network Inc., McBride says his team "succeeded in knocking out the defenses that Paramount and Viacom had put in place for upsetting their deal." The state Supreme Court ruled Paramount instead be put up for sale at auction. "We won the lawsuit but lost the bidding war," he says.
Disney and its fallen executive went on trial a decade later. McBride says the case "reaffirmed longstanding principles" about the standards for leaders of corporate America: "Directors aren't going to be liable merely because they are departing from best practices."
That case, as with all others, McBride says, hinged upon the facts. "The most important part of litigation is mobilizing the facts—bringing up what you think is most important," he says. "Oftentimes a court is picking between competing articulations of what a law should be. Sometimes facts of a case affect what the court thinks the rule should be."
And that requires legwork. "I was always concerned about getting the job done," he says. "The physical demands were so immense—nights without sleep and such. The biggest challenge was getting it done. Win or lose, I want to know that my side of the case was presented as effectively as possible." 
In March 2008, brokerage giant Bear Stearns was sold in a fire sale to JPMorgan Chase. McBride represented JPMorgan in the Bear Stearns shareholders litigation, which contested terms of the deal. Ultimately, the case was moved from Delaware to New York and dismissed. "We thought it was an extraordinary emergency," he says. "And hopefully it was a one-off situation that it wasn't going to occur again."
Throughout the current financial crisis, McBride has stayed busy—for the most part by representing companies hoping to get out of sinking deals. "Banks were providing loans that they wanted to get out of," he says. For the past year, he represented the Yucaipa Cos. in a proxy fight with Barnes & Noble over the election of directors.
Reflecting on his 30 years of practice, he says the biggest changes in corporate law surround "the creation of the tender offer and the amount of merger and acquisition activity that's occurring in not only our country but worldwide," he says. "And in the first 10 or 15 years of that increased M&A activity, hostile transactions were a significant part of it. Now they're less hostile, more friendly deals. It's an open question whether, after this financial crisis, the M&A market will again return to its past height."
Stephen Lamb, a Paul, Weiss, Rifkind, Wharton & Garrison partner and former judge on the Delaware Court of Chancery, is sure McBride will have a part to play. "David is one of the smartest guys I know," he says. "He has a tremendous presence—a calming influence. As we get older, we take on new roles. He's a major contributor to the maintenance of Delaware corporate law." 
Mirvis of WLRK agrees. "David is one of the most incisive thinkers about Delaware legal doctrine I know. Because he has represented both sides—raiders and targets—he brings the perspective to each case."
Which sums up the most important lesson McBride learned from his mentor, retired Young Conaway partner Bruce Stargatt. "In every case, there's something to be said for your client's point of view, whether they're in the right or not," McBride says. "The job of lawyer is to bring out those elements of value and truth. And that goes for life generally: Major disputes are usually not a conflict between right and wrong, but usually a conflict between two rights."
Search attorney feature articles