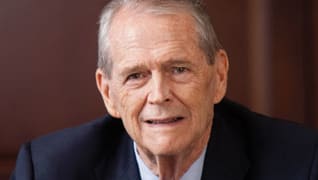 Photo by: Scott Wiseman
Franchise Player
The quiet persuasiveness of West Palm Beach business litigator Sid Stubbs
Published in 2013 Florida Super Lawyers magazine
By Harris Meyer on May 28, 2013
For three years, Sidney A. Stubbs did everything he could to keep former Cadwalader Wickersham & Taft partner Jim Beasley from recovering his partnership capital, profits, attorney's fees and punitive damages after Beasley claimed the New York-based firm wrongfully expelled him.
"My financial life was on the line," says Beasley. You might expect him to bear some hard feelings toward the veteran Florida litigator. Yet in the years since that nationally noted case—which inspired many articles on attorneys' fiduciary duties to each other—Beasley and Stubbs have become friends.
"Sid's not only a wonderful lawyer but a man of great integrity," Beasley says. "I knew Sid was doing his job. He never did anything other than what was purely professional, and you have to admire that."
Stubbs, defending Cadwalader, lost the hard-fought trial in 1996, though an appellate court two years later denied Beasley recovery of hefty attorney's fees.
A shareholder and former chairman of the 38-attorney Jones Foster Johnston & Stubbs law firm in West Palm Beach, Stubbs, 74, defends international and regional law firms in legal malpractice and firm-dissolution cases.
Beasley's regard for Stubbs is widely shared. Some call him the firm's "franchise player." Professionally, Stubbs is acclaimed for his trial skills, preparedness and integrity. Personally, he's beloved for his listening skills, mentoring of younger lawyers and kindness.
"He's totally honest, a great trial lawyer, and so easy to get along with," says J. Michael Burman, a West Palm Beach litigator who's currently opposing him in a legal malpractice case. "If you wanted Atticus Finch, that's him."
Stubbs, a slender, courtly, soft-spoken man who bears a striking resemblance to President George H.W. Bush, says, "I love representing lawyers. Unlike many commercial clients, they understand what's going on—the costs, rules and difficulties. I can't think of ever having any serious disagreements with a law firm client."
He's noted for corporate defense work, such as serving as local counsel with Rob Wilkins for Chiquita Brands International Inc. in an ongoing federal class action lawsuit claiming Chiquita supported human-rights violations in Colombia. One case he's especially proud of was a hard-fought 2003 arbitration on behalf of a Florida-based subprime lending firm, in which he held the award to $6 million, down from the claim of $75 million. "That case was crucial to the company," he says.
Over the years, he's fit in leadership work for the state and local bars, the American College of Trial Lawyers, Legal Aid, Boy Scouts, the Episcopal Church, Democratic Party candidates, judicial candidates, judicial nominating commissions, local economic and criminal justice councils, and the local Meals on Wheels program, which he chairs. In 1983 to '84, Stubbs, who calls himself a centrist Democrat, served as special counsel to then-Gov. Bob Graham.
"Sid is the real deal," says U.S. District Judge Daniel T.K. Hurley in West Palm Beach. "He embodies everything you want in a complete lawyer. He's revered in this community." Hurley remains grateful to Stubbs for his strategic advice in getting the beautiful Palm Beach County courthouse built in 1995.
Stubbs has to be prompted to talk about himself. In his corner office overlooking the Intracoastal Waterway, with the island of Palm Beach and the famed Breakers hotel visible in the distance, he listens thoughtfully and answers questions modestly—returning a visitor's interest in him with reciprocal personal queries.
"I'm not great at telling stories, but I've tried through the years to become better at it," he says in his soft Central Florida drawl. "You can't try cases without being able to do it."
Not surprising for someone who represents law firms and corporations in  sensitive matters, he's careful in what he says, politely deflecting questions about some  cases. While he's warm and engaging, it's difficult to elicit colorful anecdotes from him—or about him.
"It's not that he's not interesting, but he's very careful," says his son Scott, a writer and bar owner in Brooklyn. "He doesn't ever get himself into situations that could be awkward or uncomfortable. For a long time, his nickname has been 'Mr. Excitement' precisely because he's so even-keeled and levelheaded, and there aren't that many wild and crazy stories to tell." One of his father's friends, Scott recalls, even had "Mr. Excitement" business cards printed up for him as a joke.
Stubbs and his three younger siblings grew up in Bradenton, raised alone by their mother, an assistant registrar at a community college. His father left when Stubbs was about 3. Nevertheless, Stubbs describes it as an idyllic childhood in many ways. He claims he was a bit lazy in his high school studies.
His son says Stubbs is downplaying the disadvantages he had to overcome. "Dad started working full time after school at age 13 in a variety of jobs, including hotel bellhop, as a second income for the family," Scott says. "So he can be forgiven for not being more academically motivated."
Stubbs went on to graduate from high school and attend Florida State University, serving as an ROTC cadet. He met his future wife, Annette, at FSU. They married right after graduation; then, when he was commissioned in the Air Force, moved to Montana, where their twin daughters, Melanie and Natalie, were born.
Stubbs considered going to seminary school—he gave sermons at his church in Montana during his Air Force service—but he chose law, which he'd been interested in since high school. He opted for the University of Florida because he wanted to live and practice close to his relatives and in-laws.
Out of school, Stubbs started in transactional law but quickly decided he wanted to do litigation instead. In 1967, he accepted a job at an old-line West Palm Beach firm then known as Jones, Adams, Paine & Foster—and never left except for a brief stint at Gunster Yoakley.
Stubbs recalls that, soon after he joined Jones Adams, partner Samuel Adams told him he needed help on a trial, handing him a file and telling him to study it over the weekend. When Stubbs went to court on Monday, Adams wasn't there. He asked the judge to wait, but the judge said Adams was not coming. Stubbs had never even observed a trial, but Adams clearly had confidence in the rookie lawyer.
 "I hadn't the foggiest idea what I was doing, but it went all right," Stubbs says with a smile. He not only defeated the plaintiff's claim but won on a counterclaim.
He started handling legal malpractice cases, and more firms asked him to represent them. He branched out into firm-dissolution cases and became well-known for working with the other side to avoid trial if matters could be worked out reasonably.
"He tries to look to the bigger issues to see if they can be resolved, then deal with the personality issues that often stand in the way of resolution," says West Palm Beach litigator Robert D. Critton, who, along with Burman, currently is opposing Stubbs in a legal malpractice case. "He's a great person to have on the other side, because ultimately it saves clients a lot of time, aggravation and money."
Stubbs says law firms can reduce legal malpractice risks by crafting strong engagement letters specifying their responsibilities, communicating frequently with clients, and being upfront about litigation setbacks and costs. It's harder, he says, to take preventive measures against firm-dissolution fights, which sometimes carry the messy emotions of a divorce.
On the other hand, he observes, "It's reasonably easier for me to settle firm breakups than malpractice cases because everyone realizes it's not worth spending a lot on litigation."
Stubbs frequently uses mock juries, whose comments often surprise and humble him. "In one case the mock jurors referred to me as 'the old guy,'" he says with smile. "I thought, 'I'm not an old guy.'"
Stubbs and law partner Roberto M. Vargas are preparing to defend a national law firm in a convoluted malpractice case. Several bookshelves in Stubbs' office are full of binders on the case.
Stubbs, the lead lawyer, conducts the case conference in a democratic way, listening intently, fingers tented under his chin, as Vargas and the consultant offer ideas. He occasionally jumps in, offering his own views, and frequently praises the other attorneys ("This is your second major great point"). He also flashes a droll sense of humor, offering some biting comments about the veracity of one of the plaintiffs.
Vargas started working with Stubbs when he joined Jones Foster 13 years ago as a young associate. "Sid's been incredibly successful being calm, cool and incredibly well-prepared," Vargas says. "He has the ability to get the judge and the other attorneys to focus in on the real issues, and he doesn't do it in the blustery style a lot of litigators are known for. He gets more with honey than with being a pain in the neck."
Judge Hurley seconds that: "Sid's style differs from other prominent litigators in that he's quietly persuasive, there's no pounding of the lectern, and he has a unique ability to marry the law and the facts. That's what gives him gravitas."
As during the case conference, listening well has always been a key part of Stubbs' style. "When I first got here soon after law school, it amazed me that Sid would call me into his office to talk about an issue and really listen to what I had to say," Vargas recalls. "He'll have his own views and make his own decisions, but he wants to hear what everyone has to say."
Those listening skills helped Stubbs during his many years as chairman of the firm, including some difficult transition years after the firm decided to stop its emphasis on insurance defense and 13 lawyers left in 1988. "When Sid was managing partner, he would stop by and visit with everyone and see how they were doing," says Harry A. Johnston II, a former Democratic congressman and state Senate president who is now of-counsel at Jones Foster. "He always kept his cool."
Vargas says he's always amazed at the deference Stubbs receives at national and international law firms when he represents them in malpractice cases. "These firms have great, great lawyers, but when it comes to them being sued, they want Sid's advice and they do what he tells them to do," Vargas says.
Stubbs says he recognizes that big-time litigation is a younger person's game, and he's pondering what to do with the rest of his life. He and his wife love traveling: hiking, touring U.S. wineries, exploring Europe, and seeing theater in New York. He takes Italian language lessons with a tutor, anticipating future trips to Tuscany. Even so, while he keeps in excellent shape by working out nearly every day, his days of 17-mile hikes in Europe may be over because his knees are shot from decades of tennis and daily jogging.
Scott Stubbs says the family has tried to persuade his father to retire, but he hasn't yet figured out anything that he wants to do more than be a litigator.
When Stubbs does retire, says Vargas, "It will leave a big void for me personally and for the firm. A lot of people will realize how lucky they've been to work with him for as long as they have."
Search attorney feature articles