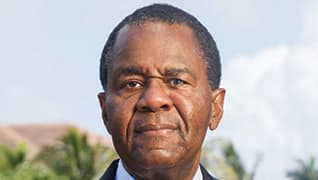 Photo by: Scott Wiseman
Moving Society Forward
As Frank Scruggs sees it, that is the ministry of his work
Published in 2019 Florida Super Lawyers magazine
By Carlos Harrison on June 6, 2019
Frank Scruggs was just a boy, sitting amid a sea of high schoolers in his mother's American history class, when he determined exactly how he wanted to make a difference in the world.
It was the early 1960s, and the Fort Lauderdale elementary school he went to was segregated. So, too, the historic black high school where his mother taught. At the same time, the civil rights movement was in full swing and doors were opening. Scruggs wanted to be part of that change.
"From the time I was old enough to formulate aspirations, I wanted to become a lawyer," says Scruggs, a partner at Ford Lauderdale's Berger Singerman, who practices employment law and is a member of the firm's dispute resolution team. "Part of it was the civil rights movement, for sure. And in that vein, the battles of trying to get equal pay for African American teachers were very much a part of what my mom, in particular, worked on with her cohorts. There were these battles to be waged, of which they were a part. But it was a broader context than civil rights; it's the sense of what the nation is."
The decision he made then would propel him through Cornell, Princeton and Harvard Law—and on to breaking down barriers.
Scruggs became the first black associate and, later, first black partner at a major Miami law firm. He chaired Florida's statewide commission on racial bias in the judicial system and got its recommendations through the Legislature within a year. He served as the state's secretary of labor under Democratic Gov. Lawton Chiles, where he very publicly promoted diversity by selecting minorities or women for 17 of his first 20 appointments. Simultaneously, he quietly used his influence behind the scenes to nudge the state toward a more representative judiciary—persuading the governor to name African American attorneys as 23 of his 26 appointees to the state's judicial nominating committees.
And that was all before he turned 40.
He credits his parents with laying the foundation. Both were educators. After his elementary school classes were done for the day, Scruggs would either take a spot in the back of his mother's high school classroom and listen, or drift out to watch his father, a storied high school football coach, run practice. In his mom's history class, he gradually came to the realization that becoming a lawyer could help him play a role in shaping the future.
Those beginnings led to a rigorous Catholic high school education that extolled "excellence without self-aggrandizement," Scruggs says, and "nurtured self-esteem and encouraged and rewarded achievement" in both academics and athletics. Scruggs was outstanding at both, serving as president of his senior class and co-captain of the school's football team, and was named Fort Lauderdale News and Sun-Sentinel Broward County Scholar Athlete of the Year.
St. Thomas Aquinas High School, he says, "reinforced" his aspirations of becoming a lawyer—and even more so, his reasons why. "I'll say it this way: Lawyering, at its best, is a form of ministry," he says. "That's what St. Thomas encouraged."
The goal was set, but his path solidified through happenstance. A friend he made at a summer humanities camp in Maine took him on a tour of Harvard, and her brother-in-law, a student at Harvard Law, told Scruggs, "You know what? You could go to Harvard."
Cornell, though, came first, in the government honors program. He graduated summa cum laude.
Then he—simultaneously—worked on his master's of public affairs from Princeton, and his J.D. from Harvard. He spent a lot of time on Amtrak trains.
All three schools marked him for life.
Cornell strengthened a feeling born at his high school: "the sense that, 'You know what? You're special. You can do something. And we not only do believe that, we want you to know we believe that, and here's how we can help you,'" he says.
Princeton re-emphasized his beliefs about duty to others. (As proof, he offers up a speech by the school's former president, who would later become U.S. President Woodrow Wilson: Princeton in the Nation's Service.)
As for Harvard? Once, he was appearing on a client's behalf before some public officials; one who knew him teased: "You know what they say: You can tell a Harvard man, but you can't tell him much."
After law school, he landed a job at Steel Hector & Davis. It was groundbreaking: No other major Miami firm had hired an African American associate. The late Sandy D'Alemberte, then a partner at the firm—who would become an ABA president, dean of FSU's law school, then president of FSU—said at the time of this writing that, while that was a goal, they wanted someone who would excel in the heat of that spotlight.
"I have a strong hunch that Frank faced some challenges," said D'Alemberte, "but he never complained about a damn thing. First of all, he was smart. He outworked other people and quickly got recognition. Frank went on to be on the Board of Regents and became well-recognized at the bar at a pretty young age."
A couple of years later, Gov. Bob Graham brought him on board as assistant general counsel—and almost immediately into a statewide crisis. A gas truckers' strike threatened to paralyze the state and cripple its economy. Graham declared a state of emergency, and sent Scruggs to negotiate.
"One of the things that impressed me about Frank was that not only was he very good at the traditional skills of a lawyer, of using the law effectively to accomplish a policy objective, but he was good at dealing with people," Graham says.
He needed to be. The truckers and owners had a contentious history.
"Now they had hit rock bottom," Graham says. "And he was able to, over a long night—after several days of narrowing difficulties—get them to a point that they would talk civilly. And before the sun came up, there was a settlement."
Scruggs returned to Steel Hector a year later, but his public service was far from over. He joined the state Board of Regents from 1982 to 1988; and when Gov. Chiles took the helm, Scruggs became secretary of labor. The appointment overlapped with Scruggs finishing his duties chairing the Florida Supreme Court Racial & Ethnic Bias Study Commission and, once again, came just as the state was hit with a crisis.
Barely two weeks after taking the job, Eastern Air Lines, one of the state's largest employers, abruptly shut down and put thousands of workers on the street. Scruggs established a one-stop center to deal with their needs, bringing together representatives from unemployment compensation, job services and social services. Part of the solution, he says, involved getting Eastern's management and unions to bury the hatchets and focus on the needs of the displaced workers.
"The task was to engender cooperation to try to bring assistance to these folks," he says, "and we did. It was very poignant—after all the wars and bitterness and strife—to see them brought into collaboration."
At the same time, Scruggs was bringing change—and attracting widespread notice—by aggressively increasing the number of minorities and women in positions of authority in the labor department. The people were picked, he stresses, because of their qualifications.
"I had a strategic intent to have a leadership team that had an affinity for, and was representative of, the state," he says. But, he adds, "I think about it first as being a stellar and wonderful group of people."
He came back to South Florida again the following year, becoming an active member of prominent business and community organizations, and serving on the boards of major corporations including SunTrust Banks, Blue Cross and Blue Shield of Florida, and Office Depot.
In 1995, Scruggs moved to Greenberg Traurig's Fort Lauderdale office as a shareholder and, soon, co-chair of its employment practice group, then worked as executive vice president at Office Depot before joining Berger Singerman.
Along the way, he expanded his practice—and his behind-the-scenes impact—by representing some of the largest locally based companies in employment matters. He defends them in litigation, helps them proactively to remain within regulatory bounds, and advises them on adopting practices he believes benefit the company, its workers and the community.
Brenda Pagliaro, general counsel at City Furniture, calls what he does "a gift."
"He just has a way of breaking a problem down and then taking you through it logically, step by step," she says. "So you walk away having a complete comprehension of the problem, both the pros of the cons, and you're really able to make, in my opinion, the best informed decision."
For Scruggs, it all goes back to that sense of being in the service of others. He describes it by telling a story.
"The president of a developing nation gave a university graduation speech. He said to the students of that very poor country:
'Those who receive the privilege of education are like the person who receives all the food available in a starving village so that he or she can go get help from a distant place.'" Scruggs adds, "I've received the privilege of education, and I have lived my professional life repeatedly looking to find help from a distant place."
---
Going to Need a Bigger Boat
The impact of the civil rights movement on Frank Scruggs' life shows in his work and play. He named his 26-foot recreational fishing boat "Free at Last"—from the closing lines of Dr. Martin Luther King Jr.'s I Have a Dream speech.
It's a message and a state of mind.
"I tell people that if you haven't been on southern Biscayne Bay on a small boat, you haven't been to Miami," he says. "You go down there and, looking back toward this glistening skyline, it's as if a glittering crystal is floating on a lily pad."
He loves boating and fishing, deep-sea or on the flats, whenever he gets the chance. Or whenever he has a boat.
Which, right now, he doesn't.
The "Free at Last," he says, was his next-to-last boat.
"That boat was wonderful," he says. "We had a lot of fun with it. But in an application of what I will call 'boater's illogic,' I decided, 'You know, I don't have time to use this boat anymore. If I had a bigger boat, I would use it more.'
"So we got a bigger boat, and we used it a lot. But there came a time when we stopped using that one.
"Happily for my kids, something interrupted my interest in wasting money on a bigger boat—and it was paying tuition for all of them to go to college."
His five kids tallied up nearly a dozen tuitions—if you count undergraduate and post. Five degrees came from Ivy League schools. Daughter Dalila has a Ph.D. from Harvard; son Shea an MBA from Cornell; Christopher a master's from Georgia State; Jerold is working on a doctorate at the University of Michigan; and the youngest, daughter Lea, has a master's from Columbia.
"We're without a boat at the moment," Scruggs says. "The idea is, 'Well, maybe we need to get a bigger boat.'"
Search attorney feature articles
Helpful links
Other featured articles
One of the nation's longest-tenured lawyers looks back
Stuart Somach is in water law for the long haul
Clayton D. Halunen aims to afflict the comfortable and comfort the afflicted
View more articles featuring lawyers
Find top lawyers with confidence
The Super Lawyers patented selection process is peer influenced and research driven, selecting the top 5% of attorneys to the Super Lawyers lists each year. We know lawyers and make it easy to connect with them.
Find a lawyer near you