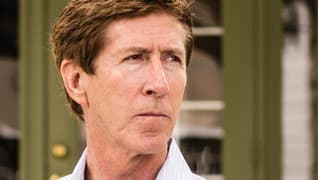 Photo by: Scott Cook
Representing George Zimmerman
How Orlando attorney Mark O'Mara stays cool in the midst of chaos
Published in 2013 Florida Super Lawyers magazine
By G.K. Sharman on May 28, 2013
On a picture-perfect day about 10 years ago, a couple of lawyers took advantage of a day off to go waterskiing with some friends on the St. Johns River north of Orlando.
The sun was warm. The river was perfect. Everyone was having a great time. Joe Flood was at the wheel of the boat and Mark O'Mara was in the water, waiting for his chance to ski.
As Flood—who once worked with O'Mara at the Seminole County State Attorney's Office—tells the tale, O'Mara said, loudly but very calmly, "Hey Joe, let's go."
The group on the boat was laughing and talking. What was the hurry? But O'Mara called out, "We really need to go now." Still cool as James Bond asking for a martini.
That's when Flood saw what O'Mara was pointing at. On the riverbank, he says with a touch of horror in his voice a decade later, was the biggest alligator he'd ever seen.
And it had its eye on the ski-wearing guy bobbing in the water.
Then the gator slipped into the river.
Flood fired up the boat and they sped to safety.
O'Mara's unflappability has made him one of the most respected—and least grandstanding—attorneys in Central Florida.
"He has a unique ability to manage the emotion and calculate how things should be said or presented," says Orlando criminal defense attorney Donald R. West. "Even when he's a volcano inside, he is still able to channel the emotion of the moment into his role as advocate."
West is working with O'Mara on his current high-profile case: defending George Zimmerman, accused of shooting and killing 17-year-old Trayvon Martin as he walked through a gated community in Sanford.
O'Mara says he comes by his composure genetically. He credits his dad, a New York City firefighter and battalion chief, with his ability to look opponents in the eye and not blink.
"At 20, he was shot down over Germany, spent 10 months as a POW, came home, got married, raised five kids and walked into fires for 32 years," says O'Mara. "Sort of makes a big gator pale in comparison."
O'Mara is puzzled that some of his fellow attorneys seem to think drama equals good representation.
"Being calm under stress allows you to maintain composure," he says, "but more importantly, if you don't get caught up in the emotions of the moment, as many opposing counsel do, you can use those 'high emotion points' to your client's advantage.
"There are so many anecdotes of other attorneys yelling, screaming or getting frustrated, and it always amazes me that they don't get that they are the professionals."
Operating out of a renovated bungalow near downtown Orlando, O'Mara focuses on criminal law and is board-certified as a criminal trial specialist and a marital and family law specialist.
O'Mara calls his current assignment "an amazingly interesting case." Allegations of racism, huge protests organized by the likes of the Rev. Al Sharpton, threats of riots, calls for business boycotts, the forced resignation of the local police chief, and a state attorney's request to be removed from the case to help "tone down the rhetoric."
Interesting case, indeed.
It is, O'Mara acknowledges, "a perfect case for my skill set."
So was the case of Michele Roger, an exotic dancer accused of killing her allegedly abusive boyfriend and bringing in her family, who disposed of the body. Roger stabbed and killed David Richmond in 1992; she said he was trying to push her face into a hot stove burner. O'Mara says she was clearly defending herself, and that yes, she should have called 911—but that she was scared and called her family instead.
Her father and brother, who got rid of the body, received two years' probation. Her mother was sentenced to a year of probation and community service for failing to report the death. Roger was convicted of second-degree murder and sentenced to 17 years in prison.
But the fight was not over. O'Mara worked doggedly for her release, eventually making his case before Gov. Lawton Chiles and the state clemency board. In 1999, outgoing Secretary of State Sandra Mortham signed Roger's clemency papers on her last day in office. Roger served four years of her sentence.
The Zimmerman case began on Feb. 26, 2012, at Retreat at Twin Lakes, a multiethnic, gated townhome community in Sanford. Zimmerman, a neighborhood-watch coordinator, called Sanford police and reported a "suspicious" person walking through the community. The person in question, Trayvon Martin, was coming back from a nearby convenience store with a bag of Skittles and a can of iced tea. Martin, an African-American teen who lived with his mother in Miami Gardens, was visiting his father's fiancée and her son while serving a suspension from school. He was unarmed.
Zimmerman radioed a police dispatcher, who told him he didn't need to follow Martin. O'Mara says his client stopped following the teen at that point. They eventually came face to face, the encounter escalated, and Zimmerman shot Martin once in the chest.
A media and social-media frenzy ensued, with rumors and questions flying on all sides, including: Zimmerman was white and a known racist; Zimmerman was half Hispanic and not racist; Martin had a criminal record down in Miami Gardens;  police were covering up evidence; why wasn't Zimmerman arrested immediately?; who could be heard on the 911 tape screaming for help?
On April 11, 2012, the day Zimmerman was taken into custody, O'Mara took over the case. The charge: second-degree murder. Angela Corey of the 4th Judicial Circuit was named to prosecute the case after Norm Wolfinger, the state attorney whose jurisdiction included Seminole County, asked to be removed.
O'Mara himself worked with the State Attorney's Office in Seminole for two years after law school. In nearly 30 years of practicing criminal law, O'Mara—a past president of the Seminole County Bar Association—has handled more than 130 jury trials.
His friends and colleagues urged him to take Zimmerman's case.
Mark NeJame, an Orlando-based attorney and legal analyst for CNN and other news outlets, turned the case down and suggested O'Mara.
"I'd recently come off of working on three very high-profile cases that were exhausting and time-consuming," NeJame says. He had also recently signed another contract with CNN and Headline News 13.
O'Mara, he says, "possessed all the legal talents to handle any criminal case. Knowing that this would be an extremely high-profile case, and working intensely with Mark with our media involvement on the Casey Anthony case, I knew that he had developed the requisite media savvy and understanding to be up to the task."
NeJame says he would also have recommended O'Mara had Martin's family asked him for a lawyer. That's because O'Mara excels at trial strategy.
"Like a master chess player, a top trial attorney has to be several moves ahead of his adversary to be successful," Nejame says. "I've been against Mark in cases. I pride myself on being able to navigate a case and develop a strategy as well as anyone I've ever been against. With Mark, it's always interesting because we tend to see and evaluate a situation very similarly, so we both typically see each other coming."
O'Mara discussed taking on the case with his wife and his staff. Then he spoke with his buddy Flood. "I told him I thought he should take it," Flood says. "You need to be more than a great courtroom lawyer. You have to be able to be in front of a camera a lot. … That calm is such a critical thing."
O'Mara knew what he was getting into. He and NeJame experienced the whirlwind of 24/7 social media when they provided legal commentary for WKMG, the local CBS affiliate, during that previous "trial of the century" in Orlando, which wrapped up in summer 2011. Anthony was accused of felony murder, aggravated child abuse and manslaughter in the death of her 3-year-old daughter, Caylee. She was acquitted of those charges, but found guilty of four misdemeanors.
The case was an Internet sensation—blogs, Twitter, Facebook—and ubiquitous in the traditional media. The lanky O'Mara admits he was pretty stiff-looking when he first got in front of the camera, but he learned quickly.
This time around, Zimmerman and O'Mara are trying to use the Internet to their advantage. Websites have been used to raise funds for Zimmerman's expenses. The first one brought in more than $200,000 in two weeks. The current one involves a trust fund, with the money going specifically toward Zimmerman's legal defense.
And, in what is considered the first effort of its kind, O'Mara is using the web—Facebook, Twitter and a website called GZLegalCase.com—to humanize his client. O'Mara also hired a digital-media manager to map out strategy for online efforts and keeps two interns busy monitoring social media and blogs.
"You have to know what people are saying," he says. "It could contain some nugget of truth."
The prosecutor asked for a gag order on O'Mara's pro-Zimmerman informational website, claiming potential jurors could be influenced. O'Mara countered that it was only fair that his client have an outlet, since the state was benefiting from anti-Zimmerman news headlines. The judge sided with the defense.
Overall, O'Mara finds that both traditional and social media can be sloppy and sensationalistic. "There's no Walter Cronkite anymore," he says.
The Zimmerman case is widely considered to be a test of Florida's controversial "stand your ground" law, but O'Mara says it's simpler than that: It's just straight self-defense.
"Stand your ground" became law in 2005, and 16 other states have adopted similar statutes. It differs from the traditional standard of self-defense in significant ways. People have always had the right to defend themselves if they have a reasonable fear of imminent death or great bodily harm to themselves or others. But traditionally, they were required to try to avoid such a confrontation by negotiating or retreating, if necessary.
The "stand your ground" law eliminated the requirement for people outside their homes to back off in the face of potential danger. Proponents argue that the law gives people the right to protect themselves. Critics have called it a license to murder.
O'Mara says Zimmerman and Martin's encounter quickly moved beyond standing one's ground. According to O'Mara, Martin smashed Zimmerman's nose and was smacking his head on the concrete sidewalk when Zimmerman fired his gun. The identity of the person screaming for help on the 911 tape for 40 seconds before Martin was shot has been hotly debated; O'Mara says it was his client. Forensics show that Zimmerman was on the ground shooting up, O'Mara says, and thus had no opportunity to negotiate or get away.
A hearing that potentially could have cleared Zimmerman under the "stand your ground" law was set for April, but O'Mara surprised many by waiving the hearing, saying there was time to focus on only one hearing—the trial—and that he wanted Zimmerman to have his day in court, before a jury. The trial was scheduled for June. 
O'Mara always KIND OF knew he was destined for the legal life. When he was 7, his uncle asked him what he wanted to be when he grew up. The good Catholic boy from Queens said a priest—or maybe a lawyer.
"They both were responsible, and they helped people," O'Mara says. "Those were qualities that I admired and wanted to emulate."
When his dad retired to Florida, O'Mara followed him south, attending college at the University of Central Florida and law school at Florida State University.
He thought he might like to go into civil litigation. Then his friend Flood secured an internship at the State Attorney's Office.
"In three weeks he was in court," recalls O'Mara, who, observing this, did a quick switch on his intended career path.
Seems even the most unruffled attorney enjoys the adrenaline rush of a court case.
Search attorney feature articles