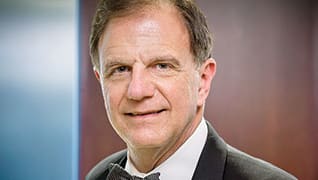 Photo by: Stan Kaady
And the Children's Lawyer Shall Lead
J.Tom Morgan would like Georgia to rank higher than 49th on everything involving kids
Published in 2014 Georgia Super Lawyers magazine
By Candice Dyer on February 18, 2014
J.Tom Morgan's Facebook account cannot accept any more friend requests.
While a handful of the 59-year-old attorney's contacts are colleagues and other gray-haired professionals, most are teenagers. "I'm at the 5,000 limit, with another 1,500 or so kids trying to be my friend, and I'm really irritated at Facebook's legal office for not responding to my requests to up the limit," he says. "I'm uncomfortable making it a fan page because of confidentiality."
Morgan, a solo criminal defense lawyer who practices from an office just outside Atlanta, is not competing in a popularity contest, just trying to keep his young followers out of trouble—"one book, one school, and one Spring Break at a time," as his Twitter motto reads. As if puberty were not excruciating enough, he explains, an increasing number of stricter and bewilderingly inconsistent statutes leave little leeway for youthful indiscretions.
"Kids are no more criminal today than my generation was," says Morgan, who estimates that 80 percent of his clients are under the age of 25. "When I was 18, I could legally have a beer, and then the drinking age was raised to 21—something the United States has in common with only three other countries: Pakistan, Sri Lanka and Palau—which created a whole new criminal class. Sexual age-of-consent laws are confusing, and technology has opened up a whole new world with new pitfalls. Most kids do not intend to do something hurtful or harmful, but without grasping the consequences of their actions, they can end up paying the rest of their lives for one stupid mistake."
When he is not in court, he meets young people on their turf, on social media and through speaking engagements at schools, universities and other venues, where he opens himself up to a barrage of nervous questions.
"Lately, they're asking if they can legally smoke marijuana while attending college in Colorado if they technically live in Georgia, so universities out there can expect a jump in applications," he says. "But most of their concerns involve sex or alcohol."
Those experiences prompted him to write an easy-to-read primer, so he spent a year working on Ignorance Is No Defense: A Teenager's Guide to Georgia Law. "Publishers told me nobody would buy it, so I finally self-published it," he says. "It's now in its third edition, with more than 60,000 copies sold." He since has published a similar volume for college students in North Carolina, where he just started teaching at Western Carolina University in Cullowhee. The books include his cell phone number, so he receives a staggering number of anxious texts and tearful calls.
His goal is not only to prevent teens from committing crimes, he says, but also to keep them from becoming victims, a passion he traces back to his first year out of law school, when he became the state's first prosecutor specializing in crimes against children.
"When I look at our state—and I was born and raised here—I get tired of seeing Georgia ranked 49th and 50th on everything involving kids," he says.
John Thomas Morgan—who has gone by "J.Tom" since his birth in 1954—grew up in Albany, in southwestern Georgia, in a house where his grandmother worked as a bookkeeper and his mother, a teacher and administrator, was the first employee in the county school system to earn a Ph.D. "I was 16 before I saw a mountain and 19 before I saw a snowflake, and I've always been comfortable around strong-willed females," he says. He decided to become a lawyer in eighth grade after reading To Kill a Mockingbird—a fairly common coming-of-age story among Southern barristers.
"The Fox Theater in Atlanta held 'An Evening with Gregory Peck,' with a limited number of seats around the stage, and I'll bet 90 percent of the people in the crowd were lawyers," he says, noting the autographed, framed photo of Peck that hangs in his office today.
One reason the novel resonated with him was its portrayal of real-life attitudes he witnessed around him in Albany, a flashpoint of the civil rights movement.
"My mother worked, so I spent a lot of time with our maid, Sarah, and she and I watched Martin Luther King Jr. march right in front of our house," he recalls. "To my child's mind, it seemed like a parade, but I could tell that Sarah, while she didn't show fear, was very concerned about what was happening. As I grew older, I wanted to make a difference, like Atticus Finch. In the courtroom, I have quoted from the speech that King made in Albany the night after I saw him: 'If justice is not for everyone, then it is not for anyone.'"
Morgan earned his bachelor's degree in accounting and then attended law school at the University of Georgia. In 1983, he became an assistant district attorney in DeKalb County, part of metropolitan Atlanta. "My boss decided the office needed one attorney specializing in crimes against children, and he volunteered me," he recalls. "I agreed to do it for one year, and that stretched into eight."
He prosecuted more than 500 cases in which children were sexually or physically abused or murdered, establishing a national profile as an expert. He appeared on The Oprah Winfrey Show, 48 Hours, CNN, and in publications like People and Parenting magazines, along with bar association journals. "He was a killer prosecutor of child molesters—the very best," says David Turk, a former juvenile court judge in north Georgia.
In 1992, Morgan won the office of district attorney in DeKalb, Georgia's second most populous county, which annually prosecutes more than 5,000 defendants charged with felonies. One case in particular stands out for its luridness in high places.
Sheriff Sidney Dorsey, who had just lost his re-election amid ethics allegations, was charged with paying for the assassination of his opponent, Sheriff-elect Derwin Brown, who was gunned down just days before taking office after pledging to clean up corruption. Dorsey, married to an Atlanta City Council representative, had been a lead investigator in the "Atlanta Child Murders" in the late '70s and early '80s; he later made news by publicly questioning the conviction of Wayne Williams for the murders.
Dorsey's 2002 trial predictably was moved to another venue because of intense publicity, and it ended up on familiar territory for Morgan: his hometown. "By chance, the case was tried in the courthouse where I was first sworn in," he says. He had been away for a while, though—long enough to have lost some of the dialect native to Albany, which locals pronounce "all-BENNY."
"I'd been in Atlanta so long that I knew I'd have to go home a week before the trial started," he says, "so I hung out in bars with old friends to regain that accent."
Attorney Ken Hodges, who was co-counsel, scoffs and laughs: "That wasn't necessary—he still had that accent."
Hodges, who was the D.A. of Dougherty County, arranged for the prosecutorial team to stay at a hunting lodge about 15 miles outside town. "J.Tom loved it, of course, but the others weren't too used to nature in south Georgia. Remember the scene in My Cousin Vinny when one of the city boys freaks out hearing an owl in the country? We had some similar moments during that trial."
One of the bodyguards, in fact, was a strong and intimidating expert marksman afflicted with a paralyzing fear of snakes. "So before he would get out of a vehicle, I had to do a quick search for snakes," Morgan says.
During that trial, Morgan pleasantly surprised his younger co-counsel with his collaborative spirit.
"He handed off the opening statement to me," Hodges says. "Then he handed off the first part of the closing argument to his chief assistant, John Petrey. A lot of people would not have handed off such key parts of the workload, but J.Tom is not egotistical. He understood that we were a 'known quantity' in Dougherty County, so we all worked together. He also welcomed pro bono work from John Floyd, and it was unusual at that time for prosecutors to take pro bono assistance, so J.Tom is an innovator."
Dorsey was sentenced to life in prison for the murder, plus an additional 23 years for corruption convictions.
Morgan became the first district attorney in the United States to win the Special Achievement Award from the International Association of Prosecutors, which represents 120 countries. He held that office for 12 years.
In private practice, he has been retained by several high-profile clients, including DeKalb County CEO Burrell Ellis, who is charged with extortion, and Beverly Hall, the former Atlanta Public Schools superintendent facing RICO charges in a widespread cheating scandal that alleges teachers falsely elevated students' test scores.
This past summer, another client, Andrea Sneiderman, had murder charges surrounding the death of her husband dropped. The jury did find her guilty on nine of 13 felony counts, including perjury and making false statements about her relationship with Hemy Neuman, who was convicted of shooting Sneiderman's husband outside Dunwoody Prep in 2010.
"What this case boiled down to in some ways is what constitutes the definition of 'romantic relations,' which is something poets and philosophers have debated for as long as we've had the written word," Morgan says. The widow was accused of having an affair with Neuman, who was her supervisor at GE Energy; she contended she tolerated his advances to keep her job. Neuman was found guilty but mentally ill.
The Sneiderman case is far from the only one in Morgan's docket that highlights the ambiguities of relationship boundaries. Georgia is one of a dozen states that automatically prosecute 17-year-olds as adults, and that age can drop to as young as 13 if the charges fall under what is known as the "seven deadly sins" rubric, which covers, among other things, oral sex. Meanwhile, acts of intercourse that could result in conception usually fall under the confidential purview of juvenile justice. "As one young man incredulously phrased it, 'You mean I would get into more legal trouble for getting a blow job than for getting someone pregnant?'" Morgan says, shaking his head. "If I were king for a day, I would change the age of criminal responsibility from 17 to 18 to conform with the other states."
Also, unbeknownst to most college freshmen, consent laws are gender-neutral. So a 19-year-old woman who dallies with her 17-year-old boyfriend could face 25 years in prison without parole and a lifetime on the registry of sex offenders. Then there is texting. "If a 17-year-old boy takes a picture of his 17-year-old girlfriend, and it's considered pornographic, and he sends it to his friend, both boys are guilty of a 20-year felony," says Morgan.
Those cases are some of the examples he discusses at school assemblies and fraternity and sorority houses. "I never use notes," says Morgan, who has two grown children with his wife, Carol. "I just give examples of other cases that teenagers can relate to."
Schools often end up stocking and selling Ignorance Is No Excuse to parents, many of whom request an encore presentation at the school when their younger children advance to the appropriate maturity level.
"J.Tom speaks in such a clear, concise way that cuts through the confusion," says Tina Wootan, director of guidance at Stratford Academy in Macon. "I think what makes him most successful is that he doesn't moralize and talk down to students, and he doesn't use emotional appeals to plant fear in their heads—those approaches never work. Instead, he connects with them on their level, where they live, and it sticks with them."
Morgan gives pro bono advice to school counselors like Wootan, and he handles a few cases pro bono each year for foster children who stumble into the criminal justice system.
"What makes teenagers so enjoyable—their curiosity and openness—can be the qualities that lead them into trouble," he says. "If we're going to hold our children accountable as adults, then we have a moral responsibility to educate them on the laws that impact them. All of us have made at least one truly stupid, regrettable mistake when we were kids, and most of us deserve some sort of second chance after that. To do right."
Search attorney feature articles