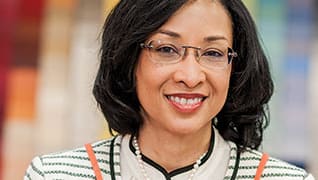 Photo by: Stan Kaady
Hugging It Out with Teresa Wynn Roseborough
The self-described Brown v. Board of Education baby embraces The Home Depot
Published in 2014 Super Lawyers Business Edition magazine
By Candice Dyer on November 21, 2014
Long before women in powersuits debated the "Lean In" approach, Teresa Wynn Roseborough was taking that posture a degree or two further. "I'm a hugger," she says, before enthusiastically embracing every new acquaintance like long-lost family in her office at The Home Depot Inc. headquarters in Atlanta.
"She's nothing if not consistent," says Bruce Yannett of Debevoise & Plimpton in New York. "She hugs guys as well as women, in almost every setting and context. The first time she hugged me, it was a little startling in that sort of buttoned-down business environment, but then you quickly realize how completely genuine she is. Her personal warmth is not some act; it's simply who she is."
Some encounters, though, call for stricter social boundaries—such as meetings with U.S. presidents and first families. "I go with the friendly handshake with them," Roseborough says. "I don't think the Secret Service likes huggers."
Roseborough has long been in those rarefied circles of power. She has argued before the Supreme Court, testified in front of Congress and provided legal counsel in the U.S. Department of Justice.  She worked on the transition team of President Bill Clinton (another hugger), where she counseled the White House and all executive branch agencies, and as deputy assistant attorney general during his administration. She was one of Al Gore's legal advisers during the nail-biting 2000 election recount in Florida. Her name still gets floated in short lists and media forecasts for appointments as U.S. solicitor general or to the 11th U.S. Circuit Court of Appeals or U.S. Supreme Court, where she clerked for Justice John Paul Stevens. A venerated figure among pragmatic progressives and Capitol Hill wonks, she has, of course, socialized with the Obamas at Ford's Theatre.
"One of my primary role models as a student—and now—is Thurgood Marshall," she says, as shorthand for her sociopolitical ideals. She calls herself "basically a nerd lawyer, interested in the nuts and bolts of the Constitution."
During her 25-plus years in the field, Roseborough has balanced public service with success in the private sector, as a partner at the firm of Sutherland Asbill & Brennan, and then in several roles at MetLife Inc., including deputy general counsel and senior chief counsel for litigation and compliance, where she first startled Yannett and other executives with her demonstrative greetings. Adds her former MetLife colleague, Sheila Murphy, "Teresa loves to dig in obsessively and get down and dirty with the details, regardless of how large or small the case is. She doesn't think she is above any task."
In October 2011, Roseborough joined The Home Depot as executive vice president, general counsel and corporate secretary. She is responsible for all legal functions of the world's largest home improvement retailer, which also ranks as Georgia's biggest company by revenue as well as one of the Southeast's most effective engines of philanthropy.
"What really attracted me to Home Depot is that it's a values-driven company," she says from her modestly decorated office with a view of the leafy outskirts of Atlanta.
"The culture here is thoroughly committed to doing the right thing, at every level."
Roseborough, 56, was born in Iowa City but grew up in Memphis, Tennessee, where she and her brother were the first African-American students to attend Westhaven Elementary School.
"I was a Brown v. Board of Education baby," she says. "From the beginning, I witnessed the power of lawyers to drive social change, and I wanted to be part of that."
Her father was an actuary for a life insurance company, and her mother worked as a registered nurse specializing in spinal cord injury patients in a Veterans Administration hospital. "They both were the first in their families to graduate from college, so they were passionate about education and expected us to keep an 'A' average," Roseborough says. "My mother, who grew up in South Georgia, regarded her work as a calling, and my dad worked for a minority-owned life insurance company. At that time, there were few companies that would insure African-Americans, and if they did, the policies would be on different terms. He believed that families needed protection so that the premature death of a parent would not cause the younger generations in that family to fall off the ladder of success." 
An academic standout, Roseborough was an Echols Scholar at the University of Virginia. Just days after graduating in 1980, she married her college boyfriend, Joseph Roseborough, in the chapel at UVA. She earned her master's in education from Boston University, then graduated three years later with high honors from law school at the University of North Carolina at Chapel Hill, where she was editor-in-chief of the law review.
Her husband, now an attorney in private practice, was an officer in the U.S. Army. The couple lived for a while in West Germany, where she worked for the Department of Defense. Before she landed, awestruck, in Justice Stevens' office in 1987, Roseborough served as a clerk to one of President Jimmy Carter's appointees, James Dickson Phillips Jr., a judge for the U.S. Court of Appeals for the 4th Circuit.
"[Phillips] was the embodiment of the integrity and ethics required in acting as a servant of the United States and the Constitution," Roseborough says. "And Justice Stevens. I still remember the feeling I had when I first walked into that large, marble building with vaulted ceilings. During my time there, we really didn't deal with any eye-popping cases that changed the course of jurisprudence. It was a boring year, in that sense, compared to some other terms. However, he was so brilliant, gracious, kind and open to questions and dialogue with clerks."
After Roseborough worked as an associate for five years at Sutherland Asbill & Brennan in Atlanta, the Clinton administration came calling. Attorney General Janet Reno—"a straight shooter with some of the strongest ethics I've known," Roseborough says—approved for her to commute from Atlanta to D.C. and serve as deputy assistant attorney general in the Office of Legal Counsel of the Department of Justice.
Roseborough's reputation as a quick study and a cool head, in and out of the courtroom, got noticed. After returning to Sutherland Asbill & Brennan in 1995, it was put to the test in the high-stakes confusion of the 2000 presidential election, as the recount battle between George W. Bush and Al Gore heated up daily on television and in the courts. On behalf of the Democratic candidate, she argued and won two cases before the en banc 11th U.S. Circuit Court of Appeals; one initiated by Florida voters in four counties at the center of the crisis, and the other brought by Bush. When the issues moved to the U.S. Supreme Court, she assisted on briefs and attended oral argument as second chair to David Boies during the suspenseful deliberations.
"That was an exhilarating experience because of the weighty, historic outcome, and we knew we probably would never work on another case that would be as important," she recalls. "I have to say that, notwithstanding the emotional intensity of that time, the lawyers on both sides conducted themselves with the utmost courtesy toward each other, in a way that made me proud of this profession."
Roseborough argued her first case before the Supreme Court in 2002. "I represented foster children in Washington state," she says. "I argued that the state was violating the Social Security Act by using their benefits to cover their foster care expenses before covering expenses associated with their disabilities."  (In a unanimous opinion delivered by Justice David Souter, the court held that the state's use of foster children's benefits to reimburse itself did not violate the Social Security Act's anti-attachment provision.) That year the Supreme Court Historical Society tapped Roseborough to re-visit the 1824 case of Gibbons v. Ogden before Justice Antonin Scalia.
"[In Ogden] the court faced the challenge of defining both the scope of the power granted to Congress under the Commerce Clause and the power of the states to engage in the regulation of commerce," she says. "Virtually every law student's study of the Commerce Clause begins with this decision, so I was honored to re-enact the arguments made on behalf of Mr. Ogden."
In 2003, The American Lawyer magazine ranked her among 45 of the highest-performing members of the private bar under age 45.
When Roseborough joined MetLife as senior chief counsel of litigation in 2006, she felt she had reignited the torch her father lit while she was growing up.
"Because my father was so passionate about African-Americans having access to life insurance, taking a position there felt like closing the circle," she says.
Roseborough traveled every week from her home on the south side of Atlanta to the company's New York City offices, where her leadership revealed her managerial skills as a democrat, lowercase "d." She became deputy general counsel of MetLife in 2010.
"Teresa has a knack for spotting talent and, by the same token, if she saw that you needed help in public speaking or other aspects of your work, she would use her capital and find resources—classes, mentors—to help you grow," says Murphy, who still works as associate general counsel at MetLife. "She finds everyone she meets utterly fascinating. She will get the life story out of a cabbie during a short taxi ride."
As an afterthought, Murphy adds: "And there's the hugging. That made her stand out among New Yorkers."
In 2011, Roseborough saw a new challenge that appealed to her activist spirit and offered a shorter commute.
"I was drawn by the story of Home Depot," she says. "I liked that the founders used their wealth to improve their community. Also, I had never worked [in the legal space] in retail, which is a huge part of the economy that creates jobs and opportunities."
The chain was founded in 1978 by Bernie Marcus and Arthur Blank with a "customer's bill of rights" and extensively trained employees to lead the DIY movement. The franchise now comprises more than 2,200 stores with 365,000 employees in the United States, Canada and Mexico. Roseborough is responsible for litigation, securities, employment, mergers and acquisitions, real estate, store operations, risk management and intellectual property, as well as lobbying and government relations. She oversees 40 attorneys and 110 support staff, and she answers only to the CEO, who, until a changing of the guard over the summer, was Home Depot chairman Frank Blake; he'd also clerked for Stevens.
"There's an inverted pyramid structure of power," Roseborough says. "Customers are on top, at highest priority, with store-based associates next, followed by managers, and then the CEO at the bottom. It's a good indication of the priorities."
Among the things she likes about The Home Depot: It provides its employees with one of the country's largest employer-sponsored child care centers—the "Little Apron Academy"—and its foundation affiliate has poured funding and resources into employment opportunities and other assistance for military veterans. "More than 35,000 of our associates are veterans," she says, "and our company has committed more than $80 million in investments toward their housing needs."
When Hurricane Sandy pounded the Northeast, and when an ice storm famously shut down Atlanta's freeways and stranded shivering drivers for hours, The Home Depot stores swung into action. Their associates handed out doughnuts and thermoses of coffee and quickly assembled makeshift pallets where members of the public could sleep overnight. They even provided shelter to pets. The company opens its doors as readily as Roseborough opens her arms.
"What is most remarkable to me about our company's quick response to disasters and other crises is that our associates didn't clear their actions with managers—they knew they didn't have to," she says. "They did it knowing that they not only had approval, but also encouragement, locked in, in advance. That's what we're empowered to do, and that, in a nutshell, that explains why I work here."
Search attorney feature articles
Helpful links
Other featured articles
How Ankit Kapoor went from cop to family lawyer
Mike McMullen on life behind the lens
Former Navy nuclear propulsion engineer Alfonso Chan is a 'workhorse'—and 'crazy smart'
View more articles featuring lawyers
Find top lawyers with confidence
The Super Lawyers patented selection process is peer influenced and research driven, selecting the top 5% of attorneys to the Super Lawyers lists each year. We know lawyers and make it easy to connect with them.
Find a lawyer near you