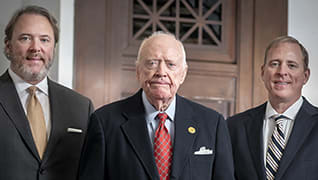 Photo by: Stan Kaady
'I Couldn't Get My Kids Out of the Courtroom'
Tom and Jonathan Pope carry on the legal legacy of their famous father
Published in 2020 Georgia Super Lawyers magazine
By Candice Dyer on March 1, 2020
When Tom and Jonathan Pope were boys, they played hide and seek with some unwitting playmates. Their father was Judge Marion T. Pope, and when visiting him in his chambers at the Cherokee County Courthouse, the boys would often scamper around the courtroom, peep out of the jury box and pester the bailiffs. The jail was on the third floor, and a frequent goal was to see how high up the stairs they could make it without getting stopped. "The higher you got, the more thrilling it was," Tom remembers. "I got caught doing it one time—I think the bailiff or one of the deputies went: 'Look, you wanna see the jail? Come on up.' … I remember walking down the hall, and I thought to myself: 'I never want to go to jail as long as I live.'"
Not bad training for future attorneys. Occasionally, of course, their dad would shush them and settle them down. "We were a little wild and needed some discipline," Tom says, comparing judges' kids to preachers' kids. 
In court, Judge Pope was a formidable figure who did not suffer fools gladly. Jon, citing what he calls the "mountain justice" of a bygone era, recalls how his dad would deal with moonshiners: "If a bootlegger was caught, the sheriff would confiscate the still and bring it to court. If it was a copper still, that was a good thing. It was safe. They would be fined $25. If they used a radiator, the lead in the radiator would get into the liquor and a person could drink it and go blind. Dad would issue a maximum fine of $1,000. He would say, 'I can't stop you from making liquor, but I can make you make good liquor.'"
Today, Judge Pope, a hale and peppery 92 years old, laughs and slaps his knee at the memory. He's at his home in Canton, where he has gathered with his sons, who head up the law firm of Hasty Pope, where their father is of counsel.
As a young country lawyer in the 1950s, Marion Pope was a working-class hero, taking on the textile barons in cases of workers' compensation when mill workers had few rights and resources. He also fought the local bank to save a family farm, earning the gratitude and admiration of many people in North Georgia, and went on to enjoy a successful and storied career in law and politics. He served in the Georgia House from 1963 to 1966. The next year, he was appointed to the Superior Court in the Blue Ridge Judicial Circuit—covering Forsyth, Cherokee, Pickens, Gilmer and Fannin counties—an office he held until his appointment to the Georgia Court of Appeals in 1981. He was re-elected to that post until his mandatory retirement in 2002.
He made friends along the way. "In my 70 years of litigating," says Bobby Lee Cook, Summerville's legendary criminal defense attorney, "I have never seen or known another trial or appellate judge with the skills and charisma of Judge Marion Pope. Additionally, he has been a dear friend and colleague."
He also made enemies. The Dixie Mafia put out a contract on his life. One night, he was awoken by a phone call; the man on the other end said he had a gun and was coming to kill him. "And to prove that he was serious, he shot the gun off," Jon says. "Dad got his shotgun and said, 'Come on over, I'll be waiting on you.'"
"I started carrying a nickel-plated .38 revolver in a shoulder holster under my robe," Judge Pope recalls. 
"Our childhood was not boring," Tom deadpans. Some part of Judge Pope wanted a doctor and a dentist in the family. "But I got two lawyers, and my daughter is a court reporter," he says, throwing up his hands. "No matter how hard I tried, I couldn't get my kids out of the courtroom."
Despite their wildness, the Popes were ingrained with a Southern Baptist faith and a strict work ethic. "Before I could drive a car, I was baling hay. Sorghum hay—the hard kind," says Tom, 51, the firstborn. "Because of that, I figure that I might not always be the smartest guy in the room, but I can outwork anybody on the other side of a case." 
Judge Pope also encouraged his sons to find mentors. "We were always told to learn from people who were smarter than we were," Tom says, "so we spent time with people like [former governor] Roy Barnes and Bobby Lee Cook."
Today, Canton is an exurb of Atlanta with a neighborly feel; but when the young Popes were growing up it was a small town, and both boys yearned to venture into the wider world. 
Tom had political aspirations, so after graduating from the University of Georgia he went to work in Washington, D.C., for U.S. Rep. Ed Jenkins, who championed the Southern textile industry on the Ways and Means Committee. Then he lent a hand in other political campaigns in Atlanta, where he resides today.
"For three years I was a probation officer in Gwinnett County—my first taste of getting in the courtroom," he says.
Tom went to law school at Mercer University and then worked for a few years as a defense attorney at Seacrest, Karesh, Tate & Bicknese, representing insurance companies. "My first boss was Sanford Karesh, who had been Hank Aaron's lawyer," he says. "I worked on my first plaintiff's case as a defense lawyer with Gary Seacrest, father of Ryan Seacrest."
Meanwhile, Jon, 49, who has some starch in his seersucker, enjoyed formative years at The Citadel. As a pre-law major, he defended a fellow cadet in the honor court. "I brought in a handwriting expert, and then I recused the chairman of the honor court since he was also the provost who had collected evidence for the case," he recalls. "That experience sealed it for me. I didn't want to become a judge like my dad. I wanted to become a lawyer."
He graduated from law school at Georgia State University and has served as president of the Young Lawyers Division of the State Bar of Georgia. He's held a number of leadership roles in the Georgia Trial Lawyers Association and plans to take the reins as president in 2021.
"He may be the best-prepared attorney I've ever opposed," says John Zwald, at Beck, Zwald & Associates, who calls Jon a worthy adversary. "He's so detail oriented. He doesn't wing it, and the jury senses that and likes him for it."
Curtis Anderson at Downey & Cleveland knows all the Popes. "Judge Marion Pope has done mediation for me, and during the time I was in law school, he was very involved in mentoring the students," he says. "It amazed me that someone of his stature had the kindness and generosity to take the time to help young lawyers feel significant. Plus, he's just a hoot to be around." 
He adds, of the brothers, "Jon has a more serious outward persona. He went to The Citadel, and that shows in the way he carries himself. … Tom, well … Tom doesn't wear socks with suits! That's the distinction between the brothers—a matter of style. They're both honest and trustworthy and professional. You can always take them at their word. They make an otherwise stressful world of litigation into something pleasant." 
As the brothers got older, the big city looked less appealing. "We both decided we didn't want to be a silk-stocking law firm, that small-town life is not so bad after all," Tom says. In 2008, with William "Billy" Hasty Jr., they formed Hasty Pope. 
The brothers used to collaborate on cases but less so now that Hasty Pope has offices in Canton (where Tom primarily works), Gainesville (where Jon primarily works) and Atlanta. "There was a time when Jon and I tried all of the cases together," Tom says. "I miss that. I thought we worked good together, but as time passed, we moved to different areas of North Georgia, have multiple offices, and associates tend to try cases with us nowadays. Jon and I are different—in a good way. I tend to say what I feel, good or bad, and Jon seems to be more prepared in his deliverance. The juries have always given us good feedback."
One memorable case was Tom's first million-dollar verdict. A Suwanee woman was rear-ended on I-285 by an Atlanta Gas Light van, resulting in neck and back injuries that required surgery. On the day of closing arguments, Tom's wife, Meredith, went into labor with their first child. "The jury swooned when they learned the reason Tom wasn't there," Jon says. "We call my niece Olivia the 'million-dollar baby.'"
In Haley Buice v. Coast Dental of Georgia, Jon represented a woman whose dental treatments left her mouth a mess. The dentist resigned before completing the work he had promised, and it was later revealed that he was abusing fentanyl. In addition to physical pain, Buice asserted a claim for emotional damages because she had become depressed and self-conscious about her appearance, as well as fearful that her crowns would fall out. Upon request of defense counsel, the trial was bifurcated, with the first phase focusing on the alleged negligence of the dentist, and the negligent hiring, retention and supervision claims against Coast Dental. At the conclusion of phase one, the jury awarded Buice $2.8 million in damages. Prior to the start of phase two, which was to focus on punitive damages, the case was settled for an undisclosed amount.
"The jury deliberated for 40 minutes," Jon says. "At the conclusion, we spoke with the entire jury. They asked what we were going to ask them to award for punitive damages. I told them we were going to ask for $8.4 million, and all 12 jurors said they would've awarded it."
Jon also recently waded into the acrimonious fever swamp of Facebook to win $1 million in a defamation case. In Lyle v. Tea Party Patriots, Inc., Jon and a law school friend, Matt Maguire, represented James Lyle in a hard-fought libel case against the Tea Party Patriots, Inc., and its volunteer/employee Lee Martin, who created a fake Facebook account and then posted that Lyle had molested a teenage girl. The plaintiff filed the case in Cherokee County Superior Court in 2011, and the case finally went to trial in 2017. 
"I was wringing my hands about how much to ask for," recalls Maguire, "but Jon's instincts were perfect and he didn't ask for too little or too much. His closing argument was one of the best I've ever seen."
"This was a true David versus Goliath case for me," says Jon. "The Tea Party told us early on, 'We will fight you to the end.' They repeatedly told us our case had no merit and that a Cherokee County jury would not award anything to our client. They filed motion after motion and multiple appeals. They were able to delay the case for six years.
"When the trial date was finally set, one of the attorneys representing one of the defendants actually withdrew from the case. Think about that. They had represented a party in the case for six years and at the last minute [withdrew]. Luckily, the other defendant was able to find a highly capable attorney."
After a five-day trial, the jury awarded compensatory damages of $833,000 against TPP and Martin, jointly and severally. The jury also found TPP (but not Martin) liable for attorneys' fees and expenses, and the court awarded $200,000 in fees and expenses.
"The case represents several things to me," Jon says. "First, if you believe in your client and your case, you must never stop fighting for them. Two, a person's reputation does have value. Last, don't ever underestimate a Cherokee County jury."
In 2002, Judge Pope retired and decided, what the hell, why not practice law again. "I had forgotten how much fun it was," he says, so he set up shop at the Canton office, where a portrait of him by Steve Penley—the Andy Warhol of Atlanta—hangs. At age 81, he became one of the state's oldest practicing trial lawyers, and he won his first case. A professional wrestler had died from an incorrect dosage of methadone prescribed by a doctor. "This man was a father with children," Marion Pope says reverently. Adds Jon, "Cherokee County is conservative, so it can be difficult to win a medical malpractice case here."
Judge Pope is also in demand as a public speaker at legal gatherings and commencement ceremonies, and in private he's quick with a risqué quip. "He's like a Lewis Grizzard or a Jerry Clower," Tom says. 
John Ellington, a state Supreme Court justice and a former Georgia Court of Appeals judge, has known Marion Pope for more than 35 years. "This might not be appropriate for print," he says, "but we belong to a group called the Liars' Club that meets a couple of times of year." He chuckles. "Nobody enjoys a roast like Marion. He has the quickest comebacks of anybody, and he's the best storyteller in the state of Georgia."
Then Ellington turns serious. "Nobody understands the judicial system's law and humanity like Marion, and by humanity, I mean he has a sense for people, for how law affects their quality of life. It's been an honor to watch his sons follow in his footsteps. I don't know of another legal family in Georgia that brings that level of skill, talent, professionalism and high ethical standards to the job."
Adds Tom: "Dad taught us to fight for the underdog. And that's what we do."  
Search attorney feature articles