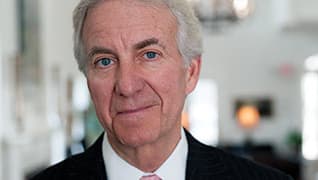 Photo by: Stan Kaady
John Mayoue Declines to Comment
The notoriously tight-lipped celebrity divorce lawyer opens up … but not about Jane, M.J. and Usher
Published in 2015 Georgia Super Lawyers magazine
By Candice Dyer on February 19, 2015
When celebrity divorce attorney John C. Mayoue was growing up, he never met a celebrity. He also never met an attorney. He didn't even encounter a divorce.
"The population of my rural hometown was 44 people," says Mayoue (pronounced "May-you"), born and bred in West Rush, New York, in the Finger Lakes area. "You hear about two-stoplight towns? We didn't even have one stoplight, just corn and cattle. I guess there wasn't a real need for lawyers then, either, because I wasn't aware of any practicing close by, and divorce was unheard of. I honestly had no realistic idea of what, exactly, an attorney even did."
Now he's the head of Mayoue Gray Eittreim, in the plushest zip code of traffic-snarled Atlanta, where celebrities from Los Angeles to clients in Dubai seek his help with their most contentious domestic dramas. It's mostly divorces, but he also does custody proceedings, prenuptial agreements, and increasingly—in the age of sexting and social media—the murky realm of privacy rights within a household. "Some form of password protection and other locks on your devices is, um, always prudent," he notes wryly.
Mayoue's client roster includes Jane Fonda, Chris Rock and Marianne Gingrich, along with athletes such as Michael Jordan, David Justice, and numerous entertainers in the city's hip-hop scene: Sean Combs, Usher, and T.I. He's also repped the wives of Evander Holyfield, Chipper Jones, and Big Boi. Local media routinely describe Mayoue as the "go-to guy in high-profile divorces." This is invariably followed by the line, "He declined to comment on the case."
"My clients rely on confidentiality," Mayoue says. "But even if that were not part of the deal, I would want to honor their privacy. What kind of person would I be if I didn't? These people are coming to me for help during some of the most traumatic experiences in their lives. Most of them have been tremendously successful in their careers and suddenly are struggling with a sense of personal failure and feeling very vulnerable, when their reputations are probably their most valuable assets. So I protect their reputations as well as their legal rights."
Who was his first famous client? Mayoue declines to comment.
How did he start cultivating this rarefied demographic? Mayoue declines to comment.
Never mind the details, could he just name one of his clients? "I'm sorry," he says. "I am honestly not trying to be difficult, but I really can't answer. Let's just say I was at the right place at the right time and leave it at that."
Because he remains so tight-lipped, most of his referrals come, ironically, through word of mouth. In fact, Mayoue's reputation is such that he inspired a character in Lisa Daily's novel Fifteen Minutes of Shame, described as a "true gentleman" amid tabloid squalor.
"John never creates a fight where there doesn't have to be one," says Steve Andrews, an Atlanta attorney at Bodker, Ramsey, Andrews, Winograd & Wildstein who has opposed Mayoue several times in the courtroom. "He minimizes friction."
"I've never heard him even raise his voice, express anger, or say one unkind thing," says longtime Atlanta news anchor Monica Pearson, a client-turned-friend. "He strives for fairness for all parties, to the point where he is not afraid to tell a client when he or she is wrong about something. Now, that's not always something you want to hear when you're mad, hurt and out for blood, [but] John doesn't indulge vindictiveness. He always seeks the higher ground of fairness, and it works. Especially when children are involved."
Adds another client: "Normally, people will interview at least two or three or more lawyers before deciding who will represent them in a divorce. But my dad had told me that there was only one person in the country I should even consider, and that was John."
That client is Tiffany Cochran, and the "dad" in question was of course the legendary Johnnie Cochran Jr.
"John has pretty much written family law in Georgia," she adds. "And that's a good thing, because he has explored it with such compassion."
Mayoue's father was a vendor of high school class rings, and his mother worked as a Red Cross volunteer running a blood bank well into her 70s. "She inculcated me with the importance of modesty," he says.
As for who pointed him toward the law with no lawyers in town? It was a fictionalized one from outside of town: Perry Mason.
"What I noticed above all else was that Perry always won," he says.
Mayoue double-majored in English and history at Transylvania University in Kentucky before migrating south for law school at Emory University.
"For my first job, I went to work at this old-line, fifth-generation firm that was founded before the Civil War," he recalls with a smile. "The man in the office next to me was 88 years old and still working: John Westmoreland. His son, who was in his late 60s, was still called Junior. John Westmoreland and Wilbur Warner were invaluable mentors in that they taught me the little things that aren't in books: to leave my coat on always, to navigate the social niceties of the system, and the importance of treating everyone on all sides with respect."
In his first week, these old-school litigators plopped a file on his desk.
"I was appalled to see that it was for a divorce, and I was extremely insecure about how to approach that delicate issue," Mayoue says. "But once I got into it, I saw how interesting it was: the humanness of it. People are not at their best. They need advocacy on this very basic level. So I began to see family law as a way to be a constructive influence during a critical time in someone's life."
Clients back him up. "That was such a stressful time for me, getting divorced, but John was so calming and thorough, in all aspects of it, that I never felt blindsided by any surprises," Tiffany Cochran says. "Ultimately, he helped me realize I had a second chance at life, which is so important at times like that."
In 1960, Mayoue notes, less than 1 percent of marriages ended in divorce, but by the 1980s, nearly half of them did. "There was the advent of the no-fault divorce," he says. "Prior to that, you had to have grounds, and one partner could refuse to cooperate. There was tremendous social stigma. With the rise of women in education and workforce, they appropriately demanded to be treated fairly."
He contends that Georgia ranks among the most square-dealing states for divorce. "There's no significant gender bias here," he says. "But more importantly, no other state permits a jury trial on all economic issues in a divorce, and I believe juries of one's peers tend to be great equalizers. They are less predictable than a judge, of course."
Among the five books he has written on family law is Southern Divorce: Why Family Breakups Have Fractured the South and How to Cope with It, which explores the conundrums of his adopted region, known as "the divorce belt."
"The South claims the country's highest number of people who are affiliated with churches and synagogues but also has the highest divorce rate," he says."That book aims to help people emerge emotionally and financially intact."
In addition to the wound-balming and -binding, Mayoue brings more pragmatic expertise to his calling.
"He is extremely well-versed in trust and estate law, which is key with any big, rich family," Andrews says, "and the most complicated tax issues of buybacks and dividends. Just when I would think I had a lead on him, on some tricky matter of stock options or deferred compensation, he would show me that he was already a couple of steps ahead of me and I was the one suddenly playing catch-up. Now, he never lets on that he has these advantages beforehand, but he essentially overprepares and then throws out these curveballs. In a very personable and respectful way, of course."
Even Mayoue's office, in a gracious, old Buckhead manor, gives off an air of discretion. There is no wall of gladhanding photos with celebrity clients. In fact, only two photographs are in view.
One is of a young, African-American boy clutching a teddy bear. "Baby Gregory," he says. "He was taken away from his parents in Tennessee because he appeared to have shaken-baby syndrome. When he was three, his parents kidnapped him from state custody." They took him to Atlanta, and, after Mayoue and co-counsel Ned Bates secured a court order for a second medical opinion, to Egleston Children's Hospital. "He was diagnosed with Alagille Syndrome, a rare [genetic] condition that caused him to bleed spontaneously from the eyes. During that third trial, the parents regained custody of their child, who died seven years later.
"It was one of those cases you go to law school for—to remedy an injustice."
After the custody case finished, Mayoue got a call from Johnnie Cochran to work on a lawsuit Cochran was filing against various parties in Tennessee, including the state Department of Human Services and Vanderbilt University Medical Center, on behalf of Baby Gregory's family. Cochran, Mayoue says, "became a meaningful mentor and friend. He nicknamed me 'John Boy.'" Then Mayoue explains the context of the second photo. It's a tableau of a flustered Cochran seeking some assistance from an indifferent-looking police officer while Mayoue looks on with bemusement.
"We were trying a case in Nashville when somebody smashed a brick through our vehicle's window and stole our luggage," he says. "Johnnie was trying to get this officer to help us, but this was in the wake of the O.J. verdict, and Johnnie wasn't exactly popular with a lot of police officers at that time. You can see the officer isn't too interested in helping us get our stuff back. Johnnie was known for his expensive suits and flashy ties, so I told him there would be one well-dressed thief walking around Nashville that night."
While his clients generally hail from the 1 percent, Mayoue's philanthropic projects help more underserved communities. To honor a quadriplegic classmate, he  supports a scholarship at Emory aimed at attracting students with disabilities to law school. He is also an effusive supporter of the International Community School in Clarkston, the hub of refugee resettlement teeming with war-traumatized children.
"Here's something most people don't know about John," Pearson notes. "More than 20 years ago, he began mentoring, as a sort of Big Brother, a young, mentally challenged man. John speaks with him by phone every day and makes certain that he has employment and that he's eating properly and taking care of himself. They are an important part of each other's life."
Mayoue, lithe and sleek at 60, is also emphatic about taking care of himself. "The man has never gained an ounce of weight or lost a strand of hair," Pearson says, rolling her eyes. "He's extremely finicky about what he eats—a great golfer, runner and tennis player." Mayoue calls himself a gym rat, saying he works out every day "as if it's an addiction." His few indulgences are antique German automobiles, including a 1969 Mercedes and a 1971 Porsche.
He concedes that he does not travel much for pleasure. "I really just like to work, exercise and spend time with my family," he says with a shrug.
He's married to Marcia Mayoue, a financial adviser at Buckhead Investment Partners, and enjoys, he says, his role as doting stepfather to her son and daughter.
"In any divorce you're dealing with people in pain, which is very real regardless of that person's background or circumstances in life," Mayoue says. "The emotions are very real, and they're intense, and that is a body standing in front of you who needs help. It is really as simple, and as complicated, as that."
Search attorney feature articles
Helpful links
Other featured articles
Adam Doerr led the charge to get COVID relief to overlooked families in need
Jim Gilbert's crusade for victims of unsafe vehicles
The pro bono SCOTUS work driving Seepan Parseghian
View more articles featuring lawyers
Find top lawyers with confidence
The Super Lawyers patented selection process is peer influenced and research driven, selecting the top 5% of attorneys to the Super Lawyers lists each year. We know lawyers and make it easy to connect with them.
Find a lawyer near you