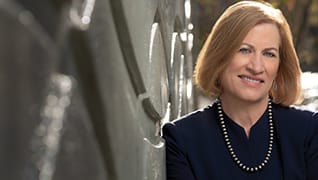 Photo by: Stan Kaady
Mind of a Businesswoman, Heart of a Grandmother
Estate planner Mary Burns Galardi sees people at their best and worst
Published in 2021 Georgia Super Lawyers magazine
By Candice Dyer on February 12, 2021
The woman in Boston was hoping for a windfall inheritance from a long-lost relative. Her second cousin in Buckhead had lived into her 80s, with no siblings and no children, but she did have a nicely appointed condo with a baby grand piano—along with a healthy bank balance.
"My client knew her family tree," says estate planning attorney Mary Burns Galardi, who was hired by the woman in Boston. "I warned her that we might turn up a closer relative. Sure enough, there was a first cousin in Tennessee who was 94. He was entitled to the money. He died, though, while we were still administering the estate, so his daughters wound up with the money. Sometimes things just work out that way."
The lesson? It is not just captains of industry, with multiple conniving heirs, who need a will. We all do. 
Five minutes of talking with Galardi, in fact, will leave you pondering your mortality with a newfound sense of pragmatism. "I know it's something people dread, and I understand because I feel that way, too," she says. "Typically, most people will put it off at least two years past the time they should do it. I'm not here to make you feel guilty about that. My attitude is: Let's just draw up the documents, get them signed and get it done. It usually takes about two weeks, and then it's over, and you don't have to worry about it anymore." 
Galardi established her eponymous firm in Norcross in 1998, then moved it to Brookhaven in 2008. Her client base is about 80% estate planning and administration and 20% business law. Her proudest professional accomplishment is becoming a fellow in the American College of Trust and Estate Counsel.
"That's a prestigious award that reflects how respected she is in our legal community," says Robert C. Port, a partner at Gaslowitz Frankel, a fiduciary litigation firm. "I often look to Mary's expertise when I am wrestling with some of the difficult issues we face in estate and trust litigation."
"Mary combines the best of technical expertise with client counseling," says colleague Melissa P. Walker. "I like to find someone's 'superpower.' Mary's is that she cuts straight through the noise to get to the heart of any issue. She says it like it is, in the most direct, effective way possible." 
Galardi is deeply invested in her work. "Estate planning is a way of helping people during their vulnerable moments," she says. "It's an act of simplifying, of drilling down, even when there are weird family issues."
It took her awhile to find that clarity of mission.
Galardi was born in Clayton, New Mexico and raised in Texline, Texas, a tumbleweed-strewn town in the Panhandle. Her Irish great-grandparents migrated there and established a general store, bank and ranch, but trouble was often nearby. "My grandfather was kidnapped a couple of times," Galardi says, "and my great-aunt was locked in the bank safe and beaten in the head with a gun. My grandfather really didn't like to talk much about those experiences, but there were a couple of newspaper articles about them." 
Her father ran a hardware store, which gives Galardi an appreciation for the challenges of entrepreneurship, but growing up she was unsure what to do with her own life. A lot of trial and error ensued. She attended Texas Tech and majored in interior design. "I ultimately decided I just wasn't good at it," she says. She spent five years working in retail management in Texas and California. "I didn't enjoy working weekends," she says. She worked as an insurance underwriter. "Got bored with it."
In the early 1990s, Galardi attended law school at night at the University of San Diego, earning her J.D. in 1993, but that just led to more trial and error. She clerked at a firm that handled bankruptcy and family law, but those PAs weren't quite the right fit.  She moved to Atlanta and worked for a solo attorney who was a defense counsel for Kmart. "It was mostly slip-and-falls and false arrests," she says. "After awhile, that just didn't suit my personality, either. I didn't like preparing for trial and then settling on Monday."
Litigation itself wasn't right. "It just doesn't suit me," she says. "It's a bad feeling to be sitting in court thinking, 'This should've been settled.' That's not a good way of thinking, not when you're sitting on that bench." 
Then the epiphany: Estate planning offers singular challenges to people in need. "It's a big puzzle that you put together," she says. "When I first tried it, I thought, 'OK, now I know what I want to do when I grow up.'"
She often has to dispel misconceptions with clients. "People imagine, as they see in Hollywood movies, that there will be a dramatic 'reading of the will' in a big conference room," she says. "That has happened once, maybe twice, with me. Normally, people have seen the will and know what's in it."
She also notes that if you die without a will in Georgia, your assets will not automatically revert to the state; not as long as you have at least some living relatives. If you are married, what your spouse gets depends on whether or not you have living descendants—children, grandchildren, great-grandchildren. If you don't, your spouse inherits all of your property.
Galardi says squabbling can occur, often over unexpected items, and she occasionally has to call in mediators and litigators. "Two siblings got very heated over a crocheted afghan that they said their grandmother made," she recalls. "Frankly, it looked store-bought to me."
Another case involved a man who killed himself and left a wife and several surviving children, one of whom was adopted. "The adopted daughter said she didn't want anything out of the estate," Galardi says. "I thought that was very kind and generous on her part. I end up seeing both the best and the worst in people in this line of work."
There's a certain amount of hand-holding, too. "I had one man call me on the day his father died and want to come in to get started," she says. "I try to get people to wait a little while, even though I know sometimes it's tricky because there might be relatives who are only in town for a short time. But any death is a shock, even if it's been expected for a long while. It takes time to process, on every level."
Marcus G. Keegan, an employment attorney and longtime personal friend, says Galardi shows unusual empathy. "She has a genuine curiosity about people that translates into this magical quality with her clients," he says. "She has a great memory for little personal details—recalling their family ties, their various jobs—in a way that helps her be of service to them. She really does want to know them as people, not just as clients, and that shines through and brings them great comfort during difficult moments."
Galardi says she knows firsthand the importance of keeping the peace among brothers and sisters. She has five siblings, plus 12 cousins on each side of her family.
"When my father died, we all stayed very cordial and fair with each other, I'm pleased to say," she notes. "I enjoy the dynamics of coming from such a large family. This translates into my enjoyment of talking with clients about their families, their family history, and how they want to distribute their assets."
As a fourth-generation entrepreneur, she also derives satisfaction from helping mom and pop pass on their business. "I love the entrepreneurial spirit," she says. "One thing my business clients all have in common is that they know what they want, and they want it now, right away." She laughs. As for the more artistic ones, such as interior designers, she adds, "Well, sometimes I have to rein them in and get them to think more in terms of hard business matters."
When COVID-19 first hit, she wondered how it would affect her work. Would mobs of panicky people rush to draft wills? Not really, it turns out. "We are busy, but not really that much busier than we were before the virus," she says.
Since her work never takes her into the courtroom, its closure has not affected her practice. The firm has changed its methods, however. Since the governor opened the state in June, Galardi Law has allowed in-person will signings—with masks. The conference room gets a thorough scrubbing afterward. "So many of our clients are at risk," she says. 
All other business is handled remotely, usually through Zoom. It works, if not perfectly. "I miss the in-person meetings, miss seeing my clients' faces," Galardi says. "I miss people."
Galardi always strives for simplicity. As chair of the 900-plus member Fiduciary Law Section of the State Bar of Georgia from 2017 to 2018, she was an ad hoc member of the legislative committee and oversaw some lawmaking. "We're very active in studying and drafting legislation, and I'm very proud of Georgia's," she says. "Compared to other states, we have simple, less expensive estate administration."
For example, she says, revocable trusts, which tend to increase costs, are common in Florida but not in Georgia. "People end up forgetting about assets they have and end up probating the estate anyway. Maybe they hold an old interest in an office building or something like that."
The year Galardi held that position, she spoke at the annual Fiduciary Law Institute at St. Simons. Another presenter was Patricia Friedman of Djuric Spratt. They hit it off, and have maintained a very collegial working relationship despite having opposed each other since then on various matters. "Some people are consummate professionals but are not a pleasure to work with," Friedman says. "Mary is both a consummate professional and a joy to work with. Even if you're opposing her."
"She is so congenial that she's just great at any sort of social gathering—a party, a professional networking event, whatever," adds Keegan. "There's just something innate about her that clicks with everybody. She's a connector. She goes around introducing different people to each other, even if there is no direct benefit to her."
Such as taking the time to serve as mentor. "When I first decided to set up my practice in 2009," Keegan says, "she was very open with her advice and giving of her time, and helped me with the networking aspect of it. I know she has performed that function for so many other attorneys as well."
Galardi has a son, Eric, and three grandchildren. "Adopting my son was the best thing I've ever done in my life," she says.
Off the clock, she rolls up her sleeves and seeks nature. Galardi has been involved from the beginning with the Peachtree Creek Greenway. "We tromped through the underbrush and marveled at the potential of what could happen here, and now our first section is built," says its founder, Betsy Eggers. "Mary has the mind of a businesswoman and the heart of a grandmother."
Search attorney feature articles