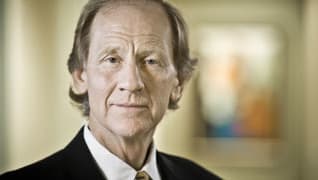 Photo by: Stan Kaady
One of the Last Southern Gentlemen
Philip C. Henry is the very soul of understatement
Published in 2013 Georgia Super Lawyers magazine
By Candice Dyer on February 21, 2013
It was like a scene out of a schlocky hospital drama.
In the middle of a medical malpractice case involving a cervical spine injury, a juror tripped while stepping out of the box and smacked her head, hard, against the railing.
"Laid her out flat," recalls Philip C. Henry, of Henry Spiegel Milling, a personal injury firm in Atlanta. "It was the strangest thing."
The physician charged with malpractice rushed to the juror's aid. Henry, of course, was representing the plaintiff.
"911 was called," Henry remembers. "And it was the emergency medical technicians who came in and immobilized the neck, put on a cervical collar, placed her on a spine board, so that they demonstrated the way a potential cervical spine injury victim should be managed, which is what the case was about. … We thought seriously about moving for a mistrial because we just assumed the jury would see the doctor in a favorable light after that incident. Ultimately, we decided to proceed without seeking a mistrial, and we ended up, somewhat to our surprise, with a really nice verdict."
Afterward, he says, "What we learned was that, when the doctor came to her aid, before the EMTs got there, she was saying, 'Get him away from me!'"
Throughout that mishap, and many other cases, Henry kept the countrypolitan cool that has become his trademark.
"Phil is the most unflappable person I've ever met," says Harvey Spiegel, one of his partners. "He just isn't flustered or fazed by anything—at least not so that it shows—which is a great quality for a trial lawyer. He cares and feels things deeply, but he's so subtle about it, so utterly in control of himself and his reactions, that unless you know him very, very well, you won't see it. He just talks less. It took me a long time to figure that out because it's almost imperceptible. If he's worried, he grows just the tiniest bit quieter, but the anxiety never, ever shows in his face or his demeanor."
"One case that illustrates Phil's unruffled manner involved some missing Pap smear slides," Spiegel says. "The doctor's claim was that the Pap smear slides were accidentally destroyed. Our star witness, a nurse or an assistant who was going to testify that she handed this stuff over to the doctor, just didn't show up. It turned out she was taking the bus and was running late—we told her later that we would've paid for a cab. That afternoon, we all were sweating bullets, but you never would've known that anything was wrong if you looked at Phil. He conveyed a sense of peace to the judge. That calmness is effective, too. We had a streak of no-offer cases, and we won all four of them."
Henry, who speaks with a polished, unhurried Georgia accent, began his practice with an insurance defense firm, then switched sides to focus solely on representing individuals with claims against corporations, insurance companies and health care providers. He typically handles medical malpractice, as well as all of the messy damage wrought by car wrecks, construction accidents, defective roadways and products, and other causes of personal injury or death.
"I know some colleagues roll their eyes at us because at times our firm takes on projects not considered good cases from a business standpoint," he says. "But we like to lend a helping hand."
An example: "We were able to get a substantial settlement for a plaintiff whose child had experienced a brain injury at birth. The case was resolved in 1988, and fortunately the child survived. That settlement made a big difference in the family's ability to care for her during her recovery. Every Christmas, I receive a nice letter from her parents with photos and an update on her status. She's an adult now. Playing some role in a family's life in that way is what motivates me to practice law."
Henry might not be driven by dollar signs but they tend to add up for his clients. His record boasts numerous settlements in excess of a million dollars. He was lead counsel in the case of Brown v. Fulton-DeKalb Hospital Authority, which resulted in a jury verdict of nearly $15 million. He belongs to the American College of Trial Lawyers. His reputation is one of honesty and fair play.
"One reason he is so effective is that he used to be a defense lawyer, so he knows both sides of the law," says Judson Graves, of Alston & Bird. "One case that stands out in my memory involved a brain-damaged baby that ultimately died. At first, the defense won, but that ruling was reversed on a technicality. So Phil came back in, and, the second time around, won in excess of a million dollars. It was rather extraordinary to watch. He learned well from the first experience and adjusted his presentation, and then he won handsomely. That's Phil."
Longtime colleagues, including other litigators who have squared off against him, often bring up the same points about Henry. If someone they loved were maimed or killed, they say, Henry would be at or near the top of their referral list. They marvel that he not only refuses to showboat or indulge in cheap tricks, but also never raises his voice. He has what Graves calls an "extraordinarily level personality."
Henry's low-key sensibility resonates on some higher register with his audience, and all of that courtesy and deference belies a bulldog-like tenacity.
"He treats every person on every side in the courtroom with unusual dignity and respect," says Lori Cohen, of Greenberg Traurig.  "I cut my teeth as a baby lawyer up against Phil in 1992. It was my first case ever as an associate, representing Grady Memorial Hospital in an anesthesia case. Phil fought hard—very hard, actually—but conveyed such kindness and caring at all times. Integrating those qualities struck me then as extremely rare in any profession, and even though we were on opposing sides, we became friends. Moreover, he became a mentor and role model, showing me through his actions the integrity you can aspire to and achieve in the practice of law."
Adds civil trial lawyer Tom Carlock: "I venture to say that you will not find anyone who will say anything negative about Phil, professionally or personally. He is what we call 'quality'—quality all the way."
That still-waters-run-deep persona also could be summed up with another old-fashioned regionalism: genteel. As the surroundings of Henry Spiegel Milling grow more homogenized in suburban sprawl, with Atlanta preening its worldly, postmodern image, a certain archetype is becoming easier to spot on the landscape: Phil Henry just might be one of the last Southern gentlemen.
Henry grew up in LaFayette, a small town in the hills of Northwest Georgia. His father sold insurance, and his mother was a teacher before she married.
"My father was extremely intelligent but did not have the opportunity to complete college," Henry says, "so he was a huge proponent of education and said as long as I was in school, he would pay for it. It was probably the greatest gift of my life. He also encouraged me and my brother to go on to law school because he had this perception that it paid well and you didn't have to do a whole lot. He was mistaken about that last part."
Henry, whose older brother, Bryant, became a juvenile court judge, studied business and graduated magna cum laude from the University of Georgia in 1974. Three years later, he graduated cum laude from Cumberland School of Law at Samford University in Birmingham, Ala. He took the Georgia Bar during his senior year and received the happy results right around graduation. "I went home and got sworn in by my next-door neighbor, who was a judge, on that Monday morning, and that afternoon participated in my first trial," Henry says. "So I hit the ground running. And I was terrified."
Henry had clerked in the office of John Lavette, a well-known Alabama attorney with a specialty in personal injury and eminent domain law.
"Lavette was quite the character," Henry says, chuckling at some private memory that he deems "probably not really printable."
"I wouldn't say he was anti-establishment, but he was very independent-minded, and not at all constrained by what society expected. Our office was in the bottom of this building he owned, with broken linoleum tiles and an old metal desk. It was incredibly cramped quarters—you'd hit your elbow on the refrigerator every time you turned around." Henry recalls this while sitting in his current digs, a corner office in a Buckhead high-rise with a panoramic view of Atlanta.
Lavette, whose 2009 obituary described his manner in court as "disarming," once commissioned Henry to work with a medical illustrator to draw a cartoon depiction of their argument—a sort of graphic illustration—to be included in a brief. "I thought at the time that this was embarrassingly out of bounds and that the judge would consider it inappropriate," Henry says. "I was wrong. The trial judge loved it, and that was a great lesson for me. I was then—and still am—a much more conventional person, but that case was freeing because it taught me not to be so afraid to look at cases from unconventional angles."
Another mentor was George Hart, whose Atlanta firm Henry joined in 1980. "I remember in my early days at Phillips, Hart & Mozley, we were on the defense side of a case," he says. "A surgeon had left a sponge in someone's abdomen. I dug up a letter to the editor from the plaintiff praising the hospital for saving his life. That could have helped the hospital and undercut the plaintiff's case, but George said, 'No, that would be a low blow to use that.' He showed me there are certain boundaries in litigation, that it's not all about winning. You don't just throw decency out the window."
Midway into the 1980s, Henry had an epiphany: "A friend of mine, who also did defense work, told me that he was going to leave with another friend and start doing plaintiff's work, and invited me to go with them and start this new firm. And I realized that I found plaintiff work more rewarding, truer to who I am." He smiles. "My upbringing instilled certain values in me that I wanted to honor [as a plaintiff's attorney]," he adds.
That's how the firm now known as Henry Spiegel Milling was launched in 1986. "Fortunately, Sue, my wife of 38 years, was supportive of my making this big leap," he says, "which seemed very risky. At the time, there were not that many plaintiff's attorneys in Atlanta; it was mostly a city of defense firms. I often wonder now what would've happened if she had vetoed that gamble and I had stayed in defense work."
So does anything rattle Henry?
"The public perception that our clients are opportunists who are motivated by greed greatly troubles me," he says. "It's demeaning. They are people with genuine needs, and the law empowers them to get a fair shake, and most of them handle life-altering tragedies with such grace. In fact, in the event that we find that whatever happened was an accident and that nobody was at fault—sometimes things just happen that are beyond anyone's control—those people are actually relieved to learn that their loved one was not harmed through someone else's negligence."
Many of those clients are also relieved when they meet their attorney.
"Our clients come from all backgrounds," Spiegel says. "Most are folks who never thought they would ever need a plaintiff attorney in their lives, and many of them have a very negative impression of a plaintiff attorney in their mind: lots of gold chains, flashy, in-your-face, greedy, pushy. And then in walks Phil, who is just the opposite of all those things. People feel very comfortable with him, no matter what walk of life they come from, because he is so genuine in his thoughtfulness."
Henry says he works at not being a workaholic. He enjoys travel—a trip to South Africa last November, for example—and he is a fan of the slow food, farm-to-table, locavore movement that has swept Atlanta. He grew up in the Methodist faith.
"Every Christmas, Phil is out there building houses with Habitat for Humanity," says Carlock, who worked on one of those volunteer projects.
Henry shrugs off these contributions. He notes that the firm sponsors the Habitat for Humanity house, and everyone in the firm works on it.
"Well, of course Phil does that," Carlock says. "That's him. He's understated. The very soul of understatement."
Search attorney feature articles