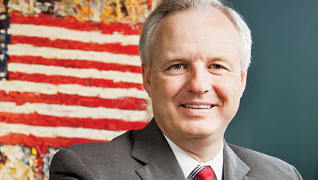 Photo by: Stan Kaady
The Possible Dream
Charles Kuck, lover of both Don Quixote and Atlas Shrugged, has five ways to reform immigration law
Published in 2012 Georgia Super Lawyers magazine
By Jerry Grillo on February 17, 2012
The ink on Charles Kuck's unframed law school diploma was barely dry when he realized that helping people was much more rewarding than suing people.
It was 1989, the summer following his graduation from law school at Arizona State University, and he was employed at the Phoenix office of Mariscal, Weeks, McIntyre & Friedlander. He wanted to be a litigator but knew most first- and second-year lawyers rarely see the inside of a courtroom, and he hadn't even passed the bar yet. Then a colleague made a suggestion.
"There's this really cool place called immigration court," Kuck recalls his friend saying. "There are no rules of discovery, no rules of evidence, and you can take pro bono cases right now because you don't have to pass the bar yet to take a case."
At the time, Kuck had no interest in immigration law. "I thought it was for liberals and wackos," he says. "I wanted to sue people, take them to court."
But the thought of actually trying a case won him over and the first case changed his life.
"It was a little Guatemalan guy and his wife," Kuck says. "They were fleeing persecution. This was Central America in the late '80s, early '90s. There was a civil war going on that our country started. He was an Indian from the mountains who feared for his life, and the paramilitary and the left-wing guerillas were both after him."
That's how Kuck ended up winning a case before he passed the bar.
"It was an awesome feeling," says Kuck, now the managing partner of Kuck Immigration Partners, based in Atlanta. "Of course, I wanted to do it again. So I called the local pro bono organization I was working through [Friendly House] and asked if they had any more cases."
Over the next two years, in addition to his insurance and personal injury work at the firm, Kuck took on seven asylum cases for Friendly House, eventually joining its board of directors. "Refugees from Central America were pouring into Arizona at the time," he says. "Most of those guys couldn't get into Arizona today."
Back then, Arizona had a pretty small immigration bar: maybe 30 members of the American Immigration Lawyers Association (AILA), Arizona chapter. He got to know a few of them, including Roxie Bacon and Nancy-Jo Merritt, both of whom worked at the Phoenix office of Bryan Cave. They asked if he wanted to join their immigration law practice, which was something of a redheaded stepchild in the Bryan Cave universe. Kuck jumped.
"It was a very large, extremely conservative firm," says Merritt, now chair of the immigration law practice at Fennemore Craig in Phoenix. "We stood out as the wild-ass, left-wing people."
Well, not Kuck. He's a devout Mormon and longtime Republican.
"As a conservative Republican, he can speak to values that are associated with our state and its leaders," says Jerry Gonzalez, executive director of the Georgia Association of Latino Elected Officials, a nonprofit agency that advocates for immigrants' rights while working to increase civic engagement and leadership development in the state's Hispanic community.
"He's been a very instrumental voice of reason within our community," Gonzalez adds.
Kuck's childhood could have been painted by Norman Rockwell. His father, Herman, owned a candy and ice cream shop in North Bergen, N.J. When the family moved to Barryville, N.Y., in the Catskills, when Kuck was 12, his father wound up running a combination diner/candy store/ice cream parlor/gas station. "The kind of place you might expect in a small town of about 500 people," Kuck says.
How small was Barryville? "Let's put it this way," Kuck says. "It was such a small town that I got to play quarterback on the high school football team."
Four years later, the family made a spiritual rather than a geographical move: They joined The Church of Jesus Christ of Latter-day Saints.
"We were Lutherans," Kuck says, "typical Lutherans that go to church at Christmas and Easter. My dad saw the Mormon church as a mechanism by which he could improve himself and his family. The church's doctrines on family and the eternal nature of family really drew us in."
As for how Kuck felt? "I read the Book of Mormon and I believe it to be the word of God," Kuck says. "It made sense to me that Jesus Christ loves everyone enough to come see them."
Kuck went on to Brigham Young University (BYU), where, after his freshman year, and as per church doctrine, he was sent on his designated church mission.
"You don't get to pick where you go," he says. "I was sent to Peru."
He'd had a few semesters of high school Spanish along with a few prep classes; but when he arrived in Cuzco, Peru, no one was speaking Spanish.
"They speak Quechua, the Indian language, which isn't even related to Spanish," he says. "So I basically learned my useful Spanish while I was there, and a little bit of Quechua, and did my mission.
"You've never seen poverty like that," he adds. "But you've never in your life seen more humble people, who were willing to give you the shirt off their back if they had one. It was a wonderful, life-affirming experience."
And it planted a seed. Prior to the mission, Kuck had been a statistics major. When he returned to BYU, he embarked on a dual major: history and Latin American studies. He got married in the middle of his junior year to Jennifer Farnsworth, who was a year ahead of him in college, and they had their first child, Rebecca, a few months before his graduation.
It was Jennifer who suggested he go to law school. Then it was Bacon and Merritt at Bryan Cave who got him into immigration.
"He had these two strong women who really pushed him around until he moved in our direction," says Merritt, one of the nation's top immigration lawyers. "We taught Chuck to be pretty aggressive in his representation. In my younger years, I was pretty fired up all the time, pissed off at the government and so forth. Anyway, we passed that attitude onto him and he ran with it."
"Roxie and Nancy-Jo were the pillars of the immigration law community in Arizona back then," Kuck says. "It was like going to work for, you know, Jesus."
Kuck stayed at Bryan Cave for two years. He got deeply involved with AILA and worked his way through the ranks there, eventually serving as president of the national organization in 2008 and 2009.
In April 1993, he heard Powell Goldstein in Atlanta wanted to grow its immigration practice. So in July the Kucks (Charles, Jennifer and their four young kids) moved across the country. Four years later, he started a partnership with immigration attorney Dale Schwartz. Two years later, he was offered the opportunity to run the national immigration practice at Littler Mendelson. In 2003, he started Kuck Immigration Partners.
There is a small practice putting green in Kuck's cluttered office. Kuck, who is 6 feet 2 inches tall, once played baseball, basketball and football, but these days he satisfies his sports jones on the golf course. He's a speed golfer who regularly finishes 18 holes in 105 minutes. (His record is 80 minutes.) He typically shoots in the 76-78 range.
His office also contains some Western art, a statuette of Rodin's The Thinker, an Elvis coffee cup that sings "Hound Dog," a sign that reads, "Who is John Galt?" (Kuck is a fan of Ayn Rand's Atlas Shrugged), and, most noticeably, a multitude of Don Quixote statues and posters.
"Quixote really stands for the idea that you can achieve anything given the right desire," he says. Then he recites the famous verse from the Quixote musical, Man of La Mancha: "'To dream the impossible dream, to fight the unbeatable foe.' Quixote ultimately stood up for what he believed was right. Whether he was delusional or not is left to the reader to decide, but he died believing he had achieved what he needed to achieve, to do what was right."
The income-producing segment of Kuck's practice involves helping businesses with their immigration needs. He counsels them on employment policies and rights for a foreign national workforce; or on the work-authorization process; or on compliance with immigration law.
This helps support the less lucrative but personally satisfying work, some of it pro bono, that he does for individuals and families seeking green cards, asylum, or simply trying to avoid deportation. Consider it the possible dream.
Kuck is in the right place for this kind of work. In a nation of more than 11 million illegal immigrants, Georgia has its share—425,000—ranking seventh among the 50 states.
"Fixing immigration is not rocket science," Kuck says. "You've got to do five things. The first thing is border security. But fences don't keep people out, people keep people out. So name a number: 40,000 agents; 100,000 agents; whatever. We put people on the ground.
"Next, we continue to do what President Obama is doing in going after employers. You aggressively audit, you fine, you educate and put the bad actors in jail."
An effective guest-worker program is Kuck's third point. Temporarily increasing the number of legal immigrants coming to the U.S. while decreasing the time it takes to get a green card is his fourth recommendation.
"If I'm an employer and I want to hire this brilliant chemist from another country, it takes seven years to get his green card if he has a master's degree, 10 years if he has a bachelor's," Kuck says. "That's insane."
His fifth and last suggested reform deals with what he calls the 800-pound gorilla. "What do you do with the undocumented immigrants?" he asks. "You create a path to legality. Come forward, we take your fingerprints, your DNA, your picture, you pay a $500 fine. And if you don't have a criminal record, you get a work permit.
"So for seven years they are here legally. Then they come forward, pay another fine or fee, let's say $1,000, and they show they've paid their taxes, they don't have a criminal record, and then we give them a green card.
"We need to make legality the norm in this country. There can't be a rule of law unless you have laws that work."
But Kuck isn't holding his breath. Any kind of meaningful reform, he says, will take political courage and that doesn't seem to exist at the moment. It still bothers him that the DREAM (Development, Relief and Education for Alien Minors) Act didn't survive.
It was voted down in December 2010 when Senate Republicans and a handful of Democrats blocked legislation that would have granted legal status to undocumented immigrants who came to the U.S. as children, earned a high school diploma, then attended two years of college or served in the military for two years. It fell five votes short of the 60 votes necessary to pass.
Illegal immigrants are getting it from both the left and right. The Obama administration has deported record numbers of illegal immigrants—almost 400,000 from October 2010 through September 2011.
"The Obama administration will have deported more people in three years than Bush did in eight," Kuck says. "So when you hear these arguments that they're not enforcing the law, that's just not true. It's a lie."
Meanwhile, conservative state governments in places like Arizona and, yes, Georgia, have recently enacted some of the nation's harsher immigration laws, while right-leaning members of Congress have been pushing for abolition of birthright citizenship for children of unauthorized parents—a right guaranteed by the 14th Amendment of the U.S. Constitution.
"The reality is, I think, that the core of the Republican Party still believes in the Constitution and how it is written," Kuck says. "If you were born here, you're a citizen."
Immigration isn't just a political issue to Kuck, and it's not just what he does for a living. He sees immigration as something fundamental to the U.S.: what strengthens rather than weakens us.
"Look, if you're a country that people want to come to, you're gonna be successful," he says. "Lazy people don't walk across the desert. Dumb people don't find ways to get here and work here. People with drive and a desire to succeed do."
He's become more and more of a crusader on the issue, more Don Quixote than John Galt.
"When you stop speaking up for the helpless, that's when as a society you know you're in trouble," he says. "The moment we shut the doors of America to immigration is the moment our decline begins in earnest."
Search attorney feature articles