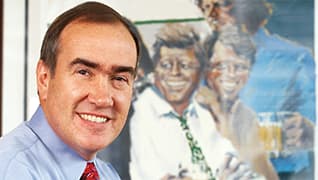 Photo by: Larry Marcus
Both Sides Now
Kevin G. Burke moved from defending the big guys to defending those "with the smallest voice"
Published in 2006 Illinois Super Lawyers magazine
By Neil Versel on January 11, 2006
Not many medical organizations want to talk about Kevin G. Burke these days.
In 2004 alone, Burke, one of the pre-eminent medical malpractice plaintiff's attorneys in Illinois, won settlements and judgments totaling $89.8 million, including the largest-ever med-mal settlement in an obstetrical case in the state — $35 million for a woman whose baby was born brain-damaged after doctors at Northwestern Memorial Hospital in Chicago allegedly failed to perform a Caesarean section in time to prevent complications. He also secured a $32 million verdict against St. Francis Hospital and Health Center in Blue Island in another obstetrics case.
SSM Health Care, the St. Louis-based organization that operates St. Francis, declined to comment for this story. The same for Evanston Northwestern Healthcare — a system distinct from Northwestern Memorial — which paid $15 million in April 2004 to settle with another Burke client.
Also passing was the Illinois State Medical Society, which lobbied hard — and successfully — against the plaintiff's bar in 2005 to get state lawmakers to enact a $500,000 cap on non-economic malpractice damages for doctors and a $1 million ceiling for hospitals per case.
Burke is not so reticent. "I'm quite disappointed with the legislature," he says in his trademark, understated manner. "It's an attempt to solve a public-relations problem by punishing those least able to protect themselves." He is referring to the people who are most injured by malpractice, negligence or systemic failure of health care safety procedures. "Those are also the ones with the smallest voice."
Burke says the problem of soaring medical malpractice insurance premiums results from multiple factors, and then ticks them off: Nobody controls the profits of insurance companies, the public has no insight into the setting of premiums, and people don't realize that physicians have had their income squeezed by limitations set by health insurance plans.
"Too many of these discussions are simplified as to who is the bad guy," he says, before adding, "The root cause of the malpractice crisis, if there is one, is malpractice. You reduce the amount of malpractice in the state, you will reduce the amount of premiums doctors pay. There is no question about that. Who can argue with that logic?"
Burke has earned the right to such a strong opinion. After all, he is among just a handful of attorneys in Illinois who have worked both sides of medical malpractice law.
From 1982 to 1990, following his graduation from Chicago-Kent College of Law, Burke was a defense attorney with Cassiday, Schade & Gloor, a firm that splits its defense work between medical malpractice and other personal injury law. Burke primarily represented hospitals and corporations, but he wasn't pleased to defend clients he felt were at fault, and desired "to be on the side of the little guy versus the big guy," Burke says.
At that point he was in his mid-30s, with a family and a home. Making the jump to the plaintiff side meant a pay cut, a loss of status and financial uncertainty. "I considered it very risky because there's also a change in your approach," Burke says. "To become a plaintiff's attorney, you have to practice with a sense of urgency at all times." Plaintiff's attorneys typically work on contingency, so they only get paid if they succeed. "The risk is much higher," he says.
The switch was made after he defended a suit brought by the law firm of Corboy & Demetrio. Burke represented a company that provided cargo transfer services at a rail yard where a Corboy & Demetrio client lost a leg in a train accident. "I was fighting to press the blame on the railroad," Burke recalls. "The plaintiff won, which he should have." However, the jury found the railroad 95 percent responsible for the accident, while the service company had to pay just 5 percent of total damages.
"Phil Corboy took a liking to him [during the trial] and offered him a job," recalls Thomas A. Demetrio, a name partner in Corboy & Demetrio, and himself a Top 100 Illinois Super Lawyer in 2005 and 2006.
Demetrio says his firm, long one of the state's most successful personal injury firms, assigned Burke some of its biggest cases. "He's an excellent lawyer who we placed a lot of confidence in, rightfully so," says Demetrio. "His years as a defense attorney have served him well as a plaintiff's lawyer."
Burke concurs. "The advantage of having been on both sides is a full understanding of what is malpractice and what's going to be successful and what's not going to be," he says, as another "el" train rumbles by the window of the Clark Street office of Burke, Mahoney & Wise, which opened its doors in January 2002.
It's expensive to bring a malpractice case in Illinois. State law requires that plaintiffs secure an affidavit from an independent doctor, who must review medical records, before going to court. "Lawyers may not be the smartest group on the face of the earth," Burke says, "but throwing away money is not a particular habit of theirs." He estimates that a plaintiff's attorney spends $5,000 or more between acceptance of the case and filing suit. From filing to the day of trial, a process that often takes three years or more, out-of-pocket expenses could easily top $50,000.
To Burke, elements of a solid malpractice case include a clear breach of an established standard of care and, more important, an explanation for why such a mistake occurred. Also, Burke says, there must be adequate time to remedy a problem. "Is there clear negligence, but also is it of the type … that a jury will understand?"
Demetrio says — and Burke agrees — that Burke learned selectivity from his years at Corboy, a firm that turns down roughly 95 percent of prospective malpractice cases. "He's straightforward with the families and he's straightforward with the defense," Demetrio explains. "A lot of people leave us relieved that their loved one didn't die of malpractice."
"There is a clear division in my mind," Burke says, "between second-guessing what a doctor does and looking back and saying that there's been a failure in either communication of information, false reporting of test results, orders not followed, orders communicated [but] not received or people practicing outside their field of knowledge."
Burke does not take class action cases. "I like to represent people on an individual basis," he says. "There's more enjoyment, more reward from working for someone and seeing them receive some benefits that make their lives easier on a one-to-one basis than there is to me in any numbers that are associated with large verdicts."
Deciding whether to file suit is "a very frightening time," says Kathleen Osberger, a Burke client. "The circumstances of litigation are very new for a lot of us." Although Burke guided her through all the legal aspects of seeking remedy, Osberger says that Burke "gave me the leash to make the decision."
A licensed clinical social worker and Chicago resident, Osberger went to Burke after an oxygen mask caught fire in a Weiss Memorial Hospital operating room and severely burned her nose and lips during what should have been routine surgery to remove two facial moles. After much consultation with Burke, Osberger concluded, "My unfortunate circumstance was probably preventable." So Burke filed suit on her behalf and in December 2004 reached a $6 million settlement with Weiss' owner, the University of Chicago.
The injury not only caused severe scarring on Osberger's face, it also impeded her breathing. She has had 16 surgeries since the accident to try to correct the problems. "Even though we've settled, I'm still going through surgeries and through repair, and I still haven't gone back to work yet."
Osberger's case was settled shortly before trial, saving Burke from explaining to a jury what went wrong. "Jurors don't walk in there with medical degrees," he says. He also feels that, because people trust physicians, juries start out "swinging far to the side of the doctors at the start of the case." It is up to a plaintiff's attorney to convince them that a doctor or nurse or hospital can be negligent.
"What I try to do is create a jury that is as multifaceted and diverse as possible who will listen to the case," explains Burke. "If you get 12 of the same, no matter what same you happen to pick, you tend to get only one point of view. Multiple perspectives foster open-minded discussion. If they're open-minded and I've picked the right case and did my job, I'm OK. If they're closed-minded, I've lost them before I've started."
He also doesn't try to elicit sympathy for the victim. "Anyone who plays that card runs the risk that the jury is going to be turned off immediately," he says. Nor does he attempt to alter his naturally low-key personality. Instead, Burke crafts his oral arguments to explain why malpractice occurred. "Before they hear what happened, I want them to have already decided who's at fault," Burke says. It is a strategy, he feels, that isn't followed enough.
The Western Springs resident and father of five knows first-hand that some conditions are not preventable. One of his sons, Ryan, has Down syndrome, the result of a genetic predisposition.
Burke did go to court to force a preschool to place Ryan in a general class — not in a special program for children with disabilities. A federal appellate court ruled in his favor in August 1999. For four years after that judgment, Burke offered pro bono consulting services to parents of other disabled children until schools across the country got the message that qualified children must be placed in mainstream programs if they are educationally capable. "The last three years," Burke happily reports, "I have not gotten one call about this."
As for those who deride large malpractice cases as "jackpot justice"? Burke is dismissive. "There isn't one client who received serious money that I represented who would ever say that this was worth it," he says. He cites children facing lifelong disabilities, burn victims, amputees and individuals suffering from debilitating ailments such as cerebral palsy, to say nothing of those who unnecessarily lost loved ones. "No one felt like they had won anything," he says. "I don't represent anyone who doesn't have a life-threatening or life-ending injury. I don't know anyone who wants to be in that position."
Search attorney feature articles