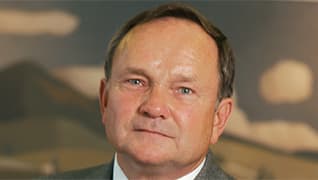 Photo by: Larry Marcus
Chicago's Most-Feared Attorney
Bob Clifford is a lamb who turns into a lion when he's confronted by injustice
Published in 2005 Illinois Super Lawyers magazine
By Bill Clements on January 13, 2005
When trial attorney Bob Clifford was a young kid growing up at 121st and Laflin on the Far South Side, the adults and older kids of that Mudville neighborhood used to give him a quarter just to shut up.
"I always knew I had high verbal skills" is the way Clifford puts it now, with a laugh.
Those who oppose him in the courtroom are paying a hell of a lot more than a quarter these days to shut Bob Clifford up.
The firm he founded in 1984 — Clifford Law Offices — now counts 25 attorneys as its own. Clifford, 54, handles the big cases, the ones bound to bring damage payments in the upper pretty-penny range. Cases like those of Rachel Barton, the accomplished young violinist who lost a leg in January 1995 while trying to board a suburban commuter train ($35 million); 16 families who lost loved ones in the October 1994 crash of Flight 4184 in Roselawn, Indiana (a record $110 million); a 70-year-old woman severely injured in the July 1989 crash of Flight 232 in Sioux City, Iowa ($28.2 million); and a Chicago-area man who lost his wife and daughter in that same Sioux City crash ($15 million).
But it's not all about the money for this 1976 graduate of the DePaul College of Law. Verbally gifted, Dale Carnegie-trained Bob Clifford also pushes for some semblance of justice: The settlement of the case of the crash of Flight 4184 included an unprecedented apology from the defense attorneys, on behalf of the defendant corporations, to the victims' families in open court. And the defendants in the case of the man who lost his wife and daughter in the Sioux City crash also had to contribute to the construction of a bereavement center at Children's Memorial Hospital. The center was named after the man's daughter.
Clifford is an evangelist for his fellow trial lawyers and believes it is the responsibility of lawyers to change the world for the better. He'll often take cases for their potential to bring needed changes to public policy — whether or not the cases generate headlines. To that end, Clifford has put his own money where his mouth is — he endowed at his alma mater law school the first Chair on Tort Law and Social Policy. The endowment provides for an annual symposium that brings together scholars, lawyers and judges from around the country to tackle a timely topic examining the relationship between tort law, popular culture and the needs of society.
Clifford's successes have not gone unnoticed: the National Law Journal ranked him one of its Top 10 Litigators in 1993. In 2000, American Lawyer Media named him one of the Top 10 Most Influential Lawyers in Illinois. Corporate Legal Times named him "one of the five most respected and feared" plaintiff 's lawyers in the country. And in 2002, Chicago magazine judged him one of Chicago's Top 30 Toughest Lawyers.
Clifford describes the Mudville neighborhood where he grew up Catholic as "filled with cops, firemen and small-time politicians." His father was a carpenter, his mother a homemaker who raised four children. Politics was always in the air, and Clifford recalls passing out campaign literature for JFK in 1960. He started working part-time stacking wood for $2 an hour at Mathew Lumber and Home Center when he was 13 to help pay for his tuition at Marist High School. He worked at the lumberyard all through college, which helped him pay his way through law school. "I knew my dad was doing extra side jobs on the weekends to help pay my tuition, so I took school seriously." He was the only kid in his neighborhood to earn a college degree.
Clifford's gift of gab made him aware early on that he wanted to be a lawyer. And in that, he was not alone. "People in the neighborhood eventually started telling me, 'Hey, kid, you oughtta become a lawyer.' I don't remember not wanting to become a lawyer. It never occurred to me to do anything else."
The lumberyard's owner, Mark Curtis, saw real potential in Clifford and so sent him to a Dale Carnegie training course. For six months in 1967 when he was 16, Clifford took two nights a week, driving an hour each way to Oak Park, to absorb the Carnegie training. "I know it's helped me as a lawyer. Because being a trial lawyer is analogous to being a salesman. Especially meeting with people in that first engagement, there's real salesmanship involved with that."
Just before starting law school in 1973, Clifford married Joan Makowski, a young woman majoring in elementary education that he'd met at DePaul. They've been together for 31 years and have two daughters: Erin, a teacher at an inner-city Chicago high school, and Tracy, who's trying to break into the fashion industry in New York City.
A turning point in Clifford's legal career happened when he was a first-year law student. One day, renowned Chicago trial attorney Phil Corboy addressed Clifford's class at DePaul. "I remember asking some classmates how you got a job with this guy, and they said you can't. I didn't buy that, so I looked up the address of his office and went down there the next day." After waiting around for several hours, Clifford got in to see the man who quickly became his most important mentor. "I remember Phil saying, 'If you have balls enough to come here and ask me personally, I'll hire you.' So I started there as an intern the next Monday." Clifford worked for Corboy until 1984 when, "with Phil's blessing," he started his own firm, Clifford Law Offices.
The big-dollar cases soon started rolling in, especially in the area of plane crashes, which became a specialty. And quickly Clifford started seizing on chances to change public policy. In a horrifying May 1987 case, 31-year-old businesswoman Nancy Clay died in her 20th-floor office during an early-morning fire because firefighters didn't reach her for several hours due to communication breakdowns and her building's vanity address — even as she made desperate calls to 911. During subsequent weeks, Chicagoans were shocked by tapes of those terrifying calls, which were endlessly played on news shows. "Certain cases come along that give you the opportunity to change public policy through the tort litigation system," Clifford says. "We got rid of unregistered vanity addresses because of the Nancy Clay case, and other substantial changes were made to the city's 911 response system." The Clay family received a $550,000 settlement from the city of Chicago in 1995, along with an earlier $1.8 million from the insurers who represented the company that managed the high-rise and the architects who designed the area where Ms. Clay died.
In October 2003, a fire broke out in a downtown Cook County government high-rise; six people trapped in a stairwell died of smoke inhalation. The families of the majority of those who died turned to Clifford — and right away he started agitating for change. "Now the Chicago Fire Department has increased the physical-fitness requirements for its firefighters, changed how they search for victims in a high-rise fire, increased staffing levels and what equipment is brought to the scene of such fires, and improved the communications between firefighters inside the building and those outside," Clifford says. "All this has happened because of the criticisms we pelted the fire department with during the investigation." These lawsuits are still pending.
Not content with the local nature of the changes he has brought, last February he took after bigger prey: the U.S. government. Clifford filed suit against the U.S. Food and Drug Administration on behalf of an Elmhurst couple, Ray and Gaylee Andrews, both 74, who want to be able to save money by importing much-needed prescription drugs from Canada. It'll be a tough case to win, but you can hear in Clifford's voice a real anger as he talks about it: "No one is saying the floodgates [on drug imports from Canada] should be opened. But we are saying that some of the most popular prescription drugs can in fact be safely imported into the U.S. because they are either manufactured here in the first place or manufactured elsewhere under our regulations. The government can do this — they proved it with the flu vaccinations. But some of the most powerful political interests in America are the drug makers and the insurance companies."
In the prime of his career, Bob Clifford is juggling a lot of balls in the air. He continues to be perhaps the most feared and respected personal-injury lawyer in Illinois; an advocate for public policy change; and a staunch defender of the trial lawyer profession.
He does the latter by taking leadership positions in the legal profession. At the time of the 9/11 tragedy, for instance, Clifford was chair of the American Bar Association's litigation section, which has 75,000 members. The association immediately created a Task Force on Terrorism and the Law and put Clifford in charge of it. "I pretty much gave up my practice for the next year," he says. "We helped the Justice Department write the regulations for the 9/11 Victims' Compensation Fund, among other things."
A longtime active Democrat, Clifford finds himself facing his most formidable opponents yet — the national Republican Party and President Bush. Clifford wants to help save his profession from the Republicans who blame trial lawyers for everything from exorbitant health care costs to the unraveling of the moral fabric of America. So he's running for statewide election as the Illinois state delegate to the American Bar Association's House of Delegates. "My platform is all about the image of the legal profession and what lawyers can and should do to educate the public about our legal system," Clifford says. "Let's try to get to the core of what we can do to improve the way people perceive us. We lawyers ought to be very proud of what we do."
The worst attack, he says, is the GOP call for caps on jury awards in the category of non-economic and punitive damages in medical malpractice cases. In Illinois, the Republicans want to put a $250,000 limit on non-economic damages (there's no cap for economic damages). "The campaign to reform torts here in Illinois demonizes the civil justice system for the big jury awards in medical malpractice cases, but juries continue to make awards like that, because when you scratch below the surface of tort reform what it amounts to is cost-shifting." About half the states in the U.S. have some cap in medical malpractice cases. "The doctors are shifting the cost of their mistakes to the public. But juries always reject the doctors."
And don't get Clifford started about what he says are the real motivations behind the GOP's attack on trial lawyers. "The trial lawyers are to Democrats what the business community is to the Republicans in terms of campaign fund raising. So Bush wants to cripple fund raising for the Democrats, and he's using the most vulnerable people for his own political purposes.
"Bush is being less than candid when he says that he wants a cap to protect doctors. If the Republicans can make gains in the '06 mid-term elections, they may be able to dominate the public policy debate for generations to come. … So if the GOP can clip the trial lawyers and marginalize them as players in the campaign-donation game in '06, that's a really big deal."
Bob Clifford wants justice, this time for his profession — a profession that has enabled him to reach a financial status he never thought possible as a restless boy in Mudville.
"I don't want to put my head on the pillow at night and think about how I didn't do my part because I was selfish."
Search attorney feature articles