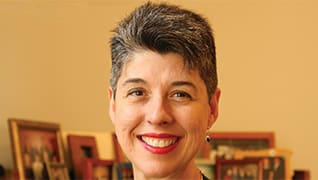 Photo by: Larry Marcus
Citizen Tapia-Ruano
From immigrant to immigration lawyer to president of the AILA
Published in 2008 Illinois Super Lawyers magazine
By Renaldo Migaldi on January 8, 2008
When she first arrived at the Rayburn Office Building in Washington, D.C., on June 10, 2005, immigration attorney Carlina Tapia-Ruano felt something rare for her: intimidated. She had been invited by Rep. John Conyers (D-Michigan), then the House Judiciary Committee's ranking Democrat, to testify at a hearing on the USA Patriot Act and the proposal that all immigrants carry a so-called "Real I.D." to be surrendered on demand. Other panelists at the hearing included representatives of the American Civil Liberties Union. As a member of the American Immigration Lawyers' Association's (AILA) executive committee, Tapia-Ruano had plenty of experience with courtroom presentations and public speaking. This situation, however, was different.
On C-SPAN, the committee chairman, Rep. F. James Sensenbrenner (R-Wisconsin) could be seen gaveling the session to a close over the loud objections of Conyers and other Democrats on the subcommittee. As Rep. Jerrold Nadler (D-New York) continued talking, the microphones were turned off and Sensenbrenner left the hearing room.
"It got a lot of publicity because of the uncivil and absolutely atrocious behavior of Rep. Sensenbrenner toward the witnesses," says Tapia-Ruano, her voice rising in indignation. Even before he turned off the microphones, she says, "He was absolutely barbaric! My fear immediately turned to anger and indignation and self-righteousness—which is the best possible thing it could have done for me. Because when it was my turn to testify, I was absolutely ready. Suddenly it gave me courage to say what I should have said, and did."
Sensenbrenner tried to cut Tapia-Ruano's testimony short, too, by flashing a light used in House hearings to indicate that a panelist's time is up, but she kept talking. "I didn't stop! I just continued talking, and the light is blinking, and he kept looking around like, 'Is she an idiot? Can't she see the light?' I know about the light, but—I'm Cuban! What do you mean I don't have time to talk? I'm not finished!"
Not long after that episode, Tapia-Ruano became the AILA's first female president. The achievement marked a significant milestone on a journey that began when, at the age of 5, she immigrated with her family to the United States from Cuba.
"I've never seen my birth certificate," she says. "The only thing I've ever seen in terms of an identity document of that time period was a passport issued by the Cuban government."
In the 1950s Tapia-Ruano's parents had positions within the government of Fulgencio Batista, the dictator Fidel Castro overthrew in 1959. "They were very well-off," says Tapia-Ruano. "My mother worked in an administrative position in the Batista government. She was also a radio personality—which at that time, for a woman, was very unusual. It was a talk show. She was engaged primarily in current events, political events, with very much of a women's-issues focus." Tapia-Ruano's father was a lawyer: "He was director of prisons, in a position that was appointed by President Batista. So he was very politically connected—and, as a result, very politically threatened when that administration fell."
A few days after Batista left Cuba in the wake of Castro's revolution, Tapia-Ruano's uncle was arrested and executed. "He was politically active against Castro's revolution prior to [Castro] taking power," she says. " I have a copy of a handwritten letter he wrote in jail to his family the night before his execution. In it, he says he is at peace with the world and not to worry for him."
Her family subsequently bribed the necessary officials to obtain visitor's visas to take the family to Costa Rica. "Bribery—yes, unfortunately," Tapia-Ruano says. "To my mother, it seemed the only way out. And certainly I think that was a sound conclusion in light of the circumstances."
After six months under the protection of the Costa Rican government, they finally obtained a refugee visa and entered the United States. It was March 1961. At first, she says, they lived "where all Cubans live when they first get here: Miami. I had an uncle who had immigrated to the United States many years earlier. And he was also very helpful in assisting us in getting the refugee visa, as a sponsor—someone who would make themselves willing to financially support us in the event that we were granted entry.
"My mother found employment taking care of an elderly woman and cleaning houses, and my father found employment in a factory. As soon as my parents could, which was very soon, they applied for legal permanent residence. And as soon as they were able to do that, they applied for U.S. citizenship. And then I became a citizen."
Until this point, Tapia-Ruano's family was living what she calls "a very typical Cuban refugee story." This changed when her father—who until then had been a Roman Catholic in name and an agnostic in practice—encountered members of the Dutch Christian Reformed Church. "My parents became very, very involved in the church and eventually became true believers. So my father actively did become a missionary in the church, and the church then sponsored us as a family and moved us to Grand Rapids, Mich., where my mother and myself and my sister lived in the home of a total stranger.
"The church sent my father to Ann Arbor to first learn English. Then he had to obtain his master's of divinity at the seminary in Ann Arbor. And my mother learned not only English, but also how to cook and how to deal with the English-speaking world—because in Miami we were speaking Spanish with everyone, whereas in Grand Rapids there was barely anyone to speak Spanish to."
Once Tapia-Ruano's father was ordained, he became minister of a Dutch Christian Reformed congregation in Holland, Mich., that spoke mostly Spanish. He also spent Sundays taking his family to farms in the Holland-Grand Rapids area, where he would give outdoor sermons to Spanish-speaking migrant workers. "Usually the location of the service was out in the middle of some field. No electricity, no tent, nothing. It was during the summer, because that was the growing season, and there was nothing to do—I mean there was no entertainment whatsoever. So going to this service was actually a very entertaining highlight in [the migrant workers'] lives, and they would look forward to it. There was a very large gathering at each farm we would go to."
On two occasions, says Tapia-Ruano, her father moved the family into a rented house so he could offer his church-provided house to some recently arrived immigrant family. "He was that devoted to helping establish the Hispanic population in the location where they would feel wanted and comfortable. He was also very much focused on encouraging the younger members of any family to study. He was a very well-educated man, and he felt very strongly that the only way you could really help yourself in a foreign country was not dependent on your wealth, but dependent on your educational background. As he used to say, 'That's the gift of inheritance you give to your child that no government can take away.'"
After her father switched to the United Methodist Church and moved the family to Chicago, Tapia-Ruano pursued her own education all the way through law school—only to find, as she began working law clerk positions, that she disliked the world she was entering. "The fact that I was bilingual allowed me to get a job instantly; it opened every door. But I didn't like any of the jobs! I didn't like the practice, I didn't like the lawyers, I didn't like the clients, I didn't like the work!" She laughs. "And I'm in my third year of law school, thinking, 'What a mistake! Oh my God.'"
There was, however, one specialty of which she had been unaware: "No law school in Chicago at that time had a course in immigration law. But December 1979 or January 1980 I was hired by this attorney to be a law clerk in his dual practice of personal injury and also immigration. And that was the first time in my life I'd ever heard of the practice of immigration law. I did not realize, clueless as I was, that immigrants actually had a right to be represented by attorneys in their dealings with the government to obtain status."
Tapia-Ruano took to the field, and proceeded—as an associate, in solo practice and as a partner in various firms—to develop immigration law as her forte. Today her law firm, Tapia-Ruano & Gunn, in Chicago's Monadnock Building, is furnished inexpensively, presenting an unintimidating appearance to her mostly working-class clientele. At one end of her conference room sits a table loaded with toys for children. "I think that just comes from being a woman and an immigrant, I have to tell you. And a lot of my clients are families and they bring their children here, for whatever reason. I want the family to feel that they're entirely welcome, but I don't want mom and dad to be spending time while I'm trying to talk to them shushing the child. I want the child to be entertained."
Paul Zulkie, also a former AILA president, calls Tapia-Ruano "one of the most creative immigration lawyers in the United States" and praises her versatility in working the four main fields of immigration law: business, family, refugee and removal (aka: deportation).
"I would say probably 80 to 90 percent of immigration attorneys in the United States practice in no more than one or two of those major practice areas," he says. "Carlina practices in all of those areas. Her forte is truly representing clients whose cases appear to other lawyers to be hopeless—you know, positive results from a hostile government agency like the Department of Homeland Security."
Tapia-Ruano says half of her practice is business-related—mostly small companies who feel more comfortable with a smaller law firm—while the other half consists of representing individuals. "I'm representing foreign nationals who are coming here to work, to improve their lives," she says. "I represent a lot of professionals from South America who don't feel necessarily that coming to the United States is where they're going to get rich, but who feel that they may have a more fulfilling career and opportunities if they are in the United States. And I represent people in asylum proceedings, long-term permanent residents, people who have lived almost their entire lives in this country but as a result of some event, or some conduct resulting in a conviction maybe, [they] are now facing deportation."
Tapia-Ruano disdains use of the term "illegal alien," and offers her reasoning. "The proper term, I think, that accurately describes it—it's not euphemistic, it's more accurate—is that the individual is undocumented. He no longer has the required documents to remain. It doesn't matter how he entered; he might have entered with documents or without. But at this moment in time, there is probably a group of 12 million who are undocumented, do not have proper documents to remain. That's the problem we need to solve."
She believes U.S. businesses should sponsor groups of immigrants to live and work here temporarily before returning home. But her ideas are tempered by a note of pessimism about the current political climate.
"This country at this time is not really interested, truly interested, in solving the immigration problem," she says. "I think that we are going to see in the next year, or at least until 2009, a lot of anti-immigrant talk."
Expect to hear a lot of talk back, too. 
Search attorney feature articles