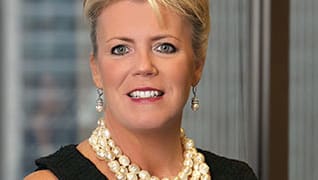 Photo by: Corey Hengen
Don't Tell Karen McNulty Enright She Can't Do Something
Unless you want it done
Published in 2015 Illinois Super Lawyers magazine
By William Wagner on January 12, 2015
When Karen McNulty Enright was a student at Loras College in Dubuque, Iowa, in the 1980s, she decided to get her pilot's license—not because she had any great desire to fly, but because she wanted to prove a point.
"My friend and I took aviation classes on a dare," Enright recalls with a mischievous grin. "The class was all guys, and someone challenged us to join it. Our instructor, also a male, was an old Navy pilot, and he basically said that the two of us wouldn't last. That was enough for me. We got our licenses."
That's Enright. Tell her she can't do something and it's as good as done.
 "When I started, a lot of firms still wouldn't let women wear pants," says Enright, who graduated John Marshall Law School in 1992. "As a woman back then, you had to be on your game 110 percent of the time, because when you're the only female in the room and you're asking questions in a medical malpractice case, people want to see what you know. I think it was a lot harder [for a woman] in some respects. But in other respects, being a woman has been helpful. When you're dealing with, say, a breast cancer or cervical cancer case, you can be more empathetic and understanding, and I think jurors relate to that a lot more."
Now 46, Enright is a partner at Chicago-based McNabola Law Group. She initially worked for the firm (then Cogan & McNabola) from 1992 to 1997 before co-founding Winters Enright Salzetta & O'Brien. In 2012, Enright returned to McNabola, because she viewed the firm as an ideal fit for her at that juncture in her career.
"We always had a really good working relationship," Enright says of McNabola, which has 22 employees, including six attorneys. "I also wanted to have a bigger support network, and that's what McNabola offered me. There are a lot of resources here. The lawyers are exceptional, and everyone works as a team. It doesn't matter if only one person is working on a trial—everyone helps. We all go over our openings and closings together. It's a really unique group of lawyers, and I'm just lucky to be able to work with them."
"Karen is a wonderful attorney and an even better person," says Ted McNabola, a partner at the firm. "She's really a team player and goes the extra mile to help the client—and there's no hesitation in going that extra mile. Karen's dedicated her entire career to helping victims of negligence. She brings a wealth of knowledge to that area."
Enright's passion for the law was sparked while she was growing up in the Chicago suburb of Western Springs. After taking the Constitution test in the eighth grade, she suddenly had a clear view of her future. "I decided I wanted to be a legislator," she says, "and I thought the best way to do that would be to become a lawyer." She spent her high school years shuttling to downtown Chicago with her cousin to watch trials.
"That was great," Enright recalls. "I was able to watch a lot of really good trial lawyers, and I was fascinated by them. We'd go to these trials and take notes. I really just got bitten by the bug."
In the process, Enright's original goal of becoming a lawmaker fell by the wayside. By law school, she began to see that medical malpractice would be her true calling—a vision that has been affirmed repeatedly throughout her career. 
"We represent a lot of children and a lot of other people in medical malpractice cases," Enright says. "It's not easy listening to their stories and working up a lot of their cases, but having an opportunity to make a difference in someone's life is what keeps me going. These people come to you at the worst times in their lives, and I'm able to help them change some things that really make an impact."
A case in point is 2012's Drakeford v. University of Chicago Hospitals, which began with a heart-wrenching visit from a mother. "She first came to see me in 2010," recalls Enright, "and she said, 'I don't know where my baby is.' I said, 'What do you mean?'"
The baby was born at the University of Chicago Hospitals and died after approximately 22 days, at which point the mother was told an autopsy would have to be performed. After waiting months for the autopsy results—and, in turn, the delivery of her baby to the family—the mother discovered that the body had been transferred to the Cook County morgue and buried in an unmarked grave. Furthermore, Enright's team figured out there were two different death certificates, one that indicated an autopsy should be performed and another that didn't.
"The person who was in charge of the remains didn't go through a checklist and didn't follow any of the procedures that the University of Chicago had in place," Enright says. "The mother had all kinds of nightmares. And no one in the cemetery could tell her exactly where her baby was. We found out that the baby was buried with approximately 40 other fetuses or [body] parts in a box. It was horrible."
The case ultimately went to trial, and the mother ended up with a $3 million award. More important, she had some sense of closure. Says Enright, "I wanted to pursue that case and make sure something like it didn't happen again."
Deane Brown, a partner at Chicago-based Hughes Socol Piers Resnick & Dym, has known Enright for over a decade and marvels at her ability to frame a case.
"She's extremely smart and dedicated," says Brown, who met Enright through the Professional Women's Club of Chicago. "She deposes a lot of medical experts. She's a lawyer, not a doctor, but her ability to process that type of evidence is tremendous. She's such a solid lawyer, both in how hard she works and how devoted she is to her clients."
Enright is most at home in the courtroom, where she has the opportunity to put her passion and preparation to full use. She says she's tried approximately 45 cases and has come out on the winning side more than 90 percent of the time.
"I've been doing this for over 22 years now, and I think my style in court is honest and direct," says Enright. "I simply tell it to the judge and jury like it is. About 20 percent of my cases go to trial, but I prepare for every single case as if it will go to trial. I always start with a trial folder, and I keep ideas, questions and exhibits I might want to use so that I have everything ready if I go to court. It's always better to be overprepared than underprepared. That's something I've learned."
Elizabeth Budzinski, an associate judge in the Circuit Court of Cook County who hasn't presided over any of Enright's cases but has observed her in the courtroom, agrees: "She understands the facts of the law, and she has a great command of the English language in her presentations to the jury. It's clear that this isn't just a job for her—it's a way of life."
Over the years, Enright has been involved with a dizzying number of law-related organizations, such as the Women's Bar Association of Illinois (where she served as president from 2007 to 2008), the Illinois State Bar Association (where she serves as secretary on the board of governors), the Illinois Trial Lawyers Association and the John Marshall Law School mentoring program. Mentoring, both through John Marshall's program and at McNabola Law Group, gives her particular satisfaction.
"John Marshall has an official program, and our firm has kind of an unofficial program where we usually go by word of mouth," Enright says. "Every year we hire students as law clerks, and we have them go to court and depositions with us and work on motions. I think there are a lot of different ways to give back to the community, and this is one. Law school was tough for me, but because I had a mentor who helped me, I didn't feel quite so overwhelmed. It was someone I could go and talk to about my schedule and my classes. That's what I hope I can do for someone else."
Through it all, Enright somehow carves out ample time for what she considers her most important task: raising her three sons, who range in age from 5 to 14. "I don't sleep much, maybe about four hours a night," she says with a half-smile, half-sigh. "I drink a lot of Diet Coke.
"Every day I get up and write everything that needs to be done at home in one notebook and everything that needs to be done at work in another. I carry these notebooks around with me everywhere, and I check off the lists as I go through the day," she says. "It's really hard to juggle everything, but I definitely think it's worth it in the long run."
On a personal level, she says, that means showing her kids "their mom is working and is able to juggle everything." On a professional level, it means, among other things, continuing to fight the good fight on behalf of female attorneys.
"I think there's still a lot of progress yet to be made," Enright says. "I was really surprised to meet with two young female associates not too long ago, and they were at a firm and found out their pay scale was a lot less than that of their male associates. They had graduated at the top of their class, and they had prior experience. There are still unequal pay issues."
Some of the old perception issues still linger as well.
"I had a trial five years ago, and someone, the defense attorney, was still calling me 'Missy,'" Enright says. "I think we [as women] have to watch how we are in the courtroom all the time. Especially on the jury, people are always looking at what you're wearing, what shoes you have on. With a man, people might just say, 'Oh, that's a nice tie.' I went to a deposition [out of state] only two weeks ago, and someone asked if I was a court reporter. He knew I wasn't. [He] purposely asked that to get my goat. It didn't work. I just kind of looked at him like, 'Really?'"
It was probably the same look she shot that Navy pilot who told her she'd never make it through flight school.
"Karen has done a lot to help a lot of young women," says Brown. "To be a working mom—for the younger generation to see in someone the ability to have a work-life balance—that's a fantastic role model."
Search attorney feature articles