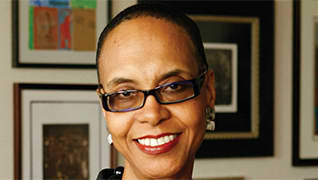 Photo by: Larry Marcus
In Good Hands
Michele Coleman Mayes leads Allstate's legal team
Published in Corporate Counsel Edition® - May 2009 magazine
By Kevin Davis on April 10, 2009
It's hard to believe that Michele Coleman Mayes, now a fearless and outspoken leader, was once so painfully shy that her mother sought professional help. "She put me in a public-speaking class," Mayes recalls with a laugh. "I thought she had lost her mind."
Turns out her mother's instincts were right. The class transformed the young Mayes, giving her confidence to last a lifetime. "I learned how to overcome being fearful of being on my feet and talking to people," she says. "If you think about being a lawyer, the one thing you're selling are your ideas, and if you can't articulate them, what good are you, even if you're not a trial lawyer?"
Now senior vice president and general counsel of The Allstate Corporation, Mayes speaks with a sharpness that comes from years as a front-line litigator. "That's what I do here," she says. "I sell my ideas. I sell my information."
Dressed in flowing black pants with a beaded necklace and closely cropped hair, Mayes does not fit the stereotyped vision of corporate stuffiness. Her office is decorated with paintings, sculptures and lithographs, reflective of her world travels and African-American heritage.
"Michele is her own person, and no one will ever accuse her of corporate-speak or not saying something because she'll offend someone," says Mary McGinn, vice president, secretary and deputy general counsel at Allstate. "She reports directly to the CEO and has the ability to speak her mind, which I don't think everyone can do."
Mayes moved into Allstate's suburban Northbrook, Ill., headquarters in November 2007, with new ideas about how to increase efficiency and improve the public image of the nation's largest publicly held personal lines insurance company. She wants to shake up the notion that, just because insurance is a mandatory product, the company can be complacent. "Everybody knows Allstate. It has a trust, an incredible brand," she says. "But if you start peeling the numbers back you can see it hasn't grown in market share."
Allstate competes in a crowded industry against such insurers as Geico, Progressive, State Farm and Nationwide. That, combined with a faltering economy and expensive natural disasters such as Hurricanes Gustav and Ike, led Allstate to lose $1.1 billion in the fourth quarter of 2008. As for many companies, 2009 is a year of realignment.
One of three daughters, Mayes grew up in Detroit, where her father repaired equipment on auto assembly lines and her mother managed a doctor's office. By age 11, she had her heart set on becoming a lawyer. "I announced it. One way to make sure you do something is to tell the world, so you can be thoroughly embarrassed when you don't. It's a way to get commitment," she says.
Part of her inspiration came from television. "I think I can attribute it to Perry Mason. He was on TV at the time and he always won," she says. "Of course, now we know how fictitious that is."
She attended both college and law school at the University of Michigan, an active campus during the anti-Vietnam and civil rights movements of the late 1960s and '70s. As an undergraduate, Mayes took part in a sit-in protesting the lack of minorities on campus. During summer breaks, she worked for an indigent legal services center, where her duties included typing and interviewing arrestees in jail. She also did secretarial work for a firm whose lawyers allowed her to accompany them to court.
After graduating and marrying on the same day in 1974, it was off to Champaign-Urbana, Ill., where her now former husband began graduate school. Mayes took a job teaching the legal foundations of corrections at Illinois State University. But she was eager to start practicing law, perhaps as an advocate for the poor and underprivileged. "Until I sold out," she says.
Not that her work was glamorous or high paying. In 1976, she started in the civil division of Detroit's U.S. attorney's office, where she tried forfeiture cases that involved drug transactions. In a city known as a union stronghold, she also had the difficult job of representing the government during the air traffic controllers' strike of 1981, which ended when President Ronald Reagan fired all 13,000 union members.
"It was one of my better jobs. You were trying cases against some of the best trial lawyers in the country, and certainly in the Detroit area," she says. "You get a lot of experience and a lot of autonomy very quickly. They don't have time to coddle you and train you. You sink or swim pretty fast."
After a brief stint in the U.S. attorney's office in Brooklyn, Mayes returned to her old job in Detroit, eventually rising to chief of the civil division. A colleague warned her not to stay too long. "U.S. attorneys' offices are great for trial experience," he said, "but not for long-term jobs." When she brought this to her husband, he threw out the idea of becoming an in-house lawyer. The possibility wasn't even on her radar. "I said, 'What is that? What do they do? Do they really practice law?'"
Once convinced that they really did, she took a managing attorney position for Burroughs Corp. in Detroit. "That was a painful transition," she says of switching gears to corporate litigation. She defended the company in countless product performance, fraud, breach of contract and breach of warranty cases.
Her career evolved as Burroughs and Sperry Corp. merged in 1986, creating Unisys Corp., for which she was appointed staff vice president and associate general counsel for worldwide litigation. The merger was supposed to create synergies between the companies, though the timing was unfortunate due to the stock market crash of 1987, which sent Unisys shares plunging.
Two years later, the numbers were still precarious. During a pep talk, a manager told the staff that things could be worse, citing the disaster of the oil tanker Exxon Valdez. "I wish I was making this up," says Mayes, prefacing what happened next. After the meeting, she received a phone call. "[The person] said, 'You've just been sued in the Exxon Valdez case.' Sperry made the autopilot. I just held the phone," she remembers. "It was not funny."
The case was among a barrage of lawsuits, coming from all directions, against Unisys. "We had so much litigation," she says. "You can become a crisis junkie. It's exciting to think you're involved in something that isn't marginal. It's high stakes if you lose. I tend to thrive on things like that."
As Mayes was leaving the office one day in 1991, Bobette Jones, then managing partner for the company's legal team, approached her. She asked Mayes what her career plans were, and said she should aim for general counsel. "I stared at her as though she was from Mars," recalls Mayes. "She explained the job and planted the seed."
Jones felt strongly that Mayes had what it takes. "I was just someone who made her realize what her capabilities were," she says. "Michele was definitely general counsel material. I said, 'Get out there. You can run the world.'"
Andy Hendry, general counsel for Unisys at the time, was leaving to work for Colgate-Palmolive Co. in New York. Mayes says he didn't think she was ready to take his job but advised her about what it would take, which meant learning about securities, mergers and acquisitions, and most important, preventing problems from occurring in the first place.
"As much as I thrived on litigation, I call litigation the pooper scooper. It's when everything has gone south and you come back or come from behind," Mayes says. "We prefer to resolve disputes outside the courtroom. Most CEOs are about being preventative and inventive."
About a year later, Hendry hired her at Colgate-Palmolive to lead its North American division. When she took over its international division in 1997, she helped save the company from paying a $53 million judgment for terminating a distributor's contract in Ecuador. "We sought assistance from the U.S. State Department," she says, "as we determined that the company would be hard-pressed to obtain fair treatment in the Ecuadorian courts." The distributor settled for a fraction of the original amount. She also staved off a crisis in Nigeria, where the company lost money in a soap factory and angry employees "were upset because the company didn't pay a dividend one year," she says. "[It] caused a great deal of unrest."
In 2003, Mayes moved on to Pitney Bowes in Stamford, Conn., where as senior vice president and general counsel, she oversaw a 100-person legal department that included about 30 lawyers. "It is one of the more progressive companies I've worked for as far as diversity because it was in its DNA," she says.
Four years later, a search firm encouraged her to meet with Allstate executives who were looking for a general counsel. After flying in for an interview, she says she immediately clicked with retiring senior vice president and general counsel Michael J. "Mick" McCabe and Thomas J. Wilson, Allstate's president and chief executive officer. "I liked Tom a great deal. His intellectual curiosity, his honesty," she says.
Since she's joined the company, Allstate has had its share of battles. Take for example, in 2007 when the Florida Office of Insurance Regulation began investigating Allstate's rate-making practices after the company sought an average 42 percent increase in homeowners' premiums, despite changes in Florida law designed to lower rates. The department temporarily banned Allstate from selling insurance in Florida after the insurer did not turn over documents it considered to contain trade secrets. The matter was settled in August, when Allstate agreed to pay a $5 million fine, write 100,000 new homeowner policies in Florida and lower the premium on nearly 250,000 existing policies by 5.6 percent.
Bill Vainisi, vice president and assistant general counsel at Allstate, says Mayes charged right in with her new ideas. "She has been observant. She has been a quick study on complex legal issues. She conveys a message of transparency, saying this is why we make decisions in the legal department and people ought to know it," he says.
One of Mayes' initiatives is to write contracts that don't leave customers mystified, and encourage lawyers to be more straightforward with policyholders. "The lawyers I've got in the field, which is roughly 500, have face-to-face contact with customers when they are in trouble. Customers use that as a litmus test," she says. "I've started talking to the staff about that. You may think of yourself as a lawyer, but you are an ambassador to the company."
Mayes wants to further develop relationships with regulators and establish her reputation in the insurance industry. "Her attitude and predisposition to change really help her here," Vainisi says. "It's time to try things to innovate and she's all about that."
Mayes also has sought more ways in which the legal staff can give back to the community through Allstate's foundation, which gives grants to organizations that promote safe teenage driving and help victims of domestic violence. She passionately believes in mentoring, as well as equal rights and opportunities in the workplace. "I believe that women, and minorities in particular, do better when they have people mentoring them," she says. "My goal is to put in changes and programs that will far outlast my tenure here."
Search attorney feature articles
Helpful links
Other featured articles
Dustin Whittenburg is collecting some of the most prized baseball cards in the world
Two attorneys reflect on their Warriors and Kings fandoms
Abou Amara brings capitol experience to his practice
View more articles featuring lawyers
Find top lawyers with confidence
The Super Lawyers patented selection process is peer influenced and research driven, selecting the top 5% of attorneys to the Super Lawyers lists each year. We know lawyers and make it easy to connect with them.
Find a lawyer near you