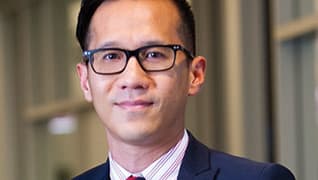 Photo by: Corey Hengen
In Their Shoes
Chicago immigration attorney Kai Lo helps his clients by staying true to himself
Published in 2016 Illinois Super Lawyers magazine
By Nancy Henderson on January 4, 2016
As a teenager, Tzu-Kai Lo was frustrated by the strict, creativity-stifling education Taiwan imposed on students who passed the high school entrance exam, thereby earning the privilege of rising early, even on weekends, for memorization and quizzes lasting until 9 at night. "For many Taiwanese who were of my generation, most of our childhood consisted of exam, exam and exam," says Lo, 38, a corporate immigration attorney at Fragomen, Del Rey, Bernsen & Loewy in Chicago. "Personal life or extracurricular activities are relatively rare."
Even so, the grueling regimen paid off. "Because it was so intense, it helped me to really build up the tolerance for pressure," Lo says. "I think it built in me that survival mode. If you have the will, you will be able to do it."
In his current role as manager of Fragomen's emerging business unit, Lo helps small companies and startups devise fair, non-discriminatory immigration strategies for foreign-born workers, including LGBT employees. Energetic, focused and empathetic—after all, he once navigated the immigration hurdles himself—he has also overseen high-volume visa application filings for a global computer software company, assisted public school districts in obtaining foreign residence waivers for their Mandarin Chinese teachers, and represented numerous international companies with their visa applications.
He also serves as a pro bono attorney for several nonprofit groups, including the National Immigrant Justice Center, where he aids eligible, undocumented immigrants who entered the U.S. before they turned 16 and clients from other countries who want to be with their same-sex American partners but can't afford an attorney to file the required legal paperwork.
"He's got the ability to relate to the clients about something that's extremely personal for everyone that goes through it," says Michael Turansick, managing partner at Fragomen, who hired Lo three years ago. "He has really re-energized and reinvigorated the business unit."
The youngest of five children, Lo's academic struggles with science and math left him with few options at the National Taipei University, where—unlike American undergraduates, who can switch majors—he was obligated to stick with a specialty from a list of five. It was his father, a high-level government official in the Legislative Yuan, the equivalent of the U.S. Congress, who encouraged him to study law rather than "starve" with a degree in history or language. Around that time, the 18- or 19-year-old Lo watched the movie Philadelphia and became fascinated with the activist side of the legal profession.
Since English was one of his strong points, Lo came to America in 1999 as a one-year exchange student at the University of California at Berkeley, where he found a sense of belonging in an educational system that, he says, encouraged independent thinking and freedom of expression. Lo later became the first Taiwanese law scholar admitted into the J.D. program at the University of Illinois at Champaign-Urbana.
After graduation in 2005, Lo was hired at Chicago's fledgling LL.M. Law Group, where he represented employers seeking to sponsor foreign workers. There was only one problem: He hadn't taken a single related course—the immigration law professor at U of I had canceled those classes. So he taught himself by enrolling in training programs, reading voraciously and asking senior practitioners for advice. The stringent civil education he'd hated as a boy worked in his favor. "I was very accustomed to reading regulations," Lo says. "And to a certain point I can actually memorize most of the regulations and their section numbers."
Partly because Lo is Asian, and particularly because he was small in stature, with a youthful face—he always wore a suit to make himself appear older—some potential clients underestimated him. "There were people who told me specifically they didn't want to speak with anyone with an accent," he recalls. "I had people ask to see my law license before they would be willing to speak with me."
The prejudice spurred him on. In an early case, he took over for another attorney representing a worker who had been denied a visa in China for more than six months, unable to return to his American job. Lo contacted the U.S. Embassy and the Department of State and unraveled the tangles impeding the process. Once Lo made his client's successful visa application, the employee returned to the states within four weeks.
In 2012, Lo joined Fragomen, which bills itself as the world's leading and largest immigration firm. He now spends much of his time overseeing his team, devising unconventional solutions and explaining the steps to those who need some "hand-holding." Lo's fluency in Mandarin Chinese and Taiwanese is a plus, as is his knack for anticipating questions with flow charts and easy-to-understand memos. His clients call him respectful, thorough and responsive.
"Because I have gone through this whole process by myself, I understand the concerns. I understand the anxiety," says Lo. "Literally, as a foreigner here, you don't have anything else to rely on. Your fate is pretty much determined by the company and the immigration counselor that's working on your case. So I actually have lots of compassion for my clients because I understand when they call me every five minutes that it isn't because they're trying to be aggressive with me. They're just trying to get someone to ease their anxiety. I feel what they're going through."
Lo's interest in LGBT immigration issues began prior to law school, but it was during that time that he got a close look at how the failure to recognize same-sex marriage could affect a person's immigration status. His longtime partner Alain Villeneuve, a classmate, Chicago patent attorney and Canadian citizen, secured his green card through a company sponsorship. But under Illinois law at the time, the two men were prohibited from legally marrying, so Lo had no spousal benefits, which would have given him the right to become a permanent U.S. resident at the same time.
"Being an attorney, when you start seeing discrimination, your heart just starts pounding and then your blood starts boiling and you think, 'How is this happening?'" he remembers. "You're supposed to be the one that can file for discrimination, but then you, an attorney, are actually being discriminated [against] in this whole process. So I started looking into these things."
Lo began working with same-sex couples kept apart by legal hurdles. "I had to be creative in terms of how to keep them in the United States," he says—one solution was to help American citizens establish their own businesses and employ their partners. And he often finds himself educating human resources directors, national talent acquisition managers and corporate lawyers about the importance of inclusive immigration and hiring policies.
"I wasn't in front of the Supreme Court to argue the legality of DOMA. I wasn't the one in front of the immigration court," he says. "I was the one to say, 'OK, this is the way the system is, so let's find a creative way to work out a solution to keep families together.'"
In late 2011, Paul Coyle, a partner in the corporate and finance practice at the Chicago office of Duane Morris, contacted Lo after he was told by several immigration specialists—even some whose practices involved advising same-sex bi-national couples—that there was no hope of getting his now-husband, James, into the U.S. from Toronto, even though James had been traveling back and forth between the two countries for about a decade.
"Kai spent an unbelievable amount of time scouring through James' medical records and other potential solutions," Coyle says. "It was because of Kai's persistence and innovative solutions that we were able to get James into the U.S. on a temporary basis. Kai is an amazingly nice and genuine person who appreciated the emotional toll this was taking on us." Lo successfully renewed the visa application several times, until the Supreme Court struck down DOMA in 2013 and paved the way for legalized same-sex marriage.
Lo and Villeneuve officially wed in the summer of 2014, and Lo came out to his traditional Chinese father in a long letter. "Maybe my life isn't perfect the way that you had envisioned," he penned. "But my life is perfect where it is. And I'm actually utilizing my skills and my sexual orientation to advance some of the legal standings for many people in the country."
"With a Chinese father, if he is not saying anything, that means acceptance," Lo explains. "So he won't particularly say anything. And he asks about my husband from time to time as well."
A self-proclaimed "city boy," foodie and fan of Andy Warhol-style pop art, Lo loves to travel and cook gourmet meals—a skill he perfected during one-hour breaks from his law school studies. Had he not become an attorney, he says, he would have been a fashion or interior designer.
"What I'm most proud of," he says, "is being who I am. Ten years after [starting my career], not only have I not shied away from being gay; I'm actually using sexual orientation as a way to further my client representation. … You have to find where your footing is and then you just have to stick with it. But you have to understand that the struggle is inevitable along the way."
Search attorney feature articles
Helpful links
Other featured articles
How Mark Henricksen got into the murder business "kind of by accident"
Clayton D. Halunen aims to afflict the comfortable and comfort the afflicted
How Ankit Kapoor went from cop to family lawyer
View more articles featuring lawyers
Find top lawyers with confidence
The Super Lawyers patented selection process is peer influenced and research driven, selecting the top 5% of attorneys to the Super Lawyers lists each year. We know lawyers and make it easy to connect with them.
Find a lawyer near you