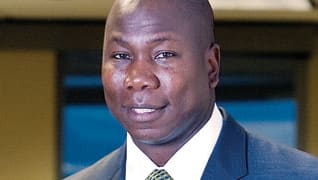 Photo by: Corey Hengen
Intercepted
CareerBuilder's Alex Green started in the NFL before redirecting to the law
Published in Business Edition Super Lawyers 2013 magazine
By William Wagner on November 12, 2013
The date was October 4, 1987, and Alex Green was living the dream: He was an NFL safety for the Dallas Cowboys: "America's Team." Never mind that Green was a "replacement player," the result of a labor dispute that sent the regular NFL players from the locker rooms to the picket lines. On that autumn day at the Meadowlands in New Jersey, he intercepted a pass thrown by New York Jets quarterback David Norrie, thereby securing for himself a place in the NFL record book: Green, Alex; Season: 1987; G: 3; Int.: 1.
Green was cut from the Cowboys a short time later when the strike was settled, but he had another dream in mind anyway.
"Being a lawyer was something that had always intrigued me as a career," he says. "Maybe it was from watching L.A. Law or whatever was on TV at the time, but it was just something I wanted to do. When I thought of myself in a life in business, I envisioned working as a lawyer for a company."
This dream has had more staying power. Today Green, 48, isn't merely working as a lawyer for a firm—he's the general counsel for the largest online job website in the United States: Chicago-based CareerBuilder.com.
As for that interception from yesteryear? It makes for a great story to tell his three kids. "We've been in the library," he says with a laugh, "and I will actually go find an NFL encyclopedia and show them and say, 'I'm right there. I had that one interception.'"
Growing up in the Chicago suburb of Glen Ellyn, Green simply knew he wanted to be a success.
"Glen Ellyn is a great place to raise kids," he says. "It's one of those places where expectations run high. We just all kind of said, 'Of course we'll find a way to go to college.'"
By Green's senior year at Glenbard West High School, it was obvious that his way would be through sports. A star running back and defensive back for Glenbard West, he received football scholarship offers from Vanderbilt, Northwestern, Michigan and Indiana. But even then, Green was focused on a future beyond the playing fields. He made his choice—Indiana—based on academics, not football.
"I knew that football wasn't going to be forever," he says. "I was thinking along the lines of Indiana because it had a great business school. That's one of the things that led me there. I wanted a business degree from Indiana."
Green received his degree in spring 1987, intercepted Norrie that fall, and graduated Northwestern University School of Law in 1992. Soon after, he accepted a position with Ross & Hardies in Chicago. The experience, while edifying, confirmed that the firm thing wasn't for him.
"When you're at a firm, you're thinking in terms of billing hours," says Green. "You think in increments. In-house, you think in terms of issues, and you have more flexibility to take deep dives into things that really matter. If I need to focus on something, I have the freedom to do it without being concerned whether it will take one, two or three hours. When you're at a firm, you're kind of visiting these places; when you're at a company, you're ingrained."
Green's rise was swift. When he became general counsel of CareerBuilder in 2004, following tenures in the legal departments of McDonald's Corporation (1993–2003) and Household International (2003–2004), he wasn't even 40. Yet his level of maturity as both a lawyer and a leader immediately struck CareerBuilder CEO Matt Ferguson.
"Especially when you're relying on someone to give you advice across a lot of areas of the law and business, good judgment and thoughtful reasoning on difficult issues are the main things you look for," Ferguson says. "Alex is both thoughtful and reasoned in his approach. He's also a team player and the leader of a very strong [legal] group. He tries to give everyone a chance to display their talents, and he leads by consensus in moving the group forward."
Green came of age as a corporate lawyer during his years at McDonald's, where he was able to work in many areas of the fast-food company's operation.
"Ultimately," says Green's former boss at McDonald's, corporate vice president and associate general counsel Robert L. Switzer, "he was given the important responsibility of supporting McDonald's treasury department. In this role, Alex worked closely with McDonald's treasurer and other members of the treasury department on a variety of large, complex and time-sensitive financial transactions."
Green further honed his skills at Household International, focusing on commercial lending and other corporate legal work for the financial services company. But it has been at CareerBuilder where he found his true calling. The company has proved to be a perfect fit for Green, right down to the word "builder."
CareerBuilder is still developing its identity. This was especially so when Green first arrived. The company had existed only since 1995 (beginning as NetStart before being renamed CareerBuilder in 1998), so it was a ground-floor opportunity.
"We were a semi-distant second to Monster.com," Green says. "We spent a lot of time in those early years talking about how we could compete and beat Monster. We had this attitude that we needed to stay competitive at all times, needed to be thinking outside the box. It was a different feel than McDonald's because we were trying to build something. We've obviously had some good success here, but we still have the mentality that we need to be thinking every day about ways to expand and be more relevant."
Ferguson calls the somewhat informal culture at CareerBuilder "entrepreneurial," with a focus on "education and learning." This sits well with Green, who was happy to swap a suit for jeans on Fridays.
"It's a casual, candid atmosphere," Green says. "It has a lot of younger, very energetic people who work hard and really care about what we're trying to do. It's an open environment, a comfortable place to work."
Its business model continues to evolve. Jointly owned by three media giants—the Gannett Company, McClatchy Company and Tribune Company—CareerBuilder has made a global push and is now operating sites in 23 countries outside the United States.
"We've really become a data company," says Green. "We are a place where companies can come and get incredibly useful information on the marketplace. That's been the biggest transition for us because we no longer consider ourselves to be just a job board—though we probably never did."
Along those lines, Green helped to facilitate CareerBuilder's 2012 acquisition of Economic Modeling Specialists International (EMSI), an Idaho-based company that specializes in gathering and analyzing labor market statistics to create useful information for employers and employees. Given the number of players involved, the deal proved to be extremely complex from Green's perspective as general counsel.
"We had [to meet the legal needs of] a number of different shareholders, EMSI employees and a venture fund that was also an owner," Green says. "We spent a lot of time in the due diligence and documentation processes to make sure we had everyone's interests expressed and concerns addressed correctly. But it was also rewarding because I probably worked with more departments internally here at CareerBuilder than I have on any other deal—finance, technology and others. It was a real team effort. I've been part of the integration process going forward, and we now provide [EMSI's] legal support. It's been one of our most positive acquisitions. These guys just focus on data, so it's a great fit for CareerBuilder."
CareerBuilder's evolution into a data-oriented company has presented Green's legal department with new sets of challenges.
"A lot of what we do in the legal department is to try to understand the terms, conditions and policies around the data, because it's a very valuable asset," Green says. "And when you look internationally, there are different protection rules in the various marketplaces. How a product works in Germany is not going to be the same when we look at, say, Singapore. So we spend a lot of time on my team thinking about those products as they come online and how we're going to integrate them and deal with those data-protection issues."
With seven attorneys and one paralegal, Green's department is relatively lean. Thus, it's not uncommon for him to farm out work to firms. Michael J. Gray, a partner in Jones Day's Chicago office who specializes in labor and employment issues for CareerBuilder, says Green has a knack for making outside counsel feel like more than a hired hand.
"One thing Alex does really well is promote a partnership between his department and the outside law firms he uses," Gray says. "I think Alex seeks out lawyers he can talk to and trust, and he does provide them with a lot of independence and responsibility. You don't want to see outside counsel as your enemy, and he's great from that respect. He really sees outside counsel as his partner in terms of providing the best legal and business advice. They tackle problems together."
You might not know it by looking at him, but over a quarter-century has passed since that football found its way into Green's hands and the record book. He doesn't lament leaving the NFL. "I probably would have always wondered if I could play or compete at [the NFL] level," Green says. "And I think I left believing that I could. It kind of gave me the freedom, at the end of that run, to walk away from that part of my life. It gave me the freedom to say, 'I think I'm done.' It was a tremendous experience. I'm glad I had a chance to do it."
Suiting up for CareerBuilder is no less sweet.
"I feel like I've been fortunate, in that at McDonald's, Household International and now CareerBuilder, I've liked what the companies do," Green says. "I loved driving down the street and seeing a McDonald's, and thinking to myself that I was at least a small part of it. And I really love what we do here at CareerBuilder. I like our mission. At its base level, we're trying to help people find jobs. That just feels right."
Search attorney feature articles
Helpful links
Other featured articles
Jack Swerling is less fearsome than his courtroom moniker 'Mr. Murder'
Parker Folse was still a newcomer in town when he started taking on Pacific Northwest icons
John Zydron went from being a rural kid with big dreams to having a star pinned on his shoulder 
View more articles featuring lawyers
Find top lawyers with confidence
The Super Lawyers patented selection process is peer influenced and research driven, selecting the top 5% of attorneys to the Super Lawyers lists each year. We know lawyers and make it easy to connect with them.
Find a lawyer near you