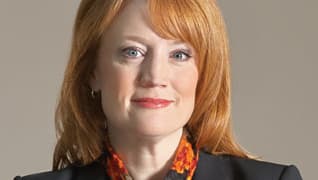 Photo by: Corey Hengen
Lifting While Climbing
Angela Elbert has her business clients—and her community—covered
Published in 2014 Illinois Super Lawyers magazine
By Nancy Shepherdson on January 13, 2014
Pedaling vigorously on her stationary recumbent bike at dawn, Angela Elbert gets her blood—and brain—moving by studying cutting-edge legal theories in a field that would put some attorneys back to sleep.
Elbert, a partner at Neal, Gerber & Eisenberg in Chicago, is known for helping companies think about their insurance coverage for newer areas: hacking, patent trolling, Internet privacy. She sees her job as persuasive: getting clients to appreciate the seriousness of these risks and getting insurance companies to write better coverage.
"I like analyzing insurance policies," she says with an easy laugh. "And I have job security, because nobody else wants to do this."
Her face framed in striking red hair—she is, after all,
"@RedheadInsGal" on Twitter—Elbert lights up when she talks about ferreting out alleged weaknesses and contradictions in policies that help clients get coverage for troubles that have befallen them; or, better yet, negotiating the best coverage before disaster strikes.
"I help insurance policyholders recover money," says the petite Elbert, dressed in a tailored jacket and stilettos. "And that's a lot easier to do when I've negotiated good coverage in the first place."
The first time she spoke about digital insurance was when asked to conduct a discussion on "Dissecting the Cyber Policy" at an International Risk Management Institute luncheon. She became fascinated by the topic, and the discussion drew a standing-room-only crowd.  Ever since, she's been speaking and writing about cyber-coverage—always injecting some humor.  A recent panel appearance for the ABA Section of Litigation was titled: "We Just Got Bit in the Gigabyte!" 
"When I get involved in something, I get involved," she notes. "I study all the new developments and gather every piece of information about the subject." She could see that many companies were either self-insuring for cyber-risks without fully understanding the financial threats or getting too little insurance for the premium buck. "When these policies first came out, they were a little like pet insurance," Elbert says. "Not much coverage, and they were very expensive."
The retail, banking, hospitality and health care industries are the most likely to be involved in high-stakes cyber risk, says Elbert, 42. "There isn't a lot of case law, because most cases settle," she points out. "So [getting cyber-coverage] is all about leveraging and coming up with the best arguments to resolve cases. And because it's not settled law, there is a broader field for negotiation. Really, it's like solving a big puzzle."
Elbert grew up in Louisville, Ky., the oldest of four "feisty" redheads. Her parents ran a printing business, which they later sold at a nice profit, much of which was lost during the 2008 market downturn. Her dad has since started several successful new companies.
 "My dad showed me that life—and love and work—takes unexpected turns," Elbert said in 2012 when she accepted the Inspiration Award from the Coalition of Women's Initiatives in Law. "Just keep paddling until you can right the boat."
At first, Elbert didn't go far from Louisville—just 45 miles north to Hanover College, a small liberal arts college in Indiana. Her interest in the law was piqued by a teacher who had a passion for both political and legal history. A parallel fascination with the Holocaust, born of a close reading of Schindler's List, led Elbert to a $10,000 Richter Research Fellowship, which allowed her to travel to Holocaust memorials in Germany, Poland, Israel, the Netherlands and Czechoslovakia to assess, for her senior thesis, how the Holocaust will be remembered once all the survivors pass away.  One afternoon she visited Majdanek camp in Poland, where a memorial contains hundreds of thousands of shoes from victims. "This is such a powerful symbol, but these shoes will eventually completely decay and fade from memory," notes Elbert. "Should we preserve history behind glass or allow it to be real like this, while it lasts?" It's a question she raised in her thesis.
Back from Eastern Europe, Elbert applied to the Indiana University School of Law in Bloomington, and got word of her acceptance just before classes started. "I was cognizant of the fact that going to Indiana would lead to many more opportunities and would not likely lead me back to Louisville, my home, where my whole family lives," she told the audience while accepting the Inspiration Award. "The thought made my 20-year-old self physically ill."  But her mom and dad insisted she follow her dream.
Immediately out of law school, she landed a job in commercial litigation at a Chicago firm. But when she interviewed  a year later with Neal, Gerber & Eisenberg, she met John S. Vishneski III, who had been rather a lone wolf in the policyholder field at the firm.
"When the firm hired her as a second-year attorney, she was skeptical when I first proposed [policyholder law]," recalls Vishneski, now a partner with Reed Smith in Chicago. "People think it's an arcane set of rules, but she found it enticing. I think she saw that I found it fun and thought she might, too. It's fun because you feel you are on the right side. People on this side typically are trying to save companies and people from disastrous circumstances." It didn't hurt his sales pitch that all kinds of cases—liability, personal injury, the environment and more—potentially involve insurance.
"[Vishneski] has a real passion for this interesting niche in the law that not many people know about," says Elbert.
Like him, she was hooked.
Elbert is also a valuable rainmaker, following up on at least three potential clients a week for Neal, Gerber & Eisenberg. In September, she flew to the South for a day to meet with a potential client. "They suggested a video conference, but I prefer to meet in person, so I offered to come out on my own nickel," Elbert says.
Visibility is key to rainmaking, she says, and she increases hers by writing articles, making speeches and general networking. "Angela has a tremendous amount of energy, so people feel they really know her when they meet her," says Jill Berkeley, chair of the insurance-policyholder practice group at Neal, Gerber & Eisenberg. "She has an enthusiasm for helping people, as well as a great combination of people skills and technical knowledge."
Client Bob Kurinsky met Elbert at a seminar at which she was speaking about expanding existing policies into new areas. In later discussions, she told him his firm had a good case in a claim initially denied by its insurance company. "Our founder, when he sees a lawyer, thinks legal fees," says Kurinsky. "Angela was very upfront about the costs and likely outcome. She was able to take multiple issues in convoluted, inconsistent policies, pull out all the points and case law, and put them all together in a way that supported our case.
"It is highly unlikely we would have pursued this if I had not heard Angela speak." Both Kurinsky and his boss were pleased with the outcome. "We had an unbudgeted financial benefit," says Kurinsky.
"She is knowledgeable, quick and responsive, and had a nice rapport, even with opposing counsel," says Vicki Donati, general counsel at Crate & Barrel, for whom Elbert handled a case in 2011.
In Elbert's office, along with three posters of the Kentucky Derby—to remind her of home—is a life-size cardboard cutout of her eight-month pregnant self. It's a souvenir of the months she spent planning the ABA's 2008 Insurance Coverage Litigation Committee's CLE Seminar while she was expecting her second child. Her firm purchased the cutout and sent it to the meeting since Elbert herself was following doctor's orders not to fly. But she had done months of work, and all went smoothly.
Elbert has thrown herself into a number of causes. In 2010, a major undertaking involved chairing the Art Institute's annual Treasure Hunt. About 1,000 people attended the scavenger hunt at the museum, and half of those tickets were given to underprivileged kids and their families. Event co-chair Margo Wolf O'Donnell, shareholder at Vedder Price in Chicago, says Elbert helped create materials and a training program to improve the organization's efforts to land corporate sponsors. And her commitment inspired others to step up, O'Donnell says. "People want to help her because she is always helping others."
This year, Elbert is serving as national chair of the Step Up Women's Network, which helps teenage girls at 12 schools in Chicago, New York and Los Angeles prepare for college and careers. Elbert's involvement with the group began four years ago when she recommended it as the charitable cause for the Coalition for Women's Initiatives in Law, whose community-outreach committee she was then chairing. She then joined the board of Step Up in Chicago, where she helped create a successful fundraiser called Shine and Dine, featuring local chefs.
"I used to feel uncomfortable asking for money, but now I don't," says Elbert. "Now I know that I am not asking for myself but raising money for things I am passionate about."
Elbert is a believer in Step Up's motto: "Lift as you climb." She says many people have helped her and she wants to give back. "She is very giving of her time, making sure that things run smoothly," notes Donati of Crate & Barrel, who worked with Elbert briefly at Neal, Gerber & Eisenberg. "Angela is very good at networking, too. She remembers your conversation with her and always sends you something related to it. I don't know how she does it."
"I am amazed at how much time Angela can give to the group [Step Up] and still have a great family life and law practice," says Jenni Luke, Los Angeles-based CEO of the group. Both Elbert and her husband took time off to get their older son settled into his first day of school in 2012. And a recent weekend included attending an Eagles concert with her husband, picking apples with the family, making applesauce, and planting mums between soccer games.
She credits a good nanny and a helpful husband, Marc Rosenthal, who is in the same business. She met Rosenthal—who now practices policyholder law at Proskauer Rose—at another firm where she had followed Vishneski. But she missed Neal, Gerber & Eisenberg and returned to that firm, where she took a partnership at age 34.
Her office reflects her priorities: colorful artwork by her kids on the door, paperwork neatly stacked, dozens of framed family photos scattered around, awards stuffed in a corner. One photo shows a smiling man displaying a travel Scrabble board with the words "Will You Marry Me?" snapped into place. Elbert never could resist a puzzle.
Search attorney feature articles