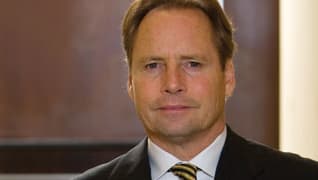 Photo by: Corey Hengen
Living the Law
Defense attorney Patrick Dowd learned the craft from his father's generation of 'Rat Pack' lawyers
Published in 2013 Illinois Super Lawyers magazine
By William Wagner on January 4, 2013
Patrick Dowd looks decidedly youthful, yet he speaks in the wise tones of a legal graybeard. The math doesn't add up. Which prompts a question: "How old were you when you became a lawyer?"
Dowd leans back in his chair and says matter-of-factly: "Oh, about 9 or 10."
While childhood friends were busy putting baseball cards in the spokes of their bikes, Dowd was being introduced to the family business: law. He listened to and learned from his father, Michael, and his uncles, James and Joseph, who were partners at a thriving practice specializing in insurance and liability defense. Dowd's uncles founded the firm in 1950.
"That's all my dad and uncles did—they lived it," says Dowd. "At the dinner table, the conversation was always law, and it was always loud."
Now 54, Dowd is carrying on the tradition. Not only is he a "loud Dowd"—much to his wife's chagrin, he notes—he also runs the family firm, Dowd & Dowd, which is located in Chicago's Loop and has 20 attorneys.
He never doubted that his life would turn out this way.
As a boy of 7 or 8, Dowd would sometimes get up in the middle of the night. "To get to the washroom at my house, you'd have to go past the kitchen," he recalls. "At 2 o'clock, I'd see my dad at the kitchen table. Then I'd get up at 4 o'clock and see him. Then I'd come back at 6 o'clock, and he'd still be there. One night, I said, 'What are you doing?' He said, 'I'm thinking about a lot of things nobody's ever going to ask me.' I knew then what I wanted to do: I wanted to be a trial lawyer."
Why?
"I just came out [of this thinking]: This is somebody who wants to do the right thing," Dowd says. "You look up to your father."
The younger Dowd worked at his father's firm during law school at DePaul University; after passing the bar in 1985, his father threw him straight into the fire. "My first trial was two weeks after I was licensed," says Dowd. "My dad came up to me and said, 'You're representing the Catholic bishop. Don't screw it up, kid, because we've had [this client] for almost 40 years.'" The situation was this, Dowd says: The church had allowed a group to use its gym and a father in the stands provoked his son into attacking another player. That player got a verdict against the son and father, but Dowd won a directed verdict for the Archdiocese. "I remember it like it was yesterday," he says.
Since then, Dowd has gained prominence defending against catastrophic loss, especially in the area of transportation. He was named in 2009 to the American College of Transportation Attorneys, an elite group for which he serves as treasurer.
"His father was a great lawyer and a good guy," says Joe Power, a plaintiff's lawyer who is a partner at Power Rogers & Smith. "The apple did not fall far from the tree. Patrick and I have settled some cases. He is a straight shooter, fair but not overly generous. He will try a case if he has to, but is smart enough with his offer that he often is able to avoid his client having to engage in that risk-tasking."
But Dowd loves being in the thick of a trial. He has tried roughly 75 cases, of which he estimates that he has won 80 percent, earning a reputation as a formidable presence in the courtroom.
"Patrick is well-prepared, straightforward and a good storyteller," says Mark McNabola, a partner at McNabola Law Group who has gone up against Dowd. "He builds credibility over the course of producing his evidence, just as he says he will at the onset. Like all cases, you need to have the facts on your side, and he deals with particularly difficult defendants—in that most of the population doesn't have a warm spot for, say, truck drivers who are involved in a catastrophic accident. He's usually starting behind the eight ball and has to overcome that."
Not surprisingly, Dowd's courtroom style was influenced greatly by his father and other local trial lawyers of that generation. He rattles off the names of these old-time attorneys—C. Barry Montgomery, Tom Tobin, Philip Corboy, Bob Cooney, Neil Quinn, Bill Johnson—like they're Frank Sinatra or Dean Martin. Then he smiles wistfully as he remembers watching them perform on their courtroom stages.
"It was like being around the 'Rat Pack,'" Dowd says. "All those guys hung out together. It was a different time. I'd sit in on these trials, and it was like learning from the best."
Mostly, Dowd learned that liability defense was an all-consuming undertaking, a challenge he met head-on when he began practicing. If he had to go to a dicey neighborhood to serve a subpoena or take a statement, so be it. If he had to drive 90 miles to Rockford at 3 a.m. because someone crashed a motorcycle into the back of a truck, so be it.
"I tell this to young lawyers all the time: 'If this is what you want to do, you've got to love it,'" Dowd says. "You can't be [like] your neighbor—it's not a 9-to-5 job. If that's what you want, that's fine, but this is not the place for you to come or the area in which you should practice. It's a business where there's a propensity for people to not tell the truth, and you have to get to the truth. To do this type of litigation correctly, you have to be willing to get down in the dirt."
Dowd traces his intensity, in part, to his experience playing football at Loyola Academy in suburban Chicago and then at Northern Arizona University.
"I knew very early on in football that I was going to have to prepare more, work harder," Dowd says. "I was 5'9″ and playing defensive back. That meant I would have to be smarter, quicker and tougher. There would have to be something that would carry me over. After that, it was a real easy transition into law, because it's all discipline."
His biggest test didn't come in the courtroom—it occurred when his father died of cancer in 1996. Not only had Michael been Dowd's mentor, he had also served as managing partner of Dowd & Dowd for the previous 20 years. At just 37, the younger Dowd took charge of the firm that his family had spent decades building. It was as if he could hear his father saying, "Don't screw it up, kid."
The firm persevered. Today, the major companies on Dowd & Dowd's client roster range from Liberty Mutual Insurance Group, Travelers Insurance and Gallagher Bassett to Schneider National Inc., Life Time Fitness Inc., and Einstein Bros. Bagels.
"When my dad died, not one client left, which was significant because he was such a presence," Dowd says. "I still have those clients today, and I say, 'Thank God you stuck with me.' There are a lot of firms, and I was young. When I walk away from this and look back, that will be very important to me."
True to form, Michael made sure his son was well prepared to take the reins of the firm. Diagnosed with lung cancer in 1991, he was given six months to live but held on for another five years. By March 1996, he was severely weakened. Yet he wanted to impart one final lesson to his son. He took on a plaintiff's case with Dowd in which a woman had been killed in a car accident, leaving behind five children.
"My dad always thought it was good to try a plaintiff's case every once in a while," Dowd says. "This was a wrongful death case. He said he was going to do it for this family, and it related to our own family because we had six kids. His cancer was so bad that he couldn't get out of bed to practice his closing. So I said, 'I'll put a chair by the podium. If you have to sit down, you have to sit down.' Typical of my dad, he didn't need the chair. He gave the closing and the rebuttal, and he won a multimillion-dollar verdict. About five weeks later, he died. He wouldn't have had it any other way."
Montgomery, a founding partner at Williams Montgomery & John who has tried more than 150 cases to verdict over the course of his 50-year career, is a member of the "Rat Pack" that Dowd idolized.
"Patrick is not only the heir to a fine reputation, but he's doing an outstanding job himself," says Montgomery.
That means long hours: Dowd is at work by 7 a.m. and generally doesn't leave until 7 p.m. He also comes to the office every Saturday, which he calls his "downtime." Like his father and uncles before him, he lives the law. He is also active in the legal community, including the Trucking Insurance Defense Association, serving as chairman of the 1,800-plus-member group's industry seminar in 2012.
Dowd cites another plaintiff's case, this one from the early 1990s, that he took on pro bono at the request of the Chicago Bar Association. It involved a young girl, his client, from a broken home who was hit by a cab and suffered a badly fractured hip. Dowd scored a sizable settlement for his client from the cab company, but the case didn't end there.
"This is a true story about the wonderful part of this business," he says. Fearing that the girl's parents would use up the funds, he put the money into an annuity for her. "About 10 years later, my receptionist buzzed me to say that there was a young woman here to see me. I walked out and saw this beautiful person, and I said, 'Who are you?' She told me her name, and it didn't ring a bell. So she said, 'Years ago, you put money into an account. I'm ready to go to college, and I need you to sign off on this account so that I can get the money.' That money was going to get her started in life. It was an incredible experience."
Asked about his goals, Dowd says, "It used to be win, win, win. I think that's normal when you're younger. Now it's a couple things. One is to do the very best job I can for my client and whatever happens happens—let the cards play out. The second is that it's very important for me to do the right thing. I go back to these companies [represented by Dowd & Dowd], and I pay out millions of dollars [on their behalf]. I have people I've worked with for many years, and they trust my judgment in these areas. I've got to do the right thing. It's a very small circle in this business."
Search attorney feature articles