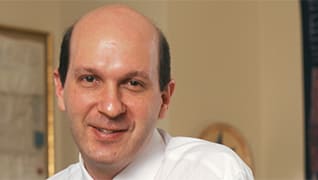 Photo by: Larry Marcus
My Own Private Nuremberg
Bill Schiller's work in the former Yugoslavia helped the U.N. identify the bad guys
Published in 2005 Illinois Super Lawyers magazine
By Paul Tullis on January 13, 2005
Bill Schiller is in his office at LaSalle and Madison, with piles of files on the floor around him, mementos of King's College-London on the walls, and a Metro schedule taped to the filing cabinet over his right shoulder. It's getting on toward lunchtime, and somewhere in his possibly-parallel-processing-capable brain, he may be thinking about the sandwich he'll be eating at the Berghoff in half an hour, standing at the bar, like his father, uncle and grandfather — all Chicago lawyers before him — must have done a thousand times. (Except, in his case, without the fedora.)
Right now, though, he's about to iterate a favorite maxim: "I give my assistant — and a couple of others here — this line, and they kind of roll their eyes," Schiller says, "but it's true: To do extraordinary things, you need to do all the ordinary things well."
Schiller was talking about sports when he first came upon his little contribution to a putative dictionary of aphorisms, but he's found it applies equally to a career in the law. Schiller has done extraordinary things, he's done ordinary things well, and he's done extraordinary things composed of many, many, thoroughly executed ordinary things.
Schiller is a partner at Davidson & Schiller, a nationwide practice representing mostly businesses and corporations in immigration matters, combined with a family-based immigration practice. He is also co-chair of the Leadership Council for the Midwest Immigration & Human Rights Center (MIHRC), part of the Heartland Alliance.
Certainly the most extraordinary thing Schiller has done professionally (although the many clients whom Schiller has saved from being tortured or killed upon deportation to their home country might disagree) is the work he did for a U.N. Security Council-appointed Commission of Experts investigating human rights violations in the former Yugoslavia, during the war there in the early 1990s. Schiller's job was mostly analyzing data on the battle and siege of Sarajevo, which resulted in a thousand-page annex to the Commission's report that examined evidence for possible prosecutions.
Cherif Bassiouni, president of the International Human Rights Law Institute at DePaul, led the team Schiller worked on. "I knew Bill because his father was a DePaul law student when I joined the faculty," Bassiouni recalls on a brisk January afternoon in his office on Jackson Street. "And I'd continued a good personal relationship with his father, and his uncle was also a former student, and I knew his grandfather."
Correlating sets of data using maps and other resources, Commission members were able to draw some startling conclusions. They learned, for example, that Sarajevo's attackers targeted a hospital's supplies by bombing it during visiting hours. Bassiouni recollects how they came upon this one: "Totally uncanny, Bill and [the Commission's statistician] came to me once, and said, 'This is really strange: 71 percent of the [hospital] shellings are between the hours of 12 and 2, and we can't understand it.' I'd just come back from [Sarajevo], and I'd been to this hospital, and I had a big smile on my face when they told me this. I happened to be there when they started shelling, so down in the basement, the hospital director told me: 12 to 2 is visiting hours. The hospital didn't have food or blankets or sometimes even medicine — they depended on the relatives to come in during visitation to bring these things. So they were firing at the supply lines."
This attention to detail served Schiller and the Commission well, but so did Schiller's human touch. One day, a Bosnian who'd lost limbs in the war came to the office to see if he could help. Bassiouni had a policy of not hiring Yugoslavs so as to avoid the perception of bias, but decided to see the man so as not to make him feel bad. When Bassiouni was meeting with the Bosnian, he spotted Schiller and pawned the Bosnian off on him so he could get back to work.
"Forty-five minutes later," Bassiouni recalls, "Bill comes in and in his usual soft-spoken, calm voice, he says, 'You know, either this guy is a plant, or there's something terribly wrong with the info that we have.'" On one of the maps they were working with — Defense Department maps that Bassiouni "had to jump through hoops," as he puts it, to get declassified — the Bosnian noticed some variations, from his recollection, in the streets around the Olympic Village. How did he know? He was a cab driver. In chatting with him, Schiller had asked the man's profession and immediately recognized his usefulness to the Commission's need for accurate, cross-referenced, double-sourced material on crimes.
Bassiouni made an exception and brought him on the team. Schiller vividly recalls his locating sites on the map by pressing in a pushpin with the stump of his arm. (Neither Bassiouni nor Schiller was surprised, years later, when the Department of Defense cited faulty maps as the reason for mistakenly bombing the Chinese Embassy during the Kosovo War.)
There were literally thousands upon thousands of items of data that Schiller and his group had to quality-control and analyze. Bassiouni points out that if their data was used in a trial, "the defense couldn't say [for example], 'You say my client tortured someone in a warehouse at this location, but in fact there is no warehouse there.'"
"Bill was very conscientious in his work," Bassiouni says. "He's not the flamboyant type, not the flashy type — just a very consistent, hardworking plodder."
"Basically it was just nuts and bolts investigations — no different from when I was at 26th Street [at the state attorney's office]," Schiller says. "But it was the biggest thing I'll ever do. Nuremberg big, to my mind. Maybe not in the world's mind, but to me it was." 
Schiller grew up in Rogers Park, and it's the tight-knit community's values that seem to have imbued his life, his ambitions and his concerns more than anything else. "If somebody's sick and their snow isn't shoveled, you shovel it," Schiller, seated behind his desk, recollects of life on the North Side. "You don't knock on their door and ask for money, or expect a thank-you. It's just one of those places. We somehow were downloaded with this idea that we had to do other things besides make money."
Schiller's inspiration at this time was his grandfather, the attorney Bassiouni knew. The memory of the recently deceased man — items from his desk are now on Bill's — gets him a little mistyeyed. "To him it was the noblest of professions," Schiller says, "and I think if he wanted me to be anything, probably it was a lawyer." He fondly recollects putting on a suit as a kid and tailing the old man around the office, making copies, having lunch, and being told what a great guy his grandfather was.
After the University of Illinois, where he volunteered on the congressional campaign of a professor, Schiller matriculated at Loyola Law. Summers saw him interning at his uncle's firm, Schiller, Ducanto & Fleck, a major family law practice ("I got to see how a law firm is run — well.") and the Securities and Exchange Commission, while also teaching tennis. Schiller then went to work at the state attorney's office, initially working on appeals, then prosecuting misdemeanors all over the city, and finally drawing on his SEC experience when a spot opened up on the financial crimes unit, in the special prosecutor's office. It was a chance to get to the felony courts faster, and Schiller jumped on it.
In the course of prosecuting complex financial crimes, he came in contact with many mega-firms and general counsel for huge corporations. One of these lawyers approached Schiller and tipped him to the growing opportunities in the European Union, which was still in its formative period. After looking into it, and checking out London — and going through a phase of guilt over leaving his colleagues — Schiller enrolled in the LLM program at King's College, University of London. "I knew I wasn't going to be a prosecutor forever," Schiller says.
London turned out well for Schiller: it was there that he met his wife, Ana, a native of Barcelona, Spain. She had been doing international tax work for Peat Marwick and came to London to learn public international law in developing countries. Today, Ana and Bill have two children, Hannah, 9, and Daniel, 6.
King's College was "full of people who had done big things, or were going to," Schiller remembers. "It was the best environment to study, learn, write, research — you felt smart just being there." The plan was to get into international corporate law, "but I kept getting pulled into these other areas." He helped a professor research a book on criminal law; the first Gulf War was happening at the time, and debates about it — Schiller, as an American, found himself a lightning rod for debate — "opened up the world to me in a lot of ways."
Having earned his LLM, Schiller went to Washington, D.C., and volunteered with the ABA's Central and East European Law Initiative. "I told them I'd do anything," he says. Ordinary things led to extraordinary things: before long Schiller was working on the biggest investigation of human rights violations since Nuremberg.
Today, Schiller's day-to-day practice involves representing institutions, scientists, researchers, professors, physicists, engineers, physicians and other professionals in matters before the U.S. Citizenship and Immigration Services, as well as occasional federal court practice. Regina Germain, the former senior legal counselor for the United Nations High Commissioner for Refugees, calls Schiller's representation "exceptional." She adds, "He just goes the extra mile for his clients." Germain says asylum officers typically schedule one-hour interviews with a petitioner, but Schiller just goes ahead and schedules as many witnesses as he needs. "He doesn't operate within their time constraints," Germain marvels. "This is somebody's life on the line, and Bill just does everything possible within the law for them."
Schiller helps people both directly and indirectly; since 2000, he's taught a class on International Human Rights and U.S. Refugee Law at Northwestern. Mary Finn, assistant dean for curriculum at Northwestern's Weinberg College of Arts & Sciences, calls Schiller's course "terrifically successful — always oversubscribed, with wonderful evaluations and testimonials about how he's influenced what people will do when they graduate."
One of the things Schiller teaches his students perhaps goes against the grain of what a human rights advocate might stress. Students are primed to think of the government as the bad guy, but Schiller says a good prosecutor "is a friend of human rights — and at the same time, a poor defense attorney is a huge impediment to the protection of human rights."
Leaning into the wind coming up Adams Street as he makes his way over to lunch at the Berghoff, Schiller discusses a case with an associate, Sarah O'Connor. They acquired an immigration waiver for the client, now a professor at Indiana University. The professor's theories have redefined the public-education math program in Gary, Ind.
The case came at a particularly busy time for Schiller, he says: "I was doing the business-based immigration, at the same time filing an asylum case, filing an appeal, and trying to get the waiver, all at the same time."
The synchronicity of different cases at that time crystallized for Schiller what he finds so rewarding about his job. He's always happy to help any client, but especially proud "anytime we can get a physicist or a cancer researcher." Plus, he adds, "You can't feel bad about keeping families together. You can't feel bad about helping someone who's been tortured. You can't feel bad about creating jobs in this country."
All ordinary things, done well, that add up to the extraordinary: a day in the life of William B. Schiller.
Search attorney feature articles