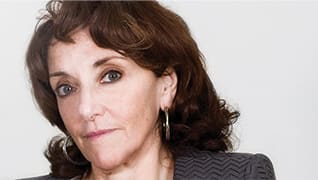 Photo by: Sasha Nialla
Nina's World
The world's leading real estate lawyer, Nina Matis, cuts through the crap
Published in 2007 Illinois Super Lawyers magazine
By Ellen Piligian on January 4, 2007
What does it take to be the leading real estate lawyer—not only in the state, not only in the country, but in the whole freaking world? Nina Matis, the current champion (according to the 2006 Who's Who Legal Awards), doesn't have a clue.
Matis, 59, admits that even she is flabbergasted by her career. She's a partner in her firm, Katten Muchin Rosenman, and a member of its executive committee and board of directors. She's also general counsel and executive vice president at iStar Financial Inc., a finance company focused on the commercial real estate industry and based in New York City.
When pressed, she'll talk about what's worked for her: smarts and personality, certainly. Also being at the right place at the right time. And—interestingly—not setting goals. "You can't predict life," she says matter-of-factly one warm August afternoon over tea at Chicago's Peninsula Hotel. "You can't plan it. You have to go with it. You have to keep your eyes open and take advantage of what's presented."
Matis, exuding energy and looking younger than her years, is dressed in a teal silk shirt jacket, dressy black pants and pointy leather shoes—evidence of her lifelong flair for fashion. While she's perfectly at home in the elegant two-story ballroom where a cellist and violinist play classical music for a crowd nibbling on delicate sandwiches, Matis is hardly one to put on airs.
Raised in a middle-class family on Long Island, she has a nononsense, down-to-earth quality that extends to her work, where clients are friends as well as business associates. Many of her clients have been with her for more than 25 years. "We have tremendous trust," she says. "They know I believe they are more to me than the source of a bill."
Matis is also deeply committed to her family. A devoted sister, daughter and mother, she proudly recalls how, at the recent wedding of her son and only child, Garson Fischer, 30, a Chicago attorney, "everyone" was there: her fiancé's children and grandchildren as well as her "stepchildren"—the offspring of a man she lived with for a decade.
What's fascinating about this down-to-earth, top-ranked lawyer is that she never intended to become a lawyer in the first place—least of all in the corporate world.
Both parents set a high bar. "[My mother] was very aggressive about my brother [Louis] and I doing well in school. I was sort of Hewlett High School. I did the yearbook and cheerleading. I was very "rah, rah!" The question wasn't if you were going to college. It was where."
When Matis was in fifth grade, her mother, Eileen, now 80, got her master's degree and taught elementary school for years. Her father, Robert, who passed away seven years ago at age 75, held a master's degree in city planning. Like his father, he owned a pawnshop. According to Louis Matis, 56, a biotech entrepreneur from Connecticut, his sister is very much like their father: an eternal optimist who is extraordinarily devoted to family.
When Matis headed off to Smith College in 1955 (Harvard and Yale weren't options for women, she reminds us), she hoped to become a doctor. But science overwhelmed her, so she switched to political science and discovered a passion for studying history, politics and the Soviet Union. She even fantasized about becoming an ambassador to the Soviet Union, but upon interviewing for a variety of entry-level jobs in Washington, D.C., in hopes of working her way up, she discovered such jobs held little appeal for her. "Whatever my grandiose idea was, [being an ambassador] was not going to be my profession."
At that point, she set her sights on law school and enrolled at New York University. "In my family, you either became a lawyer or a doctor," says Matis, who ended up following in the footsteps of her maternal grandfather, a lawyer. She also may have been influenced by her great-uncle, Jay Lovestone, one-time head of a splinter American Communist Party, and an adviser to the heads of the AFL-CIO. When she graduated in 1972, she'd hoped to practice labor law. "I thought [that] would be great," she says. "Helping people who couldn't help themselves."
During the summer before her third year of law school, though, Matis traveled alone for three months through Europe. Besides gaining a great sense of self-sufficiency, she met a man, an American, on the train to Zurich. They discovered they were in the same law school class, began to see each other and eventually became engaged. After graduation, the couple settled in Chicago, and Matis landed at the firm now known as Arnstein & Lehr. "I told them I really wanted to be a litigator," recalls Matis. "They said they needed someone in corporate law." She took the job but held out hope, telling the attorneys in the litigation department that she still wanted to do trial law. "They laughed," she says. "They said: 'The head of litigation will never hire a woman litigator.'"
Overall, though, the firm was fairly gender-blind, she says. "The only thing being a woman meant to them was that in certain circumstances they needed to be more courteous." Matis didn't even realize she was the first female attorney at the firm, and when she found out, she didn't put much thought into what that meant. "I never thought, 'I'm a woman so I have to try harder.' … I wore what I wanted: red suits, long skirts, short skirts. It just had to be appropriate in my mind. They didn't know what I should wear."
Matis recalls praying she wouldn't get fired before her one-year review. She was stunned when they told her that her work was phenomenal. "For a long time I felt like I was a fraud and a phony," says Matis. "[But] that drove me."
When she got pregnant in 1975, the firm, unsure how to handle her impending motherhood, sent a partner's wife to ask a doctor how much paid leave they should give Matis. "That was unheard of," Matis says. "I hadn't even asked for that. It was unbelievable how progressive they were."
It was also at Arnstein & Lehr that Matis met her mentor, Stuart Greenberger, who would change the course of her professional life. A senior partner with whom she worked closely for several years, Greenberger called her during her maternity leave that summer of 1976: "We're leaving [the firm] and you're coming as a partner," he told her. Matis didn't hesitate. "I couldn't pass it up. He was a fabulous lawyer." When she offered to return her maternity pay to Arnstein & Lehr, her now-former bosses wouldn't have it. "Unbelievable," she still says today.
Over the next decade, in her new position at Greenberger and Kaufmann, Matis worked at Greenberger's side doing high-end real estate deals: the Marriott in Chicago, Copley Place in Boston, and Pebble Beach in California among them. When Greenberger was diagnosed with brain cancer in 1985 (he died a year later), he felt the only way to keep the firm alive was to merge with another firm. "One reason [for the merger] he said was that he didn't think any other partner in the firm could really bring in the business," Matis remembers. "It wasn't like [that comment] was directed at me but given I was a partner, I felt a little put down by it."
As a result, when the firm merged into Katten in 1986, Matis admits her confidence was a bit shaky. Yet Matis soon discovered her value. Allan Muchin, a founding partner with Katten, says he told her it was her name that came up repeatedly as the one to fill Greenberger's shoes. "I told her, 'You can do anything you want.' She had good judgment. She knows how to do the deal. Not just what's wrong with it," Muchin says.
Then there was a meeting in Aspen, with a client she assumed stayed with the firm out of loyalty to Greenberger. Instead, she was told, it was really because of her. Not only did they value her skills as a lawyer, they noticed how every day when the clock hit 4:30 she'd call home and ask, "How was school?" "We love that about you," they told her.
Matis says that her being a woman in a man's world has probably helped more than hurt. A lot of men she's dealt with remember her. "I was the only one who was really different in the room. I had a New York accent and didn't wear a blue suit."
As for sexism, such as being mistaken for a secretary in the early years of her career, she never let it bother her. She laughingly recalls one time in Chicago when she walked in for a client meeting. One of the professionals on the other side of the deal asked her to get them some coffee. "My client almost fainted. I didn't care," she says. "I served them all coffee. Then the client introduced me as his lawyer. They felt awful. I told them it was okay, I get coffee for my secretary all the time."
That secretary, Diane Wilkens, likens Matis to a sister. They've worked together for 28 years. "She treats everyone like they are the most important person in the world," says Wilkens, calling Matis extraordinarily generous with both money and time. She'll never forget the way Matis supported her when Wilkens' father died in 1993. "She came to the wake at 2 p.m. and stayed until 10 p.m. She was back the next morning for the funeral and went to the grave. Not many people, much less bosses, would extend themselves like that."
Matis has also made a point of being a good mentor to the firm's young attorneys, such as Andrew Small, who was hired in 1989. Small says Matis is the reason he came back for a second interview. "I was so impressed with her. She was very honest and straightforward," he says, recalling how their 20-minute interview at the University of Chicago morphed into two hours. As a mentor, he says, "she always gave me a little bit more responsibility than I thought I could handle."
Matis is the general counsel for Katten client iStar Financial and consults on all of their deals. "I love doing the business side," she says. "I love the deal, the negotiation, the buying." According to CEO Jay Sugarman, "The first deal I ever did was with Nina. I never wanted anyone else as my lawyer." He calls her tireless. "She's the best I know at cutting through a legal logjam."
Matis, who routinely handles transactions valued in excess of $500 million, knows what works for her. "I can be a total pain in the ass, but I know it so I'm lighthearted about it," she says, adding that one colleague at iStar refers to her style as "Nina's World." "It's a way of doing business," she explains. "Just saying what needs to be said and cutting through the crap."
She also cuts through the crap about herself. She admits she can be shy, hypersensitive and not very organized. Her disorganization is legend at the firm. Wilkens recalls how Matis, who raised her son as a single mom for several years, would frequently forget to call someone back and would miss paying bills at home. Wilkens offered to help; Matis finally accepted. Adds Small with fondness, "I used to call her a savant. I used to say she could out-negotiate anybody I ever met, yet could get lost on the way to an airport she's been to 100 times."
If Matis has any secrets to success, they relate to what she tells the firm's summer associates, particularly the women: "The only person you have to know how to be is yourself. The idea of being a certain way to be successful disturbs me. Pick the parts you can do."
As for herself, she's lightened up. "Ten years ago I felt if I'm not excellent at [something], like golf, I don't want anyone to see me do it. Now I'll do it," she says. "You learn to be someone of worth. It doesn't mean you're the best at everything."
No, just the best in real estate law. In the whole freaking world.
Search attorney feature articles
Helpful links
Other featured articles
Kevin Napper finds folk art irresistible
Litigator Jennifer Tomsen first learned how to win over an audience on the ballet stage
Proud Usahacharoenporn dealt with isolation through art
View more articles featuring lawyers
Find top lawyers with confidence
The Super Lawyers patented selection process is peer influenced and research driven, selecting the top 5% of attorneys to the Super Lawyers lists each year. We know lawyers and make it easy to connect with them.
Find a lawyer near you