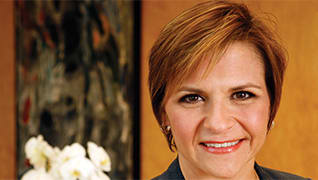 Photo by: Larry Marcus
Patented Path to Success
The quick rise of Meredith Addy
Published in 2009 Illinois Super Lawyers magazine
By William Wagner on January 8, 2009
Meredith Addy, 40, is a shareholder and director at Chicago-based Brinks Hofer Gilson & Lione, one of the largest intellectual property law firms in the country. Specializing in patent law, she represents some of the most prominent companies in the pharmaceuticals, biotechnology, audio and navigation industries. She's also a major player in an array of legal organizations, ranging from the Richard Linn American Inn of Court to the Amicus Committee of the American Intellectual Property Law Association.
But at the end of the day, as she walks through the front door of her Chicago home to her two children, Jacqueline, 7, and Meaghan, 5, the reality of her other life comes into focus—that of a single mom. Despite her professional accomplishments, Addy feels no different than any other woman raising kids on her own.
"I thought, 'I don't know if I can handle this,'" says Addy, whose divorce was finalized last spring. "But I can. It's just an adjustment. The firm has been terrific. I'm lucky—they're going to give me the flexibility I need."
Addy has dealt with her new circumstances with the same sense of organization and levelheadedness that she brings to her job. She meticulously plans every moment of the day, deftly juggling her children's activities and her work responsibilities. The result is that she's "on" 24/7, but she doesn't mind.
"I don't know if I'm qualified to give advice," she says, "but it would be: Don't get discouraged. That's the best advice. Budget your time and plan everything out. Now that everything is kind of settled [on the personal side], the work has been great. My work just keeps getting better and better. I'm excited about this next phase."
Addy's father was patent counsel for Coca-Cola, but she didn't exactly spend her childhood in Atlanta dreaming of lawyering. At Rice University, she majored in electrical engineering. Ultimately, and against her father's wishes, she chose the law.
"He told me not to go to law school," Addy says. "He said I'd be bored." But she figured the law would be more exciting than electrical engineering. "I wanted something that was more interactive with people."
By the time she entered her last year at the University of Georgia School of Law in 1993, she knew she wanted to be a patent attorney. She reasoned the patent sector of IP law would allow her to utilize her technical background, which is how she wound up at Brinks Hofer Gilson & Lione, a prestigious firm that had a thriving practice in patent law.
There was just one problem: She didn't know a soul in Chicago.
"I was a young associate and was working really hard," recalls Addy. "I said to myself, 'What can I do to meet people?' I started taking classes toward my LL.M. [in intellectual property] at John Marshall Law School. A lot of my colleagues may have wondered why I was doing that. In the end, it allowed me to meet a lot of people in Chicago in my profession. It allowed me to develop that part of my practice."
The experience that truly set her career in motion occurred in 1997 when she clerked for Paul Michel, now chief judge of the U.S. Court of Appeals for the Federal Circuit. Addy's clerkship afforded her a peek behind the curtain.
"I was able to watch many, many oral arguments and see firsthand what works and what doesn't work—not only what types of questions the court is likely to ask, but also what types of answers help the court," Addy says. "And by being in chambers, I was able to see the types of briefs that are compelling and those that are not."
It worked out well for Michel, too. Up to that point, he had hired recent law school graduates whose inexperience sometimes resulted in less-than-stellar clerking. Michel says he changed his hiring strategy and, through recommendations from colleagues, zeroed in on Addy. "She came to me with great experience from the law firm," Michel says. "She was a superb clerk, one of the best I've ever had. She has exceptional energy, concentration, focus and drive. She's also very strong on science and engineering."
When she finished her clerkship, Addy returned to Brinks Hofer. She is now chair of the firm's appellate group, overseeing anywhere from 20 to 25 people. In 2007, her team represented clients from three of the year's top 13 patent cases—as listed in the IPO Daily News.
"She's a remarkable woman with many talents," says Roy Hofer, a longtime partner at Brinks Hofer whom Addy considers a mentor. "She's very perceptive and very mature, and is an outstanding writer. She's just someone you can rely on for excellent work."
How has Addy progressed so far, so fast? Her formula has focused on three areas: honing her core legal skills, such as writing briefs and arguing in court; being active in the bar by assuming leadership roles in professional associations; and marketing her firm to potential clients.
For Addy, the most invigorating aspect of the first point is arguing in a courtroom—something she's done in close to a dozen cases. Addy's courtroom style is to deliver arguments that are succinct and direct. In technical and complex patent cases, this can be difficult to accomplish in the allotted 15 minutes.
"You're very nervous leading up to it," she says. "You have a limited amount of time, so you can't get up there and say, 'Well, this is a case about patent law—let me tell you a little bit about it.' You have to find your theme, and you have to find one that's going to win the day."
Take Brand & Capital Machine Co. v. Miller in 2007. Addy's firm represented Capital Machine in a dispute over which company should own the patent for a device that creates veneer for wood furniture. Capital Machine lost at the U.S. Patent and Trademark Office (USPTO), and Addy was brought in for the appeal to the Federal Circuit. The court reversed and ruled that the USPTO had based its findings on its own expertise instead of the actual record of evidence. "That was fun because any case you take on from the Patent and Trademark Office is subject to a higher standard of review, which means they're hard to reverse," Addy says. "Capital was able to take the patent away from Miller, which is unusual."
This type of outcome doesn't surprise Michel, who has presided over several of Addy's arguments.
"She stands out because she's so well prepared," Michel says. "When you ask her a difficult question, as we often do in oral arguments, she fires right back with a very crisp, clear answer that is totally responsive to the question. And it's factual and accurate and fair. The contrast with other attorneys is stark. Most of the other attorneys duck our questions. She answers them head-on."
Addy also excels at writing briefs. As former chair of the Amicus Committee of the American Intellectual Property Law Association, she oversaw and wrote amicus briefs for the Federal Circuit and U.S. Supreme courts.
All of these skills, as well as her measured and confident demeanor, have won the trust of her clients. Take it from Robert Hart, who is chief intellectual property counsel for Harman International, an audio-systems manufacturer based in Connecticut. Addy leads her firm's Harman team.
"I'm very hands-on," Hart says. "I have a staff of people, but I also have to liaison with outside counsel quite a bit. She's smart and diplomatic. When I say diplomatic, she's a great ambassador. She makes my life easy. There are things I hand off to her that I can just say, 'Run with it.' I look at her as almost an extension of my department."
Then there's the second area of her success. Addy firmly believes that maintaining an active role in legal associations—and thus, keeping abreast of the legal world at large—makes her a better litigator. "There are many aspects to the practice of law," Addy says. "If you want to be successful, you can't be single-faceted. You have to be multifaceted."
The outside endeavor that currently is near and dear to her is the Richard Linn American Inn of Court, which is part of a national association designed to help develop young lawyers. The IP-oriented Richard Linn Inn was founded in January 2007. Its first president? Addy.
The third aspect of her formula for success—marketing, or as she likes to say, "the business"—is an extension of her association endeavors. It involves making her firm's presence felt within the legal community, something she accomplishes in part with her leadership roles in associations. "As an attorney," she says, "you also have to be able to develop the marketing side: networking, bar associations, other attorney associations. I call it professional development."
Sometimes that professional development becomes personal. One of the cases Addy remembers most fondly is Pearl Tyndall v. Principi, a pro bono effort. Addy and colleague Janet Pioli represented the widow of a World War II veteran who had been denied benefits by the Veterans Administration. They filed an appeal in the federal circuit court in 2000 and won without—much to Addy's chagrin—throwing a single punch in the courtroom.
"We wrote a brief that showed why he was supposed to be getting these benefits," Addy says. "After we wrote the brief, the [opposing] attorney called me up and said, 'Hey, we'll give you all the relief you want. We'll drop the case.' I'm sitting there thinking, 'We're this close to arguing this case, and you want to settle it? And you want to settle it for everything I'm asking for?'
"But it was awesome. That's a feeling I don't get with other cases. Every year I get a Christmas card from her, and I send her a Christmas card. It's probably my favorite card that I send."
Addy has plenty of time to pile up more victories. It's all part of her master plan.
"I'm big on five-year goals," Addy says. "Right now, I would like to continue to hone the federal circuit skills because they're very challenging. There's still a lot I can do there. I'd also like to continue to work on my district trial skills. These things still excite me quite a bit. I feel like there's a lot more for me to do."
Search attorney feature articles