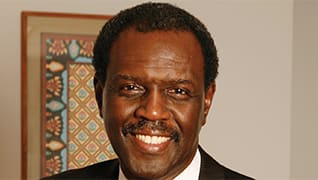 Photo by: Larry Marcus
The Bar's Mitzvah Maker
The good works of Donald Hubert
Published in 2007 Illinois Super Lawyers magazine
By Neil Versel on January 4, 2007
Editor's Note: As we were going to press, Donald Hubert, 58, died of a heart attack while on vacation in Mexico. Like everyone who met him, we mourn his loss.
On the wall of Donald Hubert's downtown Chicago office, amidst all the award certificates, photos and newspaper clippings that represent a long, distinguished legal career, hangs a framed poster from the movie Harry Potter and the Chamber of Secrets. The poster, which Hubert appropriated from his daughter, reads: "Dobby has come to warn you, sir."
"I told her she couldn't have that poster," Hubert says. "I was keeping that poster because that's what my practice has been like. It is so high-profile that I have to constantly remind myself that you have to be extremely careful, you have to exercise good judgment, because any of these cases can blow up in your face."
No kidding. When your responsibilities include representing the Chicago City Council in the ongoing Shakman litigation regarding preferential hiring, defending DaimlerChrysler against charges of racial loan discrimination, or serving as co-counsel in both Chicago's ward redistricting case (1991-98) and a class action civil rights suit against the Chicago Housing Authority, good judgment is a must.
At the 2004 Chicago Auto Show, where protesters targeted the Chrysler displays, an African-American minister called Hubert a racial epithet. "I laughed it off because I knew he was just frustrated with my participation," says Hubert, managing partner of Hubert Law Group in Chicago.
"That's been the nature of my practice. I handle high-profile, very emotion-driven cases, and I think I step in and I bring civility, calmness, logic and, more importantly, contribute toward what I call win-win situations. My clients win and the legal system wins."
Hubert remembers lecturing at an ethics seminar many years ago at which one of the speakers was a disbarred attorney who had done jail time.
"When I was at one of the federal penitentiaries," Hubert remembers the disbarred attorney saying, "a group of us, all lawyers or judges or policemen or political leaders who had been very powerful, who were now sitting in a federal penitentiary, got together and had a discussion about why we were there. After an extended conversation, we all came up with one word."
That word was hubris.
"I never forgot that," Hubert says. "I always try to remind myself that that's true—that the more powerful you get, the more successful you get, that your greatest enemy is hubris. Over and over again, I've seen the powerful and the wealthy crash."
So Dobby's warning stays on the wall as a constant reminder to someone who has spent much of his life around not only the powerful and wealthy, but also the down and out.
Hubert grew up with six siblings in a poor family in the South Side neighborhoods of Woodlawn and Englewood, spending many summers and one full year of his childhood with a grandmother among the Georgia cotton fields. He attended Catholic schools all the way through his undergraduate studies at Loyola University Chicago.
His father, a boilermaker, and his mother, a maid, encouraged their son to go to college or consider military service but never mentioned law school. A University of Michigan professor, however, whom Hubert met through a summer job, convinced him to consider law.
That was the first of many pieces of good advice Hubert would receive from successful professionals.
"A lot of your success in becoming a prominent lawyer is a function of working under prominent lawyers," says Hubert. "One of the themes of my story is how many prominent, world-class lawyers reached out and helped me and mentored me."
Among others, Hubert credits Joel Flaum, chief judge of the U.S. Court of Appeals for the 7th Circuit; former Cook County Board president John Stroger Jr.; Jenner & Block Chairman Jerold S. Solovy; and the late Chicago mayor Harold Washington.
Additional role models include a veritable who's who of Chicago's African-American legal community: James D. Montgomery, Chester Slaughter and Adam Bourgeois Sr.
Fresh out of Michigan Law School in 1973, Hubert went to work for U.S. District Judge James B. Zagel, who was then an assistant Illinois attorney general concentrating on financial crimes. During his three years there, Hubert got a taste of the type of highprofile cases that would define his career.
"What was amazing about that experience is that you walk into the office as a freshly minted lawyer, and at that time, you could handle all these cases in the Illinois Supreme Court," Hubert recalls. "There are lawyers who have been practicing 20 or 30 years who may have, if they were lucky, one appeal in their whole life in the Illinois Supreme Court. And I was doing one right after the other, as many as I wanted."
That experience opened Hubert's eyes to the joys of public service. Though he has never sought political office, he has helped produce many influential public documents—including a 1999 study on the future of the Cook County court system and the groundbreaking 2002 report of then-Gov. George Ryan's Committee on Capital Punishment. Ryan cited the latter when he decided to empty Death Row in January 2003.
"That's always been part of my commitment to the practice of law: To serve on committees that work toward the improvement of the legal system and the court system," Hubert says.
Ryan—since convicted of federal corruption charges—recommended Hubert for the 15-member Committee on Capital Punishment in part because Hubert has defended murder suspects in capital cases as well as officers charged with police brutality. "I had worked both sides of the issue and therefore had a balanced view," the attorney says.
Hubert is exceptionally proud of this report, particularly the recommendation that police videotape interrogations of murder suspects. "That may be the single most important recommendation because it will go a long way toward solving the problem of police torture. Start videotaping them from the moment they enter the police station," Hubert says. He even shared the commission's findings in testimony to the U.S. Senate Judiciary Committee in June 2002.
More recently, Hubert was one of seven lawyers helping Edward J. Egan, the special prosecutor who led a three-year probe of alleged police torture by disgraced former Chicago Police Department Commander Jon Burge.
"Again," Hubert says, "having done both sides of the issue, I thought that they could benefit from a lawyer who's had the most intimate, confidential, private conversations with both those charged with murder and with police officers charged with torture.
"With each project that I take, I try to grow as a lawyer and grow as a person, and believe me, this one stretched me," Hubert says. "This one stretched me."
After his apprenticeship with Zagel, Hubert rented space from George Howard, who was once rated the best criminal defense lawyer for capital murder cases in Illinois. Hubert later shared space with Adam Bourgeois Sr., before striking out on his own in 1979.
In 1987, Hubert's former mentor, Howard, was charged with neglecting his clients, and Hubert wound up arguing his case before the Illinois Supreme Court. Howard escaped discipline, but later was suspended from practice on similar charges. One of the justices expressed a wish that bar associations work with small practitioners to teach them how to manage caseloads. It got Hubert thinking.
"They weren't bad people, it's just that they were taking too many cases, didn't have law office management and computer skills, were beginning to neglect their cases and weren't communicating with their clients and were being brought up on charges," Hubert says.
"Eventually I decided to do something about it, and I started what's called the Cook County Bar Association ARDC Law Office Management Committee," Hubert says. He organized attorneys to mentor peers who were under investigation by the state's Attorney Registration and Disciplinary Commission.
The program, which has served hundreds of lawyers since the late 1980s, won a 1992 Gambrell Professionalism Award from the American Bar Association. "I'm really proud of that," Hubert says.
Hubert takes pride in all of his contributions to the legal profession, particularly when it comes to helping the less fortunate.
"Pro bonoism introduces you to people that in your life you will never meet," Hubert says. "So lawyers shouldn't begrudgingly do pro bono. They should rush to it. It has absolutely changed the course of my career. If I had just been a lawyer about billing and making money, I never would have met so many prominent individuals who are making a difference."
In one pro bono case, he defended a woman on trial for murdering her boyfriend.
"I quickly realized that it was a case where battered-woman syndrome was relevant," Hubert says. Knowing little about the subject, he hunkered down. "I went out and read three books by women scholars about battered-woman syndrome. I needed these women scholars to explain to me: Why didn't you just leave him? Why did you stay in an abusive relationship to the point where it exploded and you killed the person?
"It was as the result of reading those three books that I was able to understand how to defend that case." His client was found not guilty.
"He is a very, very dedicated, sincere individual," says one of his mentors, retired justice R. Eugene Pincham of the Appellate Court of Illinois. "He is extremely thorough. He has integrity beyond reproach. He's a gentleman, never mean, never cross."
Jerold S. Solovy, the Jenner & Block chairman, says of Hubert, "He's very dogged in cross-examination and preparation."
Hubert's work ethic is even more remarkable, given that he's had to raise a daughter by himself after his wife passed away in 2000 from primary pulmonary hypertension, a rare lung disorder that leads to an enlarged heart. His daughter is now 12 and attending middle school.
All of this hard work brings Hubert the type of satisfaction a giant in the business once told him about.
"I was about to become president of the Chicago Bar Association, and Judge [Abraham Lincoln] Marovitz took me to lunch and gave me a lot of great advice," Hubert remembers. "I asked him, 'As a judge, you've been practicing a long, long time. I mean, you're known around the whole country. How have you been doing this for so many years?' He says, 'Don, you have to learn how to do a mitzvah every day,'" Hubert recalls.
"I said, 'Judge, what's a mitzvah?' He says, 'Do a good deed.'"
To this day, Hubert keeps a portrait of Marovitz on his office wall. "That's to remind me every day to do as he said, to do a good deed every day."
Hubert's good deeds have created opportunities. Had he not volunteered his services in capital murder cases, he probably wouldn't have been invited to work on Gov. Ryan's blue-ribbon panel on the death penalty. His contacts through some of the volunteer committees he served on also helped Hubert meet Michael and Juanita Jordan.
In 2006, the Jordans donated $5 million to one of Hubert's most important causes, Hales Franciscan High School, a South Side Catholic institution.
Hubert, a 1966 graduate of Hales, put together the committee to prevent the school from closing in 1989, and chaired the board for nearly a decade. He came back in 2004 to lead a $15 million fundraising drive, and recruited the Jordans as honorary chairpersons.
"What I'm happy to tell people is that there are no overhead costs for the campaign. I basically pay all costs and run the entire capital campaign out of my office," Hubert says. He's spent about $270,000 to date. That's a helluva mitzvah.
"He's just a wonderful human being," says Solovy. "If all of Jenner & Block were like Don Hubert, the world would be a better place."
Search attorney feature articles
Helpful links
Other featured articles
Greg Westfall repurposes photos into bold pops of color
Discovery with Gwyndolyn Styarfyr
Like his attorney dad, Paul C. Perkins Jr. always finds time for doing good
View more articles featuring lawyers
Find top lawyers with confidence
The Super Lawyers patented selection process is peer influenced and research driven, selecting the top 5% of attorneys to the Super Lawyers lists each year. We know lawyers and make it easy to connect with them.
Find a lawyer near you