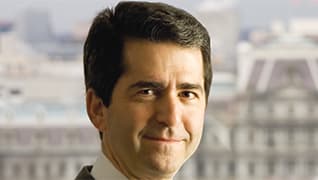 Photo by: David Hills
The Deconstructionist
His clients — from Big Tobacco to nuclear weapons plants — aren't always popular, but no matter: David Bernick knows how to win over a jury
Published in 2005 Illinois Super Lawyers magazine
By James Walsh on January 13, 2005
If the sun was shining, a visitor to David Bernick's 59th-floor office on downtown Chicago's lakeshore would be treated to quite a view. But there is no sun on this late December day. A heavy fog shrouds the old Amoco building overlooking Lake Michigan and the rest of downtown, blanketing it in a mysterious white material as translucent as slush.
No matter. Bernick, a small, fit, black-haired man who just turned 50 but probably still gets carded whenever he walks into a Loop pub, simply describes what a visitor would witness. "On a clear day, you could see Michigan," he says, before describing the sand dunes that would glimmer on the far shore and the waters that would shimmer crystal blue below — if only the weather had cooperated.
In a span of the first few seconds of an interview, you can see why David Bernick is so good at what he does. Just as he lends clarity on an exceedingly opaque day, he cuts through the fog of complicated mass tort cases to tell the stories of his clients.
In a realm of legal specialization, lawyers who venture into mass torts generally ride a single warhorse — such as tobacco litigation. Bernick, like a circus performer, rides them all. He's fought and won some of the world's most complex and costly cases in asbestos litigation, tobacco health cost recovery, breast implant battles, even nuclear weapons plant contests and hotel fire lawsuits. Bernick, a partner at Kirkland & Ellis, is master of the complicated case and, probably, the premier mass tort litigator in the country.
Bernick likes to describe himself as a storyteller, someone who marries ideas and themes to persuade people. "Themes are ultimately what move people," Bernick says. "They have power, they have emotional content."
The term "storyteller" implies a certain whimsical, off-the-cuff quality. But there is nothing off-the-cuff about how Bernick approaches a story. Not when his career has been representing Big Tobacco, asbestos manufacturers and silicone breast implant makers — hardly the most beloved of businesses. Making their stories resonate with regular folks requires meticulous preparation, dogged study and the ability to break down labyrinthine walls of technical jargon.
And at this task, Bernick may simply be the best.
"I found him one of the most effective litigators that's ever been before me," says U.S. District Judge Jack Weinstein, former chief judge of the Eastern District of New York and a veteran of the federal bench since the Johnson administration. "He is absolutely, completely prepared. And he is absolutely reliable. The jury and the judge know that they can rely on what he says."
Tom Carver is someone who witnessed Bernick's skills in person. He was a juror in the case brought by the trustees of the Johns Manville Personal Injury Settlement Trust — which was created to pay settlements to asbestos victims — against tobacco manufacturers, who had Bernick representing them. The trustees claimed Big Tobacco was partly responsible for asbestos damage to victims whose smoking exacerbated their disease, but the case ended in mistrial.
"If I had to hire a lawyer to defend me, he'd be the guy," Carver says.
In the book Smoked: The Inside Story of the Minnesota Tobacco Trial, authors David Phelps and Deborah Caulfield Rybak say that Bernick's love of litigation, more specifically of the complicated mass tort litigation he has mastered over the years, comes from his love of storytelling.
"I love seeing the jury's eyes grow as they come to believe that the case really will have significance, that they'll go back over a huge controversy that occupied some of the best minds of the scientific community, involves the lives of tens of millions of people, and that they will sit in judgment of what was done," he is quoted in the book. For the jury's benefit, Bernick said, he always spoke extemporaneously, "because it's gotta be me, and once they see that I really do have my finger on something that's fascinating and important and something that I'm really convinced about, then you're into the pay dirt of the case."
He never intended to go into the law, this man who so enjoys unraveling the world around him. Bernick was raised in Glencoe, Ill., and graduated from high school in only three years. Attracted to uncovering the meaning of things, he went to the University of Chicago to study philosophy. Again, he graduated in just three years, moving on to a doctorate program in philosophy at Yale.
Bernick discovered that he didn't like graduate work, so he pulled out of the program with a master's degree and returned to the University of Chicago and law school. At the time, he wasn't thinking about becoming a lawyer. Rather, he says, law school was a place to learn to explore, to delve and to think. The idea was to get a "liberal" education with an eye to teaching someday. But, soon after, Bernick discovered something important: "I learned that the law lives in the practice of the law."
The law — more specifically, becoming a litigator who practices law in a courtroom — was a way to peel away the layers of complexity surrounding everyday life. "I found I wanted to solve pracsiltical problems with practical solutions," Bernick says.
Bernick's stories are not easy to tell, and his clients are generally not sympathetic characters. Consider the clients that Bernick and his firm, Kirkland & Ellis, have championed over the years: Asbestos-products manufacturer W.R. Grace; Brown & Williamson Tobacco (now owned by R.J. Reynolds); Dow Chemical, maker of silicone breast implants. He has also represented companies that did business with Nazi Germany in class action suits brought by Holocaust survivors. But, in case after case, Bernick has won praise from clients, court observers and the news media for his work and his sincerity in representing his clients' interests.
He breaks down the stereotypes and gets past the raw emotion of the plaintiffs' arguments — whether it's a father dying of lung cancer or a woman who claims to have suffered health problems after her implants ruptured — to get to the heart of the case. He doesn't do this by tearing down the plaintiff, or minimizing his or her pain or suffering. Instead, Bernick says, he bores into the science behind their claims, or explores the role of their own choices in what ails them.
"At the end of the day, I should know more than anybody else who ever stepped into the courtroom," he says. "I want to be more big picture than my clients. The jury may be more willing to buy what I have to say than my clients."
Weinstein describes Bernick as someone who does a lot of "blackboard work," breaking down the science of tobacco or asbestos or silicone in great technical detail. He'll use PowerPoint presentations and a nearly encyclopedic knowledge of his case to sway the jury.
"He knows his stuff," Weinstein says. "He is a better presenter than most of his expert witnesses. And he clearly believes in his case and he's being honest about it. The jury and the judge may not accept his views, but it's clearly his mind and his ideas."
Carver remembers the first time he saw Bernick at the start of the Manville case.
"Little Big Man, we called him," says Carver, a 54-year-old ex-Marine who operates heavy equipment and helped clear the World Trade Center site after 9/11. "In the beginning, your first  impression of him, against the other lawyers, well, you wouldn't have given a second thought to him because of his stature. But, by the third day, I was impressed."
Carver adds, "He breaks down a case so that the jury can see the main issue. I felt that he wasn't bullshitting anybody when he spoke. He didn't have any airs about him, he wasn't a flashy dresser. But, every day, I was looking forward to going into that courtroom just to listen to what he had to say."
To do that, Bernick says, he and his staff thoroughly research the history behind their clients and their cases. By knowing the seemingly overwhelming details of complex cases, they can present the bigger picture to the jury — one that deals with issues of choice, of personal responsibility, of values. Those themes, he says, resonate with people who can make connections to their own lives.
A litigator can't convince a jury that a case really comes down to those larger themes if a lawyer doesn't develop a longterm relationship and strategy with a client, Bernick says. "A lot of the work I do is solving problems that go beyond an individual case."
For instance, Bernick has been pivotal in helping asbestos makers faced with lawsuit after lawsuit turn to bankruptcy and reorganization strategies to reduce the seemingly endless stream of financial judgments. When working with clients, it's important to look at future regulation, legislation and litigation that will affect them and come up with a consistent plan — a "story" if you will. "To be an effective litigator, you have to be an effective counselor."
In that way, Bernick says, with every step a client takes, he thinks of how a jury may react decades down the road. Juries, he's found, are an excellent barometer of public opinion. In fact, he says, he prefers putting a case into the hands of a jury rather than a judge.
"Their anonymity gives them more independence," he says of jurors. "And the bigger the case, the more they want to do the right thing." He adds, "The idea of the hired gun litigator is, in a sense, a fiction. Good trial lawyers create the case in their and their clients' image."
But how can you do that when you don't always pick the horse you get to ride in the race? Bernick, after all, can rarely turn away clients who need his and his firm's help, especially when billions of dollars are on the line. Again, Bernick says, that's where his long-term work with a client comes in. Sometimes they're going to have to pay for their mistakes. But, looking at all the facts, he and his clients can decide what is defensible and what points they can sincerely contest in court. "You have to be," he says, "a believer of the evidence."
There have been many times when the heavy lifting of such complex cases and grueling trials has taken Bernick away from his family for months at a time. When he was one of the lead attorneys in the Minnesota tobacco trial in 1998 — a trial that lasted five months but fell short of a verdict when a late settlement was reached — Bernick made a point of heading home to Chicago to his wife, Christine, a clinical psychologist, and his son, Evan, at every opportunity. In fact, his assistant says, he's famous around the office for "getaway Fridays." He heads home for at least one day each weekend, no matter where a case may take him.
There is also the annual ski trip over the last week of the year to Jackson Hole, Wyoming, to recharge and reconnect. It is time, Bernick says, that can be fleeting. His son is now 19 and a freshman at the University of Chicago.
With so many cases that gobble up so much time, what does he do when he can spare some? He ran for years but gave it up when he started getting nagging injuries. So he bicycles when the weather cooperates and skis in winter.
To find something to do when he retires — which he insists is years away (but Bernick is nothing if not thoroughly prepared) — he has taken to drawing. He's taken courses at the Art Institute of Chicago and is now working to use his impressive powers of persuasion to convince museums to let him take digital images of their collections — images that he later can use as models for his drawings in his home.
In exchange, Bernick says, he would agree to become a financial sponsor of the museum. So far, the British Museum has agreed to Bernick's request, letting him inside its archives to view its treasures. The Art Institute of Chicago, much to Bernick's chagrin, has declined.
So, instead, he spends Saturday mornings in the Institute, poring over its displayed works, beginning with the oldest jade pieces from China and moving up through time. In much the same way that Bernick learns his cases inside and out, he wants to dig into art, to better understand the work and the artists.
"What was the artist's vision?" he says. "Why was it so special that he or she has created a new perspective?"
Those who have watched Bernick in the courtroom — who have witnessed his determination and preparation firsthand — say that there he, too, is an artist. "Mr. Bernick — I can't praise that man enough," Carver says. "He changed my mind about how lawyers work."
Search attorney feature articles
Helpful links
Other featured articles
Facebook's first general counsel participates in hackathons, runs races, and brings the legal and engineering teams together
Two attorneys reflect on their Warriors and Kings fandoms
The lessons Matthew Draper learned in Japan influence his arbitration practice
View more articles featuring lawyers
Find top lawyers with confidence
The Super Lawyers patented selection process is peer influenced and research driven, selecting the top 5% of attorneys to the Super Lawyers lists each year. We know lawyers and make it easy to connect with them.
Find a lawyer near you