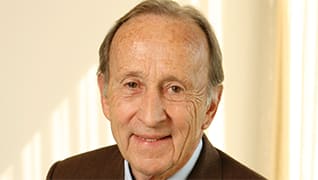 Photo by: Larry Marcus
The Elder Statesman
Taking a measured view of things with Thomas P. Sullivan
Published in 2008 Illinois Super Lawyers magazine
By Kevin Davis on January 8, 2008
One day in 1969, a young woman carrying a baby in her arms walked into Thomas Sullivan's office, sat down and started to cry.
The woman's husband, Thomas K. McCabe, had been convicted of selling a small amount of marijuana, and, despite the fact that it was his first offense, state law mandated a minimum sentence of 10 years in prison. Peggy McCabe told Sullivan that if her husband had to serve 10 years it would tear their family apart. Sullivan agreed that the sentence seemed outrageous. "It was such a minor offense, I couldn't believe it," he recalls. "Ten years for marijuana? You've got to be kidding."
Sullivan wound up taking the case all the way to the Illinois Supreme Court, which ruled, in 1971, in People v. McCabe, that the state's statutory classification of marijuana with hard drugs was unconstitutional. McCabe was released from prison and went back to raising his family.
Twenty-four years later, Sullivan got an unexpected letter. It was from the man who had been the baby in his mother's arms in Sullivan's office that day in 1969.
Daniel C. McCabe wrote to tell Sullivan that he had become a lawyer. "You are the reason I decided to practice law," the letter read. "You had a tremendously positive impact on another life. Besides the obvious gift you gave my father, what you gave me and my sisters is immeasurable."
Sullivan holds the letter as he recounts the story in his 47th-floor office at Jenner & Block in Chicago, the law firm where he began his career in 1954.
For more than 50 years, Sullivan, a defense attorney, prosecutor and advocate for the poor and disenfranchised, has amassed a long and distinguished list of contributions to the legal system. He has argued in the Illinois Supreme Court and the U.S. Supreme Court and has served as U.S. attorney. At 77, he is still going strong, having recently volunteered to represent detainees at the U.S. prison at Guantánamo Bay.
"Tom Sullivan has had the most admirable career of any lawyer I know," says attorney and bestselling author Scott Turow, whom Sullivan hired as a young assistant U.S. attorney in 1978. "As the U.S. attorney who essentially brought me up as a lawyer, he was the most distinguished, dispassionate, fairest and most dedicated public servant I have ever encountered."
"He has very little flash," says Jeffrey Colman, a longtime friend and partner at Jenner & Block. "He's not someone who wows the jury with a booming voice, his suit and tie and shiny shoes. He has a total lack of ego when it comes to trying a case."
And, Colman adds, "He has an amazing ability to cut through what people call B.S. and get to the true legal and factual issues that a judge or jury see as critical."
One of six children, Sullivan grew up in the Chicago suburb of Glen Ellyn and attended private Catholic schools. His father was a writer in direct-mail advertising and later became postmaster of Glen Ellyn. His mother was a legal secretary. Inspired by a college class in constitutional law, Sullivan decided to attend Loyola University School of Law. After graduating in 1952, he volunteered to be drafted in the Army early rather than run the risk of being called later. Assigned to Fort Bliss in El Paso, he wound up in Korea just as the conflict was ending.
When he returned in 1954, Jenner & Block hired him for $300 a month. He recalls how partner Albert Jenner took him under his wing.
"[Jenner] was one of the top litigators in the United States," Sullivan says. "He was a very hard-working man. He moved up your standards for yourself, and he set a standard of excellence that was high. I worked nights and weekends. Saturday mornings were mandatory."
During those early years, Sullivan became close with a colleague named Prentice Marshall, who recruited Sullivan to work on appeals and pro bono criminal defense cases. The two are credited with establishing Jenner & Block's longstanding commitment to pro bono work, and were leaders in the Chicago Bar Association Defense of Prisoners Committee, which inspired lawyers to take on indigent clients.
Their pro bono caseloads increased significantly in 1956 after the U.S. Supreme Court ruled, in Griffin v. Illinois, that indigent criminal defendants were entitled to free trial transcripts in order to pursue appeals. Sullivan, Marshall and Jerold Solovy handled a flood of petitions from prisoners who wanted to appeal their cases. "We were the indigent pro bono rat pack," recalls Solovy, the firm's former chairman. "Pro bono work is the proudest thing we did."
During the late 1960s, Sullivan, along with Albert Jenner and Chet Kamin, successfully represented Dr. Jeremiah Stamler, a prominent Chicago cardiologist who was subpoenaed to appear before the House Un-American Activities Committee in 1968, but refused to testify. Their efforts curtailed the committee's ability to harass citizens and ultimately helped lead to the abolition of the committee in 1975.
Sullivan also represented the "McCarthy Delegates," a group of young people who were arrested for disorderly conduct during the 1968 Democratic National Convention in Chicago. He represented four of the "Chicago 7" lawyers after Judge Julius Hoffman threatened to hold them in contempt.
Though many of his cases were enmeshed in the politics of the time, Sullivan never saw himself as political. He says he was more about taking principled stands and arguing issues of law. He points out that he represented eight Chicago police officers charged with killing Black Panther leaders Fred Hampton and Mark Clark during a raid in 1969.
"I work for the person who pays me. That's our bread and butter," Sullivan says. "A person, no matter how awful he is, or how awful the crime he is accused of committing, is entitled to the full panoply of the law and the Constitution."
So Sullivan scoffs when asked whether he considers himself a bleeding heart bent on promoting liberal causes. "I have found over the years that bleeding hearts are dangerous," he says. "I like to take a more measured view of things."
This measured view nonetheless champions human rights and so-called liberal causes. When the Illinois Legislature enacted a law that entitled prisoners to a parole hearing after 20 years, Sullivan argued before the Illinois Supreme Court that the law should be retroactive, allowing all prisoners that right. The court agreed, in Kubala v. Kinney, and many old-timers got out. Sullivan then co-created a committee to help them reintegrate into society. "A lot of these guys came in as teenagers," Sullivan recalls. "They had been in since the 1930s and '40s."
Sullivan and his Jenner & Block colleagues also represented convicted murderer William Witherspoon, who was sentenced to death in 1960. Their landmark litigation led to a 1968 U.S. Supreme Court decision prohibiting trial judges and prosecutors from peremptorily excluding potential jurors because they were personally opposed to the death penalty. As a result of the Witherspoon v. Illinois decision, more than 350 other inmates, including Witherspoon, had their death sentences reversed.
"We saved 350 lives," says Solovy. "If you ask me what one of our proudest moments was, that would be it."
In 1969 Sullivan represented two classes in a class action case on behalf of African-American families who bought homes on the south and west sides of Chicago. Consistently denied mortgages, these families were required to purchase their homes through "land contracts," which meant they could lose their homes for a single late payment. The lower courts initially dismissed the case, but Sullivan appealed and earned a favorable settlement, which included conventional mortgage financing for his clients. The case sparked other community groups and lawyers to fight against discriminatory housing practices in Chicago.
In the 1970s, Sullivan began doing more of what he calls "paying federal criminal work" and often went up against federal prosecutors such as Anton R. Valukas, who later became the U.S. attorney for the Northern District of Illinois.
Sullivan was representing a lawyer charged with bribing a public official when he and Valukas first faced off in court. "I saw him do the most damaging cross-examination of a key witness I've ever seen," Valukas recalls. "Notwithstanding, I prevailed. But I came away thinking, 'What an extraordinary lawyer.
"It wasn't just Tom's technical skills that impressed me," Valukas adds. "He evoked in the jury that he really believed in what he was doing."
After Jimmy Carter was elected president in 1976, Sullivan was recruited by U.S. Sen. Adlai Stevenson III to serve as U.S. attorney for the Northern District of Illinois. Sullivan felt it was time to do public service, but did not want to stay more than four years. He told Stevenson that was the deal.
The longtime defense lawyer had no trouble crossing over to the other side, and, during his tenure, continued to take a measured view of things. He took on the Chicago Park District for spending more money on parks in white neighborhoods than in minority areas. He filed cases against insurance companies for redlining practices, investigated fair-housing violations and discrimination cases in schools and challenged police hiring practices. He also launched the biggest investigation into judicial corruption ever: Operation Greylord. Sources indicated that judges and other officials were being bribed, and cases were being fixed, in Cook County Court. Sullivan had to devise a way to develop a case.
"You had two choices," he remembers. "You could allow real cases to be fixed and real defendants to be acquitted with wire recordings. Or you could use fake cases. If you allow real people to be acquitted, you're participating in a real problem. If they went out and [subsequently committed a crime], you would be pilloried."
He recalls struggling with the decision. "I was in Washington a great deal with the attorney general and head of the FBI," Sullivan says. "They researched the hell out of it and in the end we decided we would use fake cases."
The investigation, which continued beyond his tenure as U.S. attorney, resulted in more than 90 indictments of judges, lawyers, police officers and court officials, most of which ended in plea deals and convictions.
After four years Sullivan returned to private practice and continued with both civil and criminal defense work. He represented former top Chicago cop William Hanhardt on charges of masterminding a jewel-theft ring, and was counsel to alleged Chicago mob boss Sam "Wings" Carlisi. In 1986 he was asked by the late Mayor Harold Washington to investigate allegations of corruption at Chicago City Hall and issued both a private and public report that proposed improvements for the city's ethics ordinance and contracting processes.
As the next decade passed, Sullivan says, "My career took a shift. I consider myself extremely fortunate, as I move into elder statesman category. When you get to a certain age, you're not hired as much, which is the way life is."
In 2000, Sullivan was appointed by then-governor George Ryan to co-chair the Commission on Capital Punishment. He was one of 14 members who worked for two years and crafted a report that included 85 recommendations for reform and helped persuade the governor to commute all death sentences.
Turow, who also served on the governor's commission, credits his mentor with being the driving force of the group. "He was without question the hardest-working member of a very hard-working group," Turow says. "He brought extraordinary rigor to our deliberations."
Sullivan is now campaigning to enact one of those reforms: requiring police departments to record custodial interrogations in all homicide cases. More than 500 police departments voluntarily record interrogations already, though only 10 states require it. Across a length of bookcase in Sullivan's office are binders of research on the subject. "The police who give it a try can't say enough about it," Sullivan says. "Law enforcement has been its biggest opponent, and yet it's the biggest beneficiary."
Sullivan says working on the interrogation issue and the capital punishment reforms are among the highlights of his career. "That has given me a raison d'etre as I phase out of the practice and look for something meaningful to do," he says.
A couple of years ago, reading The New York Times, he found it. The Center for Constitutional Rights needed lawyers to represent prisoners at Guantánamo Bay. Sullivan agreed to represent seven men who were being held as alleged terrorists, without charges, by the U.S. military. Since then, he has traveled to the base five times, written passionately on due process in op-ed pieces and for law publications, and testified before the U.S. Senate Judiciary Committee. He told members of the Senate about the injustices done to a policeman from Saudi Arabia who has a wife and four children. This client took a leave of absence from the force in 2001 to do human rights work in Afghanistan and was sold out as an alleged terrorist to U.S. forces.
"He had nothing to do with al-Qaida or the Taliban," Sullivan says with a sense of outrage. "When the U.S. invaded in October 2001, he and others fled to Pakistan, where he was sold for $5,000 to U.S. forces and taken to Guantánamo."
His client, a devoutly religious man, took his imprisonment in stride, and urged Sullivan to read the Koran. "He told me, 'Allah has determined that I got here and when I will get out,'" Sullivan says. "I said, 'Why am I here? Maybe Allah sent me. I didn't get here by accident. I had to fly here from Chicago.'"
Then, without explanation, his client was released after five years of detention and sent back to Saudi Arabia. Sullivan says the U.S. government never notified him about his client's release, and offered no apology and no compensation to the man or his family. Sullivan is still angry about it. "They don't have the evidence to hold anybody," he says. "Most of them, they're just sitting there."
Sullivan's position as elder statesman, as he puts it, is the culmination of a prolific legal career with no end in sight. "I'm still having fun," he says. "If my partners said, 'we'll pay you but don't come to work,' I'd quit. But if they said, 'you can come to work, but we won't pay you,' I'd still come. I don't tell them that. I love working. I love law. I don't play golf."
He may not golf, but Sullivan, a father of three, with four grandchildren, finds time to relax during visits to Santa Fe, N.M., where he and his second wife have a vacation home. He has traveled to Machu Picchu and Bhutan with his daughter Margaret. To stay fit, he takes Spinning classes and lifts weights. He enjoys listening to books on tape, mostly history and biography.
Despite 53 years as a legal advocate, a 19-page résumé and stacks of awards, Sullivan remains uncomfortable with the idea of other lawyers praising his work. "You can talk to partners who will exaggerate my qualities, but it doesn't read well to me," he says. "I've had some interesting cases and have tried to do good. I go by the golden rule."
Yet the accolades continue. Last October, he and Solovy were named recipients of The American Lawyer's Lifetime Achievement Award. "With a lot of these awards I'm given, I almost feel ashamed when I consider who doesn't get awards," Sullivan says. "One of the things that I find amusing is this lionizing. To me, the real heroes are the teachers in the schools, not the lawyers who work for hundreds of dollars an hour and have offices overlooking the lake, but people who teach our children, take care of our houses."
Others might disagree: the prisoners who were paroled or spared from execution because of his work, the African Americans whose discrimination he fought, the Guantánamo detainees he represents. Not to mention a young lawyer who was able to grow up with a father at home rather than in prison.
"He's a hero of mine," says Daniel McCabe, now living in Chicago. "He put so much effort into what surely was not a high-paying case. I want him to know how much it meant."
Thomas McCabe, Daniel's father, wants Sullivan to know it, too. "Thomas Sullivan basically saved my life," says McCabe, who after being released from prison went on to a successful career with a sporting goods company, helped raise three children and is now a grandfather of nine living in Batavia, Ill., with his wife of 40 years. "That's not even close to an exaggeration. Tom Sullivan made a difference."
Search attorney feature articles
Helpful links
Other featured articles
Why Natalie Weatherford only takes sex abuse cases
Lawsuits will increasingly be about the technology designed to prevent accidents
Two attorneys reflect on their Warriors and Kings fandoms
View more articles featuring lawyers
Find top lawyers with confidence
The Super Lawyers patented selection process is peer influenced and research driven, selecting the top 5% of attorneys to the Super Lawyers lists each year. We know lawyers and make it easy to connect with them.
Find a lawyer near you