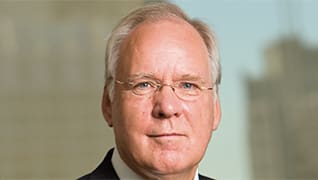 Photo by: Corey Hengen
The Global View of H. Michael Hartmann
The IP attorney crosses borders to protect inventions
Published in 2011 Illinois Super Lawyers magazine
By Kevin Davis on January 3, 2011
As a young lawyer, H. Michael Hartmann helped his boss on two major patent cases that would draw international attention. They pitted an aging, white-haired scientist from Czechoslovakia against U.S. companies hoping to profit from his revolutionary invention: the soft contact lens.
Hartmann, then an associate with his firm, Leydig, Voit & Mayer in Chicago, worked alongside C. Frederick Leydig on behalf of inventor Otto Wichterle, the government-owned academy where Wichterle worked, and a company that owned the U.S. rights to the lens technology. On the other side of the licensing and royalty battles were eye-care company Bausch & Lomb and another U.S. company that stood to reap a fortune.
It was a classic drama in which an inventor fought to protect the invention over which he had passionately labored for years—even though, in this case, the inventor lived in a Communist country and didn't stand to gain much financially.
"It was not about cut-and-dried litigation where we're concerned about some esoteric concept of patent law," Hartmann says. "It was a human story. Wichterle was sort of the archetypical inventor. When you present a case to a jury and ask them what they think of as an inventor, Wichterle is it."
As he worked on the cases, which ended in settlements for Leydig Voit's clients, Hartmann knew he had found his niche. "It got me hooked on patent law," he says.
Hartmann, now president of the firm, is known for his scientific mind and skill at simplifying technical information. Trained as a petroleum engineer, he's as comfortable discussing polymer chains as he is the fine points of intellectual property. His experiences have taken him from oil rigs in the Gulf of Mexico to the High Court on the Strand in London.
But what makes Hartmann stand apart, besides his towering 6-foot-4-inch frame, is his easy nature and ability to connect with colleagues and clients in a way that makes them comfortable.
"There are a lot of IP lawyers out there, but we were looking for someone who would be a strong litigator as well as someone with a lot of technical knowledge," says Stan Ferguson, general counsel for building materials manufacturer USG Corp., who hired Hartmann to represent the company in a major infringement case. "Mike is very strong. He has strategic instincts. He's got a good courtroom style."
In his office at the firm's Chicago headquarters, Hartmann has posted a map of Frankfurt behind his desk. Not only is Frankfurt the city of his birth, it's also the site of the firm's newest international office, which Hartmann visits regularly. The office will handle cases from clients all over Europe who file U.S. patents. It also will give Hartmann the chance to reconnect with his roots. "I'm as comfortable there as I am here, both with the language and culturally," he says. "It's like going home for me."
Hartmann's journey to the United States began when he was 16. His father, a tank commander in the German army, died from complications of wounds during World War II on the Russian front. At the time of his father's death, tensions were building in Germany as the Cold War loomed and Soviet tanks began amassing on the eastern border.
His mother asked the children whether they wanted to move to the United States, where she had a sister. "We said, 'When do we leave?'" Hartmann recalls. "The promise of America sounded wonderful."
His aunt and her husband, an American businessman, lived in Colorado Springs, Colo., so that's where the family moved. Hartmann knew only about 50 words of English, which he had learned in Germany, along with Latin and French. "I learned a lot of English from watching television shows," he says. "America turned out to be everything I thought it would be—the friendliness and openness of the people, the size of the cars, the size of the country. The mountains."
Always athletic, Hartmann played on the tennis team in high school and began to contemplate college. "I guess it was drilled into me from an early day that I was to go into some sort of science or engineering field," he says.
He enrolled in the nearby Colorado School of Mines, which offered programs in chemical and petroleum engineering, his major. After graduating in 1970, Hartmann took a job with Mobil. The company asked where he wanted to be stationed. "Sometimes these oil fields are in very remote places," Hartmann says. "I picked New Orleans, which seemed to me to be a more civilized place to stay."
Hartmann worked on drilling rigs in the Gulf of Mexico, flying out on helicopters to the platforms, where he often stayed up to 10 days.
When he wasn't out working on a rig, Hartmann enjoyed the food, music and cultural diversity of New Orleans. He saw Mardi Gras parades pass through his neighborhood and frequented some of the city's finest restaurants, such as the Commander's Palace, where he was especially fond of the bread pudding soufflé.
Two years after moving there, he married his college girlfriend, Kay, an education major who wanted to pursue a teaching job closer to her hometown of Oak Park. Soon they talked about settling there and starting a family.
Hartmann knew he didn't want to work on oil rigs forever and wasn't interested in getting transferred to remote locations around the globe. So he decided to take classes to earn an M.B.A., paid for by Mobil, and had an epiphany. He realized that in business, lawyers had a lot of influence in shaping how a company works. He decided to switch to law and enrolled at DePaul University.
"I loved law school. To me it was not as intimidating as it was for my classmates," he says. "If you didn't know how to read a case and separate wheat and chaff, you were in trouble. But I had experience with this already."
He considered specializing in corporate or antitrust practice, but was drawn to patent law while clerking at Leydig, Voit & Mayer. He continued to work at the firm part time during school and landed a summer job at an IP firm in Stuttgart, Germany. After he returned, Hartmann began considering offers.
Thinking IP lawyers could get lost at bigger firms, Hartmann felt more comfortable working for a specialty firm. He was impressed with Fred Leydig, already a major figure in IP law. "He had a wonderful name and was a very prominent figure in the chemical, IP litigation area and was a great trial lawyer," Hartmann says. "I was very fortunate to become his protégé."
When Leydig offered him the chance to work on the Wichterle contact lens case, Hartmann jumped. "It was a great case. I had my first chance to stand up in trial and do Q-and-A of witnesses and put on evidence," he says.
Bausch & Lomb was manufacturing soft contact lenses under a sub-licensing agreement with the National Patent Development Corp. In the late 1960s, National Patent had purchased the rights to Wichterle's patents from his employer, the state-controlled Czechoslovak Academy of Sciences. Now facing financial problems, Bausch & Lomb was challenging the validity of Wichterle's patents. It was clear that soft lenses were going to be an immense success and that royalty payments would be substantial.
On the other hand, if Bausch & Lomb lost, the company might not survive by manufacturing only hard contact lenses, which were on the way out. It settled, agreeing to pay a one-time licensing fee in the millions. Wichterle received just a small portion of that money, with most of it going to National Patent.
Yet another U.S. firm decided to challenge Wichterle's patents, and that case was set for trial in Los Angeles. Getting Wichterle to the trial was crucial. "You have to have the inventor to tell the story of the invention," Hartmann says. "We needed him at the trial."
The case involved an element of international intrigue because Wichterle, a supporter of democracy, was a controversial figure in Czechoslovakia. The government did not want him to travel to the U.S. "They were afraid to let him go because they were afraid he would defect—so they sent him with this person," says Hartmann, "to watch over him."
Hartmann impressed his boss and colleagues when cross-examining an expert witness during the trial.
The witness, an ophthalmologist, claimed Wichterle's patents were invalid. But Hartmann, with the help of Wichterle, was able to track down the expert's own research documents that contradicted his testimony. In the end, the judge ruled in favor of Hartmann's client, noting that the expert had been discredited, and the company settled rather than pursue an appeal.
But again, because Wichterle lived under Communist rule, he received scant compensation. "It was amazing how little he benefited from his invention," Hartmann says. "It was the U.S. licensees who benefited the most, and we are talking about hundreds of millions of dollars."
While the Wichterle case was a career highlight, Hartmann went on to represent a wide range of clients, from Microsoft—which was involved in a dispute over its Internet Explorer browser—to a woman who invented a children's sippy cup.
One of Hartmann's long-term clients is Pall Corp. of Port Washington, N.Y., which manufactures filtration systems. Michael Forzano, intellectual property counsel for Pall, says he has Hartmann's phone number memorized.
"I've never seen an attorney that's had such an easy way of representing a complex infringement case," Forzano says. "Mike is able to take it down to whatever level is necessary."
During an infringement trial for Pall in New York, an opposing witness, a scientist, said he had examined the defendant's filter samples and concluded they did not contain Pall's patented structure. That night, Hartmann had employees at Pall review samples under one of their microscopes. The next morning, when Hartmann questioned the scientist about those samples, the scientist said the microscopic picture was not clear enough to make a conclusion. At which point the judge pointed out that, on the previous day, the witness seemed to think microscopic pictures were clear enough for him to interpret.
"He just unraveled the guy. It was a tremendous cross-examination," recalls Hartmann's colleague, Mark Phelps, who assisted on the case.
The scientist said he had made a mistake. "He apologized to the court and jury," Hartmann says. "That's very rare that your opposing witness apologizes during a trial."
Hartmann took it a step further. "I said to him, 'Don't you think common decency requires you to apologize to my client, Dr. Pall?' And I just sat down. What was he going to say?" Hartmann says. "The case was settled shortly after that. The jury was completely with us."
In patent law, sometimes people make honest mistakes; sometimes two inventors come up with similar ideas. But only one can hold the patents. "There are blatant copies, and there are patents you can question the validity of," Hartmann says. "The law talks about an invention being 'unobvious.' To get a patent it has to be unobvious, which is something we fight over all the time. What does that mean?"
Such concepts become even more complex on the world stage, especially in places such as China, where scientific and engineering developments are shifting the economy and IP concerns are relatively new.
But it's just the kind of challenge to engage someone like Hartmann, who has always had a global outlook. He speaks fluent German and English—plus a bit of French and Dutch. As a member (and former chair) of the U.S. delegation of attorneys to the Administrative Council of the European Patent Organisation, he meets regularly with leaders of the European Patent Office to shape patent law, rubbing elbows with the likes of French scientist and politician Alain Pompidou.
Hartmann's success comes as no surprise to his mentor, Fred Leydig, who is now retired. Hartmann, he says, "turned out to be everything that I had hoped."
Search attorney feature articles