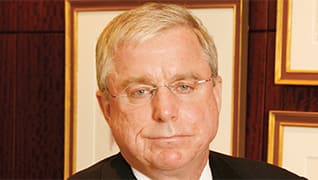 Photo by: Larry Marcus
The Lawyer Who Brought Down a Governor
How Joseph Power and a "gotcha" moment caused George Ryan's downfall
Published in 2007 Illinois Super Lawyers magazine
By Nancy Shepherdson on January 4, 2007
Joseph A. Power, a soft-spoken, taciturn lawyer, lives for Perry Mason moments—those supremely satisfying "gotcha" moments when, under intense grilling, a guilty party coughs up an admission.
In October 1997, for example, a young woman swimming in Lake Michigan had her foot chopped off by a boat propeller. In court, the police officer on the scene stated he found the foot 157 feet offshore, where no reasonable swimmer should have been. The captain of the commercial boat said the same. Power went to work. Not only did he find news footage of the officer emerging from the water and saying he found the foot 20 yards offshore, he also discovered that the captain and the police officer were friends, a connection they covered up. "They were obviously working together, and I was able to get the police officer in a 'gotcha' on the stand. He didn't know what hit him." The verdict against the captain's company? Thirteen million dollars.
Or take the case of the Willis family, who lost six children in 1994 in a fiery crash caused by an unqualified truck driver. When Power walked into a deposition with Marion Seibel, a supervisor at the Secretary of State's driver's license facility in McCook, on Nov. 4, 1998, he didn't know what he was after; but he soon unearthed enough information to eventually bring down Gov. George Ryan.
First, Power got Seibel to admit that she had personally taken $82,000 at the driver's license facility, earmarked for Ryan fundraising events—a violation of election law. "I don't think she knew where this was heading," says Power, explaining why the woman would blithely admit to a criminal act in a deposition. "She was proud of the fact that she had raised a lot of money and so deserved the position she had."
Seibel also admitted she knew that Ricardo Guzman, the driver of the truck that lost a mud flap/light housing that the Willis' van ran over, was unqualified for a commercial license because he couldn't speak English. But since Guzman's brother's trucking company was prepared to give a "campaign contribution" to then-Secretary of State George Ryan, Seibel gave him a license and told Power so in the deposition.
Then Power dug deeper:
Q: Would you say the overwhelming majority of the tickets you sold were to trucking companies and truck drivers, things of that nature?
A: Trucking companies, truck drivers. Well, I guess builders. I don't know. I would have to go and look at things [her records] because I haven't looked at them for a long time, like I said.
Q: But do you have them at your home?
A: No. I don't have them at home. I have them put away so nobody gets them.
Q: Where do you have them put away?
A: I have them put away.
Q: Where are they put away?
A: I have them. I have them at a friend's house.
Q: OK. And will you provide us copies of them?
A: If you subpoena them, I would have to, wouldn't I?
And there it was: the gotcha moment revealing the existence of a record of the payments Seibel had taken and from whom. No one had ever known of this previously, says Power, outside of the employees at the McCook driver's license facility who were exchanging driver's licenses for campaign contributions. "It was the first time she revealed that she had kept records," Power remembers.
Other Power depositions in the case soon followed, 120 in all, from involved parties at the Secretary of State's office and the Inspector General's office. The U.S. Attorney's office, which had declined to pursue the political machinations behind the deaths of the Willis children even as George Ryan was running for governor, suddenly had the evidence it needed to start prosecuting. "I took all the depositions to the U.S. Attorney's office," Power says, suddenly breaking into an uncharacteristic grin. "They might not have embarked on [the Ryan case] if we had not put it all together."
In the civil case, Power persuaded the six corporations who were responsible for the truck (with a loose part) and the van (with a fragile gas tank)—namely, Transamerica Leasing Inc., Allied Products Corp., Hammer Express Inc., Hanjin Shipping Co., Burlington Northern Railroad Co. and Chrysler—to settle for a record $100 million.
In the criminal case, Seibel was convicted of racketeering as part of the "licenses for bribes" prosecutions, formally known as Operation Safe Road, which resulted in 75 convictions and guilty pleas by government officials, including former governor Ryan.
Power never set out to bring down the Republican governor, who was recently sentenced to six and a half years in prison. Even though Power is a loyal and generous Democratic donor, not to mention the son of the late Mayor Richard J. Daley's law partner, he seems genuinely mystified that anyone could have ascribed political motives to his work on the Willis case, as critics did for years. "No one wanted to believe that politicians would knowingly endanger lives," he says. "But no one [talks about political motivations] since the convictions."
Power, 54, doesn't like to talk about himself. Cases he'll talk about all day; himself, not so much. Even talking cases, he'll minimize the astonishing level of awards he's earned from winning or settling all but one of his personal injury cases. His 41-page bound curriculum vitae lists many of the settlements, and they are nose-bleedingly huge; but the impression Power gives is of someone completely unimpressed by money—or himself.
Pride, after all, is the second deadly sin, and Power was an altar boy until eighth grade at St. Gabriel's Parish in Canaryville, part of the Back of the Yards neighborhood. "There was a terrible smell there that you got used to, and the sound of sheep crying as they are led to slaughter," Power remembers. "My grandma and grandfather ran a bathhouse where the working people would pay a nickel for a shower; it was still operating when I grew up. I learned to appreciate regular people." It's certainly hard to put on airs in a place like that.
Hard to put on airs, too, when your father is a hard-working government employee with eight kids to feed. Joe Power Sr. became a judge when Joe Jr. was still in grade school, and he was sworn in by Richard J. Daley, his former law partner and newly minted Cook County clerk. Joe Jr. was a stand-out baseball player on his Little League team, which went undefeated the summer before he entered high school. But sports had to take a back seat to earning a living when he was just 15.
His first job was as a stock boy in a neighborhood drugstore. He earned his working man's stripes at age 16 with jobs as an apprentice pipe fitter and a furniture deliverer. "You see people who are still delivering furniture at 50 and they look 75. You learn to appreciate what an education means," Power says, remembering what motivated him to get into law school.
"He's not motivated by money in the least but partly by competition and partly by the white-horse syndrome," says John Kralovec, fellow plaintiff's attorney and name partner at Kralovec Jambois & Schwartz. "I remember speaking to him a year or two ago and he was going out on a case that was much smaller in terms of potential damages than we usually take. I asked him why he was doing it. 'I gave them my word,' he said."
Kralovec was not surprised by the answer: "There's no more honest person in the world than Joe. If he tells you something, you can take it to the bank."
Does that down-to-earth attitude come from having had a nononsense Cook County judge for a father? From being a middle child in a family of four boys and four girls? ("I can tell you it wasn't easy to get into the bathroom.") Power says neither. It was his mother who taught him many of the skills he uses today.
"I learned some of my best cross-examination techniques from my mother when I returned late on a Friday night," he laughs. "I learned from her how to pin somebody down on an answer."
Expert witnesses are his prey of choice. "I have learned how to use medical literature effectively—you have to understand it as well as the experts," he says. One of those expert witnesses was the author of a rat study he claimed illustrated exactly the spinal cord injuries suffered by Power's client. Power shot down not only the doctor's testimony but his original study. As the coup de grace, he pulled out a medical treatise that called the doctor's work "incompetent" and his studies "not well thought out."
Power also ended up writhing on the floor in a surgical collar to demonstrate that the rats in the expert witness' study did not actually have the same experience as his client. "Did you throw the rats in an ambulance like my client was thrown in? Did you let them roll out?" he remembers challenging the witness, for the benefit of the jury.
"When you try cases, you become another person," he says. "Your theatrics have a purpose. I have a passion for clients and want them to be compensated for what they've lost."
Soon after the case concluded in a verdict for his client, Power heard from another lawyer that the expert never testified again. "That's how you want to leave experts and defendants: not wanting to see you in court again," he says, almost mumbling. Power's most triumphant statements are usually said sotto voce, as if someone were listening who might get upset that he was taking too much of the credit.
Others are quick to praise him—even defense attorneys that Power meets on the opposite side of the aisle. They admire his ability to prepare airtight cases, especially with only four partners, one of whom, name partner Larry R. Rogers Sr., was one of the first African-American personal injury attorneys in Chicago. Power met Rogers when both were doing menial jobs on Chicago's South Side. Power was working two jobs to pay for law school, and Rogers was looking for purpose in his life while working at a gas station. Power stopped in for gas, and kindred spirits met. They have been partners for nearly 20 years.
"Joe is a bulldog," notes Rudy Schade Jr., partner in the firm of Cassiday and Schade. "He has the sitzfleish—an untranslatable term that really means the ability to sit and do the necessary research. When I see his name on the other side, I know I have my work cut out for me. But he's also a good guy to go out and have a beer with."
In fact, Power remains close to many of his clients and their families. This is perhaps to be expected of a guy who names "photos of my family"—wife Sue, a psychologist, and four boys aged 16 to 24—as the most meaningful objects in his life. He certainly doesn't collect mementos of his triumphs. His office, overlooking a magnificent view of the Chicago Yacht Club and the Bean, is cluttered with files and not much else.
What he collects are friends, starting with Larry Rogers, way back when. Says Schade, "We'll be talking about a case we worked on five years ago, and he'll say, 'Yeah, I just talked to the guy.' He gets very involved with clients and feels he's doing something worthwhile in helping them. It comes across to juries that he cares."
That's how he approaches every case and why he has such a winning record. Only two jury trials, he says, got away from him, and one was reversed on appeal. Like every plaintiff's attorney, of course, he can pick and choose the cases he wants to try. But he tries some no one else will touch, like the Ryan case. "If it had not been for Power, Ryan might have gotten away with his shameful misconduct," wrote Chicago Sun-Times reporter Steve Neal after the licenses-for-bribes scandal had been fully exposed and driven the governor from office.
But Power is characteristically modest about his winning ways and about his role in the largest government-corruption trial in Illinois history. "I try to leave no stone unturned," he says. "I just want to make sure my clients get their best shot."
Search attorney feature articles