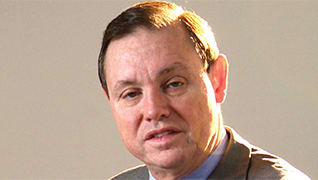 Photo by: Steve Matteo
The Man Who Talked His Way Into Law School
Dan K. Webb has been called the best defense attorney in the country; George Ryan hopes so
Published in 2006 Illinois Super Lawyers magazine
By Patrick Arden on January 11, 2006
Room 2119 of the Dirksen Federal Building is packed — lawyers confer and reporters chat. In the midst of this whirl, Dan K. Webb quietly sits alone at a table, writing on a yellow legal pad. He's just flown in from Washington, D.C., where he is representing Philip Morris in the government's $280 billion trial against the tobacco industry. Now back in Chicago, he's supposed to defend former Illinois governor George Ryan on corruption charges.
But Webb has a problem: He's too busy. The Big Tobacco case has dragged on for four months and will end up taking six more (he's currently waiting for the court's decision) so he needs to push back the starting date of the Ryan trial once again, though U.S. District Judge Rebecca Pallmeyer has already granted the prosecutors' motion to set that date in stone. "I don't think I could in good conscience continue this case again," she said.
Once court is called into session, Webb approaches the bench. He explains that he respects the difficulty of Pallmeyer's position. He didn't mean to mislead anyone — he had mistakenly anticipated that his prior commitments would be completed by now. He understands the desire of prosecutors to get the trial under way, but he also points out that they've spent six long years preparing for this case. He's only asking for five more months. His client has a right to choose legal representation, Webb says, and Ryan specifically picked him, not his firm, Winston & Strawn, as counsel.
Webb's demeanor expresses the earnestness of his request. Pallmeyer is hesitant — everybody's busy, she responds — but she grants his motion to postpone the trial. Webb manages to win this small but necessary victory through a trait all lawyers wish they had: sincerity.
Webb's sincerity may be his most remarkable quality, and it has served him well. In 2003, a survey of lawyers named him the best white-collar defense attorney in America. Journalists have long attributed his seemingly guileless demeanor to his boyish looks. Even at the age of 59, he retains a remarkable air of good-natured innocence. His even temper is backed by a hint of a country drawl, which some may regard as a voice of folksy reason. Fresh from law school in 1970, Webb showed up for a job interview at the U.S. Attorney's office, and the interviewer wrote next to his name the letters "N.B.B.R.": "Nice Boy But Rural."
For former Illinois Gov. James Thompson — then an assistant U.S. Attorney for the Northern District of Illinois and now Webb's boss at Winston & Strawn — there were no buts about it. He recalled his first meeting with Webb for the Chicago Sun-Times: "Looking at him and listening to him talk, I just thought instinctively, 'Here's a guy who can connect with a jury and a judge.'"
That ability to connect owes a lot to Webb's upbringing. Straightforward and unpretentious, his background might seem unusual for a big-city attorney who is rumored to make $750 an hour.
"I grew up in the town of Bushnell, a very small farming community in west central Illinois," Webb says. "My dad was a mail carrier; my mother was a dental assistant. In high school I enjoyed debate class and decided I wanted to be a trial lawyer. That was all I really ever wanted to be."
He attended Western Illinois University in Macomb, enrolling in a program that would allow him to transfer directly into the University of Illinois' law school in Urbana after just three years of college. "Upon completing a year in law school, I would be awarded my undergraduate degree retroactively," Webb says. "But when I got to my third year in college, they abolished the program — they just pulled out the rug from under me.
"I was dead-set on becoming a trial lawyer, and I didn't want to waste another year. The University of Illinois wasn't accepting anyone without an undergraduate degree, and I was determined to not get an undergraduate degree. So I sent my résumé to Loyola University's law school, and I got a letter back inviting me to come up for an interview.
"I had never been to Chicago in my life. I got on a train, found my way to Loyola, and sat down with the head of the law school, a gentleman by the name of Dean Hayes. He is looking at my résumé and my transcripts and all of a sudden says, 'Wait a minute, I made a mistake — these are quarter hours, not semester hours.' And I say, 'Well, Dean, I'm only an undergraduate.' He says, 'We don't accept anyone with only three years.' I then engaged in my first oral argument. I convinced him that he'd called me all the way up to Chicago, I had all these high grades, and I had the fire in my belly to be a lawyer. He just looked at me and said, 'You know what? I'm going to take a chance on you.' And he admitted me. Just like that."
Webb took a job in a bank and attended law school at night, graduating at the top of his class. "I always thought I'd go back home to practice law, but over time I made many friends in Chicago and I fell in love with the city. I also realized that it would be tough to be a trial lawyer in a small town." Then came what he calls "my second big break."
Webb's skills came to the attention of the U.S. Attorney's office. "A guy named Bill Bauer was the U.S. Attorney, and Jim Thompson was the first assistant U.S. Attorney. I didn't know any of these people — I was just a farm kid from downstate Illinois. I went in and did an interview with Sam Skinner, who later became U.S. Transportation Secretary. They were expanding the office at the time, and Bauer, Thompson and Skinner decided to take a chance on this rube kid. I got lucky."
He was a quick study and did well in court, perhaps most notably winning the convictions of Clarence Braasch — the fourth-highest-ranking police officer in Chicago — and 23 other policemen in what Webb calls "an extensive scheme involving tavern payoffs to police." In 1976 he went into private practice, setting up a small shop with three other attorneys. Five years later, at the start of Ronald Reagan's first term as president, he got a call from Senator Charles Percy and the two met at the Ambassador East Hotel in Chicago. "He basically told me he had been doing what he called his 'merit selection process' [for U.S. Attorney]," Webb recalls, "[and] that I had come out at the top of his list … I had become pretty successful in the private sector and I was reluctant to give up everything I had built. But being U.S. Attorney is just such a fabulous and rewarding job. By Monday morning I had made up my mind."
As U.S. Attorney for the northern district of Illinois, Webb directed two major public corruption cases: the Marquette 10 police trial, which involved Chicago cops taking bribes from drug dealers, and the Operation Greylord undercover probe, which exposed judicial case fixing in the Cook County court system. At the time, Webb says, "We didn't know whether jurors would convict judges." Eventually Greylord netted 76 convictions — not only of judges but of lawyers, police officers and court clerks. Yet these massive corruption trials didn't turn Webb into a cynic.
"I simply accepted Greylord for what it was — there were some corrupt judges, and it's best to get rid of them," he says. "I publicly said that the vast, vast majority of judges in the Circuit Court of Cook County were honest, hard-working men and women. We indicted the few bad apples, and it was a big deal. But people never appreciated the fact that basically Cook County has a very good bench with very solid judges."
Soon there was widespread speculation that Webb would run for public office. "When I left as U.S. Attorney, the Tribune ran an editorial urging me to run for mayor of Chicago," Webb says. "I thought about it — I like the action of politics — but ultimately I didn't want to do it. I wasn't afraid of losing; fear of losing has never played a significant role in my life. I just truly loved being in the courtroom. If I followed a career in politics, I'd be pulled away from the law and probably never get back to it again. I made my mind up that politics wasn't going to be as enjoyable as being a trial lawyer."
When Webb returned to private practice in 1985, he became a partner at Winston & Strawn. He was periodically called back to public service, taking seats on various boards, and acting as an independent counsel during the Iran-Contra affair. He prosecuted John Poindexter, Ronald Reagan's national security adviser, and won raves for his thorough examination of Oliver North. Nina Totenberg of NPR even called him "the best prosecutor I have ever laid eyes on." He also deposed President Reagan.
"I always had enormous respect for President Reagan and still do," Webb says. "I had to get firm sometimes to make my points. But at the same time I was very cognizant that, when the jury someday would hear his testimony, if I did not treat the president with the proper respect, the jury might resent me for that. … I thought I did a pretty good job of it."
In 1990, Webb unsuccessfully defended David Shields, a Cook County judge accused of taking a bribe. Suddenly, he was on the other side of a case-fixing trial, but, he says, "I never noticed a huge difference between being a prosecutor and being a defense lawyer. You use the same skills. … It's easier to win cases as a prosecutor, because you have all the power of the federal government on your side. It's harder to win cases as a defense attorney. But quite frankly that type of challenge is what I like about being a defense lawyer."
In recent years, Webb has gained notoriety for defending high-profile clients, including large corporations, like Microsoft and General Electric, and famous politicians, such as Dan Rostenkowski and George Ryan. But he downplays the challenges of defending big names.
"In every case you have a set of facts, a body of law and your skills as an advocate," he says. "Those are the three things you have going in … Now wrapped up in all that is a lot of hard work and a lot of perspiration. But what you do in the courtroom is the same whether the client is prominent or not — the same skills, the same work ethic, with the same goal in mind, which is to somehow find a way to prevail on behalf of your client.
"If the media pays attention to your client, that's just an additional consideration you have to deal with — potential jurors may have already developed views on your client. Any good lawyer will try to find a way to manage the press, because you need a level playing field by the time you go to trial. Your job is to minimize negative publicity, try to put your client's case in a positive light, so that by the time you start picking a jury you don't find yourself in a hole. But that all happens before the trial starts. Once the trial starts, the fact that you have a lot of media coverage does not affect the way you handle the case."
George Ryan has been the subject of intense press scrutiny, especially during his single scandal-plagued term as governor. Federal prosecutors are accusing Ryan of awarding state contracts to friends in return for cash, loans, trips and gifts. Webb says the former governor is by no means a rich man: "He lives on a pension and Social Security." But finding sympathetic jurors might be a challenge.
"Through jury selection, we will try to find people who appear to have not been influenced by press accounts and can set aside what they've read to be fair and impartial," Webb says. "I won't know if I can do that until I go through the process."
Over his career, Webb has tried more than 100 jury cases. "I would much prefer to try a case before a jury than a judge. There are plenty of fine judges who will give you a good trial. But to my mind our system of justice depends on bringing 12 people into a box who can be fair and impartial. And you get to use your skills as an advocate to convince them. I strongly believe that no matter how complex a case is, lawyers can find a way to explain a case so that jurors will understand it and reach the right result. In the final analysis, jury trials are much more rewarding than bench trials. I am constantly amazed at how jurors can cut through irrelevant material, how they can get to the nub of a case. Even in complex civil cases, they can do it."
Webb is known for his strong work ethic. Some years, he says, he has billed more than 3,000 hours. That's meant spending significant time away from his family. "It's the biggest negative about my profession," he says, but he's made it work. He and his wife, Laura, have been married for 33 years, and four of their five children are now grown and on their own. On the other hand: "Not one of my children has become a lawyer," he jokes. "They probably saw what my life is like."
Search attorney feature articles