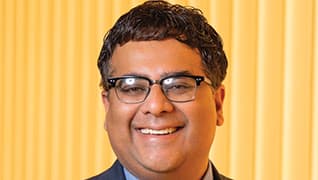 Photo by: Todd Rosenberg
The Simple Story of Raj Shah
The litigator masters the facts, then focuses on the critical issue
Published in 2020 Illinois Super Lawyers magazine
By William Wagner on January 30, 2020
Raj Shah's story doesn't begin anywhere near the plush Chicago offices of global firm DLA Piper, where Shah, 46, is a partner and chair of the Chicago litigation group. To get to square one, you have to travel five-plus decades back in time and nearly 8,000 miles to the city of Rajkot in Western India to find Raj's father, Niranjan M. Shah.
It is, Niranjan says, "a simple story."
In 1964, with little money in his pocket, Niranjan embarked on the long, uncertain journey to America, determined to make a better life. After settling in near Dearborn, Michigan, he married Jayshree and the couple had two children.
"The emphasis at home was on education," recalls Raj. "That played a significant role in my development. I was about wanting to make all the same sacrifices [my parents did], and to pay it forward and make sure my children would have even more opportunities than I did. That's what drove me. I wanted to take advantage of the opportunities I was afforded, make the very most of those chances."
By the time Shah was a freshman in high school, his father had earned a master's degree and was in the middle of a 30-year career as an engineer at Ford Motor Co. His experience came into play when helping his son pick from a list of elective classes.
"I looked at the list," says Niranjan, now 78. "There were maybe 30 different things, like carpentry and cooking. One that caught my eye was debate, and I asked him to take it. He asked, 'Why?' I said, 'Communication is very important in life.' At first, he didn't say anything. Finally, he said, 'I'll take it,' as if he was doing a big favor for me."
Shah now looks back on that conversation with his dad as a seminal moment in his life.
"My dad explained to me that one of the things he felt was limiting in his career was communication, because English was his second language," he says. "He lacked the self-confidence in presenting and even speaking up in meetings. He never wanted us to feel that way. He wanted us to have the ability to be persuasive public speakers."
Shah performed well enough in his first debate competition to bring home a small trophy. As the years passed, the trophies grew bigger and multiplied—trophy upon trophy upon trophy. Shah went on to debate as an undergraduate at the University of Michigan, where he has been honored among its "Notable Debate Alums." Enrolling at the University of Michigan Law School was the obvious next step.
"Debate shares a lot of similarities with the law," Shah says. "There are two sides to a question, both sides argue their position, and it requires the ability to speak persuasively. What are the important arguments you want to make? Sometimes you're the winner, sometimes you're the loser."
He got his J.D. in 1998, and the courtroom was calling. "Being a litigator was where the fun would be for me, for sure," he says. "I was fortunate enough to get an offer from most of the major law firms in Chicago. I chose Rudnick & Wolfe because it was known for getting people into court right away. I wasn't as concerned about how big the cases were. I just knew I needed to get in front of a jury and learn those skills as fast as I could."
As the firm grew in a series of mergers (ultimately becoming DLA Piper), so did Shah's stature as a commercial litigator. Soon he was handling matters on behalf of Fortune 500 companies. It was like the debate trophies all over again.
"The firm got bigger, and we started to move upstream," he says. "I now had the foundational skills to work my way through a case from start to finish and know what might be important to a jury. What I really benefited from was the real-world, on-your-feet practical experience at an early age. Then you mature into these complex matters."
One such case was United Air Lines, Inc. and American Airlines, Inc. v. the City of Chicago, in which the two airlines filed a multibillion-dollar lawsuit to stop a planned 2011 expansion of O'Hare International Airport without the airlines' contractually mandated approval. The dispute garnered headlines nationwide.
"The case was a challenge because of the need to balance improvements at O'Hare and the airlines' rights as the parties who ultimately would bear a significant portion of the costs of those improvements," says Shah. "The case involved many other constituents with sometimes competing interests, so navigating those interests to reach the best solution was difficult—and, ultimately, first required filing a lawsuit to explain the airlines' rights and why they needed to be respected. The case settled quickly and led to a balanced and measured resolution that preserved the parties' strong working relationship moving forward while ensuring improvements would be made but at the right time and manner."
He navigated the situation there—as well as in cases involving the rental car industry, healthcare companies, credit bureaus and more—in no small part because of his ability to take the complex and simplify it.
"He is usually the smartest person in the room while also the most plainspoken," says Eric Roberts, a trial lawyer who has worked under Shah's wing since joining DLA Piper eight years ago. "He does a very good job of speaking to everyone, from the counsel to the judge. Raj's best trait is that, after mastering everything, he flushes out 90 percent of the argument and focuses on the one critical issue. What is the one thing the judge is going to want to know, and what answer are we going to have for the judge when the question comes?
"I go back to something my dad taught me, which is to be overprepared," Shah says. "That's just the way I have to be. I spend a great deal of time anticipating all sorts of things, the curveballs that might be thrown."
He adds: "One of the things I love most about my job is I never have the same issue on my desk. Every day is a different question to be answered. One day I'm dealing with a technology company, the next I'm dealing with a pharmaceutical company. I get to learn something new every day. I have a range of clients that expose me to so many interesting challenges."
In 2014, Shah joined the team that worked on the Senate confirmation of Vivek Murthy as the 19th surgeon general of the United States. 
"He was a very close friend of my brother's at school," Shah says of Murthy. "When he was nominated, he was looking to build out a team of people to help with the confirmation process. It was a bunch of people who hadn't done something like this—a lot of novices, rookies. We helped him tackle issues, formulate positions and evaluate questions that might be asked. Ultimately, we were able to collectively see him through to confirmation. I can't tell you how personally rewarding it was to be sitting in that room when the senators were doing their diligence on him in the confirmation hearings. It's a point of personal pride that it was a person of Indian descent whom we were able to help."
Shah currently heads up DLA Piper's India initiative office for the U.S. He was also the recipient of the prestigious Pride of India Gold Award from the Non-Resident Indian Institute in 2005 for accomplishments and contributions to Indian Americans.
"Ours is a global law firm, which has a lot of appeal to me," Shah says. "At the end of the day, I believe the principles of globalization prevail. Our clients increasingly have needs abroad, and our firm is uniquely positioned to take advantage of those opportunities. One of the areas I saw to be a natural tie-in was India. And, of course, that's my heritage."
Shah teaches young lawyers like Roberts the same lessons about integrity and honor that he has learned from 
his dad.
"Raj is a lawyer's lawyer," Roberts says. "He sees his profession as a calling. He believes very firmly in the role we play as far as serving as officers of the court. He tries to facilitate an atmosphere of trust within his profession. He's been the ultimate mentor."
"I want to make sure I leave behind great teams of lawyers," Shah says. "What will the face of law look like? It's not just equal access to justice—it's making sure we have a profession that's inclusive and diverse, one that reflects society. That's a frontier we still have to conquer."
---
Supermax Shutdown
As a commercial litigator, Raj Shah found himself in new territory when he joined a group of DLA Piper lawyers to work pro bono on Westefer v. Snyder, a civil rights class action suit filed on behalf of inmates in the supermax Tamms Correctional Center in southern Illinois. 
The suit, originally filed in 2000 by the Uptown People's Law Center, contended that inmates were transferred to the notorious prison without due process. 
"It was an incredibly burdensome case to take on," Shah says. "Without overgeneralizing, supermax prisons push the bounds of what is humane. Inmates are in isolated cells for over 23 hours a day—there's absolutely no interaction. The sensory deprivation starts to do things to your brain."
In 2010, after a decade-long legal slog, the district court granted some of the relief the plaintiffs sought. Three years later, the prison closed.
"These are individuals who have been convicted of horrible crimes," Shah says. "But that doesn't mean the constitution doesn't apply."
Search attorney feature articles