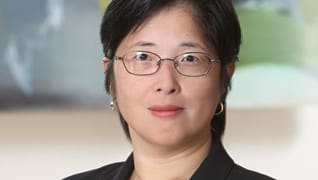 Photo by: Corey Hengen
Treating the Whole Patient
Li-Hsien "Lily" Rin-Laures is an M.D., but these days she's healing biotechs
Published in 2014 Illinois Super Lawyers magazine
By William Wagner on January 13, 2014
The hard part of telling the story of Li-Hsien "Lily" Rin-Laures, M.D., is deciding where to begin. Maybe at age 13, when she enrolled in Johns Hopkins University? At 21, when she earned a medical degree from Northwestern University? At 25, when she tacked on a law degree from Harvard? Or perhaps at 34, when she became general counsel of publicly held Hyseq Pharmaceuticals Inc.
Any of the above would be headline material, but the logical place to start is in the here-and-now. Today, Rin-Laures, 47, focuses on intellectual property law as a partner at Chicago-based Marshall, Gerstein & Borun, where the emphasis on biotechnology enables her to meld her knowledge of law and the sciences.
"You can tell from my medical background that it suits me well to work in an area of the law that deals with therapeutics," Rin-Laures says. "It's really my passion. You work with individuals who are making a difference in people's lives."
Since joining the firm in 1993, she has, among other undertakings, helped companies with patent strategy on a number of approved drugs, including InterMune's Esbriet, used to treat a type of fatal lung disease called idiopathic pulmonary fibrosis. She was also on the team that prosecuted a U.S. patent covering Amgen's Enbrel, for rheumatoid arthritis.
"She's very good in terms of counseling our clients on how they should advance the intellectual property coverage for their products," says Jeff Sharp, managing partner at the firm. "Lily is very directed in cutting to the essence of an issue. That's what our clients appreciate. We sort of enjoy the practice and theory of law, but at the end of the day, our clients want practical business advice. She's extremely skilled at obtaining [patent] protection for them."
Rin-Laures' original plan—to become a doctor—was derailed by a simple realization during her third year of medical school at Northwestern: "It turns out that I'm queasy about blood and bodily fluids," she says.
She completed her medical degree anyway—and why not? At 21, she had plenty of time.
Rin-Laures grew up in Elkton, Md. "My mom taught me how to read, and I thought everyone could do that," she says. "In kindergarten I could read chapter books, and I remember being surprised that the other children didn't know their letters and didn't know how to read." She soon discovered that she was a uniquely gifted child, skipping several grades before enrolling at Johns Hopkins in 1980 as part of a program called the Study of Mathematically Precocious Youth. At 17, she became the youngest female student to graduate from the university. There were some drawbacks. "Well, obviously I didn't go to the high school prom," she deadpans.
The daughter of Chinese immigrants, Rin-Laures reached her first fork in the road when she decided not to practice medicine. Her father was an aerospace engineer and her mother a doctor; they had always assumed she would follow in one set of their footsteps. "My parents wanted me to be an engineer or a doctor, which are typical, safe careers for Asian immigrants," Rin-Laures says. "They were terribly concerned."
After completing her medical degree at Northwestern in 1988, she stayed in the Chicago area and sent resumés to various companies, including Marshall, Gerstein & Borun.
"She originally applied here for a secretarial position," Sharp recalls with a laugh. "The person who was in charge of recruiting at the time had her resumé, and he said, 'Look at this. I think there are some other things we can have her do.'"
Rin-Laures spent a year at the firm, first as a technical specialist and then as a patent agent. She became so fascinated with the burgeoning field of biotech IP law that she decided to pursue a law degree.
"Lily really is a genius," says Laura Handley, one of Rin-Laures' Harvard classmates who is now a senior counsel in the New York office of McKool Smith. "She was able to shift from the science world to the legal world very easily. I saw other classmates with a science or engineering background who did not do that so easily. It was yet another example of Lily being able to absorb things like a sponge and convert them with easy grace into explanations that were clear and simple. That's a gift for a lawyer."
Following her graduation from Harvard in 1992, Rin-Laures clerked for a year for the U.S. Court of Appeals for the Federal Circuit, which hears patent appeals, before returning to the firm that had spurred her interest in the law. "[Now-retired partner] Michael Borun was a pioneer in biotechnology patent law," she says. "It was a firm that was doing sophisticated, complex work for commercially important products. I loved it."
In 2001, she became general counsel of Hyseq Pharmaceuticals. After two years, Rin-Laures returned once again to Marshall, Gerstein & Borun. She says the experience at Hyseq helped to make her the attorney she is today.
"It gave me insight into the pressures executives face and how intellectual property is just one of many tools to achieve business goals," Rin-Laures says. "It's important to protect your product so that others can't copy it, but that's just one piece of the puzzle. You have to have a product that actually works; you have to have successful development; you have to have a team that can sell it. As general counsel, you're exposed to all the legal issues of the company. So now that I've gone back to my first love, which is intellectual property, I think I can give people more holistic advice. I treat the whole patient, not just the finger."
She is also focused on helping others within her firm.
"One of the things we've done for at least a dozen years is have associates review all our partners, particularly in the context of trainers and supervisors," Sharp says of the firm, which has about 80 attorneys. "Lily is probably the top-reviewed person in that group. She stands out as far as the quality of the training she provides and the number of associates she trains."
Heather Kissling, who joined Marshall, Gerstein & Borun in 2007 and subsequently became a partner, is among the many attorneys to benefit from Rin-Laures' tutelage.
"She has provided me with opportunities for client contact, much like an apprenticeship," Kissling says. "I've been able to accompany her to meetings and really observe how she practices. Back in the day, that was sort of how you became a lawyer, through apprenticeships. … The way Lily mentors people has that same flavor."
Rin-Laures places particular emphasis on helping women, who she says "don't necessarily have the same old-boy network to fall back on." She was part of a group that founded the Chicago Chapter of Women In Bio in 2011, an organization whose mission is to promote the careers, entrepreneurship and leadership of women in the life sciences. Rin-Laures participates with her typical zeal, serving as chapter president in 2011 and 2012.
"It's about connecting women, from the highest levels down to women just out of graduate school or college who are looking for their first job," she says. "It's very important for me to encourage them to do their best and to show them positive role models."
She's also raising her three kids, who range in age from 10 to 16. She pared down her work schedule to about three days per week after having her third child in 2003.
"You can't be a full-time mom and a full-time lawyer—you just can't do both at the same time," she says. "But I think you can be part time at each and do a good job. It works for me, but there's a lot of juggling and a lot of relying on my team [at the firm]."
Parenthood has led her into new territory, such as teaching Sunday school and being a Girl Scout leader. Though these pursuits are different from, say, securing patent protection for a groundbreaking drug, they are nevertheless gratifying.
"I think having a part-time [work] schedule allows me to be a better human being overall," Rin-Laures says. "I would like to live a complete life that has a positive influence on other people. Maybe that's the common denominator in all of this."
Search attorney feature articles