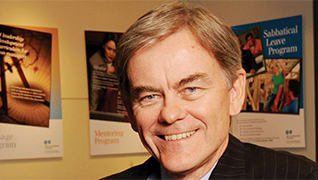 Photo by: Debra Mae Funderwhite
True Blue
Roger Wilson helps revitalize the Blue Cross and Blue Shield brand
Published in Business Edition Super Lawyers 2010 magazine
By Kevin Davis on August 27, 2010
One morning last spring, Roger Wilson walked into his Chicago office to find an oversized three-ring binder on his desk. Enclosed was a copy of the 2,000-page health care reform bill, recently signed into law by President Barack Obama.
"This is a good sign for lawyers," he says from the Michigan Avenue high rise. "This is going to keep lawyers busy for a long time." 
As senior vice president, general counsel and corporate secretary of the Blue Cross and Blue Shield Association (BCBSA), Wilson is adept at wading through health care law complexities. He oversees the legal side of a national federation of 39 community-based companies, which provide nearly 100 million Americans with health insurance in all 50 states, the District of Columbia and Puerto Rico.
"Here's the challenge of this job," he says. "There are 39 independent companies, and you have to persuade them that it's in their best interest to impose requirements on themselves, and, notwithstanding the fact that the compliance may be costly, such requirements will enhance the reputation of the system and the Blue brands."
At times, it has been a seemingly impossible task. In the late '80s and early '90s, when Wilson began working with BCBSA, first as outside counsel and then in-house, several of its companies were facing financial challenges. The association itself faced antitrust litigation and challenges to its ownership of the brands.
Wilson helped guide the Blue Cross and Blue Shield System through those tumultuous times, unifying a once-fractured collection of companies into a solid federation with financial accountability.
"[Roger] is a Renaissance lawyer who has really conquered the challenges of gaining expertise of a general counsel who has covered all areas of the law," says Miles Alexander, a partner with Kilpatrick Stockton in Atlanta who was hired as outside counsel during those trying times. "And he has been able to call on the best lawyers in the country and both understand them and supervise them."
Wilson grew up about 20 miles from his office, in the north suburbs of Chicago, where he attended New Trier Township High School. There he was a member of the speech and debate teams, and co-hosted a student radio show about contemporary news clients, including legal issues. He used his oratory skills at Dartmouth College where he was a news reporter, news announcer and a disc jockey on the college radio station, which served the Upper Connecticut River Valley, when he wasn't studying U.S.-Third World relations as a history major.
His high grade point average (he graduated summa cum laude) earned him a coveted spot at Harvard Law School, where he met his future wife, Giovinella Gonthier, a graduate student who would later serve as an ambassador to the Seychelles Islands. The two married at Cambridge City Hall in 1975.
As a first-year law student, the grind of studying case law—and an appreciation for the Socratic method—inspired Wilson to pursue trial law. "What appeals to me is the client contact," he says. "You're talking to people; you have an opportunity to go to court and try cases."
His first job out of law school was with Kirkland & Ellis in Chicago. "In the legal business, it takes years, if not decades, to develop judgment—and Roger had that," says Jim Rankin, one of Wilson's mentors from the commercial litigation department. "He doesn't have a personal agenda. He's knowledgeable about his clients, the issues, how events are unfolding and about the past." 
As an associate, Wilson helped defend one of the firm's biggest clients: Blue Cross and Blue Shield Association. He handled antitrust matters as well as lawsuits brought by subscribers and providers. "Antitrust had been one of my favorite courses in law school," he says. "The application of these laws to a sector of the economy that until that time had not been subjected to extensive antitrust analysis proved very interesting and challenging to me."
In 1986, BCBSA asked Wilson to become its general counsel. The association's then-president, Bernard Tresnowski, was confident in his choice. "I have a deep belief in results, and to never confuse effort with results," he says. "That's Roger. He got results and he knew exactly where we wanted to go."
Results were imperative. In 1990, a Blue Cross and Blue Shield company in West Virginia collapsed financially, losing $69 million and leaving more than 50,000 policyholders without coverage. Other Blue Cross and Blue Shield companies were in danger of bankruptcy. The organization had little control or financial oversight of its licensees and feared its reputation was quickly sinking.
Wilson, the rest of the executive team and the CEOs of certain BCBS companies called for a "constitutional convention" to evaluate the system from top to bottom. The goal was to create a BCBSA governing structure in which all BCBS companies could participate while giving BCBSA more authority to oversee all the BCBS companies, and thereby ensure that there were adequate financial reserves to pay claims, and deter risky investments.
The convention, or "the assembly of plans," lasted from 1987 to 1990 with quarterly meetings to hash out details.
"[The executives] were afraid the system was falling apart," says Alexander from Kilpatrick, who was tapped for his trademark expertise during the assembly. "I think Roger was brilliant in his tactics of not alienating the plan executives. He was really trying to regulate things and he tried to draft something everyone could agree to."
Blue Cross and Blue Shield Companies were reluctant to give up some of their autonomy, and Wilson tried to persuade them that protecting brand identity and reputation were in everyone's best interest.
"I gained a lot of respect for Roger in terms of how he dealt with it," Alexander continues. "Roger convinced people that he was acting in their self interest and he solved their internal problems. Ultimately we got a uniform licensing agreement under him, [which included] an alternative dispute resolution program for addressing disputes within the BCBS System, and revised set of bylaws that permitted all BCBS companies to participate in BCBSA's governance. The whole system is much more cohesive now."
Pausing, he adds, "I've been a lawyer for 55 years and that was the most complex client representation that I've ever seen."
Wilson saw it this way: "You have to have patience and some good political instincts. It's all a consensus-building activity."
After the convention, he downscaled the association's use of outside counsel, and added more in-house attorneys. Today 21 lawyers are divided between its Chicago and Washington, D.C., offices. "This has resulted in significant savings for the association," he says. "The cost difference is immense."
After two BCBS companies were required to plead guilty to corporate felonies in the mid-'90s, Wilson led a successful effort to require each BCBS company as a condition of using the Brands to have a corporate compliance program and a Code of Conduct that met Department of Justice Guidelines. Following passage of the 2002 Sarbanes-Oxley Act, he helped convince the BCBS companies to comply voluntarily with certain aspects of those reforms that were designed to ensure better corporate governance, even though the reforms did not apply to most BCBS companies because they were not investor-owned. "We have really turned our organization around, toughened financial standards and avoided bankruptcies," he says.
On a typical day, he'll walk to work from his condo in Chicago's West Loop neighborhood. By the time he gets there, he'll be greeted by no less than 50 e-mails from staff and association members across the country.
"If I have an issue, he's always available to talk," says Tom Jenkins, general counsel for Blue Cross and Blue Shield of Nebraska. "I get a pretty fast call back from him. You don't get that with a lot of people in his position."  
These days Wilson, alongside the rest of the BCBSA management team, is studying the health reform bill to anticipate how it will affect the association and the 39 BCBSA companies. "We've been very supportive. We want to see people have access [to healthcare]," he says. "What concerns us is the mandate. If the penalty for not having health insurance is less than the cost of health insurance, then someone can say that when they need health care, they'll just pay two or three months of the premium and then they'll be covered, and then stop paying the premium after they no longer need the health care. Jumping in and out of the risk pool in this manner could cause premiums to increase. The question is whether the penalty is enough to get people to buy into and stay in the pool."
He's also cautious to respond to the argument that a mandate will mean more business. "Obviously, we'd like to have more customers," he says. "Our other concern is, 'Will premiums increase, and will there be enough money to address rising health care costs?'"
In his office, tacked up on the wall is a world map marked with pins representing all the places he has visited, from the islands of New Zealand to countries in Africa, South America and Europe. In 2005, he led a BCBSA delegation to China to explore the possibility of licensing a plan there. Before the trip, he began studying Mandarin Chinese to show respect to his hosts.
"I'm really proud of Roger," say Tresnowksi. "He's a first-class human being."
Search attorney feature articles
Helpful links
Other featured articles
Mark Prothero knows it's a label that will stick
How Richard Shevitz put his class action know-how to use for Holocaust victims
Nicole Aldridge-Henry coaches the next generation on more than just law
View more articles featuring lawyers
Find top lawyers with confidence
The Super Lawyers patented selection process is peer influenced and research driven, selecting the top 5% of attorneys to the Super Lawyers lists each year. We know lawyers and make it easy to connect with them.
Find a lawyer near you