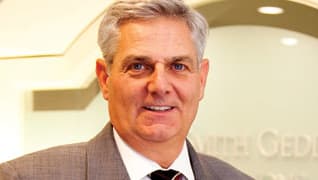 Photo by: Dario Impini
Practicing Law with an Officer's Eye
Theodore J. Blanford draws on his military and police experience in and out of the courtroom
Published in 2012 Indiana Super Lawyers magazine
By Sarah Asp Olson on February 10, 2012
In his 62 years, Theodore J. Blanford has been a cop, a soldier and a military police officer. And he's found a way to apply the skills he learned in each role to his legal practice.
After completing a tour with the U.S. Air Force, Blanford returned to Richmond, Ind., and joined the local police force, rising through the ranks and eventually taking a position as lieutenant with the Indiana State Police. But he grew increasingly frustrated with how cases were prosecuted. That's when he started to think about law school.
"I got to the point where I thought, maybe I can make the police officers feel better about how their cases are being put together," he says.
Encouraged by several judges and prosecutors, Blanford enrolled in Indiana University School of Law, graduating in 1984. He's now been practicing for 26 years and focuses on tort litigation defense, including wrongful death, medical and legal malpractice, and environmental cases. He's worked more than 50 jury trials and argued in front of the Indiana Court of Appeals and the 7th U.S. Circuit Court of Appeals.
Whether he's paging through a police report or standing in front of a jury, Blanford, now the managing partner at Hume Smith Geddes Green & Simmons in Indianapolis, uses his police background and officer's training to suss out the facts and get to the heart of each case.
"When you investigate a crime, you put all the facts together, you methodically tie up all the loose ends, and I think that's helped him immensely as an attorney because he understands how to put a case together," says retired police officer Jim White, a longtime friend of Blanford's. "You do a lot of that as a trooper."
That's not the only police skill that still helps Blanford.
"When you're a state trooper and you're out there on some lonely country road with somebody who may or may not want to go to jail right then and there, you learn how to be tactful, you learn to be diplomatic, you learn to make the right choices and how to ask the right questions so that you get the job done," Blanford says. "That translates over into the practice of law. In litigation, it's asking the right questions, it's figuring out what the real facts are and how they apply to the case."
When Blanford reads a police report, for example, he knows officers are trained to list only impartial witnesses to an accident, omitting the names of relatives or even someone who was in the car at the time of the incident. "To a lawyer, a witness is anybody who sees, hears, does anything," he says. "When we were police officers, if they had some type of bias then they weren't a witness—a witness is somebody independent. A lot of people miss the fact that there was somebody else in the car at the time of the accident."
So Blanford hits the pavement, talking to officers, bystanders and others who may have been on the scene. His legwork often provides results.
"I still remember one where a girl was riding in the back of a pickup truck, got hit at an intersection, flipped out of the truck, fractured her hip," he says. "I went and knocked on doors. Sure enough, there was a little old lady [who] saw it—[her] name wasn't on the police report. We actually settled the case, but using her version had an effect on the amount of the settlement. If nobody goes and asks, or just does some basic legwork, we never would have found her."
Blanford's state police experience isn't the only thing that gives him an edge in the courtroom. The Vietnam-era veteran served seven years in the Air Force and Air Force Reserve, and 27 years as a military police officer with the Indiana National Guard.
One of the defining moments of his military career came in 2004 when he was mobilized for a six-month tour in Washington, D.C. He spent a significant portion of his deployment working with the Office for the Administrative Review of the Detention of Enemy Combatants (OARDEC) to create the combatant status review tribunals and administrative review boards for detainees being held at Guantanamo Bay.
As OARDEC's administrative officer, Blanford coordinated the work of military personnel. His day-to-day responsibilities included arranging travel to and from Guantanamo Bay, creating dossiers on each detainee, and shuttling classified tapes and documents back and forth. He also oversaw staffing the operation, a challenge when the majority of service members—including the military's court reporters and paralegals—were deployed overseas.
"Part of the [job] included talking to Pentagon staffers who had computer databases of all the military paralegals so they could find out who was available," says Blanford, whose role in a joint service organization meant he was communicating with Army, Navy, Marine and Air Force personnel. "All [had] different backgrounds, service cultures and branch loyalties that we had to meld into one efficient unit in order to get the combatant status review tribunals completed on time." 
Blanford retired from the National Guard in 2009 and was awarded the Joint Service Commendation Medal for his tour in Washington, D.C. He keeps his medal, along with other mementos and pictures from his time in the service, on several shelves in his office that he jokingly refers to as the "I-Love-Me Wall."
While the physical reminders of his time in the service are always close at hand, Blanford's military career has given him intangible tools on which he continues to draw.
"The National Guard teaches teamwork for mission accomplishment," he says. "That translates over to the practice of law. Every lawsuit is a mission and you've got team members—associate attorneys, paralegals, staff—and the military approach teaches you how to bring that team together to accomplish the mission of representing your client."
Blanford's current mission involves litigating wrongful death or personal injury cases fraught with emotion.
In one such case, Blanford's client was facing a wrongful death charge after striking a man with her car. Although the judge wouldn't allow him to reveal the decedent's blood alcohol level, Blanford was able to show the jury the man had been drinking and there was nothing his client could have done to avoid a collision.
Another case involved a young man asking for $17 million after losing his sight in a bar fight. Blanford's client, the owner of the property, was not involved in the incident, and Blanford won a defense verdict.
"I felt bad for the plaintiff, but we were able to show our client had no liability whatsoever," he says. "It's just as emotional for my clients. They're not necessarily these big corporations, they're just people who have insurance."
Blanford has learned to handle the emotional nature of his cases with an officer's poise.
"I think it goes back to his time being a police officer," White says. "We see some pretty horrific things—what we learn to do is suppress those things and go about the job. It's tough to do, but that's a skill set you acquire as a trooper; and I'm sure it's helped him to look at a case, and not be emotional about it, [but] look at the facts."
Still, the emotions can come into play.
"There's no way of getting around it," says Blanford. "If somebody has lost a family member, or somebody's been seriously injured, you have sympathy for them, but you still have a client to represent, so you do that to the best of your ability. Six people sitting on the jury are the ultimate arbiters of what's right and what's fair." 
When Blanford looks back on his career path from officer to lawyer, he's confident he made the right move, but trading in his badge and sidearm for case files and court hearings isn't always an easy transition.
"When you carry a badge and a gun, there's a certain level of inherent protection, plus a duty to other people, if something happens right in front of you, to do something," he says. "All of a sudden, you turn that badge and gun in, and I don't have any more powers to arrest people. If I see something wrong, I can't just go over there and take care of it. It took awhile to get that idea that I'm a normal citizen, just like everybody else."
Of course, his current job does have one distinct advantage.
"Nobody's trying to punch me if they don't like my questions in the practice of law," Blanford says with a laugh.
Search attorney feature articles