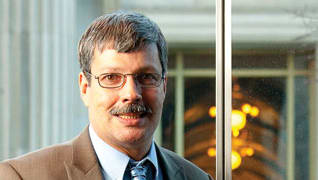 Photo by: Dario Impini
Steady at the Wheel
Appellate lawyer Arend Abel loves guiding people through the labyrinth of the law
Published in 2011 Indiana Super Lawyers magazine
By Karin Beuerlein on February 10, 2011
Ask Arend Abel about his favorite hobby—gardening—and he doesn't rhapsodize about prize-winning produce or take you on a tour of his landscape. He just gives you the story straight: "I grow tomatoes, green beans, onions and garlic," he says. "I grow lettuce, although I'm not a big fan, and I've tried corn but it never works out." That's Abel in a nutshell—fair, modest and matter-of-fact.
It's a personality that suits his field, appellate law, which asks him to suit up for the offense as often as for the defense and see the big picture with an unblinking eye. Perhaps his even-handed sensibility comes from growing up a seventh-generation Indiana native in Union City, a town on the Ohio border where you could literally see both sides at once: the east and west sides share the city name but have separate governments. Abel majored in radio and television broadcasting with a minor in Spanish at Ball State University, but he was intrigued by his older brother George's budding law career, so he took the LSAT—and aced it. Once he got a taste of moot court, he was hooked.
"I like working with people to help solve their problems the best way the law can," he says. "The legal system is a bit of a maze to most people—but the maze is interesting to me. I think I've developed an ability to navigate it and that allows me to help other people navigate it as well."
Abel's clerkship with federal Judge Jesse E. Eschbach was a defining experience. "My judge had extreme integrity—he was what people call a judge's judge," says Abel, now of Cohen & Malad. "I believe he was the only person on the federal bench who was appointed to the trial court by President Kennedy and to the Court of Appeals by President Reagan. That gives you some sort of sense of how balanced and fair he was. It was a wonderful experience. And along the way I learned not only a lot of appellate procedures, but I learned an awful lot of substantive law, because the federal Court of Appeals sees a lot of different issues between its criminal caseload and its civil caseload."
Abel has applied that knowledge in handling a wide range of appeals, including one that kept boxing champ Mike Tyson locked up after he'd been convicted of raping a Miss Black America beauty pageant contestant in Indianapolis. He faced renowned trial attorney Alan Dershowitz in the case.
At the time, Abel was working for the Indiana attorney general's office, but says he was unfazed by his opponent's reputation. "You know, he's just another lawyer. At least, that's the way we had to treat it. We made the same arguments we would make in any case. It was a case with multiple issues: how the judge came to be on the case, whether there was enough evidence. … There were probably issues about jury instruction, because there always are. And we took them one at a time and made the arguments that we would make in any case. And we were successful in convincing the appellate court that, in fact, what the trial courts had done was correct and his conviction should stand."
The cases Abel likes to talk about aren't necessarily those with big names attached—they're cases where a good argument can make bad law better. "A significant case I had recently involved a substantial jury verdict that had been thrown out by the Court of Appeals, but we were able to have it reinstated by the Indiana Supreme Court," he says. The original verdict culminated a wrongful death case in which a 38-year-old asthmatic woman named Peggy Miller died in the ER; the jury had awarded her widower $1.57 million, reduced to $750,000 by the court under the state's medical malpractice statute.
"She had just horrible, horrible experiences in the emergency room," Abel says. "She went in with severe asthma and she wound up dying from multiple organ failure after some really horrendous attempts at emergency surgery. The doctor performed a thoracotomy and clamped lung tissue—well, you can't clamp lung tissue, because it sort of disintegrates if you try." Thoracotomies, which open the chest cavity, are considered major and potentially complex operations and are generally performed by trained surgeons, not ER doctors.
The doctor appealed on the grounds he had not been allowed to present a contributory negligence defense at trial, saying that Miller's conduct prior to her ER admittance was grounds for dismissal of the suit. She had used excessive asthma medication in the hours leading up to her hospital visit, he claimed, and she had delayed her visit unnecessarily—so he was not responsible for her death because she had aggravated her own condition. The Indiana Court of Appeals agreed and threw out the verdict. Enter Abel to represent the widower, Tim Zaberdac.
"You have to understand that the Indiana Supreme Court doesn't even have to take a case like that," Abel says. "It's discretionary. So the first job we had was to convince the Supreme Court to take the case … to present them with an issue that's either an important new issue of law or an issue where the lower courts are divided. Generally they're cases that are of significance beyond the immediate parties. [This case] involved interpretation of the Indiana medical malpractice statute and what the defenses were to it."
Abel argued that the court had never before decided the scope of a contributory negligence defense to medical malpractice in Indiana—or whether it even existed. The court needed to answer a basic question: Does a patient's conduct before she even meets her doctor for the first time constitute contributory negligence? The Court of Appeals reversal, he said, "stands virtually alone" in saying so.
The Indiana Supreme Court agreed. It took the case and reinstated the original verdict—and Cavens v. Zaberdac turned out to be a defining moment for Indiana's medical malpractice law.
"The doctor's defense was that it was the woman's own fault because she hadn't taken her medicine right," Abel says. "As you can imagine, a lot of times people wind up in the emergency room because they've done things that might be considered negligent, but does that let the doctor off the hook for providing proper care? The Indiana Supreme Court said, no, it doesn't.
"The case was satisfying because it allowed me to help a father and his son," Abel says, "but also because it allowed the Indiana Supreme Court to establish that doctors are required to provide proper care for patients, regardless of what the patients had done to create the need for medical care. I believe this sets a standard for medical care that we all expect and deserve."
When he's not busy steering his clients through complex legal turns, you'll find Abel outside. He's a big fan of his cabin in the Indiana woods, where he and his family occasionally retreat from the city. If he left the law today, "I'd probably just spend more time in my garden," Abel says. "Or go into politics. But I like what I'm doing so much that it's hard for me to imagine giving it up."
Search attorney feature articles