The Compassionate Counsel
A "big guy with a big heart," Mark Ladendorf commands attention—and respect—from his peers, clients and adversaries
Published in 2007 Indiana Super Lawyers magazine on February 15, 2007
Updated on May 10, 2016
Mark Ladendorf thought he had seen everything. In more than two decades of handling personal injury, medical malpractice, product liability and wrongful death cases, the charismatic Indianapolis attorney had represented young men scarred in motorcycle accidents, children who were severely burned and families whose mothers and daughters had died in car wrecks. He had even negotiated one of the state's largest settlements in a flammable fabrics lawsuit filed on behalf of a 5-year-old girl. But nothing could have prepared him for the most soul-stirring case of his life.
Throughout the years, Ladendorf and Joan Irick, a well-known attorney who often defended insurance companies and physicians against negligence claims, had faced off on opposite sides of the courtroom fence. "The thing about Joan that made her special within our legal community is that she was totally respected and admired, not only as an attorney but as a person," he recalls. "She was very much a lady in every way."
Then the unthinkable happened: Irick was diagnosed with colon cancer. In the spring of 2003, the 50-year-old Irick asked Ladendorf to file a medical malpractice suit against her doctor for failing to perform critical tests that might have increased her chances of survival. Ladendorf would need to work quickly; his opponent-turned-client was already gravely ill and he needed to preserve her testimony before her condition worsened. Videotaping the deposition, he says, was powerful. He listened as Irick spoke of the irony of pursuing her own malpractice case after 25 years of defending physicians and insurance companies. She also talked about everything that would be lost if she passed away.
"It was the most emotional aspect of law that I have been involved in, probably because it hit home," says Ladendorf, 51. "Her deposition was an attempt to roll her entire life, her dreams, her ambitions, her loves and her losses into an hour and a half. Tears were streaming down the faces of the court reporters. I had to wipe away tears a couple times myself." In June, three weeks after giving her candid testimony, Irick died. Ladendorf later won an undisclosed settlement for her husband and children.
His ability to empathize sets the 6-foot-4-inch Ladendorf apart from other lawyers, his colleagues insist. "He's a big guy with a big place in his heart for our clients, and they feel that right away," says Toni Giffel, office administrator and litigation paralegal at Ladendorf & Ladendorf.
Ladendorf may be empathetic, but he's no pushover. "He's very aggressive," says Peter Obremskey, a Lebanon attorney who locked horns with Ladendorf in a 2002 electrocution case and lost. "He comes after you and it's a battle." He's also a "very ethical, straightforward guy," Obremskey adds. "There's no runaround, no monkey business. When he tells you something, you can believe him. There's no underhanded crap going on. He fights hard for his client and he's a worthy adversary."
The oldest of four children, Ladendorf grew up in Lake County, a bluecollar town characterized by steel mills and a passion for the Bears and the Bulls. His dad, a diesel mechanic, worked two jobs to support the family. Six feet tall by the time he was in eighth grade, Ladendorf loved sports but felt awkward. "I had to work very hard at gaining coordination by jumping rope and running through tires," he says. "I'd go down to the library and get a book from the United States Navy on coordination exercises."
By the beginning of his junior year, he made the varsity basketball team. But there was another, more long-term payoff. As an athlete, he learned how to adapt, improvise and, at the last minute, "come up with a new idea or a new way to win"—skills he would use when cross-examining witnesses and finessing final arguments.
Excelling in sports and elected student council president, Ladendorf felt pretty sure of himself––until a high school teacher asked him to try out for a role in Romeo and Juliet. "I got up there to do the audition and my knees were shaking so recklessly I thought I was going to collapse and faint." Despite his fear, he landed the part of the villainous Tybalt and learned how to fence with a rapier. From that point on, "I was never afraid to speak in front of people, which of course helps you in front of a jury, a judge, opposing counsel, or just talking to the guy at the auto parts store."
After graduating magna cum laude from the Indiana University School of Law in 1980, Ladendorf joined a large personal injury firm and was "thrown into the lion's cage early" alongside Buddy Yosha, Bill Hurst and other renowned Indiana attorneys. His first case involved a faulty highway design. "Our client was a 15-year-old, unlicensed driver who went through an intersection and got involved in a pretty bad accident," he says. "We tried it for four days and got a verdict [against the state]. It was a small verdict but we did win it, and I learned a lot in terms of how to prepare and do research."
Digging deep for the facts served him well when, in the late 1980s, he represented a girl who suffered severe burns after her cotton-polyester smock ignited as she tried to light a candle. "Two lawyers who were very experienced told me right from the beginning: 'Don't get involved in it,'" Ladendorf remembers. "I was younger then and a little bit stubborn." While poring over federal regulations governing children's clothing, he found plenty of restrictions on kids' nightwear but virtually none on daywear. He argued that a child is more likely to come in contact with an ignition source during the day than when asleep, and in January 1989, one week before trial, he landed a $4.3 million settlement.
Ladendorf has since handled more than 2,000 personal injury cases. He settled one of the first lawsuits stemming from an explosion at a Central Soya plant (the 28-year-old client was severely burned and initially unable to walk). Thanks to Ladendorf, a California family was awarded close to a half million dollars after an auto accident in which a woman was killed and her daughter injured when a faulty hookup caused their trailer to disconnect and the car to crash. He tackled numerous motorcycle accident cases and became the Indiana representative for Bikers Against Manslaughter, an organization that provides legal services to injured cyclists.
In 1997 he founded his own firm; three years later, he talked younger brother Daniel, a former prosecutor, into joining Ladendorf & Ladendorf. "I tease him sometimes and say I'm not sure we have the same parents because we're so different," Ladendorf says. But their strengths—Mark's directness and "get-it-done" attitude and Dan's methodical style and mediation knowhow—complemented each other from the start, and the siblings won several verdicts exceeding pre-trial settlement offers. One of their first clients was Dakota Williams, a 17-year-old high school senior who drove his car into a drainage ditch. When he returned the next day with friends to retrieve the vehicle, an unused, highvoltage power line snapped, whipped across Williams' body and caused third- and fourth-degree burns. A Henry County jury returned a $1 million verdict against the electric company. "Mark did a good job of organizing the facts and putting the case on," says opposing counsel Obremskey. "He kicked my butt."
Still, Ladendorf claims, he is not as adversarial as he used to be, and now views the law as "a process by which you use the means to find the end." Much of this mellowing, he says, comes from raising a child with a disability. His 17-year-old son Luke was born with spinal muscular atrophy, a progressive neuromuscular condition that mimics Lou Gehrig's disease. Although Luke has never walked or talked, he has far exceeded the expectations of doctors who told his parents he probably wouldn't live long. "This little boy has been an extraordinary blessing in making my family stronger, more cohesive and hopefully better people," says Ladendorf, who recently celebrated 25 years of marriage with his wife, Debi. "If everyone had a disabled child for a year the world would be a better place. I truly believe that. Maybe some of the hard edges would get a little more rounded."
Ladendorf's compassion has endeared him to others who've lived with a person with special needs. "I first met Mark while we were law students but got to know him very well after we both had disabled children who are about the same age," says John Taylor of Bingham McHale. "He is uncommonly perceptive, imaginative, proactive and tenacious, and he is sincerely caring about his clients and injured people in general."
Around the office, says Giffel, her boss is patient, fair and open to employees' opinions. "He's very family-oriented so it allows us to be," she notes. "He never, ever squawks about us leaving a little early to see a kid's ballgame or a school play because he does. It's important to him, and he lets it be important to us, too."
A "campfire-type" guitarist who coaches his daughter Hannah in soccer and, as the bumper sticker proclaims, would "rather go fishing" than do just about anything else, Ladendorf was angling in southern Kentucky with his oldest son Lance last March when he reeled in a 3.075-pound skipjack herring and set a state record. "And the real funny part about this story is that a month after I catch it, some guy breaks it by an ounce," he says. "It's like that line in Patton where he says, 'All glory is fleeting.'"
It is the personal moments, not the monetary compensation, that Ladendorf treasures. (He did, however, finally buy that shiny black '72 Chevelle with a 454 engine he'd wanted since high school.) "I think success is respect from your peers, from the judges who know you're prepared, from opposing counsel," he says. "Success is getting a hug from your client and them saying 'thank you' after you resolve their case. Or it might be that smile that your daughter gave you in the car after you consoled her after her loss in the soccer tournament. Success is something we have to find every day, and if we fail to do that then we didn't live that day to its fulfillment."
Other Featured Articles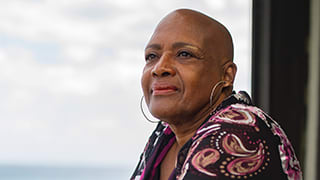 Second to None
To overcome racism, Elaine Johnson James' mother told her, she'd have to work harder than everybody else. She did Featuring Elaine Johnson James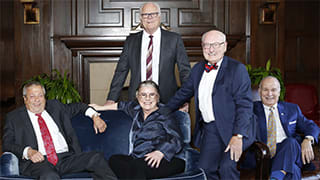 Law & Practice
Six pillars of the legal community look back on three decades of law Featuring Nancy Zalusky Berg, Michael V. Ciresi, Joseph S. Friedberg, Earl P. Gray, Kathleen M. Newman, Lewis A. Remele, Jr.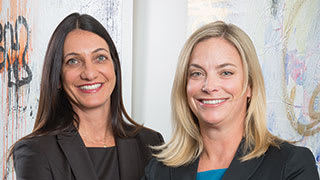 The Force of Nature and the Steadying Hand
How Iris Eytan and Dru Nielsen create magic—and not-guilty verdicts Featuring Dru Nielsen, Iris Eytan