The Epic Career of Forrest Bowman
The lawyer who fought the police, the FBI and the justice system tells his tale
Published in 2007 Indiana Super Lawyers magazine on February 15, 2007
Updated on May 10, 2016
In 1966, just a few years after he started his legal career, Forrest Bowman Jr. had already been identified as one of Indiana's "most flamboyant advocates." 
The description came in a book covering one of the state's ugliest murder cases. Writer John Dean saw Bowman as "youthful, squat and impish looking behind his thick-rimmed spectacles." Dean also cited his thoroughness, courtroom flair and "occasional oddball tactics."
The Indiana Torture Slaying recounted the shocking torture and murder of 16-year-old Sylvia Likens by housewife Gertrude Baniszewski and a group of sadistic children. Bowman represented two of the teenage defendants. The trial, in which all were convicted, received international publicity. 
"It was an aberration, unlike any other homicide case I ever handled," the Bowman, Cosby & Bowman attorney says, remembering how the children had carved "I am a prostitute and proud of it" on the victim's abdomen. "If any knowledge was gained, it's that children of neglectful parents are in terrible peril."
His career hasn't gotten any less interesting. For a good part of his 44-year practice, Bowman focused on criminal work, defending at least 50 accused murderers at trial. Working in what he says was a notably corrupt criminal justice system, he battled crooked prosecutors, lying cops and a hostile FBI.
Once, worried he was the target of a hit man, he went to work every day with a .32-caliber pistol holstered to his hip.
Then things changed. Instead of fighting the establishment, Bowman decided to help reform it. For two decades, he's not only worked closely with law enforcement, including the FBI, he's represented numerous attorneys and law firms, among them one of the largest firms in the United States.
That's an unusual career path, but it seems to fit Bowman. He cultivates roses. He plays the violin. And he has an eclectic interest in everything from racecars to world affairs. He's fastidious and unfailingly polite, in an old-fashioned way. His drink is an ounce of Chivas Regal, with exactly three cubes of ice.
It might be easy to mistake him for an absent-minded law professor or a fussy accountant. But Bowman relishes a good fight, and nothing rouses him quicker than an injustice in the making.
Bowman's rapier wit has a razor-sharp edge. Once, in a conversation with political science professor Brian Vargus of Indiana University-Purdue University Indianapolis, Bowman criticized a politician-lawyer. Vargus noted that the man was dead. "He's not dead enough," Bowman retorted.
With a wife who's a legal secretary and a son and daughter who share his profession, Bowman considers the law a sacred binder that helps keep society together while holding government in its place. And he doesn't want anything to weaken the fabric.
For several years, he's lectured on ethics at continuing education seminars, often appearing with the executive secretary of the Indiana Supreme Court Disciplinary Commission in a point-counterpoint format. Throughout central Indiana, attorneys facing thorny ethical questions pick up the phone and consult Bowman before taking another step.
"Forrest is a lawyer's lawyer," says Edward O. DeLaney of DeLaney & DeLaney. "He's called upon when the going is tough and the stakes are high. He's persuasive with the government and soothing with the client. Too bad this skill can't be bottled."
Inspired by legendary advocates like Clarence Darrow, Bowman supported himself by working as an accountant while attending the Bloomington and Indianapolis campuses of Indiana University Law School.
When he graduated in 1962, Bowman found himself in the sawdust arena of criminal law almost immediately. His uncle knew a municipal judge, and although Bowman's practical experience was limited to working a few months for probate attorney Leon "Bud" Mills, the judge appointed him to represent criminal defendants who didn't have lawyers.
One was an accused murderer. Almost immediately, Ferdinand Samper, an experienced criminal defense lawyer, volunteered free advice. He also invited Bowman to sit third chair, unpaid, in one of Samper's cases. Bowman did well in the position, and earned favorable publicity. He had his foot in the door. Bowman and Samper practiced together for seven years.
With a prospering practice and a growing reputation, Bowman was able to pursue one of his life-long loves: racing. At age 20, he had tried his hand at stock cars. "My name was painted in large letters on the door. The car blew a radiator hose. On TV, it looked like it was burning up with me inside.
"There were some family repercussions," he understates. "It ended my driving career."
It was safer on the other side of the wall anyway. In the mid-'60s, Bowman started working on pit crews, first as a crewman, then doing timing, scoring and radio relay. For years, he worked with the Patrick Indy car crew. The Indy team won a national championship and the Indianapolis 500 twice.
As a lawyer, he's handled numerous lawsuits or hearings involving the United States Auto Club and the rival Championship Auto Racing Teams. In one notable case, he unsuccessfully represented Mario Andretti in an appeal over who won the 500 in 1981.
There were fast-tracks of a different kind in the Marion County criminal justice system.
"There was a great deal of corruption," Bowman recalls. "One of the main reasons was that the prosecutor abdicated his responsibility to the police [investigators]."
His battle with the system heated up in 1974 when a Marion County grand jury indicted Andrew Foster, a black civil leader, as the alleged head of a multimillion-dollar heroin empire. Angrily proclaiming his innocence, Foster hired Bowman.
As he dug into the evidence, Bowman was startled to discover it was virtually non-existent, consisting mostly of vague statements from two drug dealers. The prosecutor had orchestrated the indictment because he was caught up in a political controversy before an election. "I had heard stories for years about embellishment of evidence against people who were clearly guilty, but this was my only experience with a totally manufactured case," Bowman says. "I had trouble getting my mind around the enormity of it."
Ultimately, a new grand jury agreed Foster had been framed. Although the prosecutor himself had immunity, Bowman was able to defeat an immunity claim by his chief deputy. But eventually, Foster's death ended the lawsuit.
One of Bowman's most tension-packed cases came in the late 1970s, when an FBI agent who blew the whistle on the misdeeds of other agents was fired and turned to him for help. At the time, the Indianapolis field office was regarded as one of the worst FBI offices in the country. Some agents were buying merchandise from a convicted fence. One acted as a pimp at a massage parlor. Another lived with a cocaine dealer. Bowman's client had made corruption allegations that were never investigated internally.
In an atmosphere already filled with charges, counter-charges and a concerted federal cover-up, the tension increased when the exagent claimed someone fired a shot at his front window. One day, the suspicious activities of a man near his office convinced Bowman he might be a target himself. On the advice of Sheriff Jim Wells, Bowman carried a .32 wherever he went for about six months.
"That kind of litigation is stressful for the lawyer and the client," he says. "My petition to withdraw, which the court granted, stated that the client had stopped cooperating. A few weeks later, I quit carrying the gun. There was a burglary of my apartment during that period, in which the only things taken were cuff links and a cup of change."
Bowman also earned a reputation for defending ordinary citizens who ran afoul of hostile police officers. He once represented a man who was beaten by a group of deputies outside the Indianapolis Motor Speedway. The men had lied about circumstances of the altercation, and Bowman's crossexamination so devastated one of the deputies, he pleaded the Fifth on the witness stand. The other case involved an Associated Press employee whom the police accused of misconduct right before the Indy 500. He was found not guilty, after Bowman made it clear the police had lied.
Over time, the FBI office was reformed, just as the police department changed for the better. Bowman himself felt the need for change. It didn't happen immediately, but he recalls the turning point.
"I was sitting in court in a murder case in Lake County and listening to a man describing my client shooting his daughter to death while he watched," he says. "To my surprise, I found tears coming down my cheeks. Never happened before.
"I thought maybe it would soon be time to focus on other areas of practice."
The meat of his current practice "involves enforcing laws that protect us from overreaching by government and criminal activities by non-governmental persons," Bowman says.
In one matter, Gov. (now U.S. Senator) Evan Bayh's administration turned to Bowman when federal authorities began investigating the management of the Indiana Toll Road. Bowman conducted his own independent probe and coordinated with the FBI. Two Toll Road officials were successfully prosecuted. Bowman also sued to eject a state vendor who had violated his contractual arrangement with the state.
One of his longest and most complex cases arose when a key employee of the Indiana Public Employees Retirement Fund concealed a federal felony conviction to obtain employment.
The late Gov. Frank O'Bannon arranged for Bowman to conduct a forensic investigation into the matter, not just to determine the truth, but to establish steps to prevent any recurrence. In the process, Bowman helped uncover other acts of fraud and helped send seven people to federal prisons.
Forty-four years after starting his career, Bowman has no plans to retire. "He still will amaze me by recalling some obscure point of law," says his son and office-mate, Forrest Bowman III, known as Woody. "He works more than full time—all day, six days a week."
That may seem unusual for a 72-year-old. But the "flamboyant" Bowman doesn't know any other way.
Other Featured Articles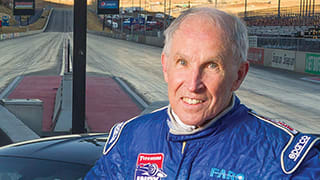 Driven
Jim Gilbert's crusade for victims of unsafe vehicles Featuring James L. Gilbert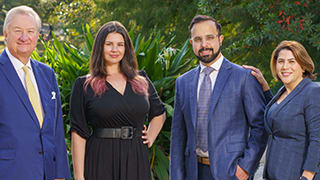 New Frontier
Four immigrant attorneys talk about their paths to law Featuring Erzsebet Pifko, George J. Fowler, III, , Pablo Isaza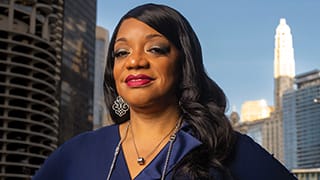 Faster, Harder, Stronger
Jeanne Gills honors her father in name, intellect and determination to uplift others Featuring Jeanne M. Gills