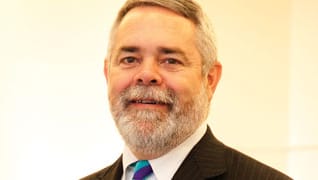 Photo by: Dario Impini
The Great Generalist
Jon Laramore of Baker & Daniels on how the lessons he learned working in government—in both civil and criminal arenas—give him a leg up in his appellate law practice
Published in 2012 Indiana Super Lawyers magazine
By Ross Pfund on February 10, 2012
Q: What led you to appellate law?
A: I began to do appellate law in government. I worked in state government for 16 years, 12 of which were in the state attorney general offices. I just had many opportunities to pursue appellate work in that context. I came to find out that I enjoyed it, and the more I did, the more I learned. Ultimately, that attracts clients.
Q: What was it about the work that you enjoyed?
A: It's work that's more centered on development of the law. Generally, the appellate lawyer comes to the case with the facts already established, and my job is to address potential legal errors. That involves the skills I enjoy, including analysis, legal research and writing, and oral argument.
Q: You mentioned working in the attorney general's office. What are your memories of your time there?
A: We were lucky to have a steady diet of interesting work, often on issues that were in the news or on the cutting edge of the law. We also had a great camaraderie in the office and great leadership from the attorneys general, who I worked for.
Q: You also served as legal counsel for Governors Kernan and O'Bannon. How did you come into that job, and what kind of things did you do?
A: That's a terrific legal job, to be counsel to the governor. I think I was probably selected because of the background I have in government law. I also, on a part-time basis, taught a class on constitutional law at a local law school, which is also good training for the governor's office.
The legal counsel to the governor is very much a generalist, giving advice to the governor and other staff members on all kinds of legal issues that come up, ranging from litigation to access to public records to pardons and other kinds of clemency. It's a great variety of work. Because of my prior work in the attorney general's office, I had background in many of those areas.
Q: You really have to have a great breadth of knowledge.
A: You also have to have a lot of connections, so you can know who to call when you don't know the answer yourself.
Q: Any personal memories of the governors?
A: With Governor O'Bannon, I remember how seriously he took the process every year to look at legislation that had passed and determine if there was anything he needed to veto. He took that very seriously. It was work that had to be done in a very compressed timeframe, but he looked very carefully at every single bill, and he did veto a couple of pieces of legislation when I was his counsel. One of [them] led to litigation in our state Supreme Court about whether he had done the veto in the technically proper manner. It was determined that he did.
For Governor Kernan, the thing I most remember with him is that he was presented at the end of his term with a number of clemency petitions filed by people on death row, which he [reviewed] with the utmost seriousness and worked on with a team of staff members and ultimately determined to commute the death sentence of one of those individuals on death row, just as he had commuted another death sentence earlier in his term, based on his conclusion that that penalty was not fairly administered in those two cases.
Q: When did you make the move to private practice?
A: In 2005, after Governor Kernan left office, I came to Baker & Daniels. They were looking for someone to specialize in appellate work, so it fit with what I wanted to do.
Q: Was it hard to change gears?
A: It was actually my first time in private practice, so it was somewhat different, but there are many good things about private practice as compared to government practice. One is that clients tend to bring us their most important matters, which means that we can spend enough time on them to really do them well.
Another matter is that we do everything here at the law firm in teams. In government, that's not always true. A lawyer is on his or her own. Here everything is done in teams and the colleagueship is just terrific. It absolutely leads to a higher quality work product, better ideas and better client service.
Q: Do you ever miss the government work?
A: I do sometimes, because often in government one gets to work on problems that really have a significant effect on lots of people. In private practice, that's not true as often. It's often disputes that may have a big effect, but on a smaller number of people.
Q: Looking at some of the cases you've appealed, there seems to be a huge variety in whom you represent and the types of cases you work on. Is that a challenge?
A: The variety adds a level of challenge to the practice, but because I'm able to work with colleagues who bring their own expertise on many of these matters, it's not as much of a challenge as it might seem at first glance. I think that there's a real value being a generalist because you're almost always making a case to judges who are generalists. It's much easier to put yourself in the judge's place when you're not an expert in the field of law that you're working in. It's easier to translate the legal issues into language and concepts that a generalist judge can understand when you come from that perspective yourself.
One advantage that my background gives me is that I have worked deeply in both civil and criminal law. The judges that I advocate to also all do both civil and criminal appeals. Most lawyers are in one or the other of those branches. But there are crosscutting concepts and ideas that inform my advocacy in a way that's helpful for clients.
Q: Tell me about the experience of arguing before the U.S. Supreme Court.
A: I'm nervous before every appellate argument, but probably more so in this Supreme Court argument. I'd spent many weeks preparing and had lots of help, both from colleagues here in Indiana and across the country. I hoped to be prepared for every question, and in large part, I think I was.
What I found most unusual about the argument is with nine justices and the podium as close to the bench as it is, [my head] was going back and forth as if I were watching a tennis match, taking questions from the justices on the ends of the bench, which at that time were Justices [Stephen] Breyer and [Ruth Bader] Ginsburg. It's just a phenomenon of having more justices and being so close. I didn't quite get whiplash, but it was the thing I least expected beforehand.
Q: It seems like the Indiana Constitution is an area of interest for you. How did you become an expert on it?
A: In the attorney general's office, I was fortunate to work on several cases that raised questions of first impression under the Indiana Constitution. So I came by my expertise just by working my way through those cases and learning the constitution and its history in those specific cases. As I said, I went on to teach a class on constitutional law. As a result people will sometimes come to me regarding issues and litigation that have arisen under the constitution.
Q: Tell me about the Board of Law Examiners.
A: It's the group of lawyers that writes and administers the state bar exam and recommends applicants for admission to the bar after determining what the state rules refer to as "the requisite character and fitness." That's been a significant time commitment over the past five years.
Q: How do you determine someone's requisite character and fitness?
A: Every applicant has to submit a very, very detailed application that reveals lots of information about their history. Much of what we need to determine character and fitness comes from that. Indiana is the only state in which every applicant for the bar is interviewed by a lawyer. The interviews will occasionally bring to light a circumstance that causes us to have to investigate further. We see issues like criminal history or past history of drug or alcohol abuse, and we need to make determinations in those cases if someone is an appropriate member of the bar or not, or if they need to be on a conditional admission.
Q: Are there factors that immediately disqualify someone, or is it more of a judgment call?
A: The rule only sets up one thing that comes close to that. If an applicant has a felony conviction, it raises a presumption that the person lacks character and fitness. That doesn't mean that someone who has a felony conviction can absolutely never be admitted to the bar, but it's a very high standard. Other than that, the rules don't give us specific guidance, so we think about all the issues that we know arise in practice and try to take appropriate actions when we see those.
Q: What would you tell young lawyers just beginning their careers?
A: It's very important to develop and maintain a reputation for integrity and fair dealing. That's the most important goal to have as a young lawyer. The most important goal to have as a more mature lawyer is to maintain that reputation.
Search attorney feature articles