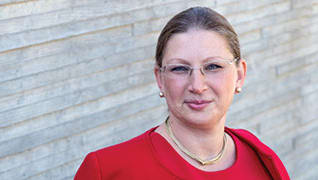 Photo by: Don Ipock
It's Complicated
That's the appeal of immigration law for Russian émigré Mira Mdivan
Published in 2016 Missouri & Kansas Super Lawyers magazine
By Emily Freeman on November 3, 2016
A colleague of business immigration lawyer Mira Mdivani once told a client that Mdivani could bring clarity out of chaos. "That's the single most important legal skill," Mdivani says. "Circumstances in the law are never ideal. Your role is to look at everything, understand what's important and apply not only your legal knowledge, but practical expertise, too, to figure it out."
It would make sense, then, that a Rubik's Cube might appeal to Mdivani. She laughs. "All that work," she says, "and at the end? The solution to the original problem is one side that is all one boring color." 
Boring—that's a word Mdivani uses often, although it sounds quite the opposite in her rich Russian accent. "I have no interest in doing anything that is simple," she says. "Simple matters bore me. I'm drawn to matters with layer upon layer that interact in tremendous complexity."
Mdivani has a few layers herself. "I am a certified mutt," she says of her ancestry—Georgian and Jewish on her father's side and Russian on her mother's. 
Her father, Archil, was an aviation engineer; her mother, Valentina, a prosecutor. Mdivani grew up in the former Soviet Union, bouncing around from Uzbekistan, Turkmenistan and Moscow every time her mother was, as Mdivani wryly notes, "redistributed" for work. Mdivani recalls life in southern Uzbekistan as one filled with vibrant color. "So much fruit, flowers … it was beautiful, a very different pace of life there," she says. 
Her mother was a workaholic. "My father worked hard, too, but every night, mom was reading, writing; she was in court all the time," Mdivani says. "Watching that made me think I should study languages." 
Instead, like her dad, she chose planes. She moved to the United States in 1993 as an employee of a firm that sold and financed American airplanes. "I enjoyed how the work seemed to involve a bit of gambling and a bit of magic in how it all comes together," she says. "I also enjoyed the complicated, moving parts." But she noticed something about the company's lawyers. "They were always sleeping somewhere exciting like New York or D.C. while I was working on a deal on the other side of the world," she says. "So I figured I should try to learn a little bit about law and contracts."
She imagined, armed with a law degree, that she'd be launched back into the aviation industry. Instead, she got interested in securities law, and worked in the area at a specialty firm. But then a different door opened. 
"I have this accent, and I'm very social," she says. "People would ask me all sorts of questions, including whether I practiced immigration law. If you're a foreigner and you speak with an accent, people assume you know something about immigration law. I eventually got tired of saying no." 
But Mdivani was hesitant. Why? "It seemed so simple," she says. "On the surface, it looked like just a lot of filling out forms. I had no interest in doing that." 
Mdivani was interested enough to learn more, however, so she joined the local chapter of the American Immigration Lawyers Association. At a chapter event, one of the first things an immigration lawyer told her was, "Be very afraid." 
She was sold.
"I have found the work to be treacherous and complicated. It got me by my geeky side. In order to be good at it, you have to go deep," she says. "The deeper I practice, the more I realize how much I don't know."
Much of the work at Mdivani Corporate Immigration Law Firm, in Overland Park, Kansas, is focused on helping U.S. employers navigate and comply with the requirements of the Immigration Reform and Control Act. According to Mdivani, employers often find themselves in violation of IRCA, not due to deviousness, but simply because they aren't sufficiently versed in their obligations. 
"A company normally thinks they're not to act as investigators or experts in forgeries; they think they're protected if the [employee] just gives them a document, and that's where their duty stops," says Mdivani. "The Department of Homeland Security thinks otherwise." 
Mdivani doesn't notch the kind of splashy victories you'll read about in the press. "Our biggest victory is something that nobody sees," she says. 
A recent case, she says, began as a misunderstanding. 
"We were able to defend this particular employer and train their people and put them on the right track," she says. "We started with complete misunderstanding on all parts about what's required, and ended up with beautiful results. Once a business is hit by the Department of Homeland Security for I-9 [identity verification] violations, they sustain damage to their goodwill. In this case, we were able to show compliance and the business' name didn't come out. It's a quiet glory, but I'm OK with never seeing myself on CNN." 
Mdivani gets much less face time with her corporate clients than her many pro bono clients, whom present Mdivani with perhaps the most complex matter of them all: What makes one human viciously harm another?
"Where I come from in Russia, there is no such thing as a women's shelter," Mdivani says. "Your husband beats you up? You persevere and hope you don't get killed. It makes my blood boil to sit on the sidelines as one human is persecuted by another. As lawyers, we have these magic powers to help."
The firm works closely with shelters throughout Kansas and Missouri on behalf of immigrant victims of domestic abuse and other violent crimes. Clients have driven six hours because they couldn't find help in their own communities. 
"Generally speaking, I think domestic abuse and violent crimes against women and children are the worst humanity is engaged in, especially if a foreign woman or child is involved," Mdivani says. "On top of all the grief that a regular survivor—if there is such a thing—an American survivor, is going through, there is the additional unbearable hurt that an immigrant has: a lack of legal status, fear of deportation." 
Melissa Marquez, a domestic violence advocate at the Safehome shelter in Overland Park, has worked closely with Mdivani's firm. "She's helped out a lot of clients," says Marquez. "And she's made the process easy. When we go file with her, it's just a one-day thing, because she knows our clients have busy lives and they have so much going on. Mira's the fastest way to get stuff done." 
"We want to be a resource to domestic violence advocates, victim advocates, prosecutors, shelters, police, to help protect these women and children," Mdivani says.  "Over 78 percent of immigrant victims don't ever call the police, because they're afraid. We don't want that to happen." 
With about 20 cases typically open—and with any case having the potential to take 10 years to work—the firm treats these pro bono cases with the same attention they give corporate clients. "These cases take priority," says Mdivani. "We feel they are just as important, and sometimes more, because it's a matter of literally life and death." 
In spite of her constant work, she and the other lawyers at her firm value balance. "I travel and have very fun children," she says. Her teenage son is set to begin driving, and her daughter has begun her first year of surgical residency. Mdivani and her husband, Dennis Ayzin, who owns two Kansas City-based businesses, have prioritized a multilingual education in their children. Her daughter is fluent in Spanish and Russian, and her son, fluent in Russian, is learning Chinese and Spanish. 
Mdivani enjoys classical music and opera. She notes that upon arriving in America, she was pleased to find that some of the biggest stars in opera and classical music performed in the greater Kansas City area. "I have lived in London, Moscow—you'd think that meant access to unbelievable culture, but you can't get tickets to anything," she says. "Culture—high culture—is so accessible here, and that's pretty amazing to me." 
"She's constantly donating to the arts and humanities," says Danielle Atchison, a business immigration attorney at Mdivani's firm. "We do pro bono work for musicians, whether they're professors of music, or they need a visa to come in and play their music."
Two years out of law school, Atchison considers herself fortunate to work with Mdivani, whom she says is an invaluable resource of support for the lawyers at her firm, as well as in the greater local legal community. 
"Mira's a great mentor," says Atchison. "When I talk to people about her, I talk about how benevolent she is, especially with young professionals getting out of law school. I don't have to feel awkward wanting to get a meeting with her to talk about my future—she's approachable. How Mira exists in the legal community is something to admire. She's revered for good reason."
One of those reasons might be due Mdivani's roots. "I respect and admire my mother very much," Mdivani says. "She was a very, very powerful prosecutor—strong, smart as ever—but for her in Russia, there was no such thing as loyalties to anyone but the government. Here, we uphold the law, but the loyalties you have are to the best interest of your clients. And they look to me for a better result. They have to trust you within just 10 minutes of meeting. So it's important to remain loyal, and to handle that trust with velvet gloves. I'm luckier than my mother because this system is the better system. It's not perfect, but it allows the option to be a better human being and lawyer. I try to do both." 
Search attorney feature articles