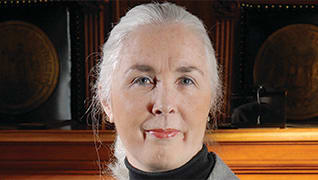 Photo by: Tim Webb
The Relentless Crusader
Ann Oldfather is fiercely loyal­—just ask her clients
Published in 2007 Kentucky Super Lawyers magazine
By Nancy Henderson on May 25, 2007
Ann Oldfather is a careful planner. Preparation, she says, cures "any other failing, including inarticulateness, nerves and a bad hair day." But her greatest moments often come unexpected.
Take Giuliani v. Guiler, a groundbreaking 1997 case in which the Louisville attorney argued before the Kentucky Supreme Court that minor children should be entitled to parental consortium––the love and care of a parent for a child. "Up until then," says the founder of the Oldfather Law Firm, "if your mother was run over by a truck, her estate would have a claim and the husband would be the beneficiary. But you, as the 4- and 6-year-old children, just lost your mom and there was no way anyone could bring a claim on your behalf for the loss of love, companionship, care, affection and nurture that you would get from your mom for the rest of your childhood."
But the judge pointed out a major flaw in Oldfather's argument: Spousal consortium ends with death, and a parental consortium claim would begin at death. "I had not thought of the exact answer I gave until that precise moment," she recalls. "But I looked at him and said, 'The difference here is that . . . spouses consent to marry each other until death do they part. But children haven't made a deal that they're only going to get a parent's love, support and affection until they're 4 or 6.' It was a moment of inspiration that just comes from having thought about this thing so much." Oldfather's victory established the principle that minor children may recover damages for loss of a parent's love and affection.
Her hard work, inspiration and tenacity—"I tend to leave claw marks rather than move away from things"—have earned the 57-year-old former competitive horseback rider a reputation as one of the most formidable lawyers in the state. Because she represented high-profile divorce cases early in her career, many Kentuckians think of her as a family law attorney, but these days she primarily handles personal injury cases, complex litigation and appellate advocacy.
Don Brown, a partner at O'Bryan, Brown and Toner, met Oldfather in 1988 when they were on opposite sides of a medical malpractice case. "Her cross-examination of my key expert was the best I have ever seen," Brown says. "Over the years Ann and I have confronted a lot of issues. In each case I know to come prepared because no one will know the facts and the law better than her."
The daughter of a Navy submariner, Oldfather grew up in seaports from Texas to Turkey. She moved to Louisville when her then-husband came here for his surgical residency and their son Michael was just 6 months old. Intending to start medical school when the baby was older, she enrolled at the Brandeis School of Law at the University of Louisville and discovered her calling. "I think there was an underlying current that I didn't recognize right away: social justice," she says. "But the hook that set the bait was the intellectual stimulation. It's like playing chess all day long."
By the time she graduated from Brandeis in 1975, Oldfather knew she wanted to represent plaintiffs. So that fall, when a law professor told her one of the most prestigious firms in the state, Wyatt, Grafton and Sloss, was seeking to hire its first woman, her response was, "I'm not gonna go work with a bunch of silk stocking folks. That's not me."
"At least go for the interview," the professor urged. "It'll be good experience."
She halfheartedly agreed, and a few weeks later, on her 26th birthday, she received a rejection letter. The firm had decided not to hire any associates after all. The letter nagged at her. Why would a big law firm withdraw a job opening after conducting interviews? She gave the senior partner a call, and his secretary invited Oldfather to stop by the next day. "Well," the partner explained, "the executive committee decided that when we hire our first woman we don't want to take any chances and she needs to be from an Ivy League law school."
"I tell you what," Oldfather replied, "you hire your gal from Harvard or Yale and I can promise you that in 10 or 15 years I'm going to beat her rear end in court." The executive committee offered her the job.
In 1982, after becoming the firm's first female partner, "Oldie" left to concentrate on plaintiff work. "I finally just decided if I truly wanted to represent the little guy . . . I needed to get out of the environment where we already represented the big guy." A year and a half later, she and Doug Morris established Oldfather & Morris. "If I feel like I can make a difference I want to help," she says. "I have always been a crusader."
In 1988, Oldfather found herself in a lawsuit involving what is still considered the worst bus accident in U.S. history. That spring, a Kentucky youth group was riding home from a Cincinnati amusement park when a drunk driver rammed the school bus on Interstate 71 near Carrollton. The impact rammed the suspension system's leaf spring into the unprotected, recently filled gas tank, which "turned into a blow torch." Twenty-seven passengers, mostly teenagers, burned to death.
The Ford Motor Company, which manufactured the bus, quickly settled with most of the victims' families for up to $1 million apiece. Two, however, "refused to settle because they wanted the story to get out about how unsafe this bus had been," says Oldfather, who represented one of the families. "My view is that [the drunk driver might as well] have been sober. People have wrecks all the time. You have a dangerous bus that is going to potentially go up in flames when somebody hits it. It doesn't care whether they're drunk or not." Her client was awarded $6.2 million.
Oldfather has also served as Special Justice on the Kentucky Supreme Court and is currently trying to establish the right to recover damages for "loss of chance"––when a plaintiff has less than a 50 percent likelihood of surviving a life-threatening illness and the defendant, most commonly a medical provider or manufacturer, is negligent. "Under current case law if your chance of survival is not better than even, you're out of luck," she says. "For example, doctors or medical care providers can lose your tests, screw up on diagnoses, blame-free, as long as they're doing it to people who don't have a chance of recovery anyway. I don't think that's right and we're trying to get the [state] Supreme Court to change that."
These days Oldfather has traded horseback riding for watercolor painting and takes a month-long vacation every summer, which gives her more time with her 15-year-old daughter, Eleanor. One thing she won't give up—now or ever—is crusading. "If I have a job to take care of you," she says, "then 'Katy, bar the door,' because I will do whatever has to be done for your interests to be protected."
Search attorney feature articles