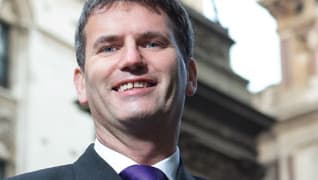 Photo by: Mark Weeks
One Rogue Solicitor
In 2009, Mark Lewis was working from home and selling assets; within two years, he helped uncover the biggest scandal of the 21st century
Published in 2013 London Super Lawyers magazine
By Erik Lundegaard on March 14, 2013
Don't be surprised if a film is soon made about Mark Lewis, a media law, libel and privacy lawyer with Taylor Hampton Solicitors in London. Think All the President's Men, except, instead of a newspaper uncovering the dirty tricks of politicians and lawyers, you'd have a lawyer helping uncover the dirty tricks of certain newspapers. Instead of the president of the United States resigning (along with collateral damage), you'd have the largest circulation newspaper in the country folding (along with collateral damage).
"I keep getting offers for my story, which is amusing," Lewis says. "Hollywood has started talking. I guess we will soon find out who does the story. It is rather funny to see discussions as to which actor will play me in a film."
Lewis walks with a limp and has a weakened right arm due to multiple sclerosis, which was diagnosed in his 20s. In conversation, he is mild-mannered and thoughtful. At the same time, he says, "I'm difficult to work with. I don't like filling in forms and time sheets. [But] if I had a choice, as a client, between someone who followed all these practical procedures and then seven months later sent me a cheque for £3,500, or someone who acted for me and didn't do all those things, took a bit longer but negotiated me £14,000 … " He lets the sentence finish itself. "It's a question of procedure against not losing sight of the facts. Sometimes there is overattention to procedure."
Lewis is, of course, at the centre of one of the fiercest battles in contemporary law, concerning the hacking of 6,000 phones by journalists and investigators working for national UK newspapers. He filed the first phone-hacking civil case against News of the World. His clients in the scandal—including former royal butler to Princess Diana, Paul Burrell; Crimewatch presenter Jacqui Hames and her husband David Cook; and footballer Kevin Moran—number 120 and counting. "More come all the time," he says, "as police notify a new load."
But as recently as 2009, Lewis was at a low point. "I went from being a partner in a commercial law firm to being someone who earned less than the minimum wage," he says. "I could have earned more in McDonald's flipping burgers in '09." He had to sell assets to get by. He was in the process of a divorce. A coincidence in terms of timing, he says.
"Basically, I had given up," he says. "Work was slow to come in. I'd done 20 months. I'd moved to London, wasn't being paid."
Then he received a phone call from Sally Dowler.
Lewis likes to tell every new client he's on their side. "It's like the first day at school," he tells them. "The bully comes up to you and says, 'Give me your lunch money or I'll beat you up.' If you give it to them, you'll do it for the rest of your schooldays. So you have to punch them on the nose. Or I'll do it for you."
From north Manchester, Lewis was 15 when he and some friends were set upon as they left a youth club in Manchester. He fared OK, ripping one of his assailants' shirts, then ended up as a prosecution witness at Bury Magistrates Court. He found he loved the atmosphere: the process and the drama inherent in the proceeding. The son of a sales rep and sweetshop owner (father) and a part-time secretary at the University of Manchester (mother), he thought the law would be a good way to earn a living.
Since he did not have financial backing, he thought it would be too hard to be a barrister—so he became a solicitor. When he was studying, he had second thoughts and applied for a job, ironically, at the Associated Press: marketing newspapers. But he stuck with the law.
Before the phone-hacking scandal, some of his big cases at George Davies Solicitors in Manchester included Royle v. Manchester City Football Club, in which Lewis' client, football manager Joe Royle, sued the club after he was fired, citing that his contract entitled him to higher compensation because the team had not yet been relegated to the first division at the time of his dismissal; and the Garry Flitcroft privacy case, in which it was initially ruled that extramarital affairs were protected from the press by confidentiality laws. But Lewis also appreciates his less groundbreaking cases. "Sometimes the lowest-value ones have been most significant, as I have been able to use my legal training to help people," he says.
For more than 50 years George Davies Solicitors has represented the Professional Footballers' Association (PFA), so, at least initially, the 2005 case of Joanne Armstrong and Gordon Taylor, the PFA's in-house lawyer and chief executive, respectively, was simply another of those. The two were having lunch together when a man came up to them and said, "There's a guy over there taking your photograph." Turns out News of the World was about to publish a story claiming the two were having an affair. They were not. News of the World's owner, News International, agreed not to publish. Lewis asked News International to pay his fee representing Armstrong. It declined. Case closed.
Until a year later, that is, when Lewis happened to be watching television and saw the story of the so-called rogue News of the World reporter, Clive Goodman, and private investigator Glenn Mulcaire, who pleaded guilty to hacking the phones of the royal family. The report mentioned a few other celebrities whose phones had been hacked as well. One of them was Gordon Taylor.
It might not have seemed like much of a case for a civil lawsuit—after all, no story was actually run on the football executive—but Lewis calls it his "eureka" moment. He applied for third-party disclosure with the Metropolitan Police to see the evidence in the royal phone-hacking case, and says he was told, "You are not having everything, but we will give you enough on Taylor to hang them." In the so-called "Fax to Neville," presumably addressed to senior News of the World reporter Neville Thurlbeck, he also discovered evidence that, far from there being just one rogue reporter, phone hacking was part of the culture at News of the World and other media outlets. He learned upwards of 6,000 victims had been hacked, including Taylor. Back in 2005, Taylor spoke at Armstrong's father's funeral and the next day she left him a voice message: "Thank you for yesterday. You were wonderful."
"The tabloid journalist who knew of that message added two and two and made 84," Lewis told the Leveson Inquiry in November 2011. "They couldn't possibly conceive of any other explanation."
News International initially offered Taylor £50,000 but wound up paying more than 14 times that: about £725,000, including costs, in a cheque from James Murdoch. It was an unprecedented settlement. The case was sealed, however. The Taylor settlement and News of the World's culture of hacking didn't get out until a year later, July 2009, when Nick Davies of The Guardian broke the story. At just this moment, as his phone began ringing off the hook, Lewis received an ultimatum: He was given an hour to decide whether to stay with the firm and pursue no more phone-hacking cases, or leave altogether.
"I was away and never met with them," he says. "I don't know their reason but I am glad they acted as they did, as it led to my moving to London."
For a time, though, this was his low period. He was without a firm, without his family.
"When Sally [Dowler] called, it was just another case, but significant as it was a new client and important to get work," Lewis says. "The real significance came when I met Bob and Sally Dowler, as it put human faces to what I had been saying all along. The Met and the Surrey police had information that they should have told them."
In September 2009, when Lewis testified before a House of Commons select committee investigating the scandal, he made public the extent of the hacking: the 6,000 victims. More denials came from on high. Two months later, while speaking before the Society of Editors, Baroness Peta Buscombe, chair of the Press Complaints Commission (PCC), announced that, according to Met assistant commissioner John Yates, Lewis was incorrect on the number of victims. "[Buscombe] was saying I'm a liar and I'm misleading Parliament," Lewis says. "That was the moment where I went from being behind the camera to in front of it."
He sued the PCC for libel, won an apology and £20,000 damages. He also sued the Met and won a further £30,000 damages and £200,000 costs.
But it was the Dowler story, which broke in early July 2011, that caused the scandal to go nuclear. To the public, it was one thing for the press to hack the phones of Hugh Grant or Steve Coogan; it was quite another to hack the phone of Milly Dowler, a schoolgirl who went missing in 2002 and was found dead that September.
Within days, the 168-year-old News of the World, with a circulation around 2.5 million, shut down. Rupert Murdoch personally apologised to the Dowler family and Rebekah Brooks, former News of the World editor, announced her resignation from News International. Andy Coulson, who had resigned from News of the World in January 2007 during the royal phone-hacking scandal, and had resigned as PM David Cameron's communications director earlier in 2011, was arrested. News Corp. withdrew its bid for control of British Sky Broadcasting Group.
Throughout, there was some personal cost to Lewis. News International hired an investigator, who shadowed and filmed Lewis' ex-wife and their teenage daughter. It tried to get Gordon Taylor to sue him. John Yates and News International threatened to sue him. He was told his phone had been hacked. But in the end, Lewis remained standing while powerful people around him fell. Which fall was the most satisfying? The most significant?
"The most satisfying was John Yates, as he instructed [the libel law firm] Carter-Ruck to write me a warning letter for saying that he should have resigned," he says. "The most significant was Andy Coulson. [It was incredible] watching someone resign from 10 Downing Street as a result of a case that started with a small file in 2005."
So would any of this have happened without Lewis?
"Mark was instrumental in bringing to light the whole phone-hacking scandal," says Daniel Taylor, founder of Taylor Hampton. "He never believed the assertion that there was just one rogue reporter, and it was his persistence that caused the disclosure of the documents that exposed the illegal practices that had occurred. … One of Mark's characteristics is his doggedness and persistence. He is also very creative and willing to think outside the box in pursuit of his client's goals."
"Mark Lewis is an interesting character," Nick Davies told the U.S. news program Frontline in 2012. "I always say he doesn't have a fear gene. … He was the first person to stand up and confront these people."
"There were so many freak incidents that enabled these things to happen," Lewis himself says. On the Frontline show, he added, "It's all flaps of butterfly wings. The person who came up and said 'Someone's taking your photograph' has created the whole scandal. If that person would not have come up to Gordon Taylor and Joanne Armstrong on that first date, there would have been no case at all."
Search attorney feature articles
Helpful links
Other featured articles
Five real estate, land use and construction attorneys on the Bay Area's past two decades
Barbara Howard has held the reins at both her state and city Bar associations 
Walking through his favorite Buffalo haunts
View more articles featuring lawyers
Find top lawyers with confidence
The Super Lawyers patented selection process is peer influenced and research driven, selecting the top 5% of attorneys to the Super Lawyers lists each year. We know lawyers and make it easy to connect with them.
Find a lawyer near you