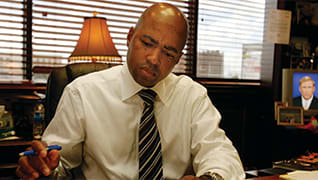 Photo by: Submitted Photo
A Sweat-Equity Kind of Job
New Orleans attorney James M. Williams hates to lose and will outwork you to make sure he doesn't
Published in 2011 Louisiana Super Lawyers magazine
By Nancy Henderson on December 27, 2010
In James M. Williams' very first court case, when he was in fifth grade, he successfully defended February, which was accused of not pulling its weight because it was shorter than the other months.
Since then, he's only lost a single case.
Fresh out of law school and a clerkship with Louisiana Supreme Court Justice Bernette J. Johnson in 1998, Williams was handling civil defense cases at a downtown New Orleans firm when, during one of his first jury trials, he "pulled out all the stops" on behalf of a female construction worker injured when she fell through a floor. After lunch on the final day of the trial, Williams fought his way through a torrential downpour, wading across the flooded street in front of the courthouse to deliver his closing argument. During his summation, the rain-soaked attorney brandished a baseball bat and recited his well-rehearsed Sammy Sosa analogy in an attempt to prove that the defendant subcontractor had covered up his mistake. "And all of a sudden," Williams said, startling the jury as he snapped the bat over his thigh, "we find out he's been corking his bat."
"Now of course I'd sawed through the bat and it was gonna break with ease," Williams, 36, recalls. "I thought it was very effective." Not enough, unfortunately, to sway the jurors.
Since that time, the head of litigation at Gauthier, Houghtaling & Williams has batted 1,000. Not counting class actions, in the past seven years alone he has snared more than $100 million in favorable business, insurance and personal injury verdicts and settlements. For a husband-and-wife insurance agency swallowed up by a large company that allegedly swindled the couple out of their hard-earned business contacts, Williams won $5.7 million. In Prothro v. Wal-Mart Stores Inc., he sought damages for a 9-year-old boy injured on a bicycle his mother had purchased as an early birthday present after his father's sudden death in a car accident. Williams argued that the bike's brakes had failed and that the bike was defectively assembled. He won $1.7 million for the widow and her son. "To take this kid and mom and stand toe-to-toe in a court of law with the proverbial Goliath … and prevail—I was just very proud of the fact that we could be the equalizer," Williams says.
"I just hate to lose, and I'm very, very competitive," he adds. "I do think [being a lawyer] is a sweat-equity kind of job. I am just so willing to outwork the other person."
Patricia Krebs, an attorney with King, Krebs & Jurgens, has served with Williams on the New Orleans Bar Association's board of directors. "He really takes care of his clients," she says. "He's done extremely well and [his success] is well deserved."
A graduate of McDonogh 35, the city's first public high school for African-Americans, Williams has "always been the kind of person who wanted to take up for people," he says. "The reason I became a lawyer was to talk for people who couldn't talk for themselves, and that goes for the downtrodden, unsophisticated and not-very-educated, to the most sophisticated businessperson who still can't fight for themselves in the legal system." His broad background, from inner-city school to Louisiana State University to the Burks Scholar Program at Washington and Lee University School of Law in Lexington, Va., is key to his winning streak, he says. "You can't get caught up in force-feeding to a jury what you think they want to hear. You have to put yourself in the mind of the jury."
In 2005, he and partner John Houghtaling took over the firm founded by legendary trial lawyer Wendell Gauthier. Williams was its first African-American attorney. In 2009, he became the state's youngest judge when the Louisiana Supreme Court appointed him to preside over Division "J" of the Civil District Court for the Parish of Orleans until the next election. "I see things differently now," he says. "Judges just want to do the right thing."
Take, for example, the case of the "unkempt, confrontational, very angry" woman whose children wanted her committed to a mental hospital. She claimed they wanted control of her bank accounts. After questioning the woman, Judge Williams responded, "This lady may not speak the king's English. She may not dress like she's going to high tea. But you know what? She's making sense to me. If she thinks the kids are trying to take her money, then maybe they are. She's free to go."
"I think the staff was surprised that I went against the recommendations. And I said, 'Well, I'm here to. I'm this lady's last line of defense.'"
Even now, he says, "I'm still convinced I made the right decision."
Search attorney feature articles