Bringing New Orleans Back
Kim Boyle defends her clients—and her hometown
Published in 2009 Louisiana Super Lawyers magazine on December 23, 2008
Updated on June 25, 2020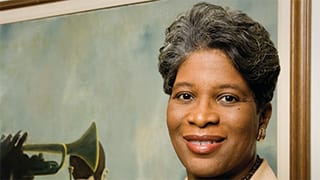 Kim Boyle was sitting in a Louisiana State Bar Association board meeting on Saturday, August 27, 2005 when, she recalls, "our cell phones and our BlackBerrys started blowing up" with the news that Hurricane Katrina was bearing down on New Orleans. By Sunday morning, she and her parents had evacuated and driven to Houston. Still, she says, "Everything seemed like it was going to be fine. We just thought we'd be gone for two or three days like we were for Ivan [in September 2004]. It really wasn't until the levees broke that we realized the level of devastation that the city was facing."
Two weeks later, Boyle, a partner in the employment group at Phelps Dunbar, drove back to New Orleans for the first time since the storm. To her relief, only the lower-level den and garage of her house in Gentilly—the same neighborhood where she grew up—had flooded. Five blocks away, her parents' one-story home hadn't fared so well. Torrential rains and four feet of water had destroyed almost everything, including family photos and the jazz albums her father had collected over six decades.
Boyle soon got a call from then-Mayor Ray Nagin, who asked her to join the Bring New Orleans Back Commission. Despite the fact that her entire employment group had temporarily relocated to Houston—she and her parents didn't permanently return home until after Christmas—Boyle drove back and forth to New Orleans every week to chair the BNOBC's Health and Social Services Committee. "I didn't hesitate in saying yes, because this is my city. I love it," she says. "I know it sounds corny but I truly believe in that saying, 'To whom much is given, much is required.' So I felt that if I had an opportunity or the ability to serve, even in the smallest manner, I had a moral obligation to do so."
Such conviction has earned Boyle many accolades in her hometown, where she devotes much of her time to nonprofit causes. Using the same levelheaded diligence she brings to her commercial litigation and employment cases, she has worked hard to stop housing discrimination, protect abused and neglected children, and halt the spread of AIDS. In 2001 she received the YWCA New Orleans Role Model Award. In 2007, the same year the local CBS affiliate named her one of the city's "Most Powerful People," the New Orleans Bar Association honored her with its President's Award for her unwavering community service. Articulate and forthright—she often uses the word "bluntly" in conversation but is anything but brusque—she is equally at home in the boardroom and the courtroom.
"She is extraordinarily polite," says Donna Fraiche, who served with Boyle on the health care committee of the Louisiana Recovery Authority, formed by then-Gov. Kathleen Blanco six weeks after Katrina. "She calls people by their title and their last name. She treats people with tremendous high regard and respect. In meetings she is very formal in her approach yet very approachable. When she speaks she can command a room but she does it in such a respectful way. It's never brash. It's never abrasive. She [exudes] leadership, she truly does."
A friendly, curious child, whose family moved to a predominantly white neighborhood—"My family was the first African-American family on our block," she says—Boyle knew early on that she wanted to be a lawyer. "It always seemed like something that would be extremely challenging from an intellectual standpoint. But more importantly, it seemed like a profession you could use whether you actually practiced law or just used the degree to make a positive impact on your community. And that might have been what appealed to me the most."
Had she not become an attorney, she says she would have followed in the footsteps of her mother, a middle-school English teacher. One of Boyle's own teaching experiences came in 1993 when, after cutting her teeth at the firm Barham & Churchill, then later joining McGlinchey Stafford, she was asked by a dean to pursue an assistant professor post at Loyola University School of Law.
She had "an absolute blast" at Loyola. "Law students will challenge you every minute of every day," she says. "You can't just say, 'That's the way it is' and expect that to be the answer. They're going to ask you why. And bluntly, it helped me from a litigation standpoint. Law students make you think very quickly on your feet. So it really, really helped me in my quickness, in my readiness to respond, in my understanding of certain subject areas."
Boyle has earned a reputation as a focused, prepared lawyer who respects her opponents. "I don't believe in this slash-and-burn method of practicing law," she says. "If the attorneys take on a very personal, acrimonious role with each other that's outside of the realm of their advocacy on behalf of their client, I think it colors the process."
In the mid-1990s, in a case she found particularly meaningful, Boyle defended Jefferson Parish against a lawsuit brought by white plaintiffs who alleged that the existing majority-minority voting district violated the Equal Protection Clause of the Constitution. After winning at trial, she handled half of the argument before the 5th U.S. Circuit Court of Appeals, which affirmed the ruling. "There was a certain period in the '90s where those districts were being challenged across the country," she says. "We were one of the few jurisdictions where it was actually upheld, and I'm very proud of that."
In 2000, after working for six years at a small firm she co-launched, she was appointed judge pro tempore, Division I, for the Civil District Court for the Parish of Orleans. "It was one of the best experiences of my life," says Boyle, who relished the interaction with other judges and attorneys. "I loved everything about it. It was very, very, very intellectually challenging."
In 2001 she joined Phelps Dunbar and has been breaking barriers ever since. In June, Boyle will be sworn in as the first female African-American president of the approximately 21,000-member Louisiana State Bar Association. In 2003 she served as the first African-American president of the New Orleans Bar Association. "That meant a lot to me, but bluntly, what's meant much more to me is the fact that NOBA has truly become more diverse. … If lawyers are not taking the lead in ensuring an open society, in ensuring that everyone has an opportunity, and ensuring that everyone has a right to participate, I don't really know how we can expect other groups in society to do so."
Helping the citizens of New Orleans is close to Boyle's heart. In her leadership role with the Fleur-de-Lis Ambassadors, a group that fights to clear up misconceptions about post-Katrina New Orleans, she traveled to Washington, D.C., in 2007, met with Speaker of the House Nancy Pelosi, talked to editors from The Washington Post and was featured in a National Public Radio segment, all in an effort "to get the real story [of the city's recovery] across."
"I am so proud of our city," she adds. "I am so proud of the people here. I am so proud of all of the people who volunteered and said, 'I'm going to make a difference.' As horrible as Katrina was, and as devastating as it has been, to watch us work together has just been a beautiful experience."
Other Featured Articles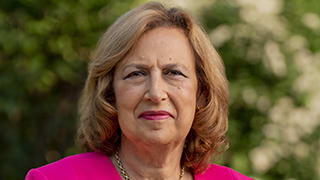 Reality? Check.
Alisse C. Camazine tells clients the truth—over and over again Featuring Alisse C. Camazine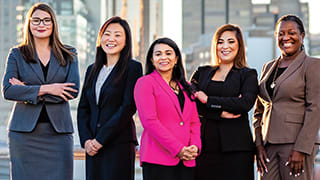 Catching the American Dream
Five Georgia attorneys tell their immigration stories Featuring Georgetta Glaves-Innis, Soo J. Hong, Neeli Shah, Dina R. Khismatulina, Shirley C. Zambrano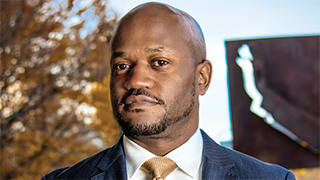 'They All Started Calling'
L. Chris Stewart never anticipated being a civil rights lawyer; now he's a face of the movement Featuring L. Chris Stewart