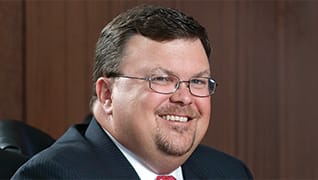 Photo by: Tim Mueller
Cliff Notes
Cliff Rankin deftly handles the Shaw Group's legal dealings 
Published in Corporate Counsel Edition - November 2009 magazine
By Stan Sinberg on October 12, 2009
Save for the Katrina aftermath, the Shaw Group Inc., an engineering, design, construction and maintenance services firm based in Baton Rouge, La., doesn't often make national headlines. Which is probably why you've never heard of Cliff Rankin, its general counsel and corporate secretary. His unassuming personality may also play to that fact.
"I have the right temperament for this company," says Rankin. "I don't get flustered easily."
The Shaw Group equips environmental, infrastructure and energy companies in 150 locations around the world. It has assisted, for example, in the creation of clean coal facilities (for clients AEP, Dominion and Duke Energy), modification of the largest nuclear fleet in the U.S. (Exelon, among others) and launching of a power cogeneration unit in Singapore (ExxonMobil).
"At some point, contracts for every major project cross my desk," says Rankin, 41, who reviews bids for nuclear facilities and consults on litigation, budgeting and strategic planning, among myriad duties. Approximately 35 attorneys answer to him.
"He's always very calm, cool and collected," says Robert Preston Brown, vice president and deputy general counsel of litigation. "Lots of stuff can swirl around you, and he's not making decisions based on emotion. … It's unusual for someone as young as him to be corporate counsel of a Fortune 500 company. To his credit, Cliff, despite his youth, is a seasoned, wise, patient decision maker."
Given his low-key demeanor, it's no surprise that Rankin's background is pure small-town America. He grew up in Brenham, Texas, 75 miles outside of Houston. As a teenager, he worked at the Blue Bell ice cream manufacturing facility ("the best ice cream in the nation") and hauled bales of hay—a job, he notes, that "convinces you real quick to work inside."
He began dating Kristin, the "girl next door," at Texas A&M when he was barely 20, and the couple has been married for 17 years. They have three kids, Ryan, 13; Riley, 10; and Raegan, 4; and live in Prairieville, a few miles from downtown Baton Rouge.
In college, Rankin was undecided about a career in business or law, and, almost by a flip of the coin, ended up attending the University of Texas School of Law, graduating in 1992.
His decision on where to begin his legal career, however, was largely pragmatic. His future wife was living in Houston, working in public relations for Enron (the bad publicity came well after she left)—so he chose Vinson & Elkins for its close proximity to her office. He spent a couple of years on the regulatory side, and then decided to transfer over to the business and international group. In that capacity, he helped Shaw obtain a 20 percent interest in Westinghouse, propelling the company into the nuclear energy business.
After the deal closed in 2006, Shaw's former general counsel and current chief operating officer, Gary Graphia, asked Rankin to come in-house. "Making [law firm] partner isn't the brass ring it used to be," Rankin says. On top of that, the "ridiculous hours" at V&E made him feel like he'd missed out on raising his first two children. There was also the allure of working for a Fortune 500 company, and being fully immersed in the nuclear energy field, which he says is "at the dawn of a new renaissance. Thirty years ago, the majority of Americans were against nuclear power. Today the majority is in favor."
He also appreciates the sometimes "rough and tumble" nature of the industry, filled with people who "have little time for nuance and say what they mean and mean what they say."
One of his chief challenges derives from the fact that despite its 26,000 employees and $7 billion in revenues, Shaw is still a young company. Founded in 1987 as a single fabrication shop, it has grown exponentially through acquisitions.
Given its geographic location, providing emergency services after natural disasters is a key part of its operations. Following Hurricane Katrina in 2005, the Department of Homeland Security's Federal Emergency Management Agency employed Shaw to restore New Orleans in various ways, such as pumping water out of the city and supplying temporary homes and shelters. While Rankin arrived at Shaw post-Katrina, he's reviewed other FEMA projects, including a five-year, $375 million contract awarded to Shaw this past summer.
"I have only very positive things to say about FEMA," says Rankin, who knows a thing or two about disaster response. Two weeks after Katrina hit, Hurricane Rita besieged his home in Texas, where he was living at the time; and Hurricane Gustav hit his current home in Louisiana. "We had chainsaws in the backyard cutting trees for a week," he says of last year's storm.
Because of the environmental ramifications of its projects—and some, like Katrina, are politically charged—Rankin works to steer the company clear of controversy. "We don't get into what should be built," he says. "If they want it, we'll build it." He remembers just one time when someone was protesting outside the building: "It was one guy, and I forget what it was for."
Kerry David, Shaw's chief compliance officer, is impressed with Rankin's learning curve. "Within a very short time, he was familiar not just with our company, but the entire industry," she says. "He knew what our business was, who our competitors were." (The main ones are Bechtel, URS Corp. and KBR Inc.)
"He's not one of those people who just walk into a room and immediately start talking. First, he listens," she continues. "And waits till he's heard enough information. Then he'll express his opinion directly and succinctly."
Brown, the deputy general counsel, concurs. "Cliff came over from the corporate and deal-making side, and we litigation attorneys like to think what we do requires special expertise," he says. "But Cliff grasped the importance of issues right away and picked up everything very quickly, and he gets into the subtle nuances of an issue as if he'd been involved with litigation for years."
Litigation oftentimes involves construction site delays or cost overruns that can have tens of millions of dollars at stake. Brown recalls occasions when, after he thought negotiations were over, Rankin felt there was still money left on the table, so he took a seat and peeled off some more.
Then Brown laughs. "Also, he really gives me the sense he values my opinion and the work I do. So, of course, I like that." And in a familiar refrain, he says Rankin at leisure is pretty much the same guy he sees at work. "Cliff is comfortable with Cliff." 
---
Editor's note: Cliff Rankin left the Shaw Group in September.
Search attorney feature articles
Helpful links
Other featured articles
A talk with rising stars who will take the legal profession into the 2050s
Discovery with Sheila Thobani
Jeff Anderson on law school, legal tactics and his ultimate goal—deposing Pope Benedict XVI
View more articles featuring lawyers
Find top lawyers with confidence
The Super Lawyers patented selection process is peer influenced and research driven, selecting the top 5% of attorneys to the Super Lawyers lists each year. We know lawyers and make it easy to connect with them.
Find a lawyer near you